The best in Mac maintenance software
5 min read
Why is it that finding the right Mac maintenance software always slips to the bottom of our to-do lists? Well, like that big pile of clothes on my bedroom floor, it gets pretty messy before I notice just how badly I need to clean them up.
With all the research, comparisons, and reviews to wade through, it can become a time-consuming process just to make sure you've found the best Mac maintenance software out there.
Luckily, I've done the hard work for you and compiled a useful guide to the best, trusted Mac tune-up tools — at least the ones that could Google myself and try on my MacBook Pro.
Buckle up; you're in for a ride and moments away from discovering all the best options for 2020 when it comes to cleaning, maintaining, and optimizing your Mac.
CleanMyMac X is easily the most versatile of all the tools I've tried. It looks fantastic and operates under the principle that a clean Mac is a fast Mac. Thus, it removes myriads of junk categories — for example — it even goes after unused .DMG installers you can delete. It will clear the clutter from your macOS's deepest depths, locating all the unnecessary files, caches, and system logs, while monitoring malicious software, and speeding up your Mac. CleanMyMac X is also easy on the eye, simple to use, and makes Mac maintenance fun.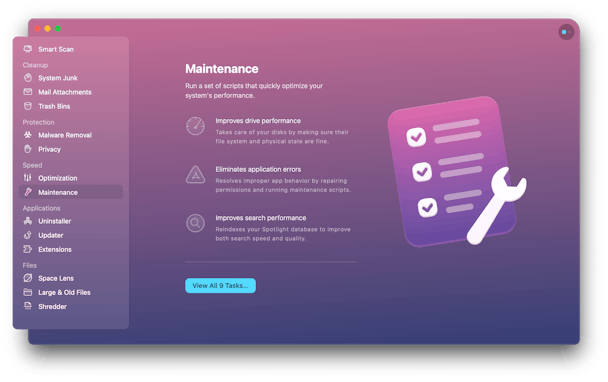 The Maintenance module gives optimization an entirely new meaning. You can bring your Mac back up to speed in minutes by running maintenance scripts, pure Mac magic, previously only known to developers.
Just a few things the CleanMyMac X Maintenance module can do:
Remove, rotate, rebuild, and reorganizes old logs and databases.

Improve your system's reading/writing performance.

Verifies and repairs broken permissions.

Drastically improves search speed and quality.
CleanMyMac X is also Apple-notarized, meaning it's safe for your Mac.
Price: $39.95.
Free version: Available for a free download here.
2. Stellar Speedup Mac
Stellar Speedup Mac is a useful Mac cleaner utility. The software helps to revive your Mac performance by removing unwanted and duplicate files. Stellar Speedup Mac v4.0 was released earlier this year in June and came with some noticeable improvements like the updated graphical interface, and new RAM optimizer.
Let's take a look at some of the features this Mac maintenance app has to offer:
Competent junk remover.

Unwanted apps uninstaller.

System memory and startup disk cleaner.

System performance booster.
You do get a 30-day free trial, but first, you need to submit an order and your payment details with either a credit card or Paypal. Don't forget to cancel your order at least 2 business days before the end of your trial to avoid being charged.
Price: $48.39.
Free version: 30-day free trial.
3. Optimize storage tool
Optimize Storage is a free macOS native tool that gives you quick recommendations based on your storage needs. Apple added the Optimize Storage feature in macOS Sierra. Once enabled, it lets you free up storage space by automatically storing content in the iCloud, including files, photos, email attachments, and more. If you're looking for a quick tidy up and have the iCloud space, this is a useful option.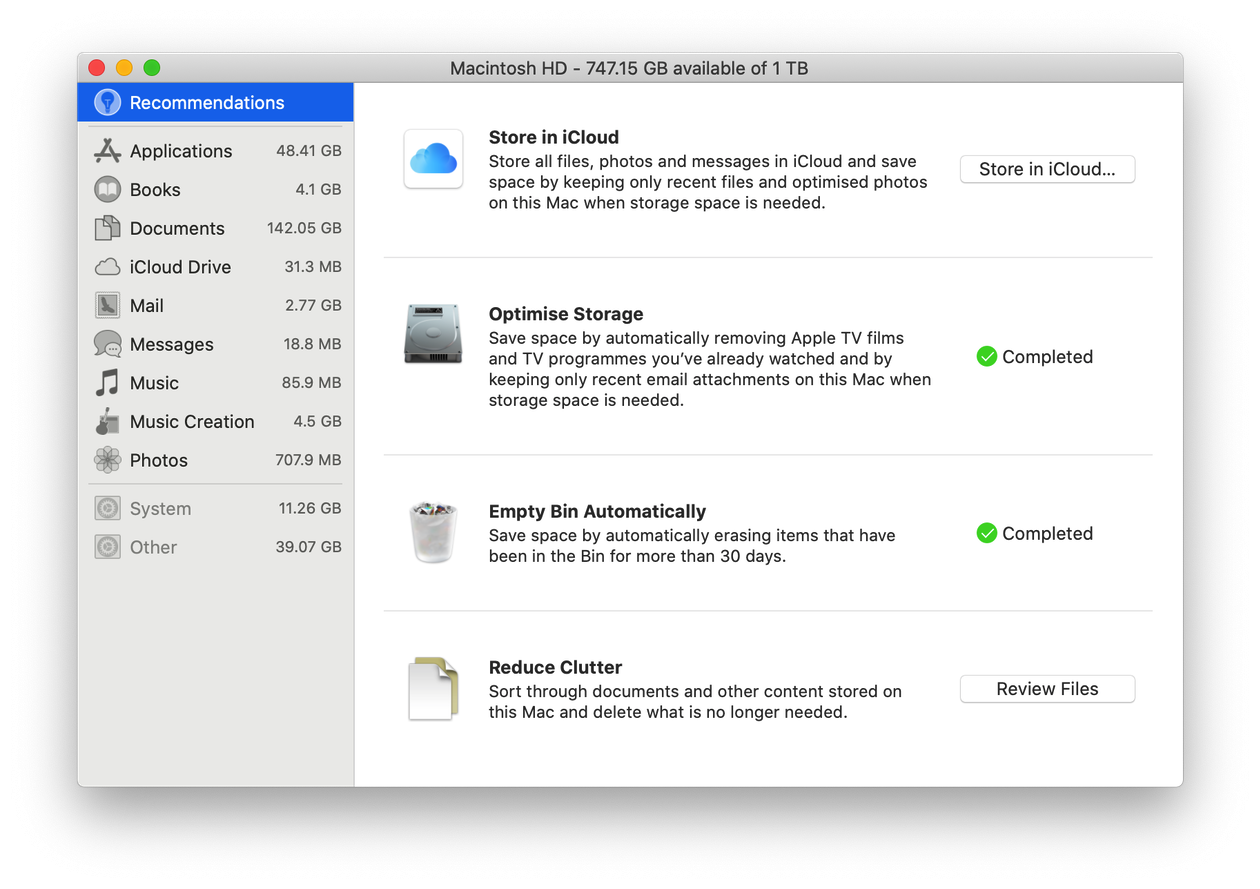 Here's how to find the Optimize Storage tool:
Click the Apple icon top right, and select About This Mac.

Select the Storage tab and click Manage...

Click through your recommendations to optimize storage.
I quickly removed my watched Apple TV films and programs, then enabled an automatic 30 day clean of my trash bin to keep my Mac optimized; small tweaks can go a long way.
If you're not looking for a thorough cleanup, this is a great solution. If you want to remove malware, you'll need to use a dedicated Mac cleaner app.
Price: Free
4. MacBooster
MacBooster is a well-know tune-up tool from IObit. This Mac maintenance app offers a wide variety of features to boost and optimize your Mac. MacBooster says you can delete 20 types of junk files, from system logs to iTunes cache, language files, and well, 17 more.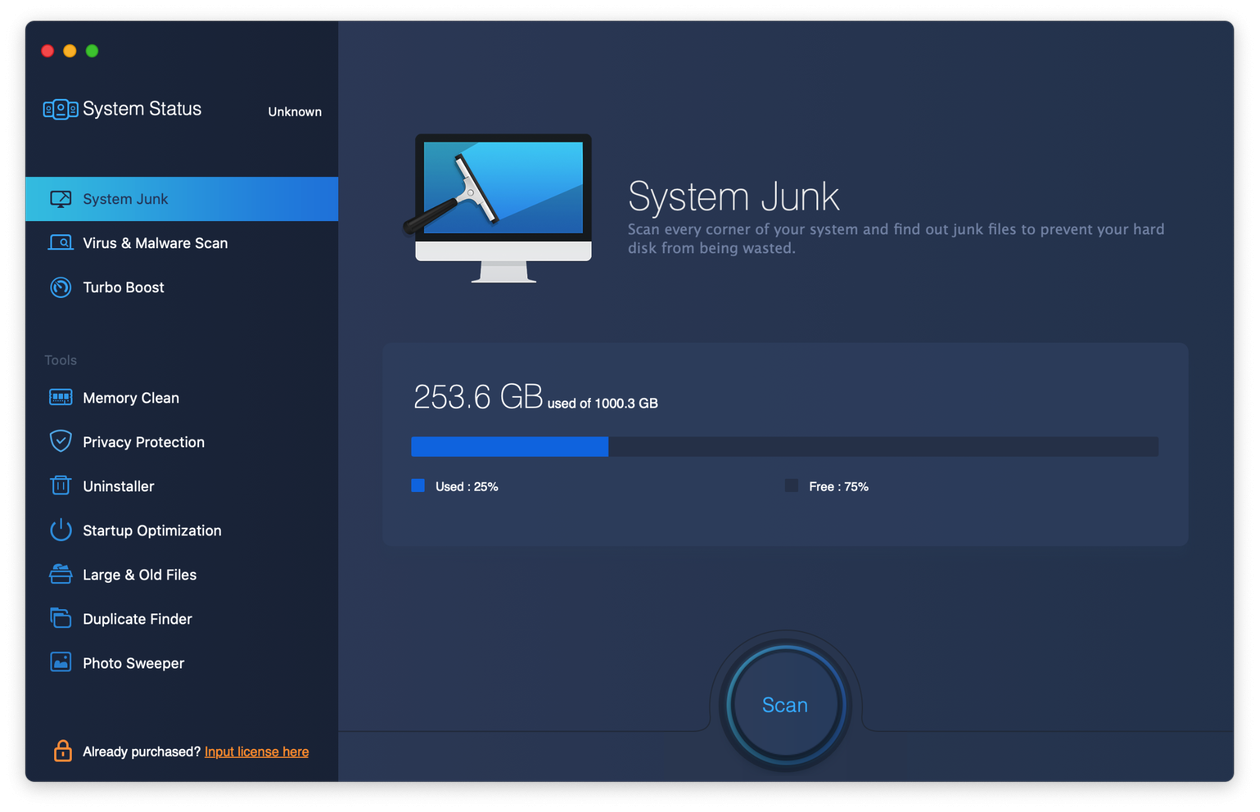 The paid version really does offer everything you need to optimize your Mac, it's highly comprehensive, with 5 different cleanup tools, but unlike its analogs, the free version of MacBooster is quite limited; you can't remove any junk files, but you can navigate the app and try some scans.
There new updated version 8.0.4 now comes with:
New turbo boost feature.

Improvements to System junk removal.

Virus & Malware Scanner.

Multiple language options.
Price: $59.95 Premium version includes 3 Macs.
Free version: Available here.
5. AVG Tuneup
AVG Tuneup is a Mac optimizer equipped with a duplicate file locator, junk cleaner and, even a photo identifier.
AVG says once you choose your settings, they do the rest, cleaning junk automatically, making sure only to delete what you want.
A unique feature for any photography lover is the AI-powered photo finder that identifies and clears out low-quality images.
If you're like me and have thousands of photographs from holidays gone by that, you'll never get around to sorting; this is a really valuable feature, clear out hundreds of fuzzy and low-quality images and make lots of extra space in minutes.
If you're running out of space, this is a fast and straightforward solution for your Mac. It also comes with an option to purchase premium multi-device AVG protection at a reduced rate.
Price: $49.99 with coverage up to 10
Free version: Not currently available.
Untrusted cleaning apps
All the tools mentioned above are trusted Mac cleaning solutions. Sadly, there are still many scam Mac cleaners out there. Always stay smart and use only trusted software. Look out for these warning signs from rouge cleaners.
Scam Mac cleaner signs:
"macOS is infected" annoying warning message.

Apps claim you have a very high amount of Mac threats.

The app comes as a bundle download
I hope this read helps you find the right-fit Mac maintenance app for you. Enjoy cleaning and optimizing your Mac.
Come back soon for more Mac tips.