Need a Mac cleaner? Here's how to choose one
8 min read
An amazing fact: trustworthy Mac cleaning apps do exist. It's also true that it's hard to separate the seeds from the chaff. The market of Mac cleaner apps is full of shady players and overblown promises. Before you get lost in the sea of cleaners, boosters, and certified Mac optimizers, we recommend you to check this instruction. Here is your guided tour to the world of Mac cleaning apps.
Some people are confident enough to clean their Mac themselves. They know the ins and outs of the macOS. And they are ready to spend a few hours digging out all the junk, finding the long-lost folders and the rest. But the majority of folks wouldn't mind an automated junk-sucking magnet that would take out their garbage for them. It saves time and effort and that's why Mac cleaners are still a thing in 2020.
Did you know?

Some Mac cleaner apps are notarized by Apple and are available on the Mac App Store.

What are you looking for in a Mac cleaner?
You are probably dealing with one of the following:


Need to free up disk space
Your Mac is old and laggy one
You want to remove duplicate files
You need to get rid of malware
The tips below will be structured around these basic jobs. We will be touching on free apps as well as paid solutions because the most polished tools are still the paid ones.
Best Mac cleaners to free up space
CleanMyMac X

You've probably heard of CleanMyMac X or seen its ads on YouTube. For all the advertising surrounding it, it still remains the most reliable Mac cleaner on the market that deletes almost any type of junk.

It's not free Mac cleaning software but you can get started with a free trial. CleanMyMac X is created by MacPaw, which is a popular Mac developer and is also notarized by Apple.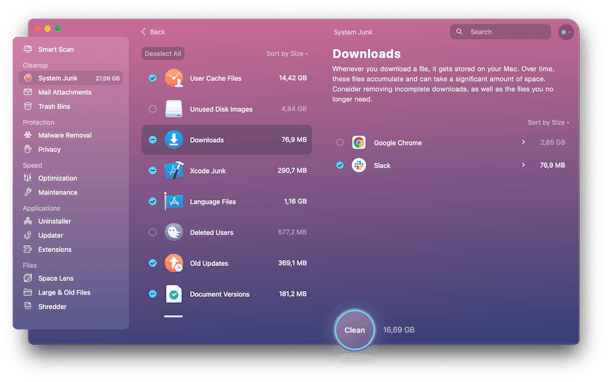 An average Mac user can expect to free up about 35 GB of space. It's mostly caches, browser junk, old localizations of apps. But it's not the limit if you look at all the excess data your macOS generates over time.
The free version of CleanMyMac X can be downloaded here.
CleanMyMac X scans your Mac and collects outdated system files, orphaned files, and unwanted apps. The MacObserver columnist Bob LeVitus calls CleanMyMac X "the first Mac cleaning app doesn't suck." Probably, he is on point here.
Onyx

If you have an engineering mindset and like fixing things on your own, you may like Onyx. This app by Titanium Software will help you free up space, given you know what you are doing.
If you tick enough tick boxes, you can delete user cache files, unnecessary system logs, application support files. But if you tick the wrong box, prepare to be screwed — and with Onyx's overloaded interface, the misfires are possible.


Onyx is also good for customizing how your macOS looks. You can hide folders, change the default icons, etc. In a way, it's an alternative to System Preferences as you get access to many deep-level settings, like being able to control how your apps launch, their animation effects, and so on.
We couldn't find any de-installation tool in Onyx and it looks like it mostly deletes system junk. So its capabilities to free up space are good but not endless.
Mac cleaners to remove duplicates
Nobody wants to lose an important file or a picture. We'd rather save it twice as a precaution. Hence the problem of duplicates.

Today's duplicate cleaners are able to analyze dozens of file attributes to spot only those items that are really identical. These app look at extensions, file size, date of creation. And besides just files, there are also duplicate apps you can say goodbye to.
Gemini 2

Gemini 2 is a pretty-looking, Easter egg-inspired duplicate cleaner for Mac. Apple featured it a few times in Editor's Choice on the Mac App Store. It has a safety layer built-in so you won't delete any original files, thankfully. The user experience is sleek and entertaining with smart cues, animations, and gamification.

Gemini deletes these categories of duplicates:


Duplicate folders
Duplicate images
Duplicate music
Similar files (with minor differences)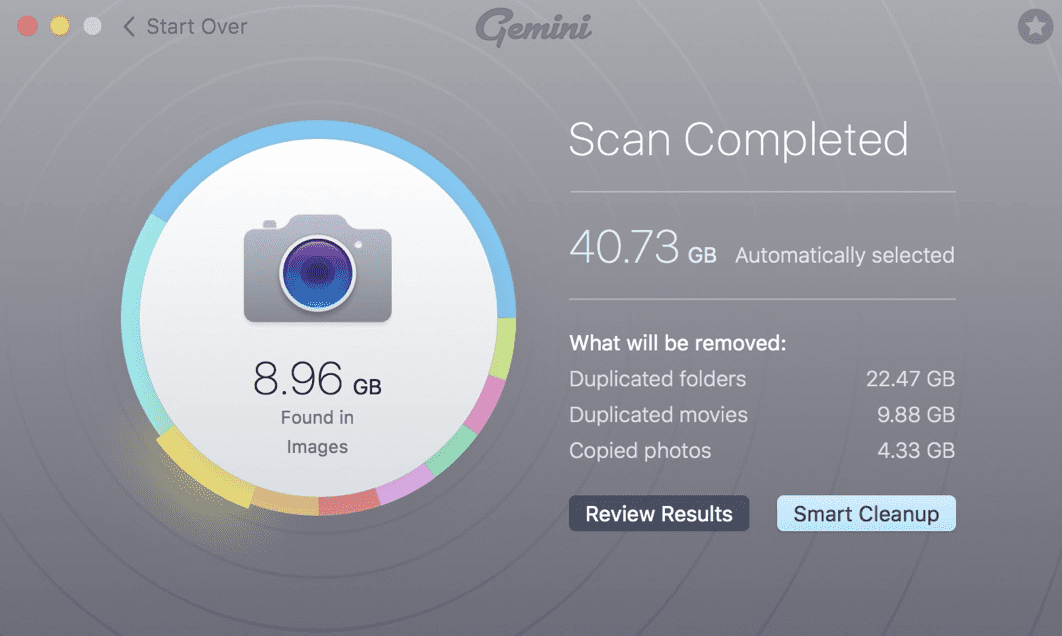 You can get Gemini 2 on the Mac App Store here.

Mac cleaners that deal with malware
Contrary to the common perception, macOS could be the least protected platform when it comes to viruses. For years Mac users have been under a spell that "Macs don't have viruses." That made us less cautious and tempted hackers to create new malware specifically for the Mac.
Malwarebytes

Malwarebytes is the world's number one antivirus app. It operates on all platforms, including the macOS. If you hear that "a new virus has been found," it's likely Malwarebytes' lab who made the discovery. In the spring of 2020, Malwarebytes warned about "Coronavirus" malware that exploited fears of the pandemics to attack users' computers.
Malwarebytes will clean out these on your Mac:


Trojan viruses
Backdoor apps
Shadow bots
Potentially unwanted apps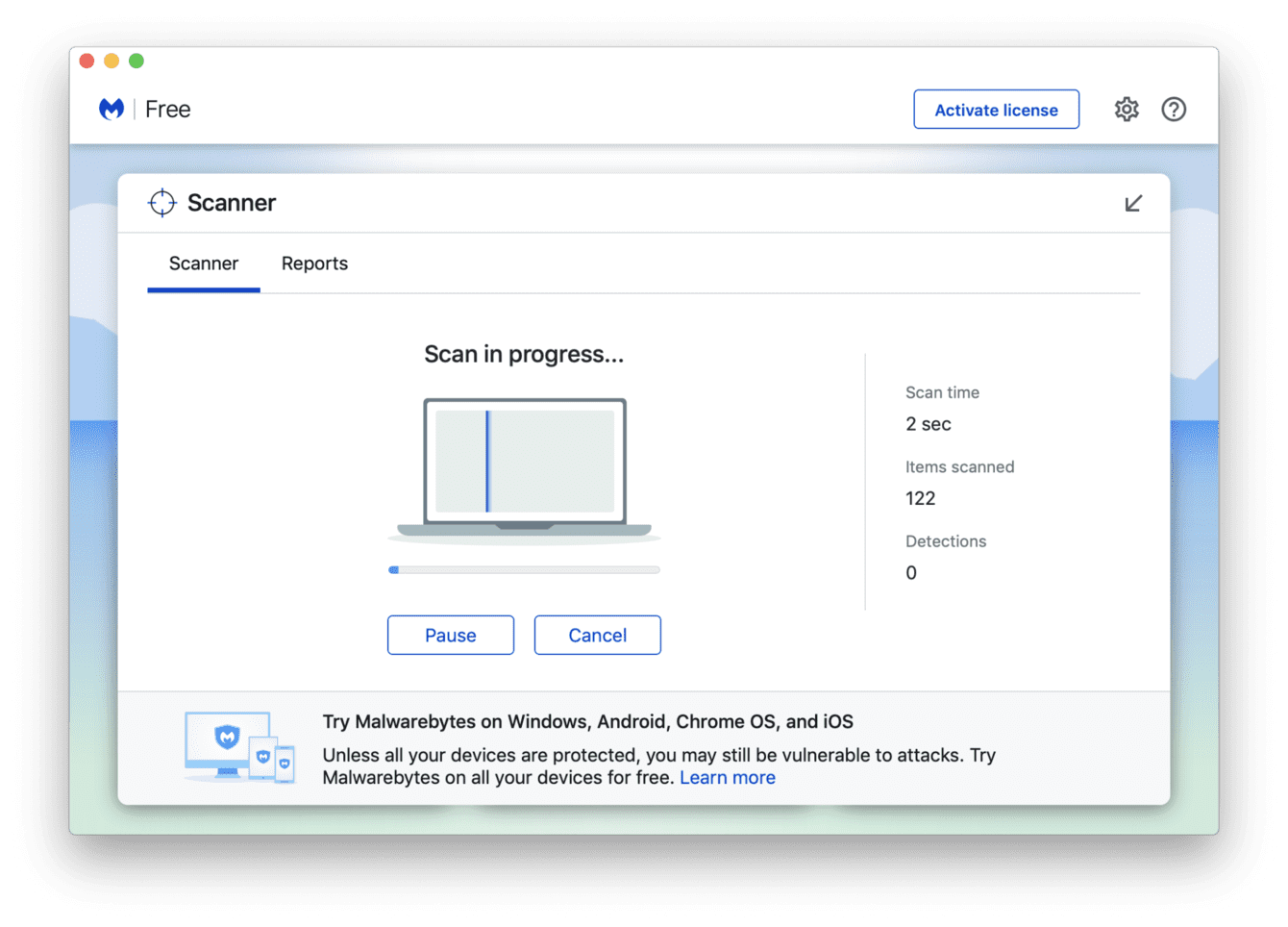 And many more, of course. Malwarebytes has a free version (doesn't include real-time protection). The paid version starts at $39.99. It doesn't clean your Mac in terms of storage, but if you keep seeing weird pop-ups on your screen, it may be well worth the investment.
The "problematic" Mac cleaners
As we explained above, some Mac cleaners are wolves in sheep's skin. Now, we'll illustrate that with some examples. There is a category of Mac cleaner apps that are distributed via bundles with other apps. This model is considered covert and not trustworthy. Such applications often perform fake scans to persuade users that their Mac is infected.


Tip

Never click on "Your Mac is infected" pop-up. This is a well-known scam to install a virus on your Mac.
What else is problematic, such software is incredibly difficult to remove. Even after the removal, one may expect to see pop-ups, ads, and various remains of such "cleaner apps." This is why Malwarebytes lists such software as "potentially unwanted applications."

Here are a couple of Mac cleaners that Malwarebytes lists as unwanted: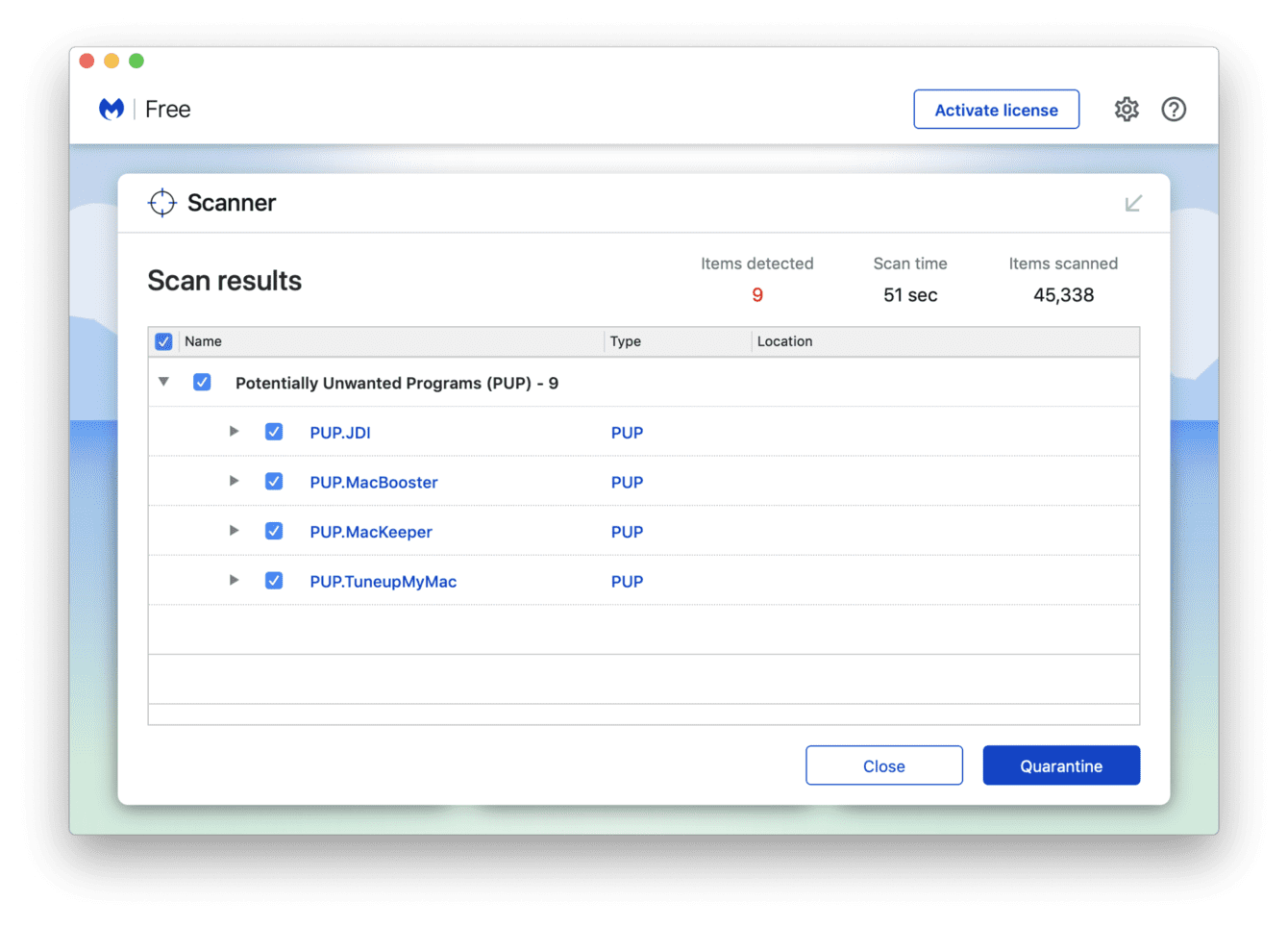 Note how these programs appropriate "Mac" in their name. That's why they are easy to confuse with perfectly legit software like CleanMyMac X (this one is notarized by Apple).
Mac cleaners that visualize disk space
There is the next category of free Mac cleaning software that focuses on the visual representation of your drive. Somebody should have created it for Apple because...you know, all folders in Finder look the same. Such disk visualization apps will give you an idea of where to look for your lost space.

DaisyDisk
DaisyDisk is loved by the Mac community and has always been a pioneer in the field. It creates a cool diagram that tells you about your occupied space. You'll find categories that eat-away more space than they should, like apps or Downloads.

What's also cool about Daisy Disk, it has a hidden space monitor. Sometimes, your Mac tells you about its available storage, and with all those occupied categories altogether, still, something is missing. Has a part of your disk just disappeared? That's what hidden space monitor is for.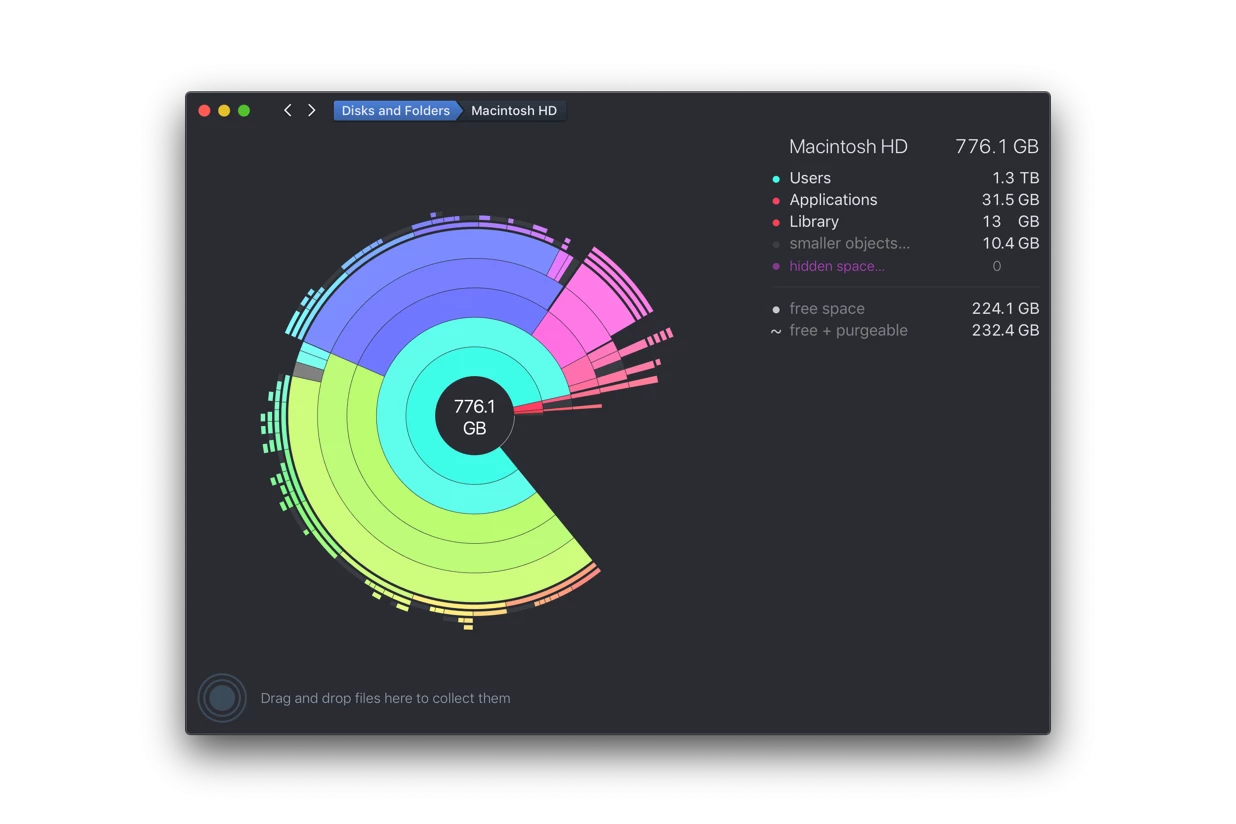 Daisy Disk is priced at $9.99 and you can get a free trial so you can see and compare all Daisy Disk's features.
Such disk space diagrams are not only visually pleasing; they will also make you more conscious as you manage storage on your computer. Just by means of comparison: here is how the same feature is presented in CleanMyMac X: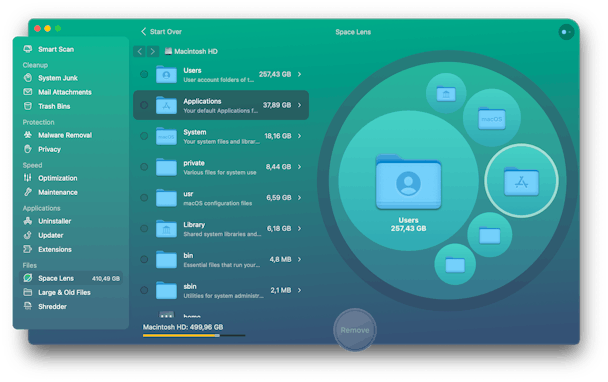 Here as a user, you can see how your Documents are visually much larger than the rest of the items. This tool is called Space Lens. In the free version of CleanMyMac X (download it here) — you can delete up to 1 GB of junk using Space Lens.
Free Mac cleaner alternatives
Your macOS itself provides an alternative way to free up space and reduce clutter on your drive. We are talking about Optimized Storage. It's pretty straightforward and relies on you doing most of the job. But, after all, who better than you should know what's there to delete?

Open Apple menu > About this Mac.
Now, click on Storage > Manage…

Using the sidebar on the left you will walk through your main storage categories. Pay special attention to such items as iTunes and Documents. They could be supermassive.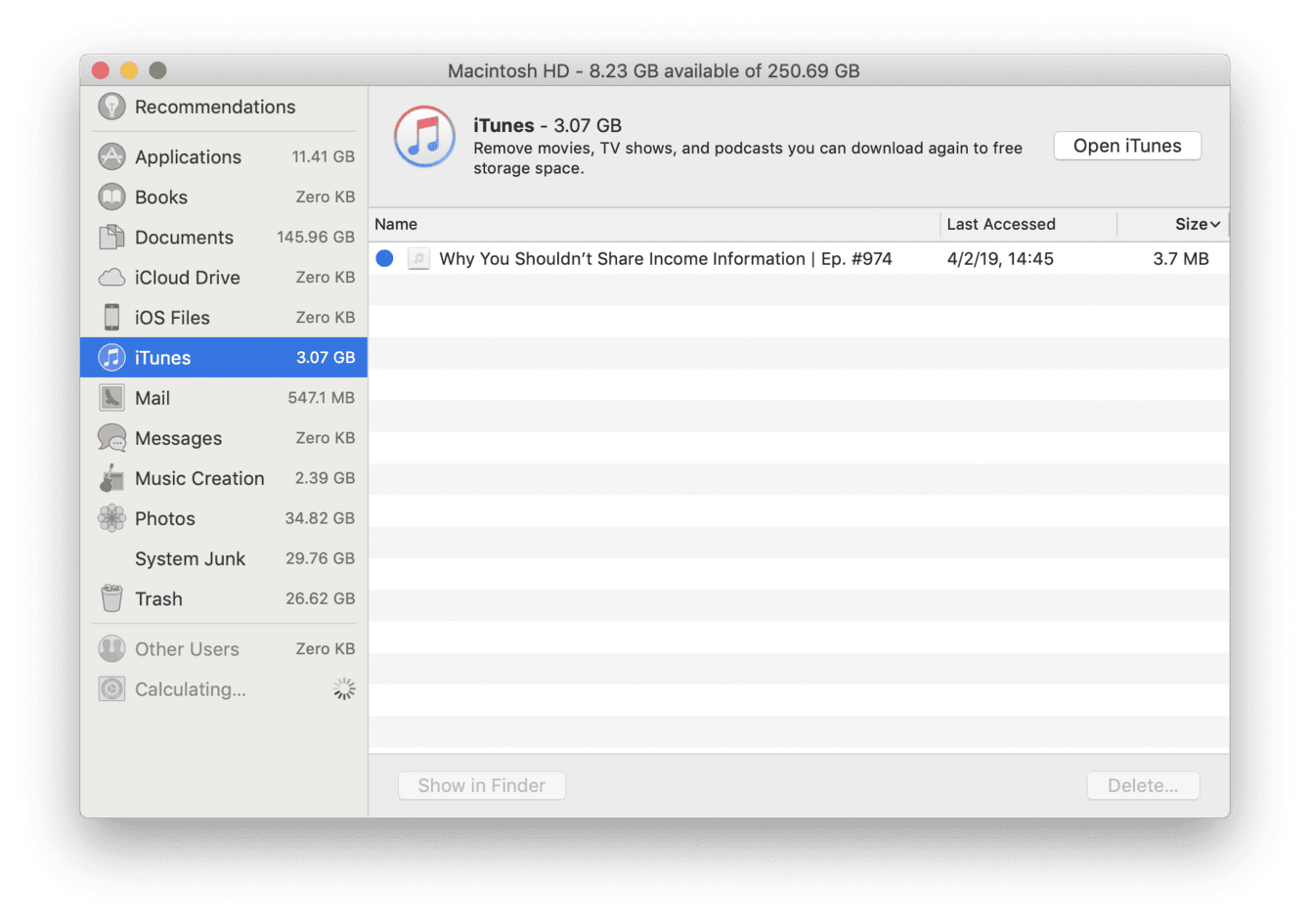 This view is not merely informative. You can view all the items in the Finder and delete things in the same window right away.

A few final remarks on choosing a Mac disk cleaner
You should choose your Mac cleaner carefully. Here are a few final tips to keep in mind.
Check if your preferred Mac cleaner is notarized by Apple

Don't install software that comes bundled with other apps.

Don't believe anyone stating "your Mac is infected."

Many Mac cleaners will require a Full Disk Access permission — so check the app twice and read a few online reviews before you give such approval.
You can even run a battle between different Mac cleaners on your Mac. Why not let one app to out-clean the other? This is what one Mac user actually did.






As we've seen, there are lots of reliable Mac cleaning solutions. If you need a swiss-army knife type of cleaner, CleanMyMac X looks like the most versatile of the pack. For duplicate files, you'll need Gemini 2, and Malwarebytes is still the best solution out there to delete malware from your Mac.

Hope this article was helpful.