How to download a Vimeo video on Mac
4 min read
Ever wondered how to download Vimeo videos on a Mac legally? With so much creative and interesting content available on this popular platform, it's a reasonable question.
Vimeo hit the video-sharing scene back in 2004, and today it gives YouTube some healthy competition and content creators an alternative platform.
Creatives, artists, and professionals tend to prefer Vimeo because of its high-quality video embedding feature (no compressed videos) and its enhanced privacy system, which enables videos to be seen by followers, selected accounts, or viewed with a password — perfect for brands or businesses.
With features like these and varied content, it's no wonder people want to know how to save videos to their devices. But when it comes to downloading any content from the internet, copyright is a subject we just cannot skip.
So here's the important stuff: downloading and redistributing video content for commercial use without permission from the owner is illegal and could land you in some serious trouble.
It's recommended only to download Vimeo video content if you see a download button — a setting the content creator enables.
However, a caveat to this is the legal term "Fair Use," which basically means that as long as the video content is downloaded for personal use only and with absolutely no intent to circulate or monetize it, it's highly doubtful Vimeo would have any kind of issue.
Disclaimer:
You may only download videos from Vimeo if the copyright holder has given explicit permission. Content must be for personal use only. Distributing copyrighted content is illegal.
How to download videos from Vimeo
Now that we've covered the copyright topic, this is time to proceed with what you're here for — let's take a look at a few different ways to download Vimeo videos.
The Vimeo app
The easiest way to rewatch Vimeo content offline when you're on your early morning commute or perhaps flying with no Wi-Fi is to simply download the Vimeo app on your iPhone and iPad.
It comes with a cool Offline Playlist feature, perfect for when you know you'll have no internet connection.
Here's how to take advantage: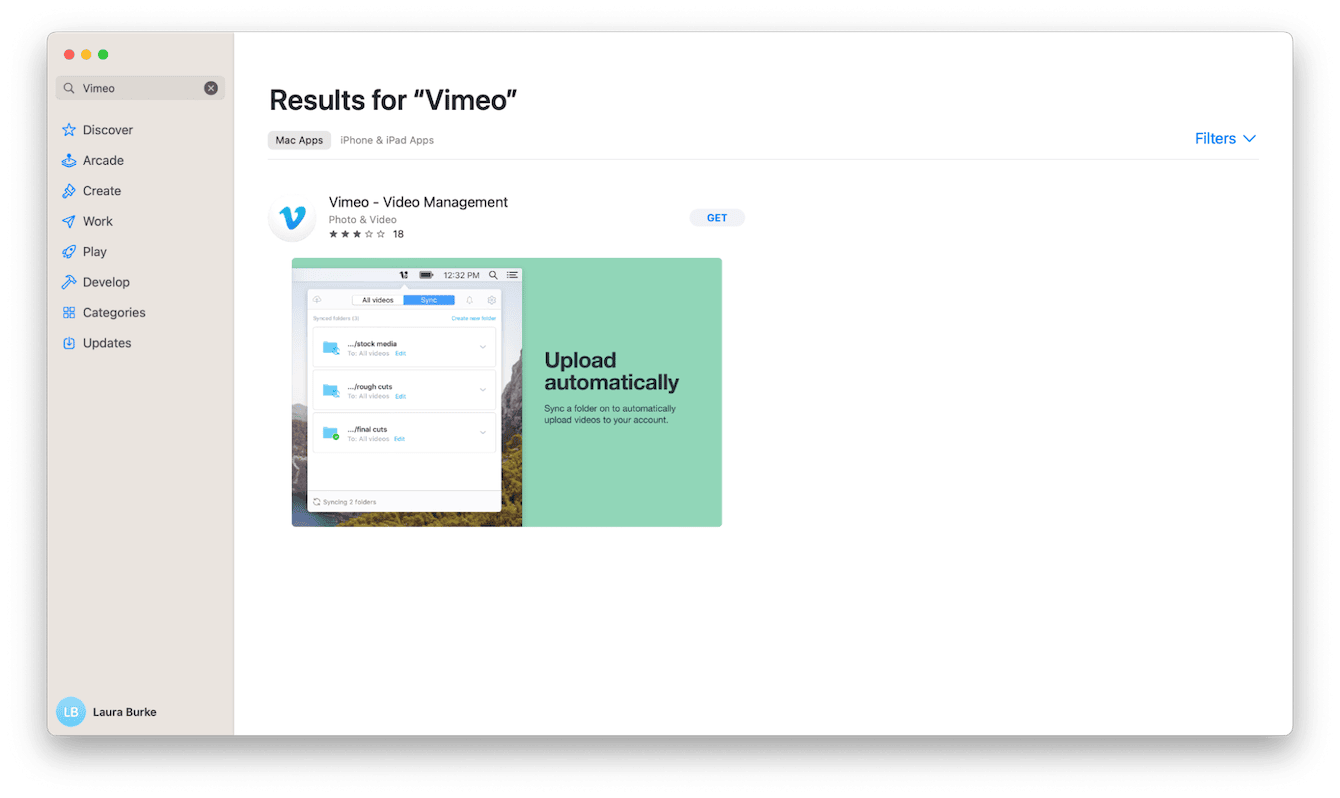 First, download Vimeo from the app store.

Create an account and enjoy browsing.

When you locate a video you want to save while it's playing, select the three-dot icon and choose Add to offline playlist.

You can access the offline playlist from your profile under offline.
The Vimeo download button
Another answer to how to download Vimeo videos on a Mac is to use the download button feature.
Many Vimeo content creators share downloadable content. So if you see a download button on the video you're currently watching, you can save it. Follow these easy steps: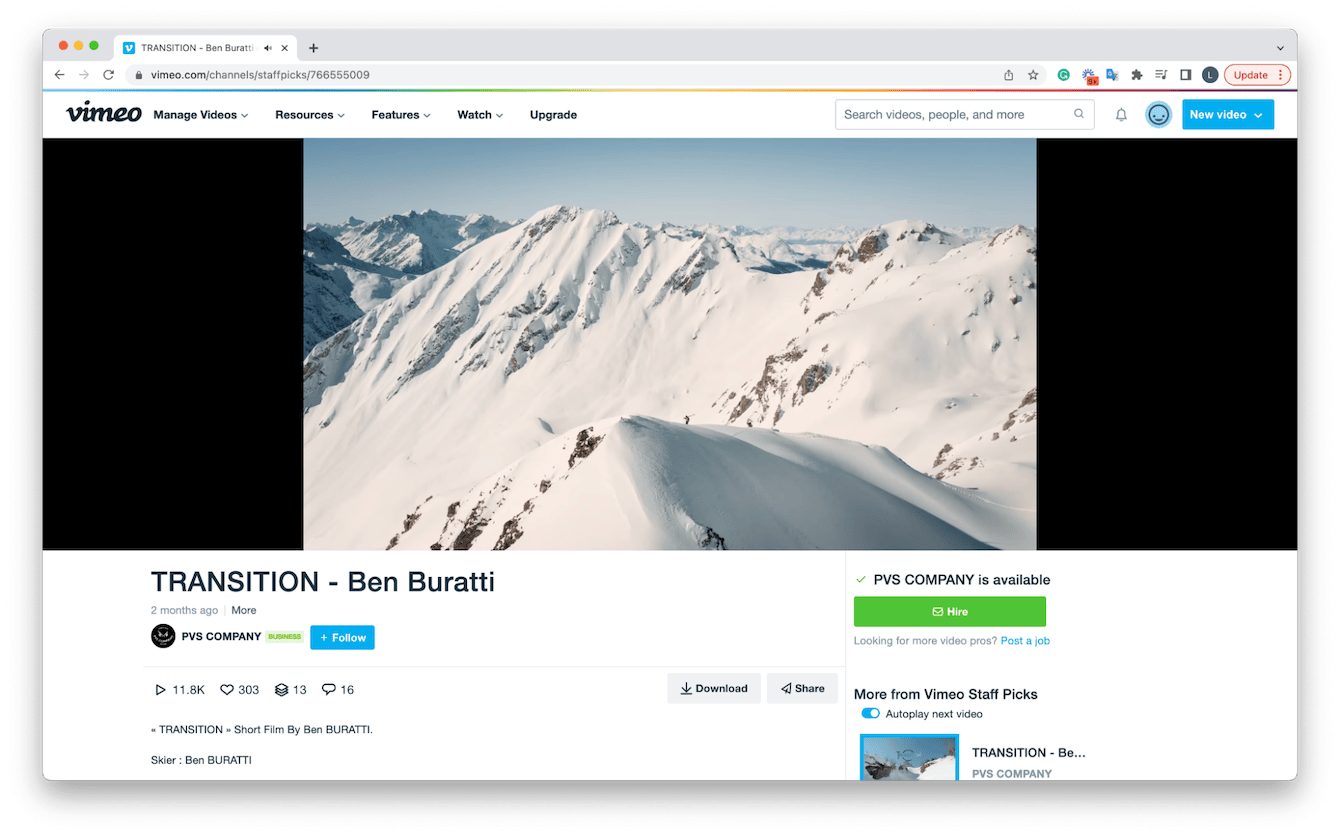 Select the download button on the right side under the video you're watching.

If applicable, pick a video quality and click Download.
How easy it is! Sadly, not all videos on Vimeo have a download button, but there's a workaround in the next tip.
Downloading video content, even short ones, can seriously consume space on your device. If storage is running a little low on your Mac, make sure you clear up some old files to make room for more awesome Vimeo videos.
The Large & Old Files module from CleanMyMac X is perfect for this kind of task — its system scan organizes all your forgotten files and folders into last accessed date, type, and size, making it easy to identify the items that you no longer need hogging space.
Here's how to save space and locate forgotten files: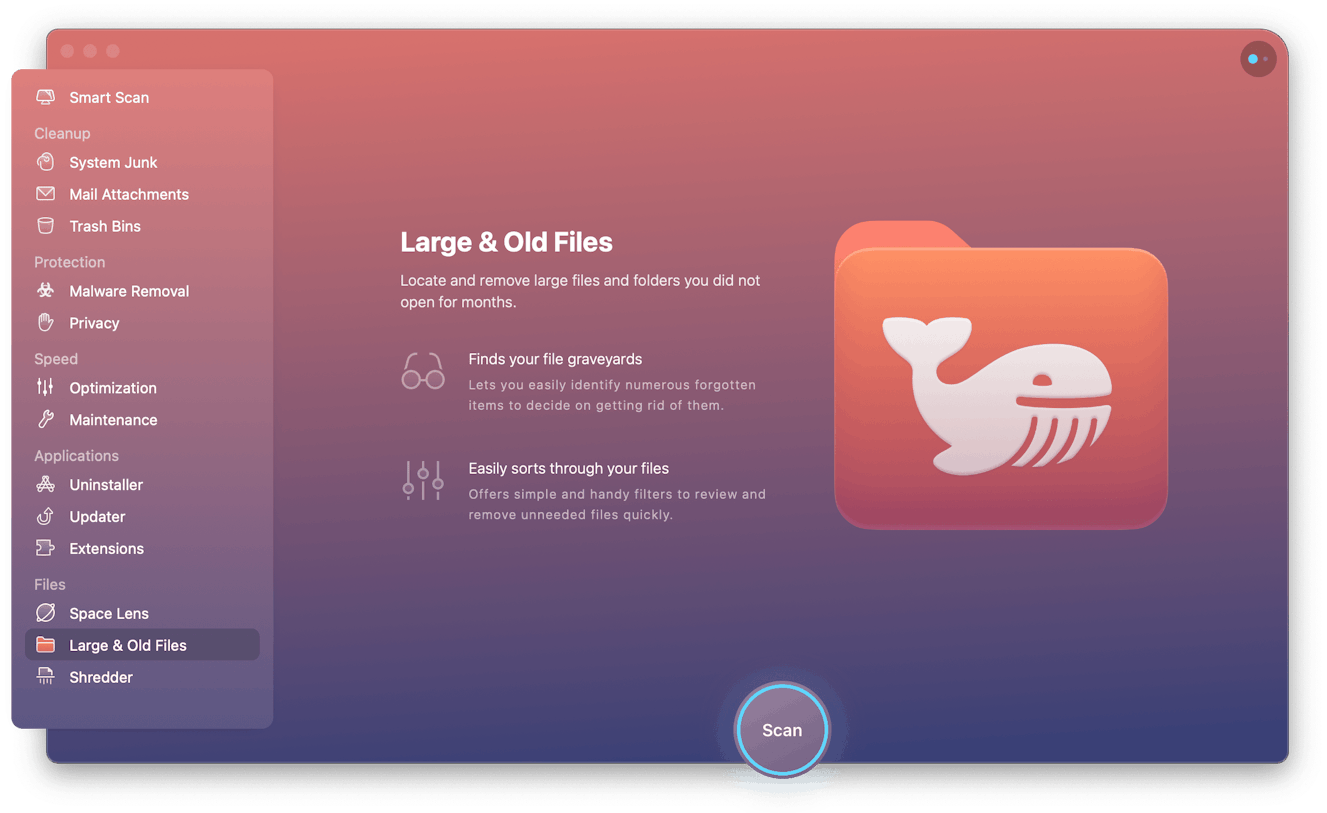 Open the Apple notarized application — download the free version here.

Locate and select Large & Old Files in the sidebar.

Click Scan.

Trawl through all your files and folders, select what you no longer want, and then click Remove.
Video Downloader for Vimeo
Another way to download from Vimeo to a Mac is to use the aptly named Video Downloader for Vimeo Chrome extension.
This extension is so simple and easy to use: once installed, you can also download multiple videos simultaneously. Here's how: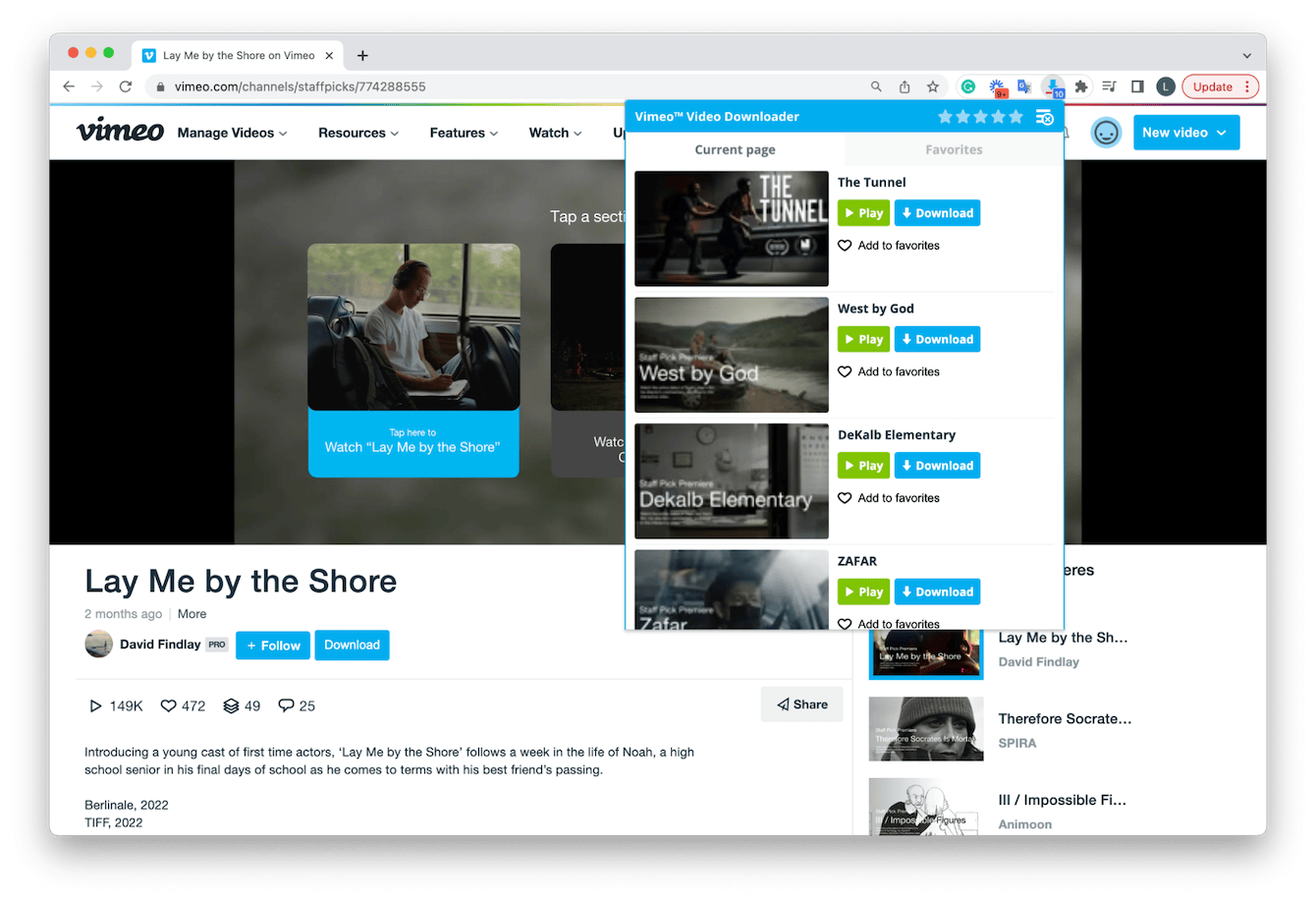 Install the Chrome extension here.

Pin the extension to your browser bar for easy access by clicking the jigsaw icon next to the search bar and selecting the Chrome extension from the list.

Now, head over to Vimeo. Once you've found a video you want to download, select the extension and click Download next to the correct video.
Save Vimeo videos to a Mac
Before I sign off, here's one last method to download videos from Vimeo. One that many Mac users don't think about — the Command - Shift - 5 trick.
That's right, Apple's built-in, native screen recording feature is perfect for capturing videos intended for personal use only.
Curious about how this works? Here's how:
Open the video you'd like to download.

Press the Command - Shift - 5 keys on your keyboard.

Select Options, and then under Microphone, choose MacBook Pro [or any other Mac model] Microphone.

You can also decide to record the whole screen or just a snippet.

Click Record and begin playing your video.
This method is great, but it does mean you'll have to let the video play in full, so if you're short on time, maybe one of the previous methods is better for you.
So, we've come to an end, but as you can see from the tips in this article, there are plenty of safe and legitimate ways to download Vimeo videos on a Mac.
Without sounding like a broken record, just one last time, make sure the videos you do download are for your own personal use to avoid any copyright issues. A good rule of thumb here is if you do not know whether a video can be shared with others, it is a safer option not to distribute it.