How to safely download a Youtube video on Mac
4 min read
Today, we're tackling the subject of how to download YouTube videos on a Mac legally. Many users search the net for ways to download their favorite videos for that long flight or road trip ahead. No internet, no problem; there's no need to stream when you can download YouTube videos for later.
YouTube is the largest video streaming and sharing platform on the web, with millions of loyal users around the globe and over 800 million available videos. It's not unusual that you might want to save some for later. We'll take a look at all the various ways you can download Youtube videos legally and compare some of the top third-party YouTube downloaders.
But first, we need to address the critical question, "Is it illegal to download videos from YouTube?".
Copyright infringement is the biggest concern with downloading content from the internet. It's illegal to download any copyrighted content from any platform; you should do it only if you are a copyright holder or have the permission from a holder. Still, to this day, this question is a complex and controversial topic — it's a gray area.
YouTube states in its terms of service, which you can read in full here, that no one is allowed to download content unless you can clearly see a download link displayed.
So, you're probably thinking, it's certainly not legal, but, and there is a but, under the legal doctrine of "Fair Use," as long as the content is downloaded for personal use only, with no intention to distribute or monetize, it's doubtful YouTube would have an issue.
Disclaimer:
You may download videos from YouTube if you own the permission of a copyright holder or represent them. The content can be saved for personal use only. Distribution of copyrighted content is illegal.
So now that we've covered the important stuff, let's look at the methods to safely and legally download videos.
How to save a YouTube video
YouTube Premium
The easiest way to download a YouTube video on a Mac is by signing up for YouTube Premium.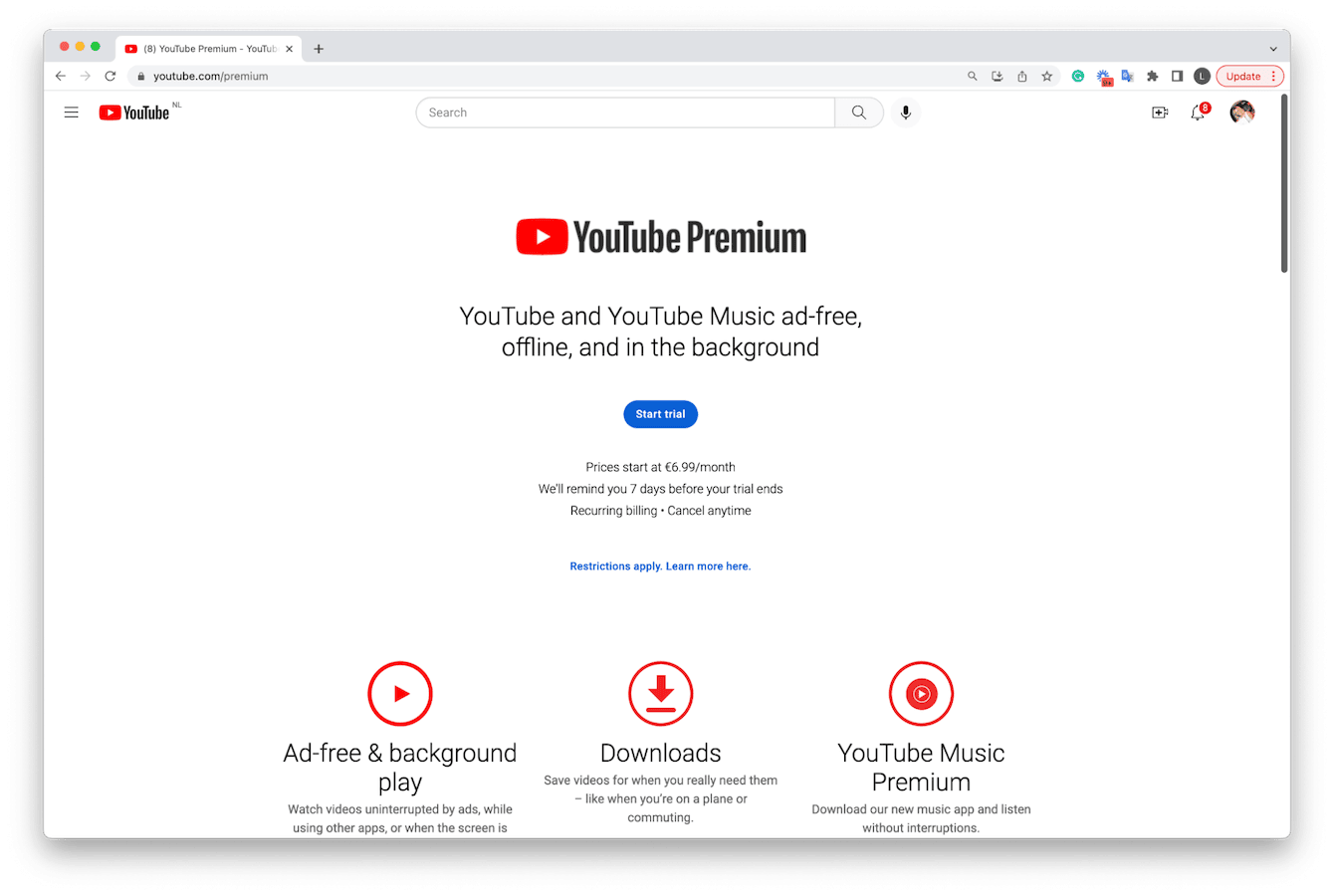 For around $6.99 per month, with a one-month free trial, you can download your favorite videos to watch offline later on your iPhone or iPad and enjoy ad-free watching without worrying about copyright infringement.
It's important to mention that YouTube Premium is a great option, but you can only watch downloaded videos and music on your mobile devices, and they'll only be available to watch offline for 30 days.
Head over to YouTube Premium signup page to find out more.
Command - Shift - 5
Another option is to use the native Apple screen recording feature to capture a video for personal use. Not only is this method hassle-free, but it's completely free to use. Here's how:
Open up the video that you want to download.

On your keyboard, press the Command - Shift - 5 keys.

Select Options, and under Microphone, select MacBook Pro Microphone.

You can decide whether to record the entire screen or just a selection.

Click Record and start playing your chosen video.
This is undoubtedly a great option and the best method for downloading YouTube videos on Mac for free, but even short videos can consume masses of storage space on your Mac.
One option is to clear out some old files and free up more space for your videos. I like to use the Large & Old File module from CleanMyMac X to help me find, identify, and remove my files.
It comes with a really smart way of organizing every single file and folder on your Mac — you can search by file type, last accessed date, and size. Making it super easy to identify items you no longer need. Here's how to use it: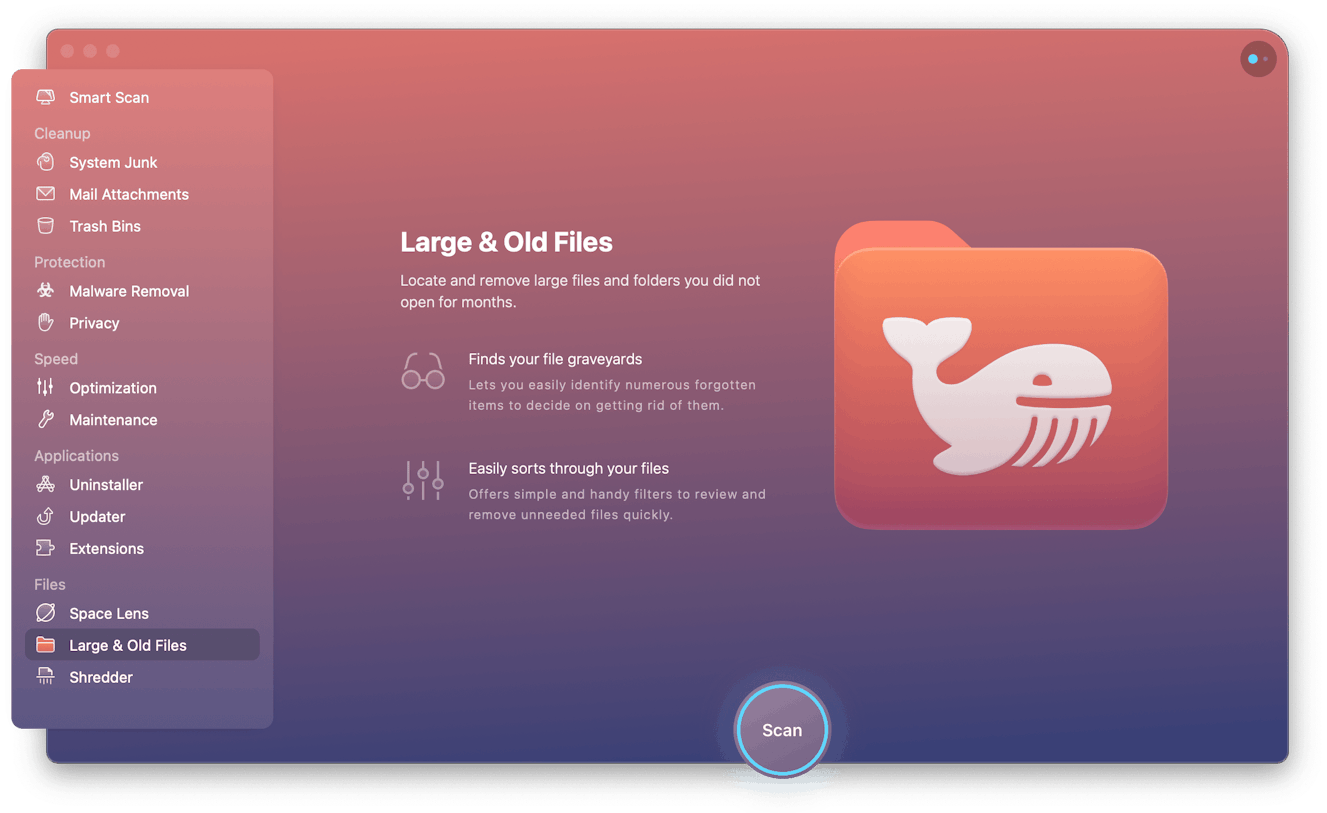 Open the app — download the free version here.

From the sidebar, click Large & Old Files.

Click Scan.

Scour through your items with ease, select what you no longer need, and click Remove.
Ok, so what about YouTube video downloaders for Mac?
How to download video from YouTube to a Mac
There are so many options out there that it's hard to know which is the right one. Be wary of applications or programs that claim to do it for free — these types of tools can often come with malware or other types of viruses.
Since you can safely download videos to your Mac for free using the Command - Shift - 5 method outlined above, the tools I'm going to highlight today are all paid and trusted options, so let's get started.
Downie — YouTube video downloader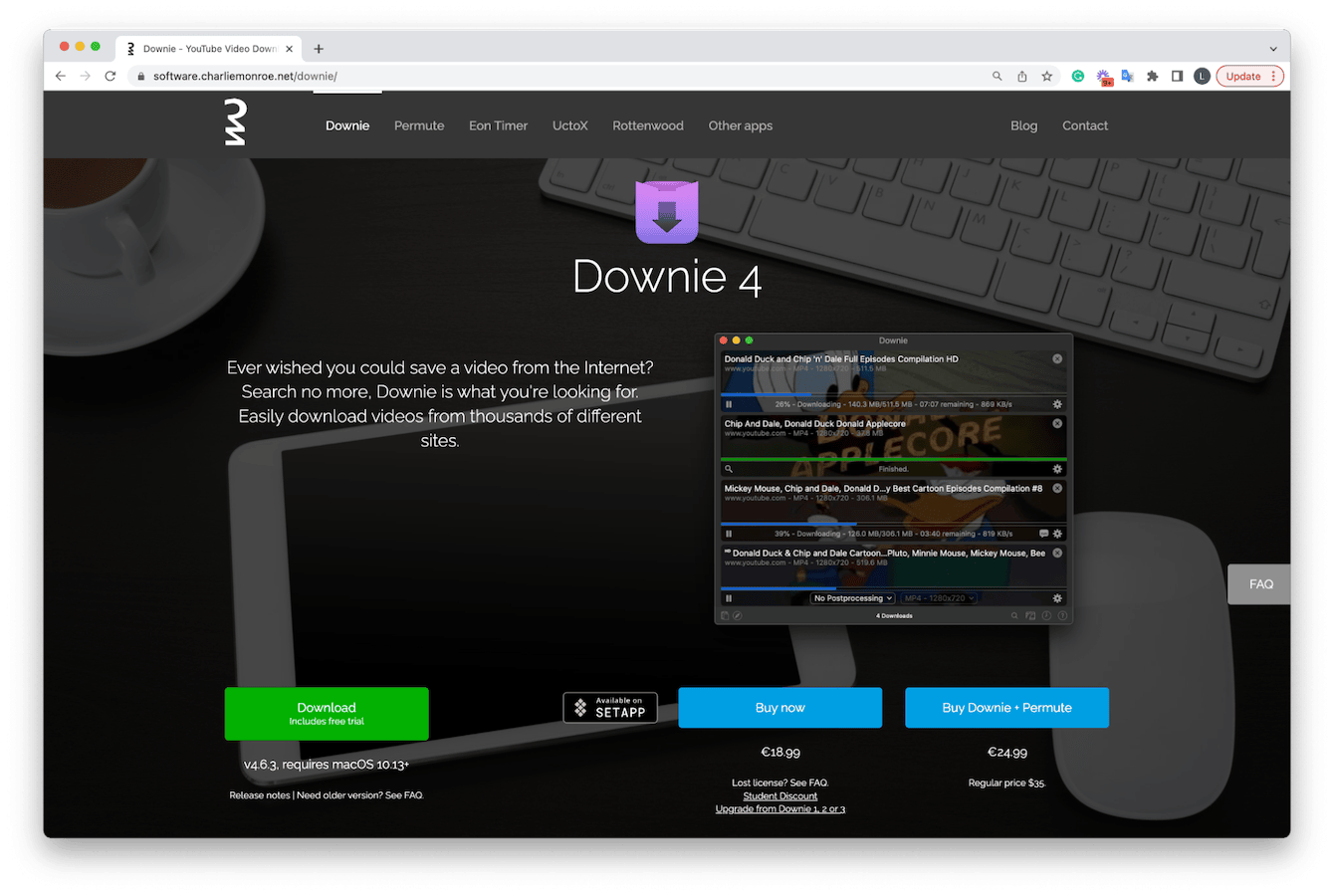 Downie lets you download videos from YouTube and over a thousand other sites. It's an easy-to-use, all-in-one media scraping tool that also supports HD video on YouTube, up to 4K.
It costs $9.99 and comes with a free trial.
Folx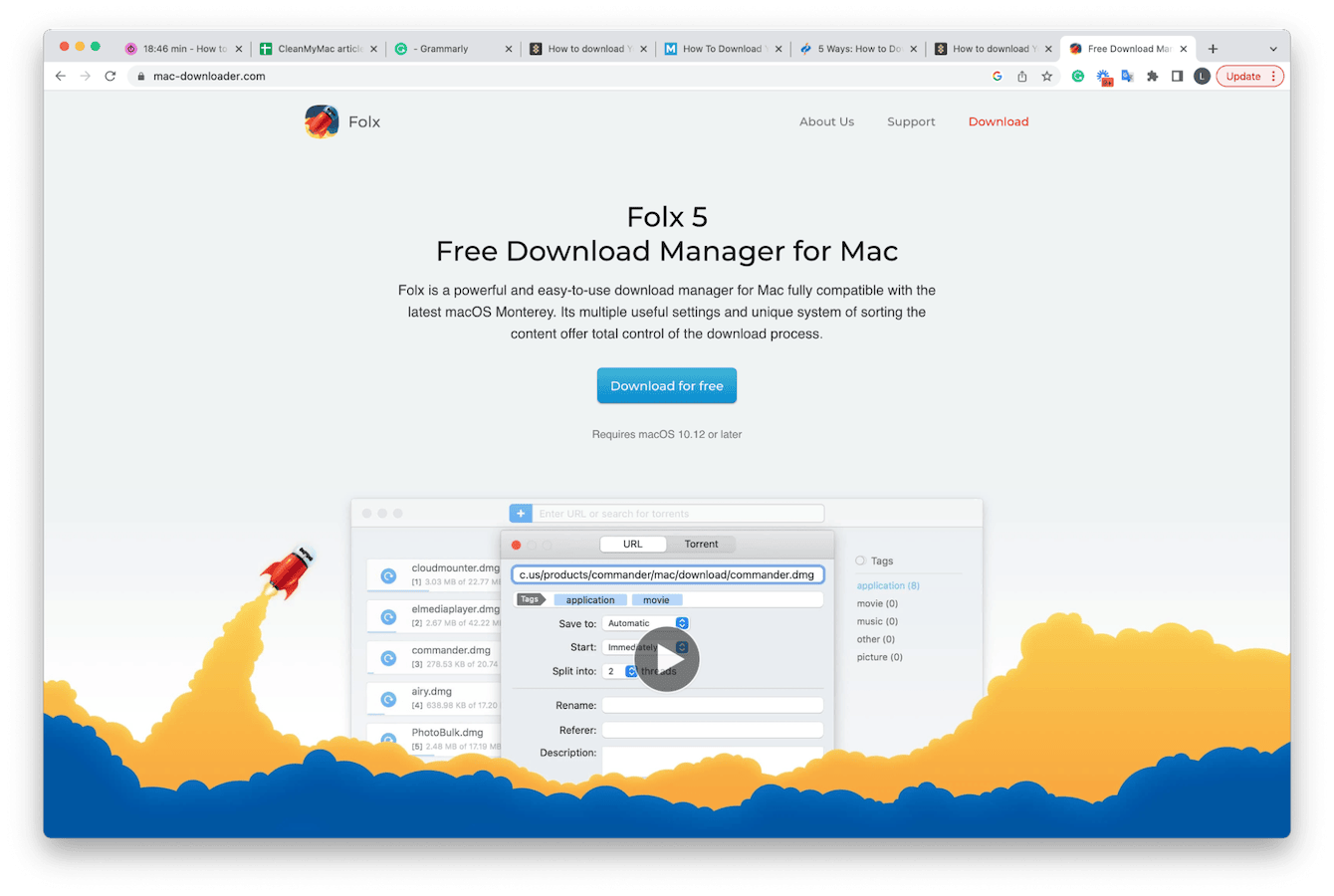 Folx is another great YouTube video downloader for Mac. Known for being one of the fastest downloaders on the market, it also has a built-in torrent search feature, a downloads scheduler, and a handy tagging system.
It costs around $19.95, and there's a free version available.
Parallels Toolbox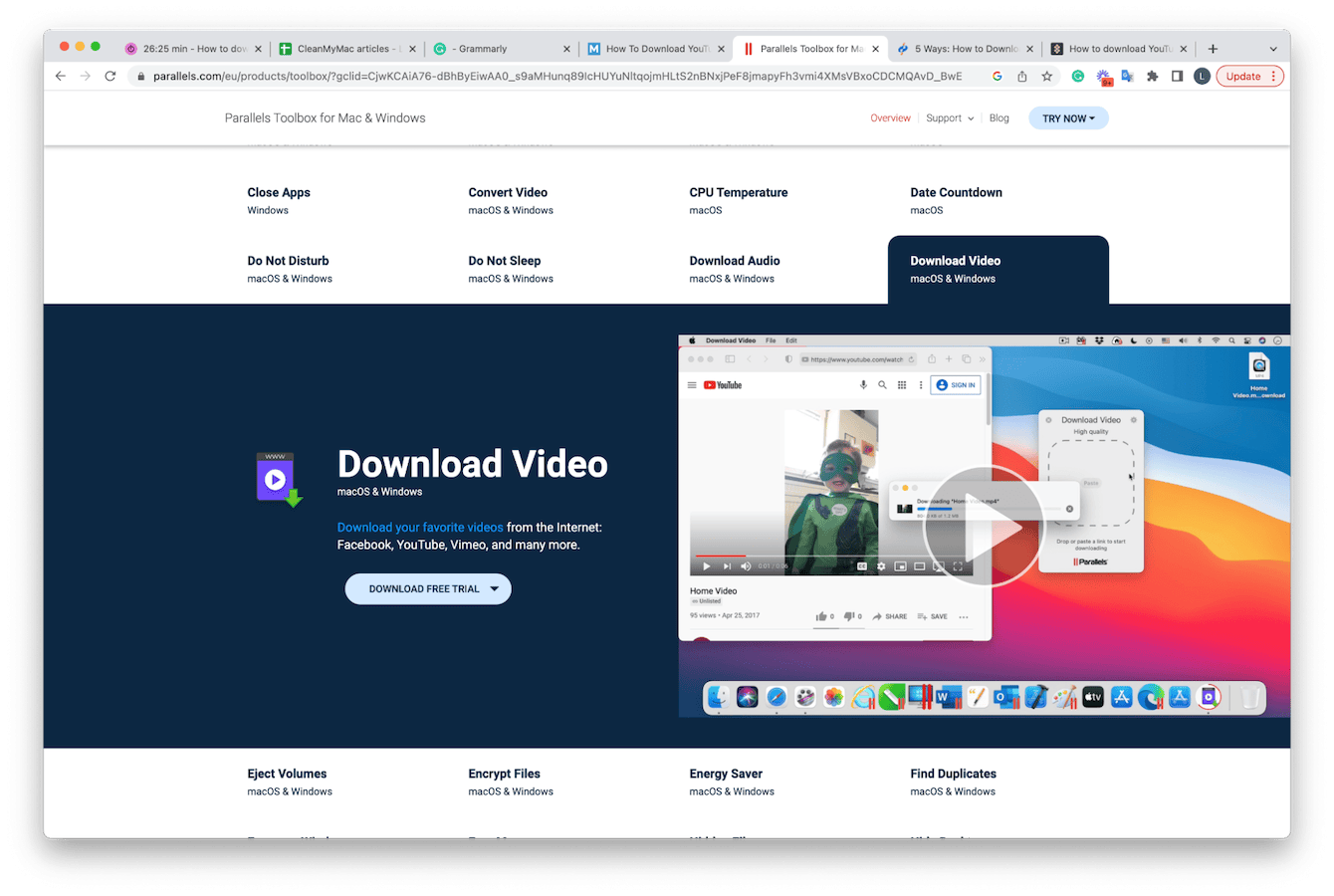 You might think Parallels Toolbox is just a Mac cleaner or productivity tool, which it is, but it also comes with a great video downloader feature. Users just need to enter the video URL, and the app will do the rest.
With over 30 other tools available, such as a barcode generator, CPU temperature, and so much more, this is an excellent option for those looking for a little extra.
Prices start at $19.99 a year, and it also comes with a seven-day trial.
As you can see, there are loads of legitimate and safe options out there regarding how to save YouTube videos. Just be sure any videos you do decide to download are for your personal and private use only.