Mac having startup problems? Here's what to do
6 min read
We've all been there, you sit down in front of your Mac to get the day's work started, press the power button, and nothing happens. Or perhaps something happens, a startup chime, an Apple logo even, but your Mac doesn't start properly. Whatever the situation, here's what to do to fix Mac startup problems.
What's the problem?
The first step is to diagnose what's causing your Mac to have problems. What happens when you press the power button. Does it chime, does the boot disk start whirring, or the power light come on? If none of those happens, your Mac's power source is likely at fault. In that case, follow the steps in the next section.
If you do get signs of life when you try to boot, you can skip that section and move on.
Tip: Before we get started, it's good to run regular maintenance on your Mac to make sure you don't run into problems like failing to start up further down the road. One of the easiest ways to do that is to use CleanMyMac X's Maintenance module to run maintenance scripts and repair disk permissions. We'll show you how to use it later in the article.
How do I fix a Mac startup problem?
Check the power source
Never disregard the most likely, even apparent solutions. If you're using a MacBook, MacBook Air, or MacBook Pro, is it connected to a power source? If not, it could be that the battery has lost charge. Here's what to do.
Plug in your Mac's power adapter.

Make sure the wall socket is switched on and the plug is secure.

Make sure the power adapter is connected securely to your Mac – you should see the power indicator light up.

Try starting up again.

Still nothing? Disconnect any accessories and try again.

If nothing you've tried so far has worked try a power cycle:
On a portable Mac, hold down the power button for ten seconds. Wait ten seconds after the power shuts off and try starting it up again.

On a desktop Mac, remove the power plug, wait ten seconds, re-attach it and try booting again.
If there are still no signs of life, it could be that the power adapter is damaged. If you can, try another power adapter.
Check your display

If you're using an external display with your Mac and hear a startup chime but there are no signs of life, it could be the display at fault.
Check if the display is connected to a power supply and switched on.

Check that it's securely connected to your Mac.

Switch the display off and hold the power button on your Mac down to shut it down.

With the display still off, start your Mac with the power button.

While the Mac is booting, switch on display – it could be that the display's sleep setting kicked in while your Mac was off and failed to wake. Switching it on while there is activity on your Mac should fix it..

If none of the steps above work, try to connect your Mac to a different display if you can, to eliminate the possibility that it's the display that's the problem.
Start up your Mac in Safe Mode
If you're still having startup problems on your Mac, try booting it in Safe Mode. Safe Mode starts up your Mac without loading Login Items and some non-essential extensions. If your Mac boots in Safe Mode, it's likely that a login item or extension is causing a problem.
Shut down your Mac.

Press the power button while holding down = Shift.

Release Shift when you see the login window.

Type in your password.

You may be asked to login a second time. If so, type in your password again. You should see "Safe Boot" in the top right of the window.
If booting in Safe Mode works, the next step is to try logging as a different user, preferably an admin user, if you have a second admin account on your Mac.
Shut down your Mac.

Boot your Mac normally.

When the login window appears, login is a different user.

If that works and your Mac appears to be running normally, the next step is to switch off login items for the account that's having trouble.
Unfortunately, the only way that macOS allows you to manage login items is from within the account who's login items you want to manage. And if you can't log in to that account, you can't manage them. So, the next stage is to check that macOS and all your apps are up to date.
Update your apps
Go to the Apple menu and choose System Preferences.

Click on Software Update.

If a Software Update is available, click Update Now and follow the instructions on screen.

When your Mac restarts after the update, try logging into the account that was having problems previously.
The easiest way to update all your apps is to use CleanMyMac X.
Download CleanMyMac X if it's not already installed on your Mac.

Follow the instructions to install it. Then, launch the app.

Choose Updater in the sidebar.

Click Select All.

Press Update.
CleanMyMac X can also perform maintenance on your Mac, including repairing disk permissions.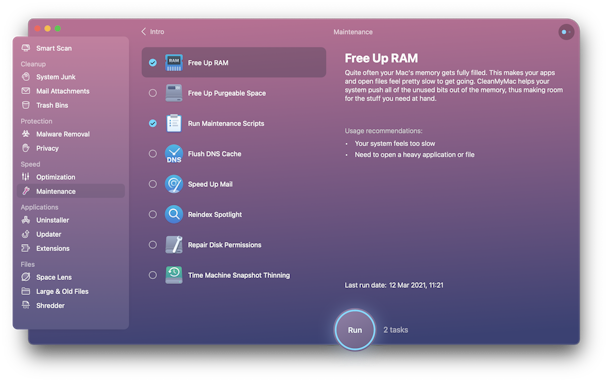 Launch CleanMyMac X if it's not running.

Choose Maintenance.

Check the boxes next to Run Maintenance Scripts and Repair Disk Permissions.

Press Run.
This should run a set of useful system optimizations that should fix what's preventing your Mac's startup.
Reinstall macOS
If all else fails, the last resort is to reinstall macOS. Before doing that, however, you should backup your data. If you have a second user account, the simplest way to backup is to log in to that account and set up a Time Machine to back up to an external drive. That way, when you reinstall macOS, you can just copy your data back to your Mac.
Don't choose the options to restore from a Time Machine backup during the reinstall process; otherwise, you risk copying the files that caused the original problem to the newly installed macOS version.
To reinstall macOS, make sure your Mac is connected to the internet, then boot in Recovery mode by restarting your Mac while holding Command and R until you hear the startup chime.
Then choose Reinstall macOS from macOS Utilities. To perform a clean install, use Disk Utility to erase your startup disk first. (Note: if you're running macOS Catalina, you need to erase Macintosh HD and Macintosh HD - Data to perform a clean install).
It can be worrying when your Mac won't boot up. However, there is plenty you can do to try and fix it. Follow the steps above, and you should be back up and running again in no time.