Folder with a question mark explained
5 min read
If you see a flashing folder with a question mark when you start up your Mac, this means your device is having problems locating the operating system on your startup disk. Sometimes, this issue will quickly disappear, and your Mac will continue to boot as normal. But in case of the worst-case scenario, try these quick fixes to rehabilitate your Mac.
In this article, we'll investigate what this error means, why it happens and what you can do to restore your Mac to normal. Let's start, shall we?
What is the folder with a question mark on Mac?
Apple explains that blinking the question mark folder on a Mac signifies that your startup disk is no longer available or contains a corrupt macOS. It can feel terrifying when this issue suddenly jumps up on you. But don't panic! It's not the end of the world. It's either a software or a hardware issue and can be caused by the following:
A failed update.

Corrupt NVRAM setting file that points to the drive.

Hard drive cable issues for older macs.

Damaged hard drive.
Let's check out some quick fixes you can try right away.
How to fix the MacBook folder with question mark
If your Mac only momentarily flashes the question mark folder before continuing to boot up, then it's likely a software issue, and the good news is, this can be solved in no time. Just follow the steps described below.
Reset your NVRAM
NVRAM (Non-volatile Random Access Memory) stores and retains system-critical information, including bootup info, without needing a power supply. Resetting your NVRAM can solve multiple issues, including the Mac blinking folder. Here's how to do it for an Intel-based Mac:
Turn off your Mac by selecting the main Apple menu > Shut Down.

Restart your Mac back and immediately press Option-Command-P-R.

Release the keys after 20 seconds.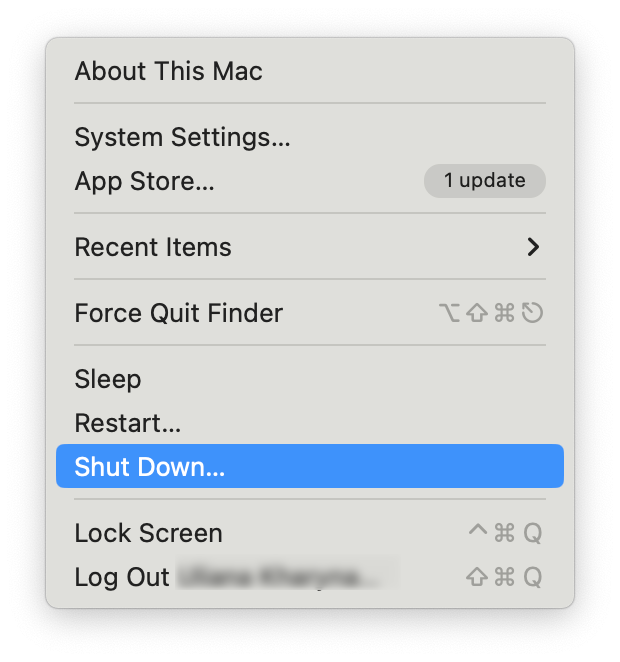 A Mac with Apple silicon will automatically reset NVRAM.
If this doesn't fix the issue, try the following alternative solution.
Reselect your startup disk
Disk errors confuse your Mac device system. That's why checking if your Mac uses the correct startup disk can work out well. Here's what you do:
Select the main Apple menu > System Settings > General > Startup Disk.

Check that the correct startup disk has been selected.

Click Restart.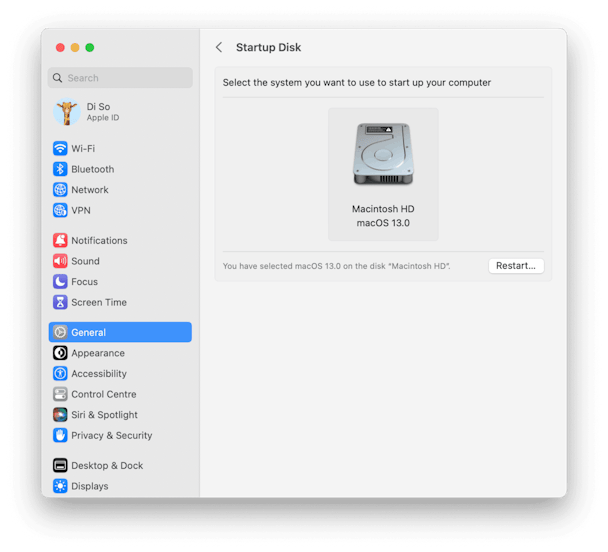 Carry out Mac maintenance
Failed updates and corrupt files can also be why MacBooks show a folder with a question mark. Running regular Mac maintenance can drastically improve the overall performance of your device, sling with fixing such annoying issues.
I personally use the Apple notarized app CleanMyMac X. Its Maintenance module can quickly solve application errors and improve performance by running a set of maintenance scripts that would take you hours to do manually. How does it work? Let me give you a tour.
Open the application — download the free version here.

Select maintenance from the sidebar > View All Tasks.

Select Run Maintenance Scripts > Repair Disk Permissions.

Click Run.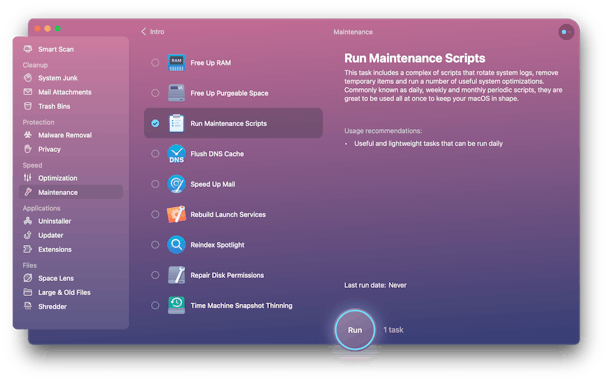 I recommend taking the time to back up your data in case the problem persists or becomes a hardware issue later down the line. Simply use the TimeMachine to do it.
Ensure your external storage device.

Go to the main Apple menu > System Settings > General > Time Machine.

Click Select Backup Disk and choose your external drive.

Click Use Drive.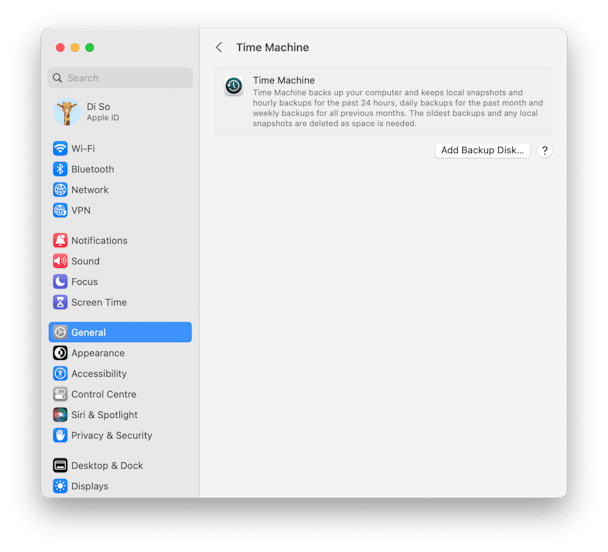 Note that you may need to set it up first. In this case, click Add Backup Disk and follow the on-screen instructions.
If your Mac gets stuck on the question mark folder screen and won't boot, then it's likely a hardware issue. The bad news is, depending on the severity of the problem, you might require professional help.
If you haven't run a recent backup of your data, you might consider booking your device at an official Mac service provider so that you don't lose all of your data. But if you do have a recent data backup, you can do a few things to try and solve the issue.
Bootup in recovery mode
You can use Disk Utility from the Utilities menu in recovery mode to diagnose and fix the problem. Here's how to boot into this mode for an Intel-based Mac:
Hold down the power button to turn off your device.
Now turn your Mac back on, and quickly press and hold the following keys to take you to recovery mode: cmd+R
From the pop-up Utilities window, select Disk Utility and press First Aid.
Next, select your startup disk and press run First Aid from the top.
For a Mac with Apple silicon:
When turning on your Mac, press and hold the Power button.
Keep it pressed until you see startup options.
Click the Gears icon (Options) and hit Continue.
You may be asked to select a user and enter their administrator password. Follow on-screen instructions and press Next after any action you take.
Suppose your startup disk didn't appear as an option in Disk Utility. Then it is time to ask for professional help for your Mac.
Format your startup disk & reinstall macOS
In case Disk Utility couldn't help, try formatting your startup disk and then reinstalling macOS from scratch. Please be aware this method will erase all disk data, so not ideal for those who weren't able to run a backup.
Here's how to first format your startup disk:
You'll need to boot in recovery mode again; use the instructions from the previous tip.

Select Disk Utility, then select your startup disk or Macintosh HD and press Erase from the top.

Press Erase Volume Group (or Erase) to remove all the data from your hard drive.
Now, here's how to reinstall macOS:
Boot in recovery mode once again.

Select the Reinstall macOS option from the Utilities menu and press continue.

Follow the on-screen instructions.
If this still doesn't work, it's time to visit an official Mac service provider. Better safe than sorry, right?
Hopefully, this article gave you an understanding of the flashing folder with a question mark error and helped you fix the issue. And as my final word, I want you to remember two things: carry out regular maintenance to avoid such problems in the future and regularly back up your data.