How to Force Quit on Mac?
4 min read
Did you know there are multiple ways to Force Quit on Mac? Looks like Apple is determined to provide as many options as possible to its users. Even when it comes to simple commands like the Mac Force Quit, you're guaranteed to find what suits your computing style.
Let's take a look at proven ways you can Force Quit on a MacBook.
When to Force Quit?
If an application or program on your Mac is unresponsive - use the Force Quit command to shut down the app. Don't worry, Force Quit is safe and it doesn't damage your Mac. But there might be some consequences like losing some data or unsaved changes in your files.
Why do apps become unresponsive?
Apps freeze or become unresponsive for a number of reasons, but the most common cause is insufficient RAM (Random Access Memory). This basically means your Mac is low on memory that makes it difficult to operate and run apps. Ever happened to you?
If yes, it's time to stop ignoring the problem and take action by learning how to fix it. But before we jump into instructions on how to Force Quit an app on your Mac, let's free up some RAM first.
How to free up RAM on Mac
One sure way of never needing to use the Force Quit command is by ensuring you've got enough available RAM so your Mac runs smoothly.
Here're a few handy tips to help you do that.
1. Restart your Mac
RAM is a temporary memory, so when you restart your Mac, your disk caches and RAM are emptied. Basics like that can sometimes be a game-changer that helps to keep your Mac free from unneeded junk. So give it a go!
2. Clean up your Desktop
The more icons stored on your Desktop - the more memory is used. Your computer treats each icon as an open, active window. That's why it's important to take a few moments to clean up your Desktop. Don't forget to empty the Trash afterward.
3. Run basic Mac maintenance
Running maintenance scripts should be part of your regular Mac care routine. Not only does it free up RAM, but also improves drive performance and resolves many application errors.
I like to use CleanMyMac X for that. It has a dedicated Maintenance module that helps to free some memory in less than a few seconds. This app is notarized by Apple, efficient, and easy to use. Here's how to Free up RAM: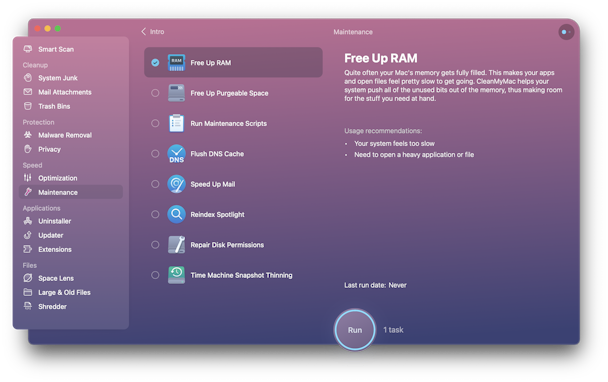 Open the application — download a free version here.

In the sidebar, select the Maintenance module.

Select the following: Free Up RAM, Free Up Purgeable Space, Run Maintenance Scripts

Press Run.
Alright, now that we've redeemed some memory it's time to test 6 proven ways the Force Quit command on Mac works.
How to Force Quit on Mac?
Even if you reclaimed some RAM, your apps can keep crashing. What do you do then?
1. CleanMyMac X
The first option is to use the app I mentioned previously — CleanMyMac X. Run Optimization module to help identify and safely close applications, or locate memory consumers. Follow this step-by-step instruction: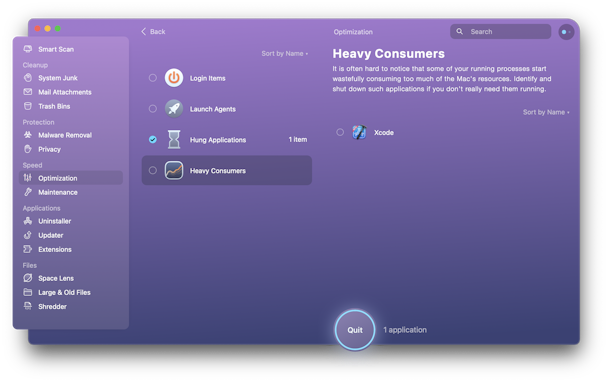 Launch the application, select Optimization from the sidebar.

Press View All Items.

Select Hung Applications to review unresponsive apps and follow the on-screen instructions to close them safely.

Check out heavy-consumer apps that are listed under Heavy Consumers. And again, follow the on-screen instructions to shut them down safely.
2. Keyboard Command
The second option and so far the easiest way to Force Quit an unresponsive application - use the keyboard command. Simply press Command-Option-Esc to open the Force Quit window and select needed apps. Then press Force Quit.
3. Apple Menu
Another simple method to use the Force Quit command on your Mac, or the third option on our list, is via the Apple menu. Here's how it's done:
Select the Apple Menu > Force Quit.

Select the troublesome app from the list and press Force Quit.
4. The Dock
If the application you're trying to close is located in your Dock, right-click its icon, and press the Option key — select Force Quit from the menu.
5. Activity Monitor
Number five on our list is Activity Monitor that can also be used to Force Quit on Mac:
Open the Finder window.

From the sidebar, select Applications > Utilities > Activity Monitor.

Locate the misbehaving app from the list.

Press the X to Force Quit those applications.
Still having issues? Don't get frustrated, try the next solution.
6. Terminal
In case the app you're trying to close isn't responding to the Mac Force Quit command, you can use Terminal's kill command to shut the app down. Follow these steps:
Launch Terminal from a spotlight search by pressing Space-Command and typing Terminal.

Type the following command, then press Enter:
ps -ax
You'll see a list of all processes running on your Mac. Make a note of the PID number of the app you wish to kill.

Now type the following command, pressing Enter:
kill <PID number>
This last option performs a hard closing and should kill the app instantly.
Now you know 6 different ways how to Force Quit on a Mac. Hopefully, you've found this article informative and useful. Don't forget to maintain your Mac regularly to keep it optimized and running smoothly.