Your Mac won't connect to Wi-Fi?
4 min read
Having trouble getting online because your Mac won't connect to Wi-Fi? It's an annoying issue that will leave the most patient person frustrated; thankfully, it's an easy fix with a little bit of troubleshooting.
Let's get started.
Why is my Mac not connecting to Wi-Fi?
It's pretty frustrating when suddenly your Mac won't connect to Wi-Fi. It always manages to be at the worst possible moment — just when you need it most.
Here are the most common reasons you might be having these issues:
Issues with your router

Your internet provider's network is down

Problems with your own Wi-Fi network

macOS software issue
Start with the basics
We've all seen the exclamation point over the Wi-Fi symbol at some point; this indicates that the device can't connect to the network, so let's start with the very obvious but necessary checks:
Turn your Wi-Fi on and off.

Check if you're connecting to the correct network.

Try connecting to a different network.

Check if your router's cables are connected correctly.

Reboot your Mac and try to reconnect.
If these didn't help, keep reading.
How to troubleshoot Wi-Fi connection on Mac
1. Check for any OS updates
Sometimes, a simple update of your Mac's operating system can solve many minor issues, like connectivity issues. Here's how to check if you need an update: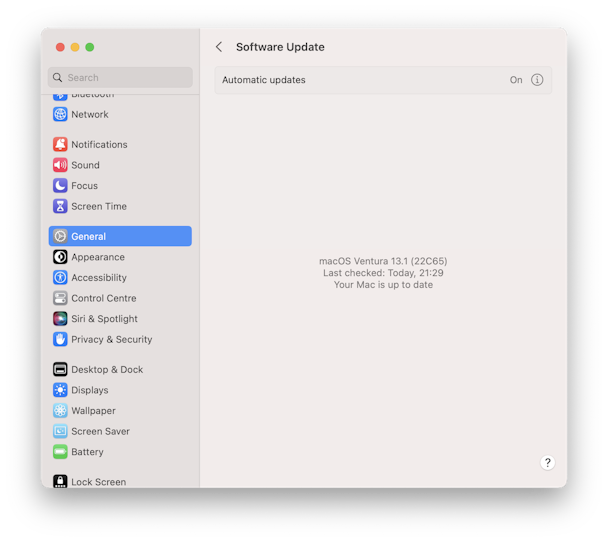 Select the Apple menu, top left.

Now, select System Settings > General > Software Update.

Check for updates.
If there's an update waiting for you, take a moment to install it and test your Wi-Fi again.
2. Check with your service provider
When your Mac is not connecting to Wi-Fi, and you've tried all the simple and basic troubleshooting tips, it's a good idea to check with your provider that there isn't a wider issue at their end — there's not much you can do in these cases other than wait and hope it's fixed quickly.
3. Restart your router
Unplug your router, wait 30 seconds and turn it back on. This seemingly quick fix can solve multiple router issues, like too many connections, IP address changes, and an overloaded network.
A few more tips for getting the best out of your router:
Keep your router in a central location — thick walls and furniture can interfere with its signal.

If your router has an antenna, try changing its direction for a better signal.

Keep your router away from metal.

Keep other wireless equipment away to avoid interference.
4. Change your router channel
Living in a densely populated area or apartment block with high Wi-Fi usage can cause connectivity issues; sometimes, changing your router channel can help with issues when your MacBook won't connect to the internet. Try switching to the 5-GHz band. Here's how:
Under your router or in your router manual, locate the manufacturer's default IP address.

Type this into your browser window and log in to your router settings.

Locate the 802.11 band and switch this from 2.4-GHz to 5-GHz.

Save your settings and try to reconnect.
5. Renew your DHCP lease
Unless you have a fixed IP address, renewing your DHCP lease manually can pretty quickly solve issues when your Mac doesn't connect to Wi-Fi. Here's how to do that:
Go to the Apple menu > System Settings.

Select Network > Wi-Fi, then click Advanced, bottom right.

Choose your network and click Details next to it. Select the TCP/IP tab and click Renew DHCP lease.
6. Change your DNS settings
DNS (Domain Name System) is often called the digital equivalent of a phonebook. It provides a number (IP address) to a name (URL).
By default, your router uses the DNS server of your internet service provider. But you can easily override it and use one, like Google's free DNS server. Here's how:
Select the Wi-Fi symbol and click Wi-Fi Settings.

Find your network, click Details, and select the DNS tab.

Select the "+" button and type: 8.8.8.8

Then click OK.
IP address information is stored on your Mac as cache. Sometimes, these files can hinder network connections — removing your DNS cache is a good tip to resolve connection issues.
I like to use CleanMyMac X to delete my DNS cache — not only it removes DNS safely, but it also saves a lot of time trying to locate these files manually. Bonus points for it also being notarized by Apple.
How to safely and quickly flush your DNS cache: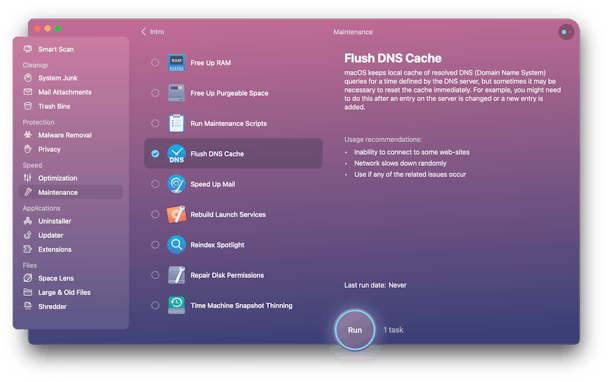 Open CleanMyMac X — download the free version.

Select Maintenance from the sidebar and click View All Tasks.

Select Flush DNS cache and click Run.
7. Forget the network
When your MacBook Pro Wi-Fi isn't working, sometimes forcing your device to forget the network can solve this annoying issue. Here's how:
Select the Wi-Fi Symbol and click Wi-Fi Settings.

Click Advanced bottom right.

From the list, select your network.

Click the ellipsis icon > Remove From List.
Your Mac will no longer try to join this network automatically; you'll need to locate the network again and add the password to rejoin.
There's a smarter way to forget your networks using the tool I mentioned earlier, CleanMyMac X; here's how: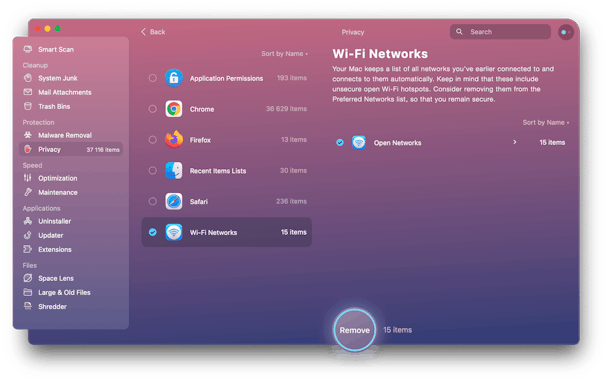 Open the app and select Privacy from the left sidebar.

Click Scan and then select Wi-Fi Networks.

Find your network from either the secured networks list or open networks list, then click Remove.
I like this method because it shows how many open networks you have saved on your Mac. While I'm here, I like to clean these up and remove these unsecured networks altogether. It's like a history of all the local cafes I've visited.
There's almost nothing more frustrating than when your Mac won't connect to Wi-Fi, but hopefully, these troubleshooting tips have you back online.
Come back soon for more great Mac tips.