Trackpad not working: what to do
8 min read
When your Mac's touchpad is not working, your laptop quickly becomes utterly useless. That little rectangular box below your Mac's keyboard is somewhat vital to our everyday computing needs. It's incredible just how much we rely upon and use our trackpads.
Thankfully, this annoying problem can be solved relatively quickly with some simple troubleshooting. In this article, we've put together proven and tested tips for you to fix your trackpad effortlessly. So keep reading!
Notice: you might need an external USB or Bluetooth mouse to help you troubleshoot. And once you're ready, jump to the next step to get started.
Why is my trackpad not working?
Before we dive into all the troubleshooting tips, it's always good to understand why we run into specific issues, so let's take a moment to look at why your trackpad is not working.
Corrupted software

Dirty trackpad

Glitch with your macOS

Trackpad damage

Hardware failure

Malware
Regardless of the reason, this is an issue you'll want to resolve quickly, so let's start with the basics.
MacBook touchpad not working: quick fix
Sometimes, our trackpads stop working altogether, while sometimes, we just lose the ability to click. If you're still able to move your cursor around, but your Macbook trackpad is not clicking, this could be the only tip you need to fix this productivity-crashing issue.
Disable force click
Trackpads come with an array of touch gestures. The two most commonly performed actions are force click and tap. These actions have entirely different results but can often be confusing, especially if you're new to owning a Mac. It simply all comes down to the amount of pressure you use.
When you tap your trackpad, you'll be able to select items, while a force click works almost like a right-click, displaying varying options depending on what you're clicking on. So if you're tapping and not clicking, that could be why you're having issues.
Here's how to customize and adjust your trackpad settings, including force click:
Select the main Apple menu > System Settings > Trackpad.

Select Point & Click and toggle the Force Click and haptic feedback on and off.

Adjust how much pressure you want to apply to use Force Click by moving the slider under Click.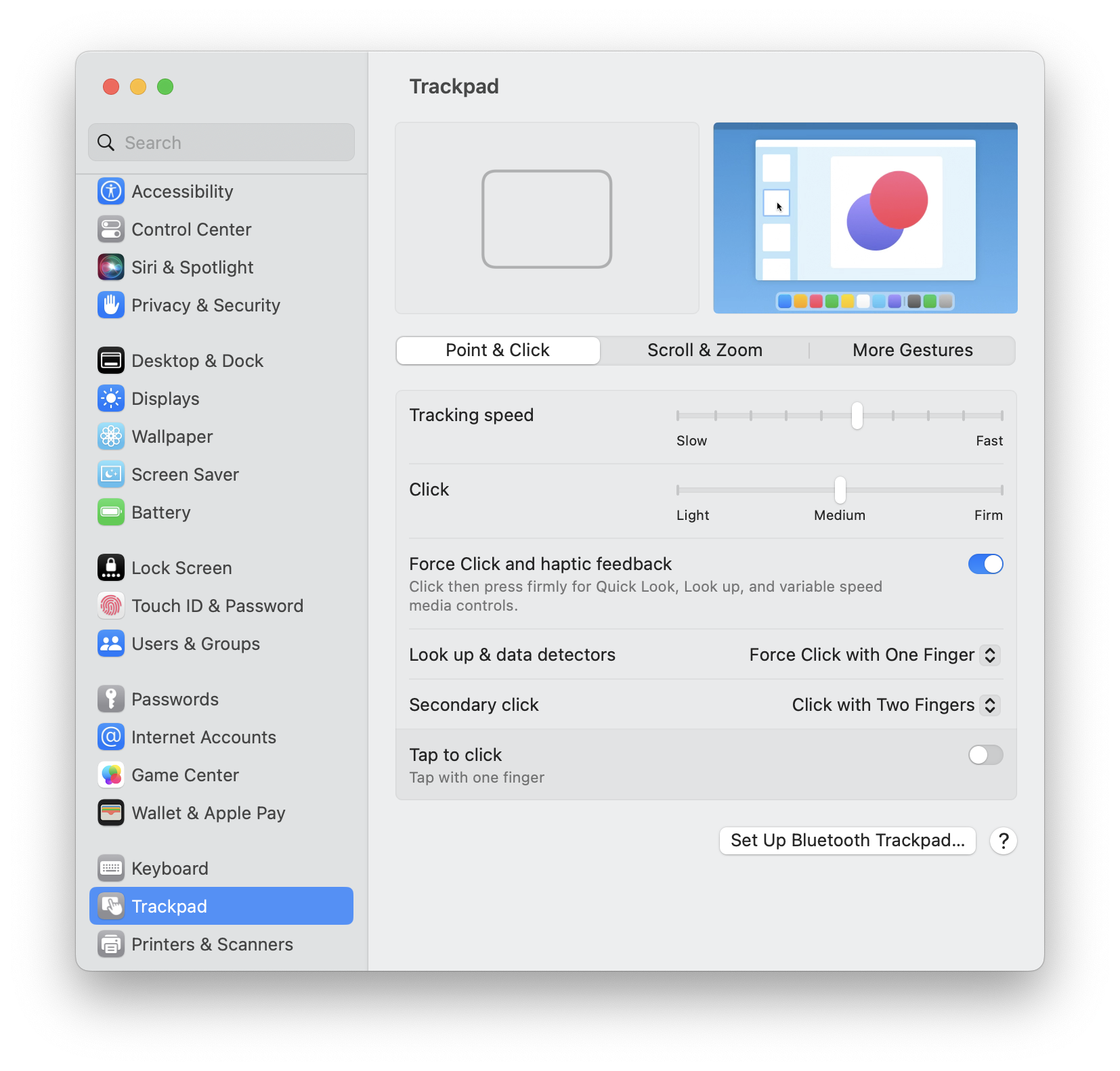 Take a look at all the trackpad gestures from Apple here.
If this hasn't helped, we've still got plenty of tips to force it to work. Jump to the next section.
How to fix Macbook trackpad not working or not clicking
1. Restart your Mac
Yes, it's obvious, but it needs to be at the top of any troubleshooting list. A quick restart can solve many errors and glitches, including issues like the trackpad not working on a Mac. Restart your Mac via the main Apple menu to see if this solves your trackpad problems. If you cannot use the Apple menu to restart your Mac, you may need to force shut down it — press and hold the power button and wait for Mac to turn off to do it.

2. Run Maintenance Scripts
Running maintenance scripts on your Mac keeps your device running smoothly and glitch-free. How? It eliminates broken, temporary, and unnecessary system logs and files from your system.
When you're suffering from a trackpad on a Mac not working, running maintenance scripts could help resolve the issue.
We use CleanMyMac X to maintain our Macs. It has a powerful Maintenance module, which turns a complex manual task into a super simple, hassle-free job and extra points because Apple also notarizes this app.
Run maintenance scripts the simple way:
Open the application or download the free version here.

Select Maintenace from the sidebar and click View all Tasks.

Now, select Run Maintenace Scripts from the list and click Run.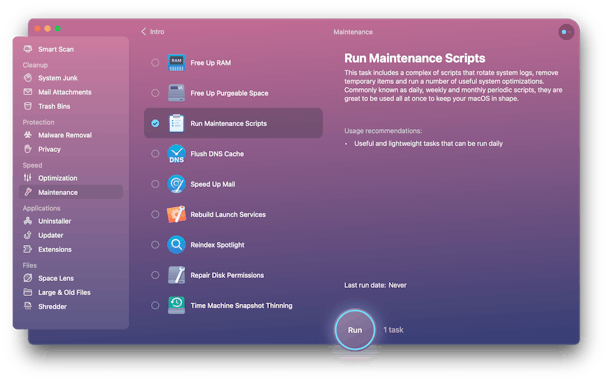 Job done! When it's that easy, why not.
3. Check for software updates
Can you remember the last time you updated your Mac? Many people don't realize that keeping your Mac updated can solve many software issues. Here's how to check for macOS updates:
Select the main Apple menu > System Settings > General > Software Update.
If an update is required, click Update Now and simply follow the on-screen instructions to install the updates.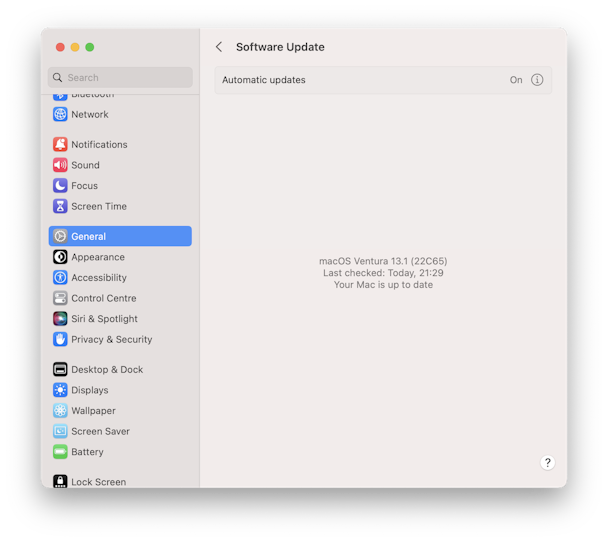 Once your Mac restarts, test your trackpad; if it's still not working correctly, head to the next tip.
4. Check for damage and dirt
It is also among the essentials. If your trackpad has been damaged by spilled liquids or an accidental fall, you'll need a trip to your local official Apple repair center (or the Genius Bar). On the other hand, simple dirt and greasy fingerprints may prevent Mac's trackpad from reading and understanding movements. Take a moment to clean your trackpad to see if that solves your issues.
5. Disconnect conflicting peripherals
Occasionally, other connected devices like a Bluetooth mouse or USB keyboard can interfere with your trackpad. Try removing these devices and restarting your Mac to test if your trackpad will resume working. If it doesn't help, move on to more advanced tuning.
6. Reset SMC
Sometimes, resetting your System Management Controller (SMC), which regulates power management and battery charging, can solve trackpad issues.
SMC reset for an Intel-based Mac:
Shut down your Mac.

Press and hold Shift+Control+Option and the power button.

Wait for 10 seconds and release the keys.

Press your power button and turn your Mac on.

It's not officially possible to reset the SMC on Macs with Apple silicon because the M-series chips now manage the functions. However, many users report you can carry out something similar to an SMC rest by completely shutting down your Mac and waiting for 30 seconds before switching it on again.
7. Reset NVRAM or PRAM
If the SMC reset didn't work, you could also reset the NVRAM (nonvolatile random-across memory) and PRAM (parameter RAM). The process is exactly the same to reset both.
NVRAM and PRAM reset for Intel-based Macs:
Completely shut down your Mac.

Turn your computer back on while immediately holding down the following keys: Option+Command+P+R.

Release after 20 seconds when you hear the startup sound or see the Apple logo and wait for your Mac to restart.

It's not possible to reset the NVRAM & PRAM on a Mac with Apple silicon, as your machine automatically handles this when an issue is detected and powered up from a shutdown.
8. Check your Mac for malware
In some rare cases, trackpad not working may be a sign of having a Mac infected with malware. You can try and hunt down the infection manually by inspecting the Applications folder for strange apps, doing some detective work in Activity Monitor, and double-checking browser settings. However, the problem with malware is that these nasty threats are hard to detect, so using a specialist tool can be a real game-changer.
We recommend CleanMyMac X and its Malware Removal tool for Mac virus removal. The app's database is constantly updated to detect even the newest threats. As a bonus, it comes with background scan and real-time monitor tools that prevent infection in the first place.
Here's how to use this smart tool for Mac virus scan:
Open CleanMyMac X.
From the sidebar, click Malware Removal.
Hit Scan.
You will now receive either a clean bill of health or a list of detected threats. If the app has found any malware, click Remove.
9. Reset your trackpad
If the above tips didn't work out for you and your MacBook Pro trackpad is not clicking, then let's try to reset your trackpad completely.
Don't worry! It isn't as complex or as scary as it sounds.
Intel-based Macs:
From your Desktop, select Go from the top menu bar > Go To Folder.

Enter the following path and press Return afterward: /Library/Preferences/

Search for the following files and delete them by dragging them to the Trash: com.apple.preference.track.plist and com.apple.AppleMultitouchTrackpad.plist

Restart your MacBook.
This process simply removes any existing trackpad property files that possibly became corrupted. When you restart your Mac, the files will be restored.
Macs with Apple silicon:
The above method doesn't work on Macs with Apple silicon. So instead, you'll need to manually reset the trackpad to its original factory settings. Here's how:
Select the main Apple menu > System Settings > Trackpad.

Under the Point & Click tab, turn off Tap to click.

Under the Scroll & Zoom tab, ensure that Natural scrolling is turned on.

This will return your trackpad to its default or factory settings.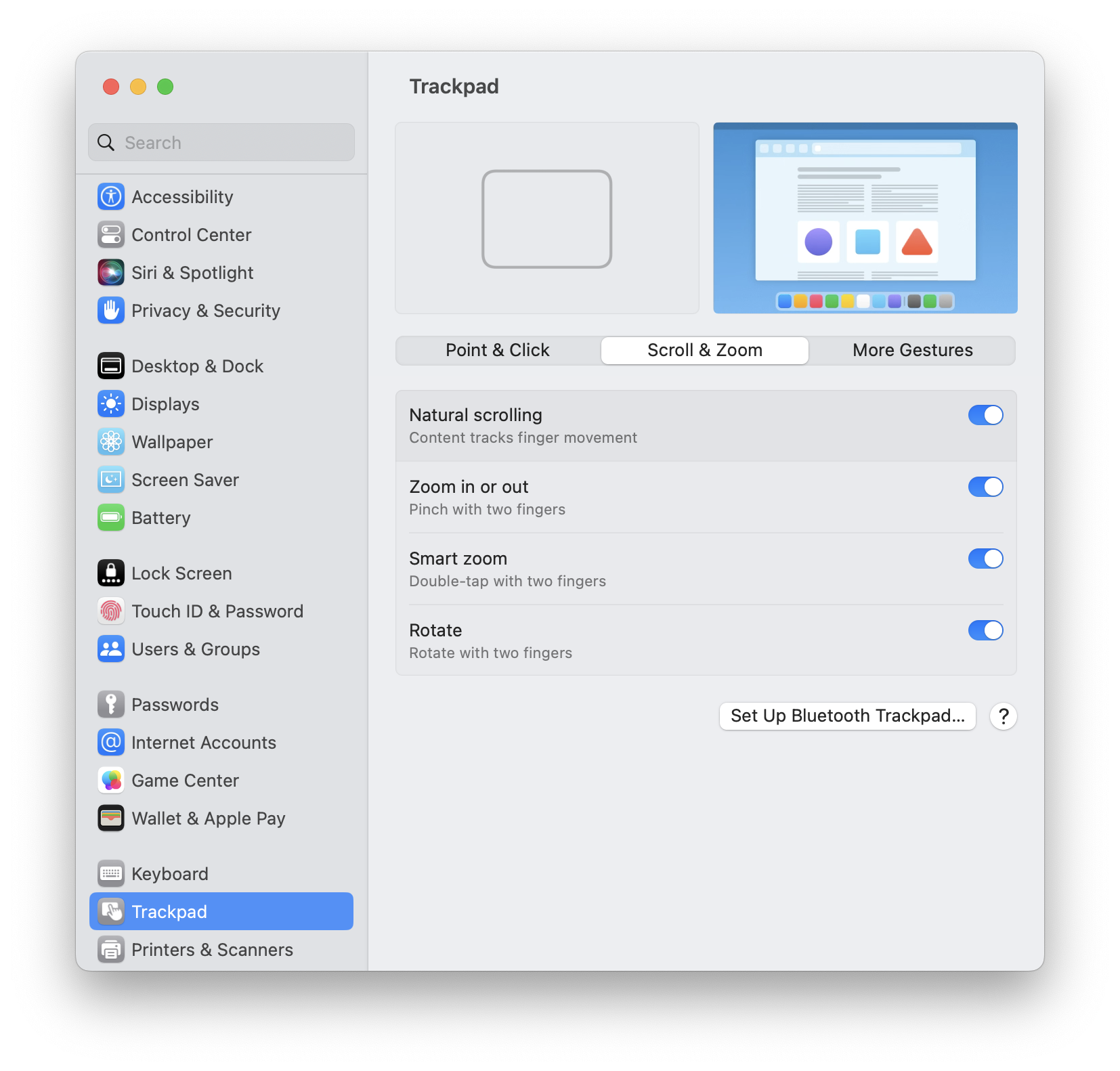 10. Run diagnostics
If you've tried everything on the list but still asking yourself why your touchpad is not working, at last, try to run Apple Diagnostics to check for hardware issues.
Run Apple Diagnostics on Intel-based Macs:
Completely shut down your Mac and remove any connected peripheral devices except the power cable.

Turn your computer back on and immediately hold the D key.

When you see the progress bar or, in some cases, when you're asked to choose a language, release the key.

Let the diagnostics test complete — this can take a while.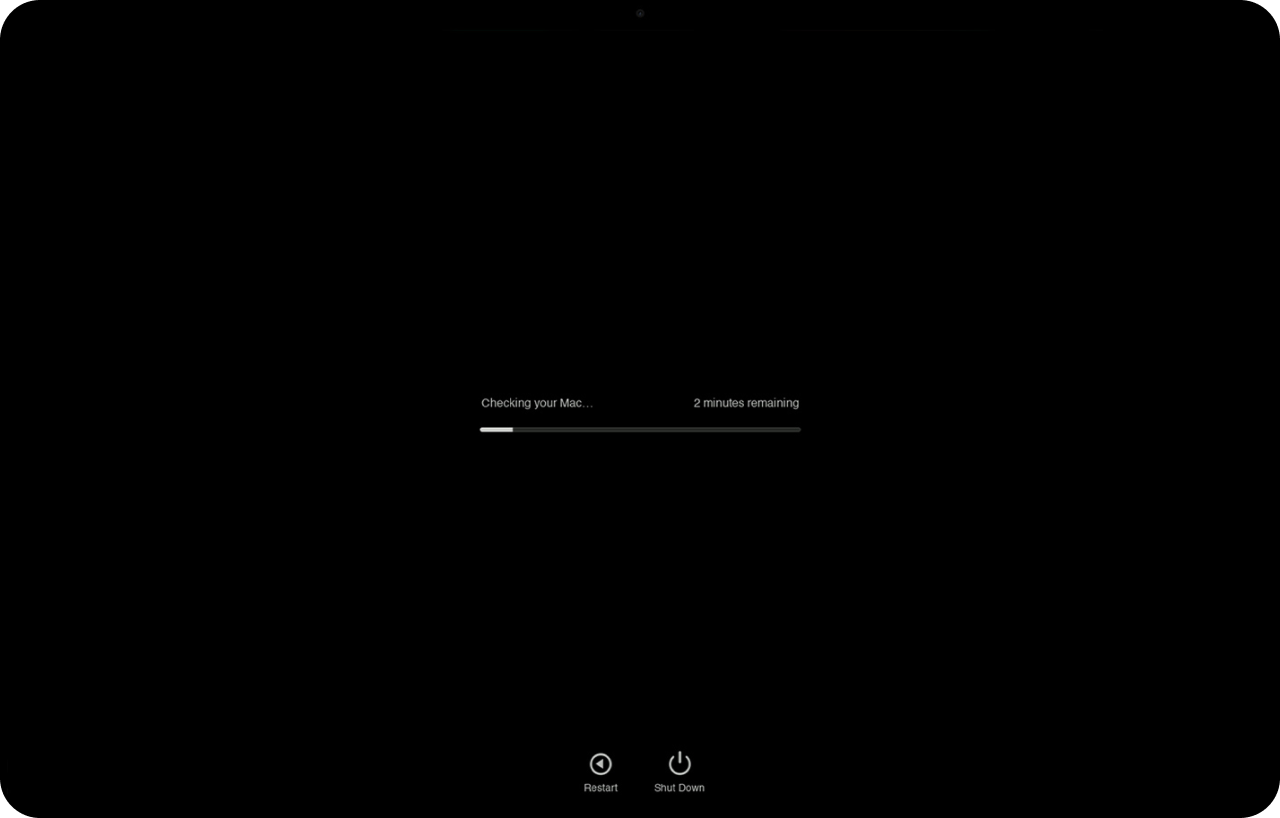 Run Apple Diagnostics on Macs with Apple silicon:
Completely shut down your Mac, and remove any connected external devices (not the power cable).

Turn your Mac on but continue pressing the power button until the startup options window appears.

Now press the Command-D keys on your keyboard to start the diagnostics test.
The diagnostic test results will be displayed on the screen once complete. Take special note of any reference codes — this can help you identify the problem. Hardware issues will need to be accessed and fixed by an official Apple service provider.
We've now reached the end of our trackpad damage control guide.
We know it feels limiting when your trackpad is not working. Hopefully, these tips have helped you solve the issue and give you the needed guidelines on what to do if the problem ever appears.