The ultimate guide to protection for a MacBook Pro
6 min read
What springs to mind when you think about protection for a MacBook Pro? It varies from user to user: some only think about physical device protection, while others focus on keeping malicious threats at bay. Both are important, and that's why we've put together this ultimate guide on how to care for your device. We'll cover physical MacBook protection, privacy security, and data protection.
So, let's jump straight in and get started with our Mac protection tips.
How to protect a Mac
1. Physical MacBook Pro protection
Macs are a serious investment, and while you can't plan for every single unforeseen circumstance, you can take precautionary measures to protect your Mac and sidestep expensive repairs. Let's start with the basics.
Dodge temperature extremes
Macs simply do not like extreme cold or heat. Exposure to either of these extremes can cause irreparable permanent battery damage.
Apple advise using your Mac between 50° to 95° F (10° to 35° C), also known as ambient temperatures.
Close your lid gently
Take care when closing your laptop lid — never slam or forcefully shut it. Apple advises removing keyboard films, covers, palm rests, and camera covers before closing your lid, especially for newer Mac models. Failure to do so may result in display damage or screen cracks.
Clean your screen
You might be alarmed to discover that a build-up of dust and debris can cause your screen to crack when you close the lid. So, keeping your screen clean is another essential when it comes to physical device care.
Apple gives clear guidance on how to clean your screen correctly here.
Insurance or AppleCare +
It's wise to invest in some kind of insurance for your device — you could speak with your current home or contents insurance provider or consider opting in for AppleCare+.
You can purchase AppleCare+ within 60 days of buying a new MacBook. It provides 24/7 technical support and extra hardware coverage as well as battery service coverage — very handy.
So, we've covered the physical aspect of MacBook protection. Now, let's take a look at some other ways we can keep our computers safe.
2. Update your software
Running the latest macOS software and installing the latest updates for all other apps you have installed on your Mac is one of the simplest ways of keeping it secure.
You'll not only benefit from all the latest Apple security updates and security patches, but you'll also get enhanced and improved features, along with software fixes.
Here's how to check if there are any updates available: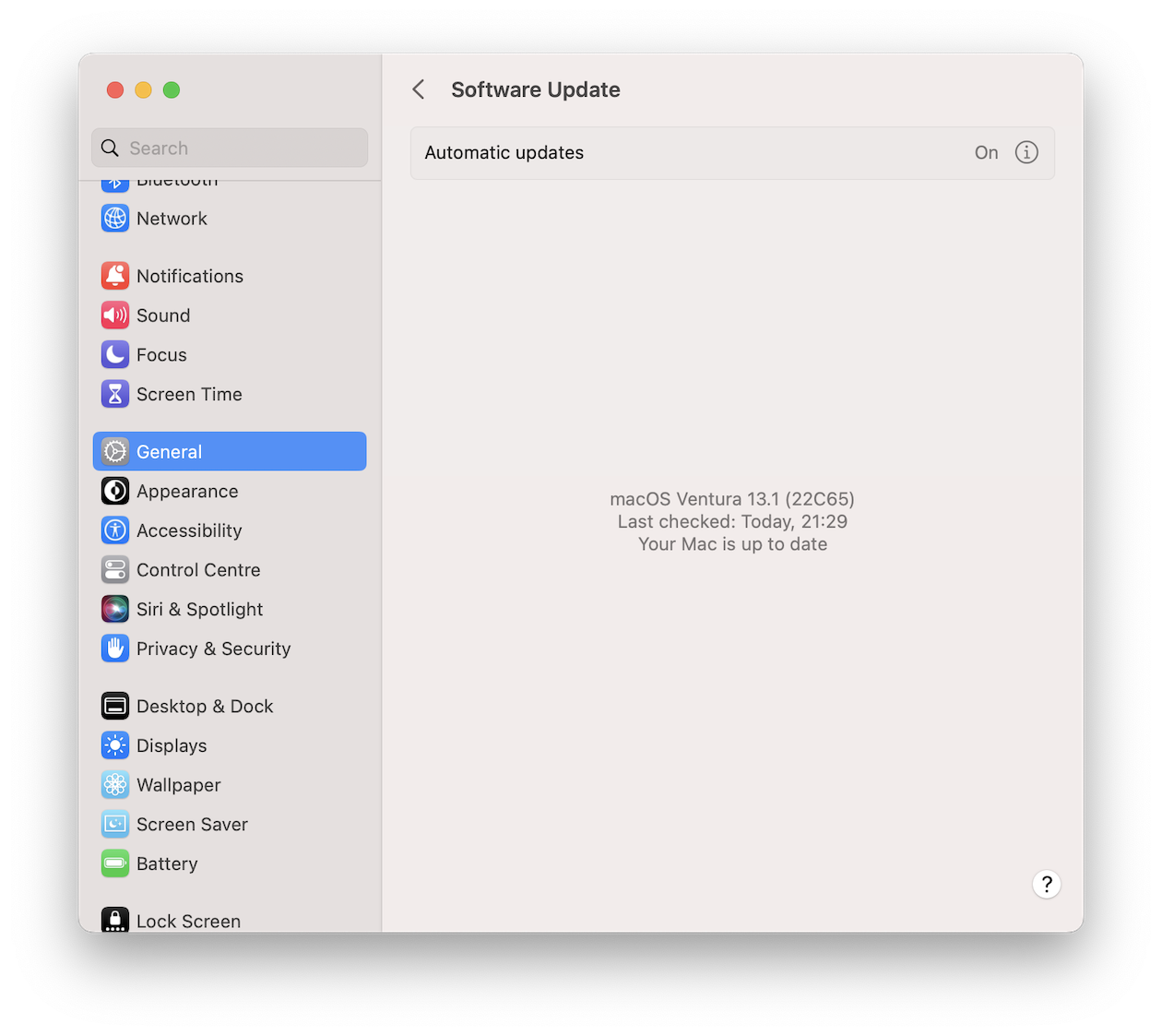 Select System Settings from the main Apple menu.
Click General > Software Update.
Check for updates and follow the onscreen instructions to install any available.
Ensure that Automatic Updates are turned on to never miss an update again.
3. Secure login password
Using a strong login password should be top of your MacBook protection list. Consider disabling auto-login and password hints as an additional layer of protection.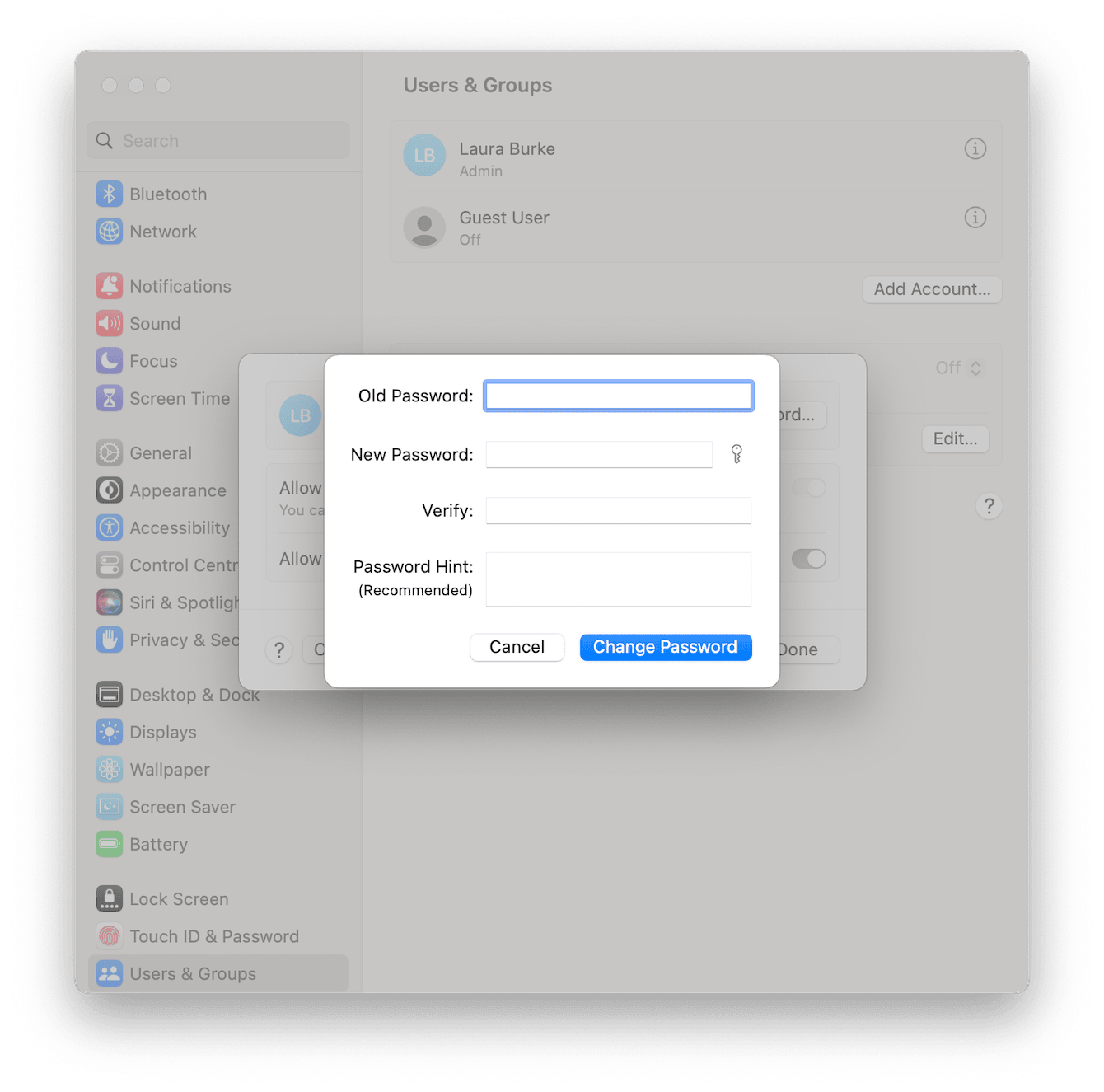 From the main Apple menu > System Settings > Users & Groups, you can adjust your various password settings.
Apple has also put together some guidance and tips for creating secure passwords.
4. Improve your online privacy
Our Macs come with some awesome built-in security features like XProtect and FileVault Encryption. But when it comes to our online privacy, this requires us as users to take some regular actions to make sure we're not exposing our private data. Here's a list of basic best practices:
Clear your browsing history regularly.

Utilize private or incognito browsing.

Enable firewalls.

Switch on VPN when using public Wi-Fi networks, although avoid using them whenever possible.
The problem is items like the ones above take time and effort, and we often let them slip from our minds. When it comes to upping the ante on my online privacy game, I like to use the Privacy module from CleanMyMac X.
This Mac protector can instantly remove your online and offline activity imprints, obliterate your browsing history, and erase any autofill form data and sensitive chat history — all in one go. Notarized by Apple, this app helps you take back control of your online privacy. Here's how to use it: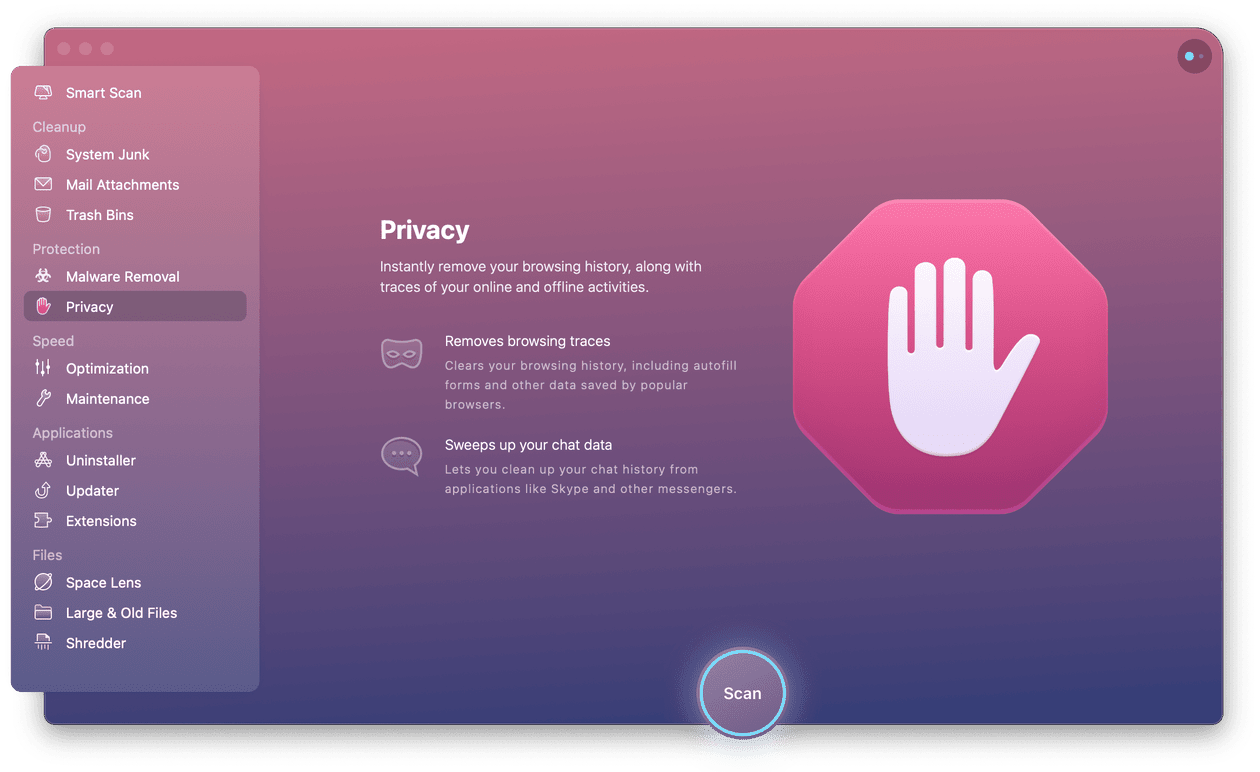 Open the app or download the free version here and install it.
From the sidebar, click Privacy > Scan.
Once finished, select any items for deletion and click Remove.
5. Enable Disk Encryption
You can use FileVault on your Mac to encrypt your personal information. FileVault encodes your startup disk, protecting your Mac from unauthorized access.
Here's how to check that FileVault is enabled on your device: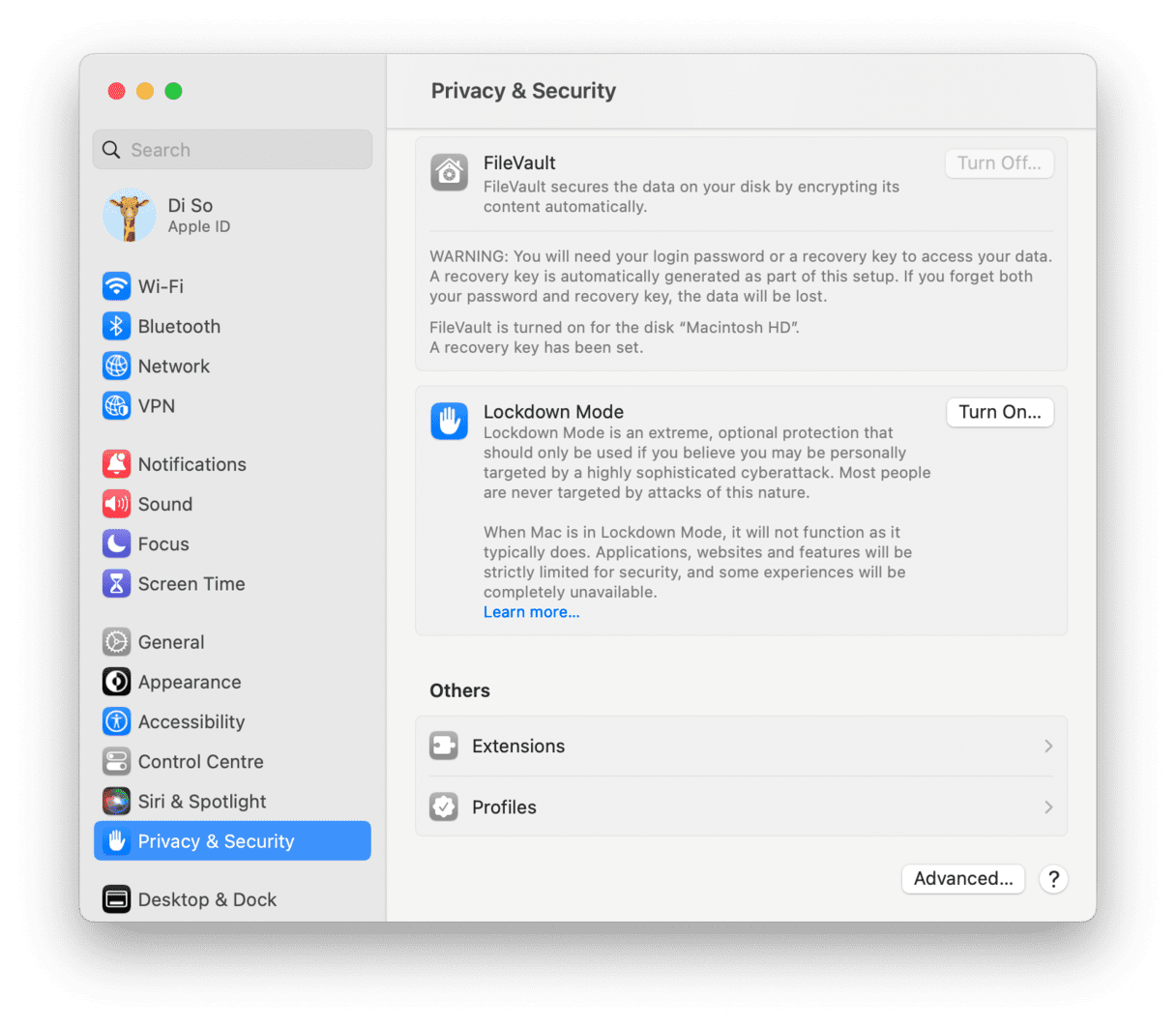 Select the main Apple menu > System Settings > Privacy & Security > FileVault.
Select Turn On and enter your admin password if prompted.
Now, decide how you want to reset your login password if forgotten and unlock your disk.
Click Continue.
6. Check application permissions
It's easy to forget over time what information we've given our apps permission to access.
Every now and then, it's a good idea to review permissions and privileges, like which apps have unnecessary access to your location, microphone, or camera; here's how: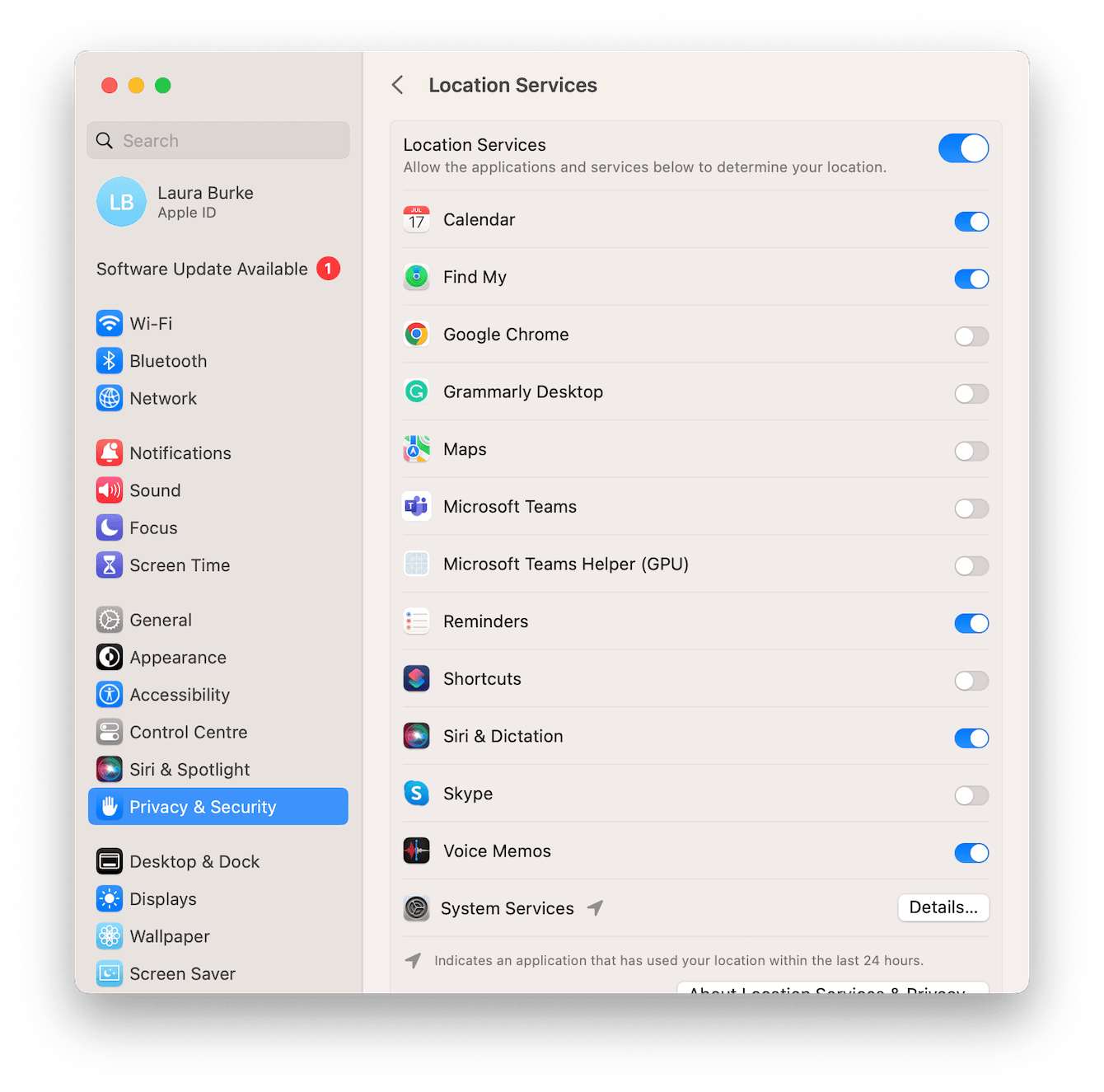 Select System Settings > Security & Privacy from the main Apple menu.

Under the Privacy section, go into each of the following options and toggle on or off individual application access:
Location Services

Microphone

Camera
7. Use antivirus software
Although our MacBooks come preinstalled with Apple's native antivirus program, XProtect, this won't ensure your device is free from threats and malicious malware. Apple isn't a security company, so investing in additional MacBook protection from a dedicated expert tool is essential.
I personally use CleanMyMac X. Not only does it come with a powerful Malware Removal module, but it also provides a real-time malware monitor.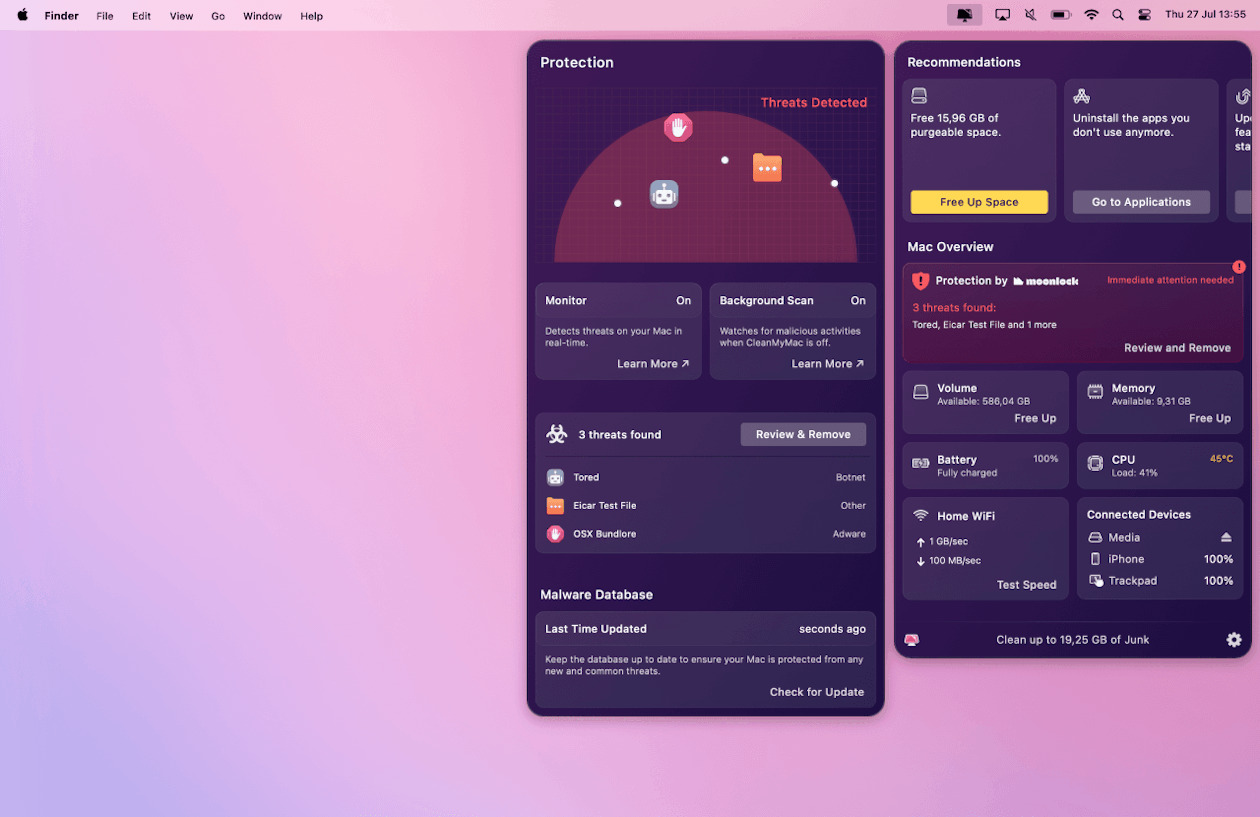 You can rest assured that this Apple notarized app will report any potential threats immediately. You can also use the handy Menu app to see your current protection status. Just click the application icon from your top menu bar to access it.
If your Mac starts acting strange, you can also run an in-depth system scan. Basically, running it from time to time serves as an additional MacBook protection layer. Here's how: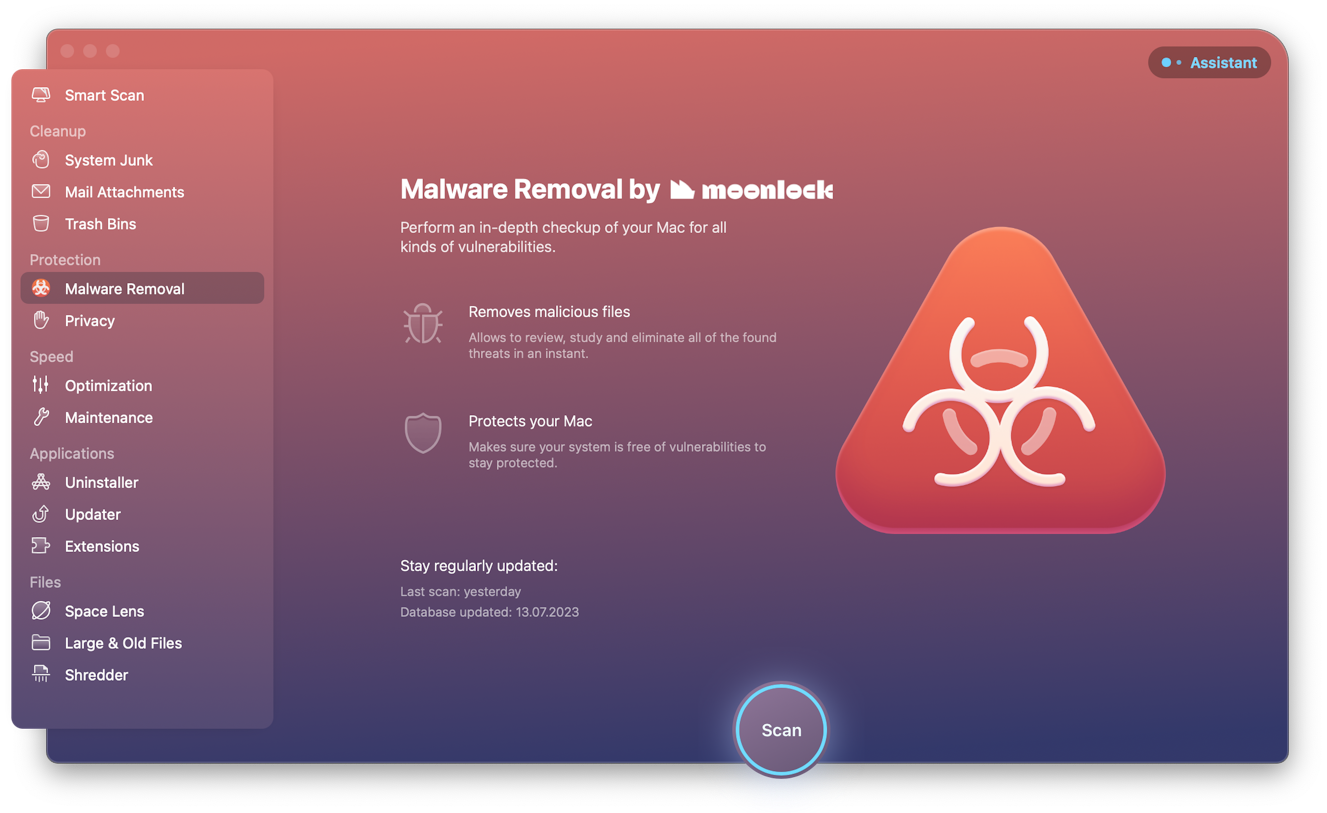 Open the app and select Malware Removal from your sidebar.
Click Scan and wait for completion.
Follow instructions given by the app if any threats are found.
8. Secure your device when it's idle
If your Mac has been idle for a certain duration of time, you can adjust your settings so that your Mac automatically logs out. Here's how: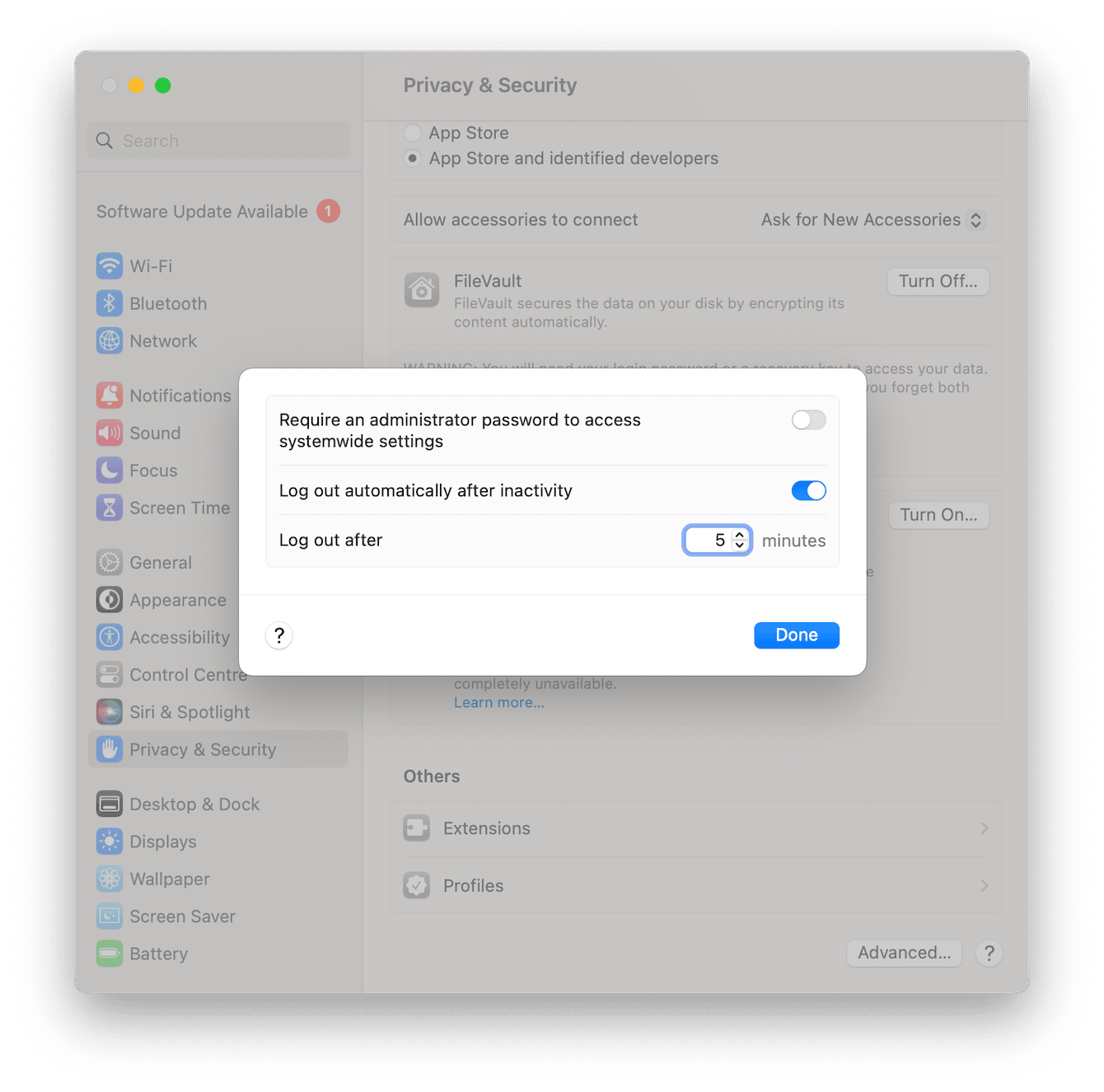 Select the main Apple menu > System Settings > Privacy & Security > Advanced (right at the bottom of the page).
Toggle on Log out automatically after inactivity.
And adjust the time duration and click Done.
9. Limit administrative users on your device
Administrators can manage, create and remove other users, change important system settings, and alter or remove installed software.
If you share your device with multiple users, you should try to limit the number of people to whom you give administrator privileges.
This is a handy guide from Apple on how to set up various users.
10. Enable the Find My feature
When activated in advance, the native Find My feature from Apple will allow you to locate your MacBook if it gets misplaced or stolen and, more importantly, lock it or erase its data remotely.
Here's how to set Find My up: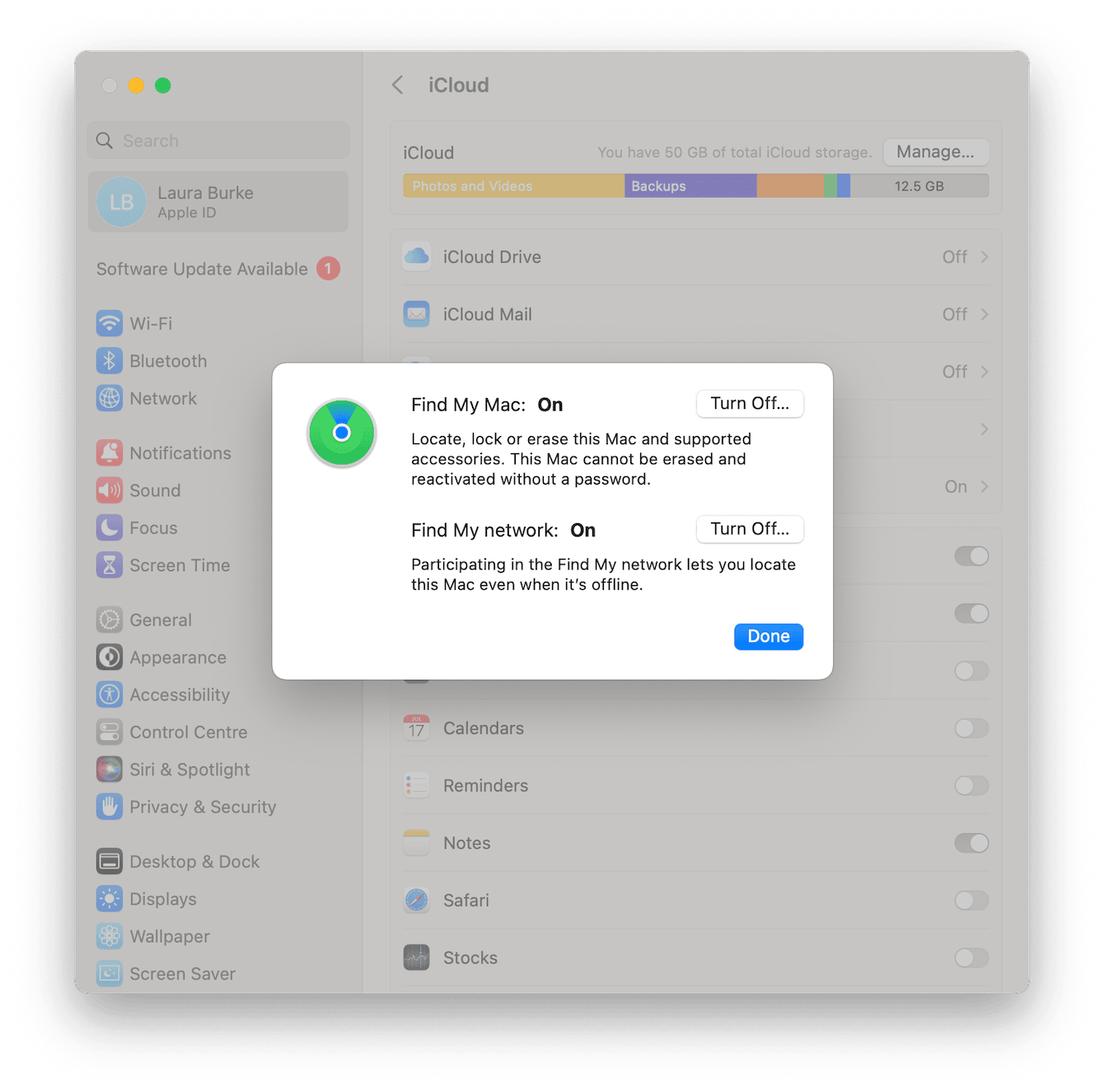 Open Privacy & Security from System Settings.

Open Location Services and Toggle on Find My.

Now, back in System Settings, select your name from the top of the sidebar.

Select iCloud and turn on Find My Mac.

Enable Find My Mac and Find My Network from the pop-up menu.

Click Done.
So, there we have it — your ultimate guide to protection for a MacBook Pro. Some of these tasks might feel time-consuming, but when it comes to keeping your device safe and your data secure, it's worth the time investment.