What to do if USB devices are disconnecting on Monterey
4 min read
USB ports are not working on Monterey? We've put together all the troubleshooting tips you need to diagnose and fix this annoying issue.
Why are USB ports not working on Monterey?
Just like with the initial release of Catalina and Big Sur, many Mac users have reported issues with USB devices disconnecting on Monterey after the upgrade.
It's annoying if you rely on external devices, so let's get started and look at how to reset USB ports on Mac.
Solutions for USB ports not working on Monterey
1. Restart your Mac
It's always number one on any Mac troubleshooting list, so here it is. If you haven't already, restart your Mac, it's easy to forget, but a restart can solve multiple issues, give it a go.
2. Check your USB device
Before we dive in any further, we first need to establish if the problem is a faulty USB device rather than your USB ports. How?
Check your USB device for any sign of damage.

If you can change its connection wire, do so and try again.

Test a different USB device on your Mac.
If your USB works or doesn't work on only one specific USB port, then that is likely a faulty port, and you need to contact an approved Mac specialist to get that repaired; they'll run a hardware diagnostics test. Sadly there's no magic tip for that one.
But, if your USB didn't work on any of the ports, and there doesn't seem to be an issue with the USB, or its connecting cable, it's something we can help with, as it's kind of unusual that all ports would fail at the same time.
Let's go.
3. Reset Your SMC
Your SMC or System Management Controller manages multiple hardware items, like thermal management, keyboard lighting, battery, and others. A rest can solve lots of issues like USB ports not working on Monterey; here's how:
Resetting the SMC on MacBooks with the T2 chip
Shut your Mac down.

Then press and hold left-side Control-Option keys with right-side Shift.

Keep holding four keys for 7 seconds, and add the power button.

Hold the keys for another 7 seconds, then release.

After a few seconds, turn on your Mac as usual.
Resetting the SMC on an iMac, Mac mini, or Mac Pro
Shut down your Mac.

Unplug the power cord.

Wait 15 seconds and reconnect the power cord.

Wait 5 seconds, then start up your Mac as usual.
That's it. Test your USB device again; if it's still not working, move on to the next tip.
4. Check your apps
Occasionally conflicting apps can cause our USB ports to temporarily not work.
It sounds odd, but it does happen; I recommend starting your Mac up in Safe Mode.
Safe Mode will disable all non-essential processes like runaway apps, kernel extensions, or third-party applications. Here's how:
Restart your Mac.

While it's booting up, press and hold the Shift key.
Your Mac will look like it's started up as usual, but you'll see the Safe Boot sign, top right.
Test your USB ports. If you discover your USB ports are working in Safe Mode, the problem could be an app.
If you've just downloaded new ones, I recommend removing those first, but you'll need to do this one by one to find the culprit.
5. Run some Mac maintenance
If you've tried all of these tips and nothing is working, some good old-fashioned maintenance is in order. Running maintenance scripts can remove temporary files, broken links and rotate logs. Sometimes this can help to solve issues with USB ports.
You could do this manually, but it's quite a long-winded task, and I'm never 100% sure what is safe to remove; that's why I use CleanMyMac X. They have a Maintenance module, which can run this task in just a few clicks. And just for a bonus, it's notarized by Apple, so you know it's a trusted tool. Here's how to run maintenance scripts;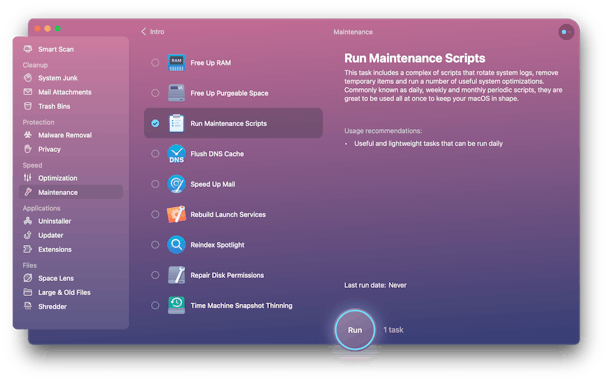 Open CleanMyMac X — download the free version here.

Select Maintenance from the sidebar.

Press View All Tasks, then select Run Maintenance Scripts.

Press Run.
While you have the app open, you might also use some of its other great functions; Smart Scan is one of my favorite modules. It performs a thorough scan of your Mac, cleaning up junk, identifying any threats, and optimizing your Mac speed, all in one go. Here's how: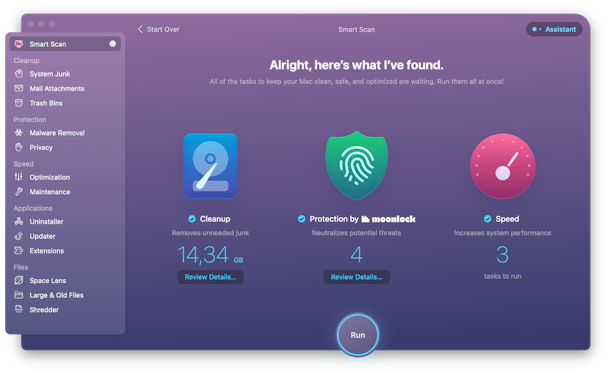 Launch the app and select Smart Scan.

Press Scan.

Once complete, press Run.
Sometimes giving your Mac a bit of cleanup can resolve many issues like the USB devices disconnecting Monterey.
Hopefully, one of these tips helped, and you're back up and running. Now you know how to reset USB ports on Mac and troubleshoot when USB ports are not working on Monterey.