Can I delete DMG files after installing?
Are you wondering, can you delete DMG files after installing a new app? The quick answer is, yes, removing DMG files will not affect or damage your Mac or newly installed app. Keep reading for more.
What is a DMG file?
Today most Mac applications are built and distributed as PKG or DMG files. DMG files are popular because they include Checksum, which confirms that the downloaded file is 100% intact (not tampered with) plus they can be compressed, reducing installer size.
Did you know? DMG stands for Disk iMaGe.
Once a DMG file is opened, it places or mounts a virtual drive onto your desktop for installation, a bit like an external hard drive, or USB connected to your Mac
Is it safe to delete DMG files after software installation?
Once you've successfully installed your app, you no longer need the DMG file; removing it will not cause any issues, and storage capacity is everything, right?
If you're having trouble removing a DMG file, you need to make sure you have ejected it first; here's how: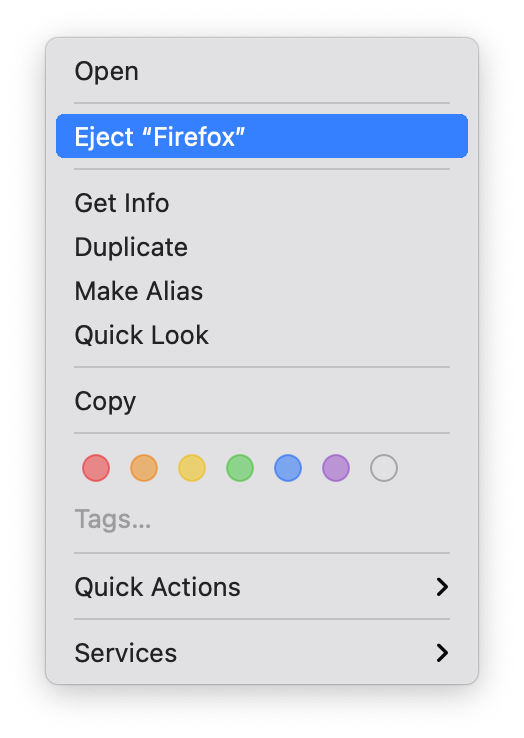 Locate the DMG file and right-click.

Select Eject.

Open Finder Window and search for the DMG file.

Once located, send it to the Trash.
Don't forget to empty your Trash afterward.
How to find your lost DMG installers
Let's be fair: DMG are a huge waste of space. So another way to find and delete DMG files is to use a special app. The only Mac cleaning app I know of that can search for this type of junk is MacPaw's CleanMyMac X. They have a really awesome feature called System Junk. This handy feature locates unused DMG files all across your Mac, even those you downloaded years ago.

This program is notarized by Apple and has a free version you can download.
Now let's look for old installers on your Mac and I'll show how to delete DMG files
Install and launch CleanMyMac X (should take about 30 seconds).

Select System Junk from the sidebar.

Let it do the scanning, and now click Review Details.

On the scan results page, scroll down for Unused Disk Images.
It's as simple as that. Well, there we have it, now you know what a DMG file is, and that can you delete DMG files after installing a new app.