How to clear cache in Safari on Mac?
Web caching is used to make web pages load faster. When you visit a website, Safari takes a snapshot of all the pages you view. The next time you visit that same website, Safari loads the cached page. This is much faster than having to retrieve and load a web page as if it was your first visit.
While caching saves time, an overloaded cache can take up much-needed space on your Mac. Regularly emptying your cache is the best way to free up space and make sure you're viewing updated web pages.
Clearing your cache is easy. There are two ways of doing so:
1. Clear Safari cache with a keyboard shortcut
The first, and quickest way to clear your cache is by using a keyboard shortcut: simply press [OPTION] + [COMMAND] + [E].
2. Clear Safari cache manually
You can also manually clear your cache. Here's how:
While Safari is running, select the first option, Safari, from the top left of your menu bar.

Select Preferences… or use the keyboard shortcut [CMD] + [,]

A pop-up window will open. Select the Advanced tab.

Click the checkbox at the bottom of this tab that reads Show Develop menu in menu bar. A new item will now appear in the menu bar called Develop.



Whenever you want to clear your cache, click on Develop and select Empty Caches.
Reload the page you're on, and you'll be good to go.
3. Clear Safari cache with CleanMyMac X
This solution deletes more traces of recent digital activities. Therefore, you'll get better results.
MacPaw's CleanMyMac X will clear your Safari cache (as well as a bunch of other browser-related information). It's free to download, and includes a Privacy module that gives you the power to wipe all unwanted stored information like browsing history, cookies, and more.
To delete your cache using CleanMyMac X:
Launch CleanMyMac X and select the Privacy module

Select Safari from your list of browsers

Select what data from your cache you would like to remove

Click Remove to clean your cache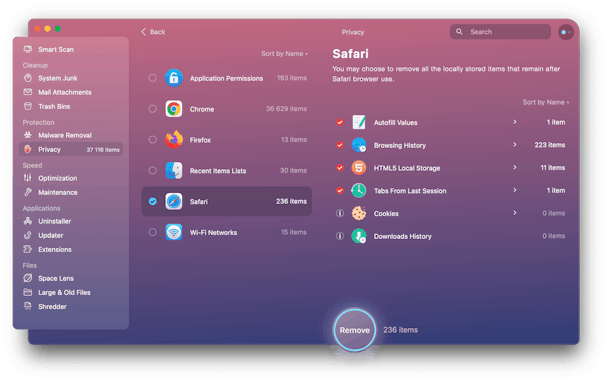 That's it! CleanMyMac X makes it simple to take control of your browsing history and privacy, without the fear of deleting necessary items.