How to optimize the storage on Mac?
If the storage on your Mac is getting too full, you may encounter a slew of problems. As your startup disk fills up, your Mac gets slower and slower. If your startup disk fills up completely, your Mac may not even be able to boot up.
To keep your computer running smoothly and efficiently, you can take advantage of your Mac's Optimized Storage feature (available in Macs running macOS Sierra or later).
How to optimize storage on your Mac
The Optimized Storage feature can help save space on your Mac by storing your content in iCloud. When you need more storage space, files, photos, and other items you rarely use are automatically stored in iCloud. When you need a file, simply find it where you last saved it—the file will download when you open it.
Here's how to access Optimized Storage:
From the Apple menu, select About This Mac > Storage.



Click on Manage…




From here, you can optimize your storage.

You can also choose to store videos and photos in iCloud (replacing them with optimized versions on your Mac), empty your trash automatically, and reduce clutter (sort through and delete unneeded documents).
Optimize Mac storage with CleanMyMac X
CleanMyMac X by MacPaw makes it easy to optimize your Mac's storage and free up space. It's free to download, and pairs a powerful Uninstaller feature with a Space Lens tool that lets you see what files are taking up the most room on your hard drive.
By the way this app is notarized by Apple (a safety clearance process). Take a look at some of the items you can delete: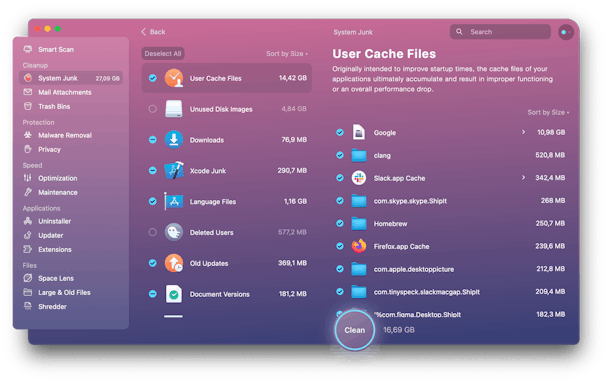 CleanMyMac X can also scan through your apps and automatically locate their leftovers, data caches, and associated support files. Whenever CleanMyMac X tells you how much space an app is using, it includes all this extra information, so you can be sure you know exactly which apps are taking up the most space.
CleanMyMac X lets you select apps from its scan list and delete them permanently (along with all their associated files). Its disk scan also shows you how much space you're freeing up by deleting apps — in real time!