Your Mac's lagging? Try these tips
5 min read
Is your Mac lagging? Has the dreaded spinning beachball been plaguing your screen? There's nothing worse than a slow and unresponsive MacBook. But, luckily we've got all the tips you need to troubleshoot your machine back to peak performance.
Why does your Mac lag in performance?
It's notoriously been challenging to try and pin-point the exact reason for an ever-slowing Mac. But, here are some of the most common causes:
Misbehaving apps

Low disk space

Resource-hungry browser

Corrupt launch agents and logins
Let's jump in with my top tips on what to do when your MacBook Pro is lagging.
1. Find misbehaving apps
From time to time, apps get a bit carried away in the background, and they can often be the cause of a slow or unresponsive Mac.
You can use Activity Monitor to check what apps are straining your system; here's how: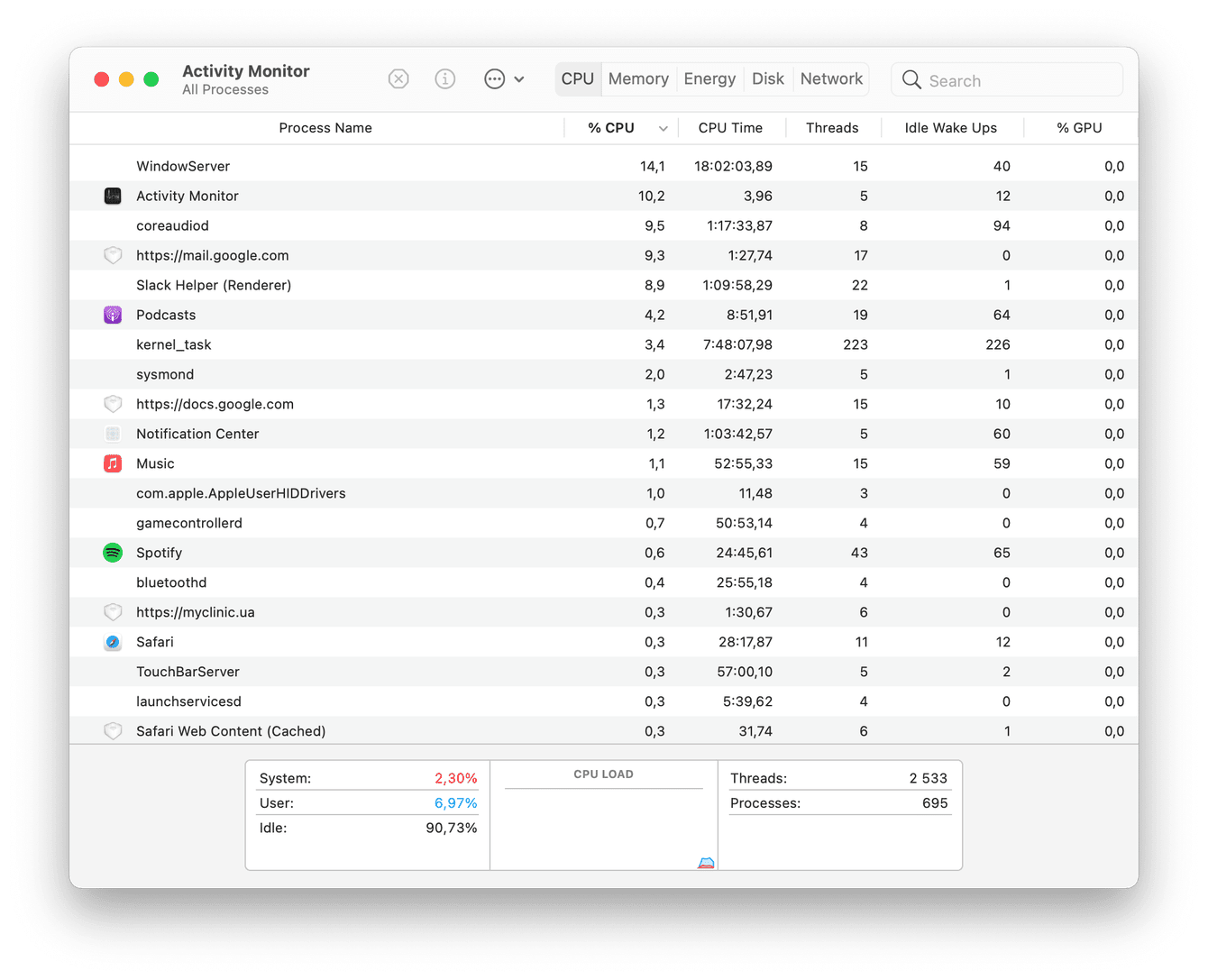 Open Finder > Applications > Utilities >Activity Monitor.

Select the CPU tab and sort by %CPU.

Wait for a moment to see which apps are using a high percentage of Mac's processing power.

Heavy-consuming apps will be located at the top of the list. Select an item and press the "X" to terminate the process.
You might be surprised to see some apps at the top of your list; shutting these down will immediately give your Mac some space to breathe.
2. Try a different browser
If you use Chrome, was it at the top of the list when you checked Activity Monitor? There's no denying this browser king is resource hungry. If your MacBook is lagging, switching to a lighter browser is recommended. But, if you can't bear to part with Chrome, try reinstalling it to speed up your Mac.
Once deleted from your applications folder, you'll need to use a different browser to download Chrome and reinstall.
3. Clean up your disk space
If you're running out of space, not only will it hinder your system performance, but it's likely to cause applications to crash.
The first step, check your available space. Here's how: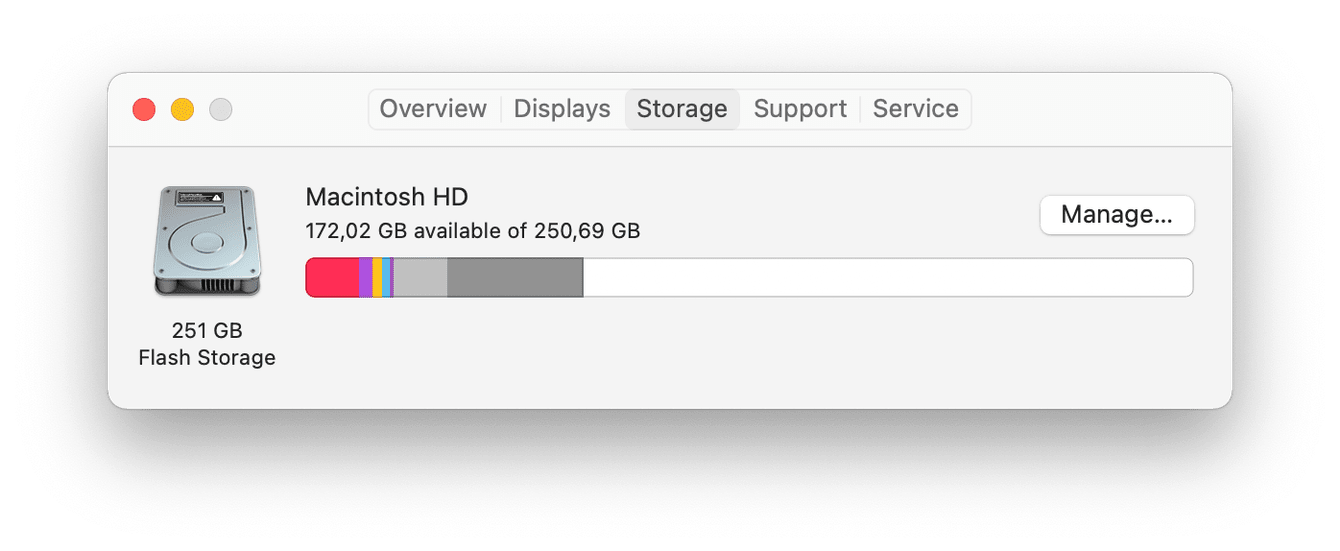 Go to the Apple menu.

Click About This Mac and go to the Storage tab.

Here you get an overview of your available disk space.
If you discover that you're running low on space, this could be the reason why your Macbook is lagging. It's time to manage that space.
4. Use Mac's built-in option to manage space
By clicking on the Manage button when you follow the above steps, Apple will provide you with some optimization recommendations.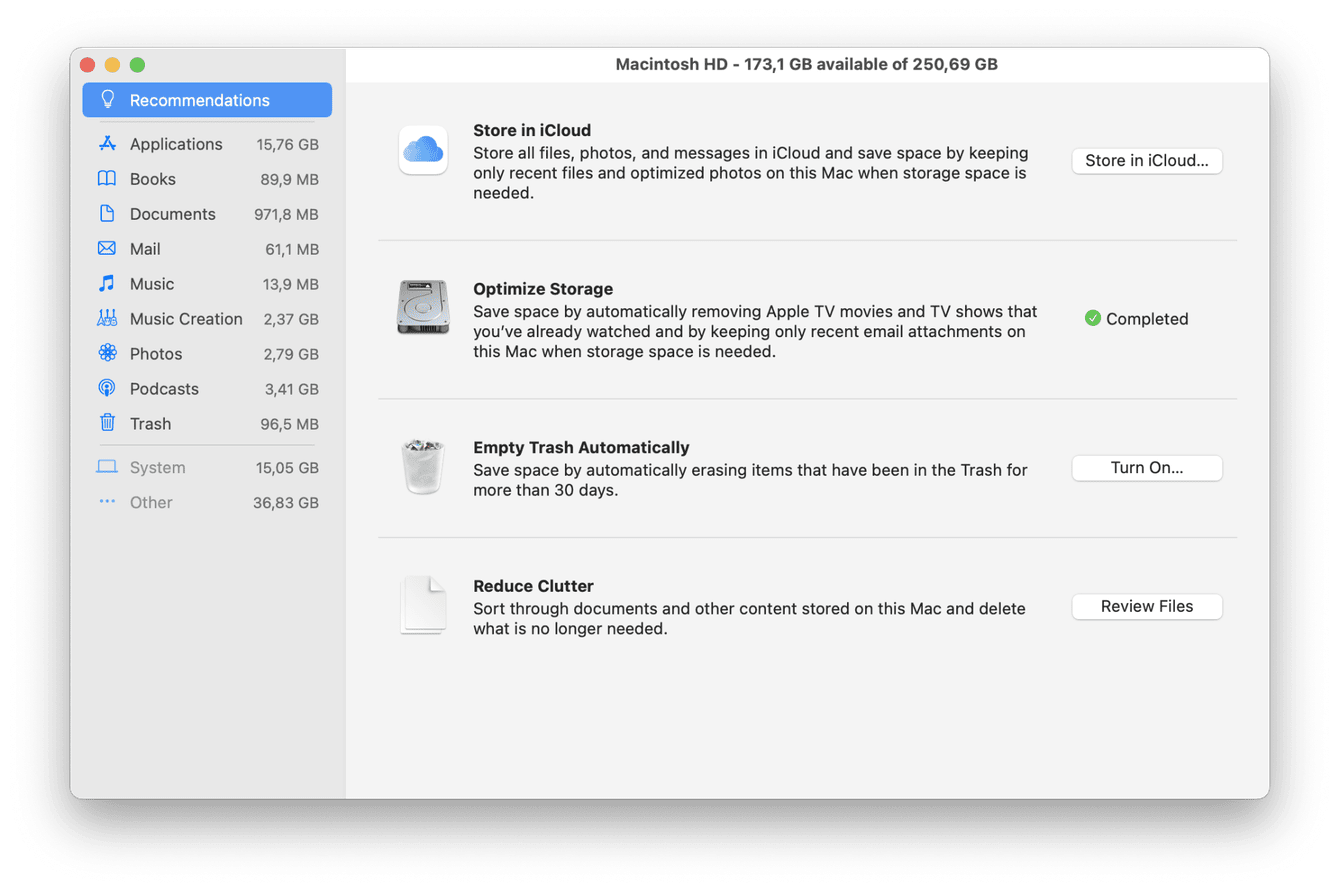 These are a great starting point for optimizing space, but they won't solve the issue altogether. If you need to free up more space, move on to the next tip.
5. Clear your system junk
Suppose you don't fancy spending hours sorting through old files, locating all your cache, old system logs, broken files, and all the other random junk your Mac collected. In that case, I recommend using a dedicated cleaning tool CleanMyMac X to do the job for you. I'm always amazed at just how much System Junk it finds. You can really give your Mac a speed boost. Bonus points for the app being notarized by Apple. Here's how to clear space on your Mac with CleanMyMac X: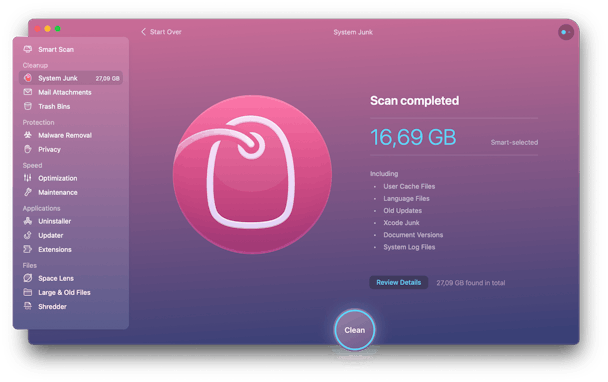 Download CleanMyMac X for free here.

Launch the app and select System Junk for the sidebar.

Press Scan.

Then, press Clean to get rid of all junk.
Disk space is a premium these days, so while we're on the subject of managing space, some simple maintenance tasks can help to keep your Mac running smoothly.
6. Clear up your desktop
A cluttered desktop doesn't only affect your productivity; it slows down your Mac too. Clear up any clutter that you no longer need and use stacks to keep your desktop organized. Here's how: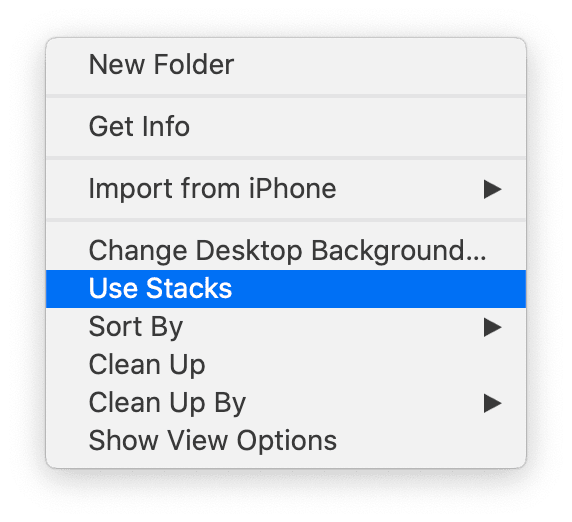 Send any unneeded items to the Trash.

Click anywhere on your desktop and select Use Stacks.
This will automatically group items together in neat, tidy piles.
7. Uninstall unused apps
Unnecessary and unused apps are a big waste of space, and it's surprising just how many we collect over time. How to check and remove your unused apps:
Open Finder.

Select Applications from the left-side menu.

Search through your installed apps in the list and right-click to move any you no longer need to the Trash.
8. Disable login items
Every time you start up your Mac, lots of things are loading up in the background and slowing your Mac down.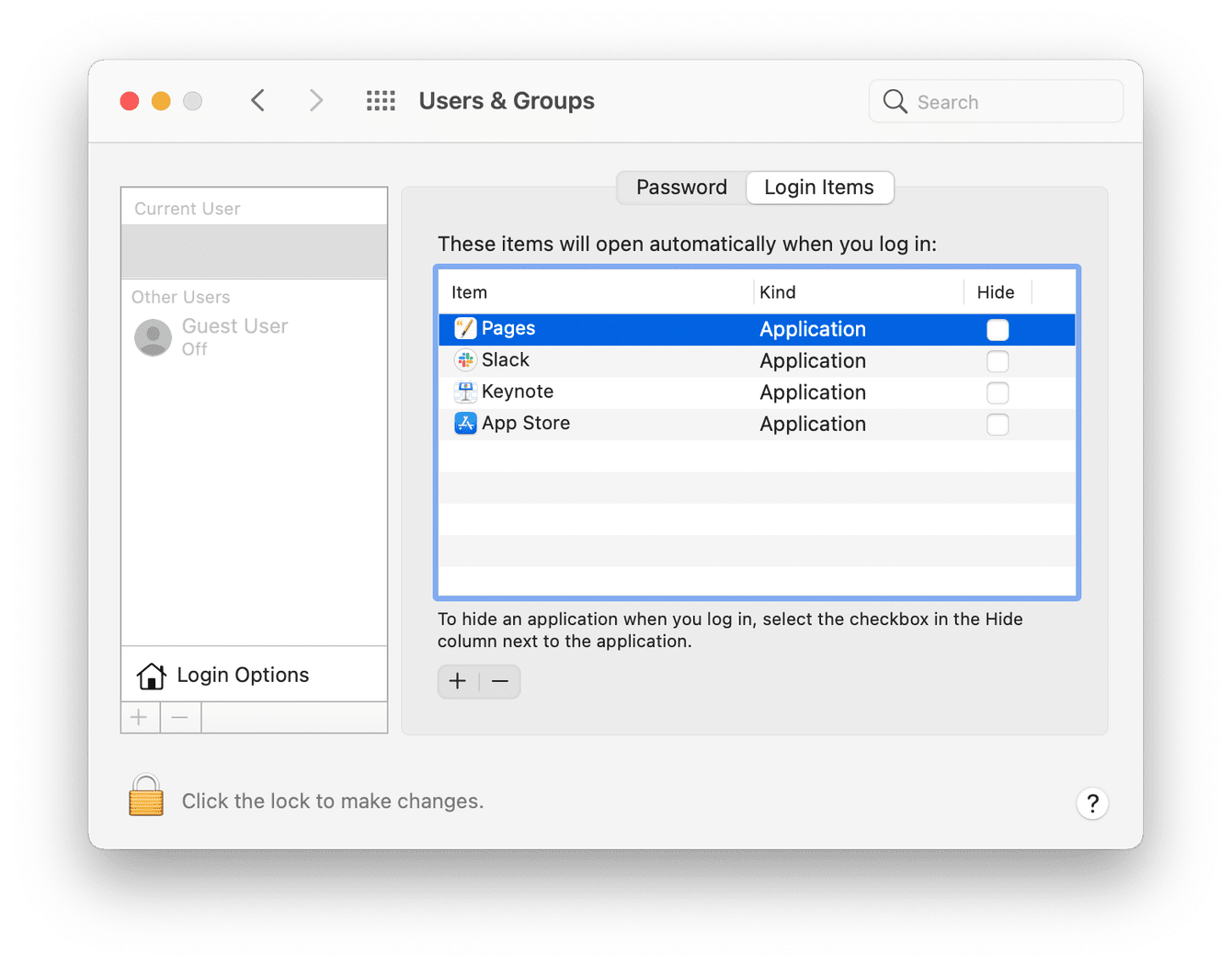 Manage your login items manually:
Go to the Apple menu > System Preferences.

Select Users & Groups.

Select your username and click Login Items.

From the list, select any items you want to stop from launching at startup and press the "-" symbol to remove them.
9. Free up RAM
RAM is precious, and if your MacBook is lagging, it's likely your RAM is running low. Trying to add additional RAM can be laborious; I prefer to use the Free Maintenance tool from CleanMyMac X to free up RAM, here's how: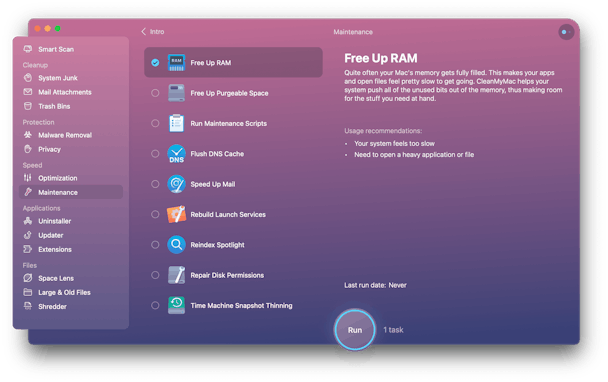 Open the app and select Maintenance from the left sidebar.

Press View All Tasks.

Select Free Up RAM from the list and press Run.
10. Create another user profile
If your Mac is still lagging, I have one last idea for you: create another user profile. Over time, user files, applications, cross-links, and user logs clog up and weigh down our user accounts; sometimes, we all need a fresh start.
Here's how to create a new user: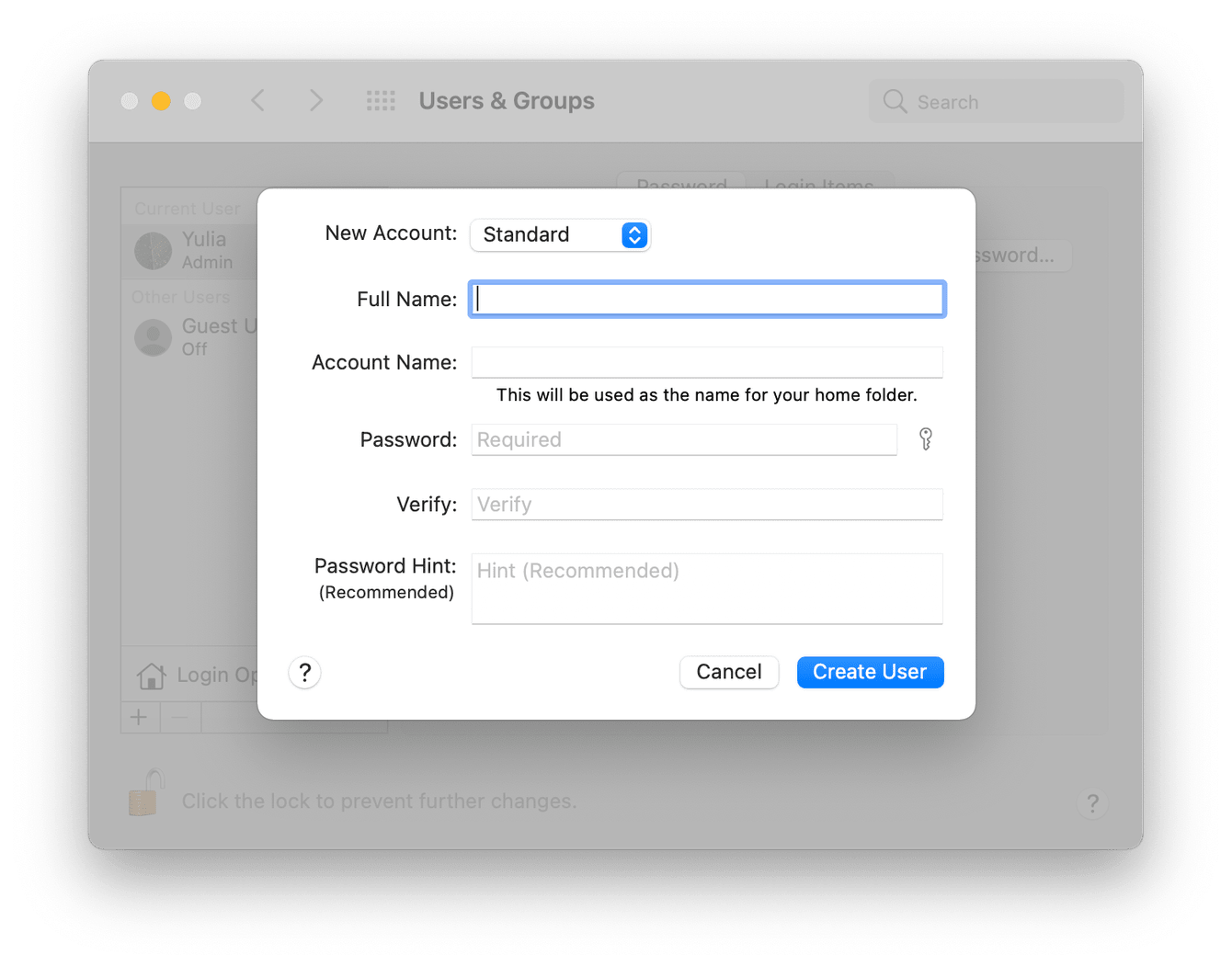 Go to the Apple menu.

System Preferences > Users & Groups.

Press the Unlock icon and press "+" to add a new user.
To transfer all your important files over from your old account, you need to move them into a shared folder on your hard drive; here's how:
Open a Finder window.

From the top menu select Go> Computer > Macintosh HD > Users

Locate the Shared Folder and copy relocate what you need
So there we have it, all the top tips on what to do when your Mac is lagging. Hopefully, you managed to get your Mac back up to speed.