Help, my Mac is not responding
4 min read
If your Mac has been misbehaving, first of all, don't panic. If an application is not responding, or you've been experiencing freezing or just straight up unresponsiveness, try these tested tips to get your Mac working like new. Let's dive straight in and solve this annoying issue.
Use Force Quit
This is the obvious place to start, so let's get to it. If your Mac becomes unresponsive while using an app, but you can still use your mouse and keyboard, the issue is likely just with a specific app and not your entire Mac in general.
Here's how to Force Quit an unresponsive app: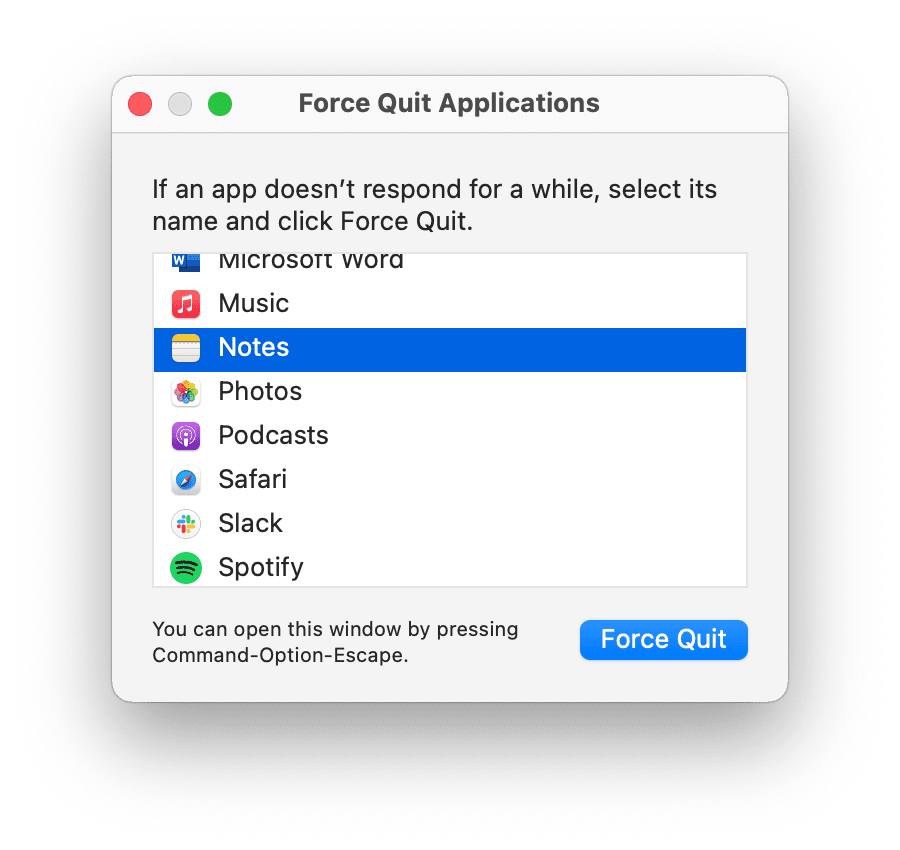 Select the Apple menu top left.

Select Force Quit from the menu.

Select the application and press Force Quit.
Another way to try and Force Quit an app is by right-clicking or control-clicking the app's icon in the Dock. If it's unresponsive, you'll see the option to Force Quit it.
Load up the application again and test.
Reboot your Mac
If you can't Force Quit an unresponsive application, then it's time for a reboot. If you did manage to Force Quit your troublesome app, it's still worth giving your system a reboot.
How to reboot a Mac that is not responding:
Hold down the power button for several seconds.

If that doesn't work, Press the Control-Command keys down, then press the Power button.
If you can use your mouse and keyboard, here's' how to restart your Mac:
Select the Apple menu on the top left.

Press Restart.
Retest your Mac once it restarts; sometimes, that's really all it needs.
Update your Mac
Now you've restarted, it's time to investigate why your Mac was not responding in the first place. There are a few reasons, from insufficient storage space, outdated software, to corrupted apps. Let's take a look.
Outdated software is often the first reason why your Mac is lagging in performance. Here's how to check if your Mac is running the latest OS version: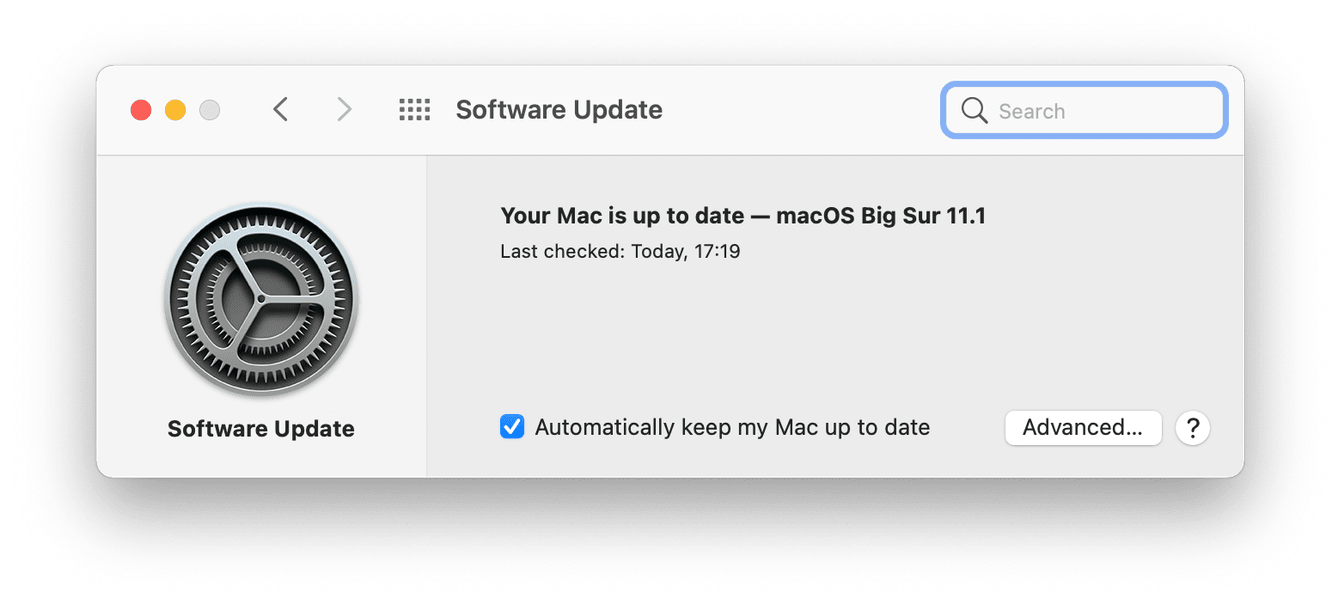 Go to the Apple menu > System Preferences > Software Update.

Here you can see if your Mac requires an update. Follow the on-screen instructions to install an update.
Clean up disk space
Now your Mac is up-to-date, let's move on. If you're low on storage, you will start to encounter all kinds of issues, like freezing, crashing, and applications not responding on your Mac.
Here's how to check your available space: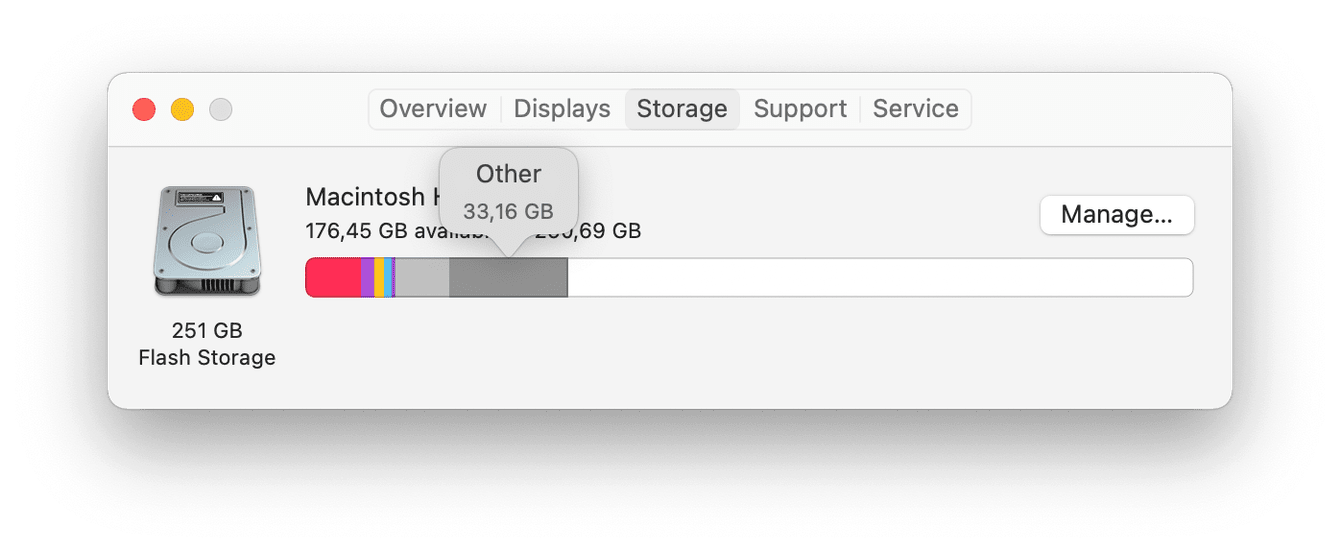 Select the Apple menu.

Click About This Mac and then go to the Storage tab.

Here you'll find an overview of your available disk space.
If you find that you're short on disk space, this could be the reason why your Mac was not responding. That means it's time for a cleanup; follow the next step.
Optimize space with Apple's built-in tool
If you follow the instructions above and press the Manage button, this will take you to the built-in optimization tool. It's worth checking out Apple's recommendations, but if this doesn't entirely solve all your low disk space issues, try the next tip too.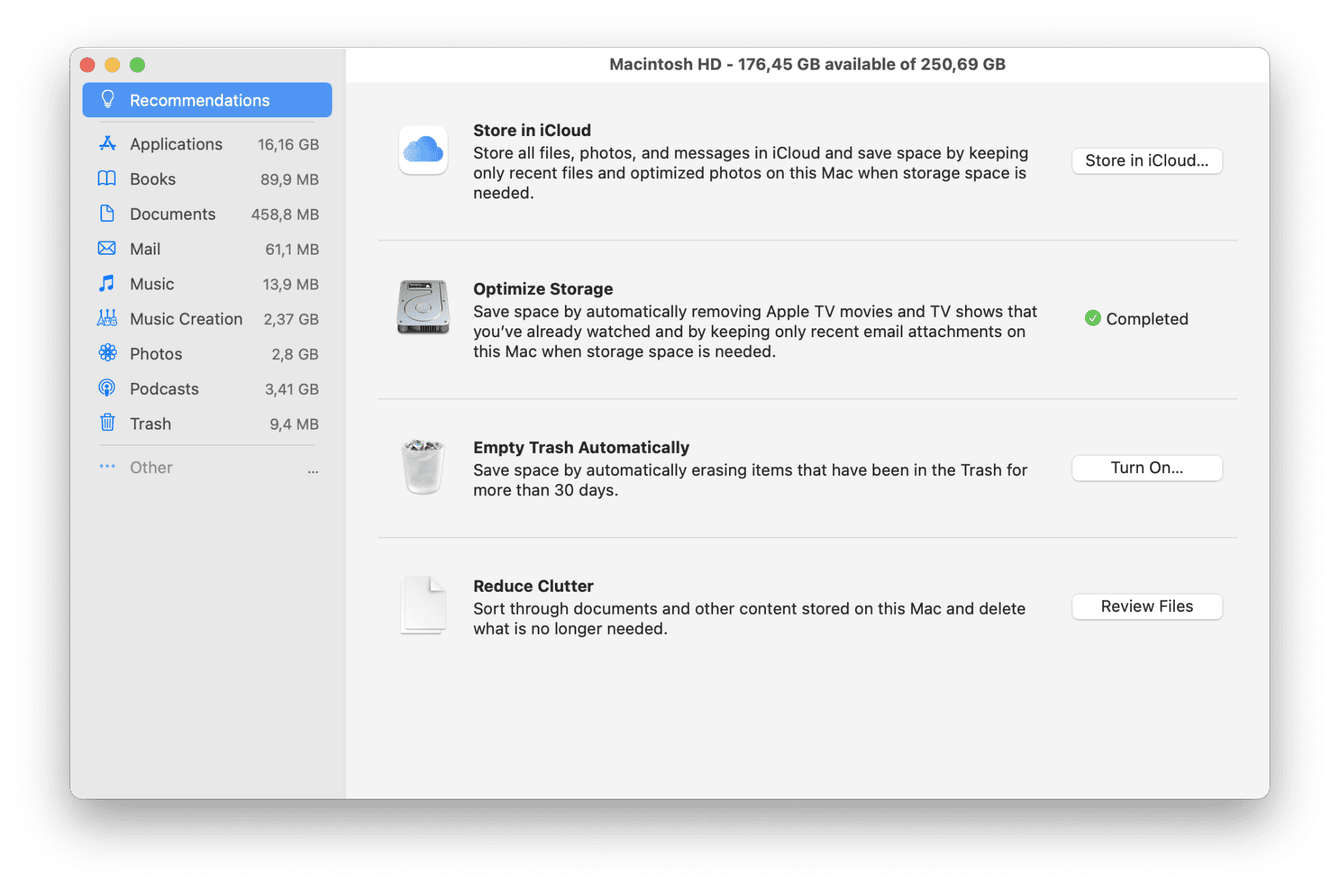 Remove your system junk
You could spend hours trawling through your Mac for all the cache files, old logs, temporary and broken files, but if that doesn't sound like your idea of fun, I thoroughly recommend using CleanMyMac X to do the job for you. Its dedicated System Junk module will scan your Mac for all types of junk, and you might even be surprised just how much stuff it finds—I always am. Another plus, the app is notarized by Apple.
Clear space on your Mac with CleanMyMac X: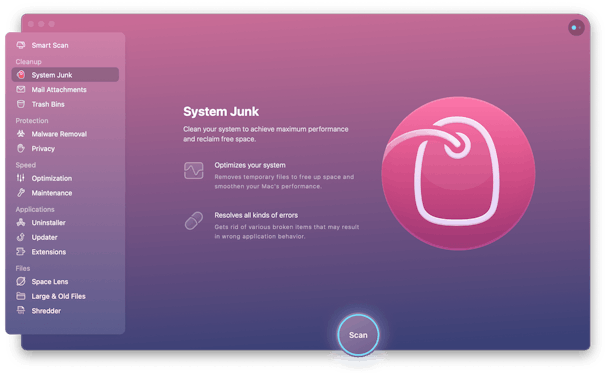 Download CleanMyMac X for free here.

Launch the app, and from the left sidebar, select System Junk.

Press Scan.

Then, press Clean to get rid of all junk.
While we're talking about storage and optimization, CleanMyMac X has another excellent module that can keep your Mac's system optimized in moments while eradicating application errors, which could be the all-in-one answer. Here's how to use it: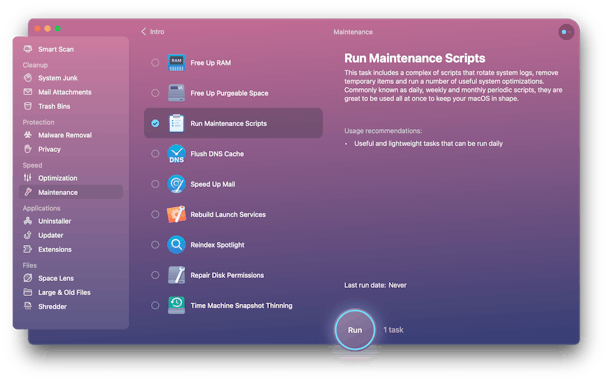 Open the CleanMyMac X app.

Select Maintenance from the left sidebar, then press View All Tasks.

Select Run Maintenance Scripts and press Run.
Remove old or unused apps.
If you've tried to claim some extra space and update your software, but your Mac is still not responding, here's another tip.
Take a quick look in your Applications folder to see what apps you've been collecting over the years. Apps can become corrupted over time and cause issues. Here's how to check and remove:
Open a new Finder window.

Select Applications and scroll through your list.

Remove any apps that are no longer needed by dragging them directly to your Trash.
Don't forget to empty your Trash afterward.
Manage your login items and launch agents
Managing your Mac's workload when your Mac starts up can relieve some of its pressure and stop problems like an unresponsive MacBook.
How to manage login items manually: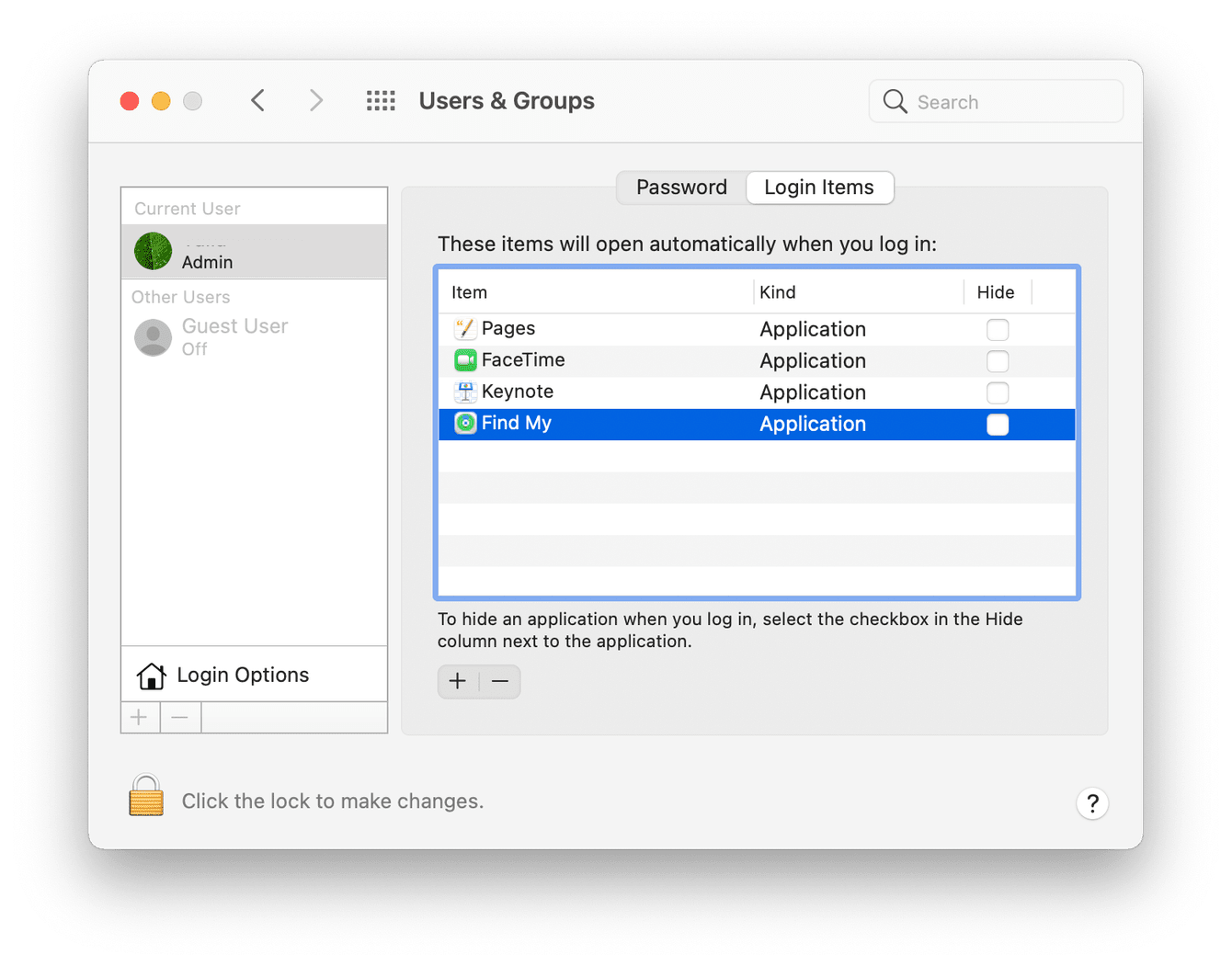 Go to the Apple menu.

System Preferences > Users & Groups.

Select the Login Items tab and use the "-" button to remove any applications you no longer want on startup.
This will give your Mac a little extra room to breathe when it starts up. You could also use CleanMyMac X to manage both login and launch items for you; personally, I prefer this method, as everything is in 1 easy place; here's how: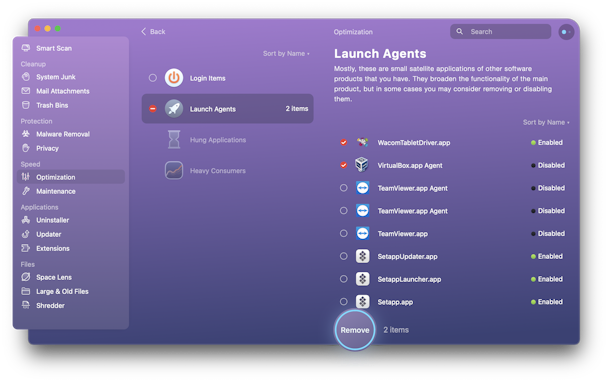 Launch the app.

Select Optimization from the sidebar and press the View All Items button.

Scroll through the Login Items and Launch Agents, selecting which items you want to remove.

Finally, press Remove.
Hopefully, you managed to fix the issue and increase your Mac's output. Check back soon for more helpful Mac tips.