Gaming on a Mac, explained
7 min read
If you've been wondering how to optimize a Mac for gaming, you've come to the right place.
We'll take a look at the Windows Vs. Mac debate, which Macs are the best for gaming, and how to fully optimize your Mac for the best gaming experience.
Let's dive in.
Are MacBooks good for gaming?
If you know a Windows gamer, or you used to be one, you might be concerned that Macs just aren't cut out for gaming. It's no hidden secret that MacBooks were never solely designed to perform as gaming laptops.
It was historically a running joke between Windows gamers that Macs were not up for the gaming challenge, and truthfully, they weren't 100% wrong.
Upgrading your Mac to meet the extreme graphic demands of modern games was an expensive option compared to the PC.
The gaming industry exploded in the PC world. That was mainly because people could quickly build powerful computers suitable for all the latest games and update and upgrade them with processing power, video cards, and RAM as the games evolved.
Apple's focus on beauty, design, and simplicity meant they temporarily got left behind. However, over time, Apple has thankfully caught up, and with the arrival of Apple Silicon, the future of gaming looks very exciting indeed.
Gaming on a Mac is not as hard as you think with a little bit of savvy optimization, and that's what we're here for, to show you everything you need to get your Mac ready for an epic gaming experience.
How to optimize your Mac for gaming
When it comes down to gaming on a Mac, it's all about improving and maximizing your Mac performance, including optimizing space, memory, adjusting graphics, and turning off unneeded functions to boost your Mac output.
1. Free up space for games
Games eat gigabytes; it's no secret. So you're going to need to make sure that your hard drive has enough space not only to download the games themselves but play them. Apple recommends having at least an extra 25GB of free hard disk space to run the games once downloaded.
So how can you free up all that space? First things first, check your current hard drive storage capacity; here's how:
Select the Apple Menu > About This Mac > Storage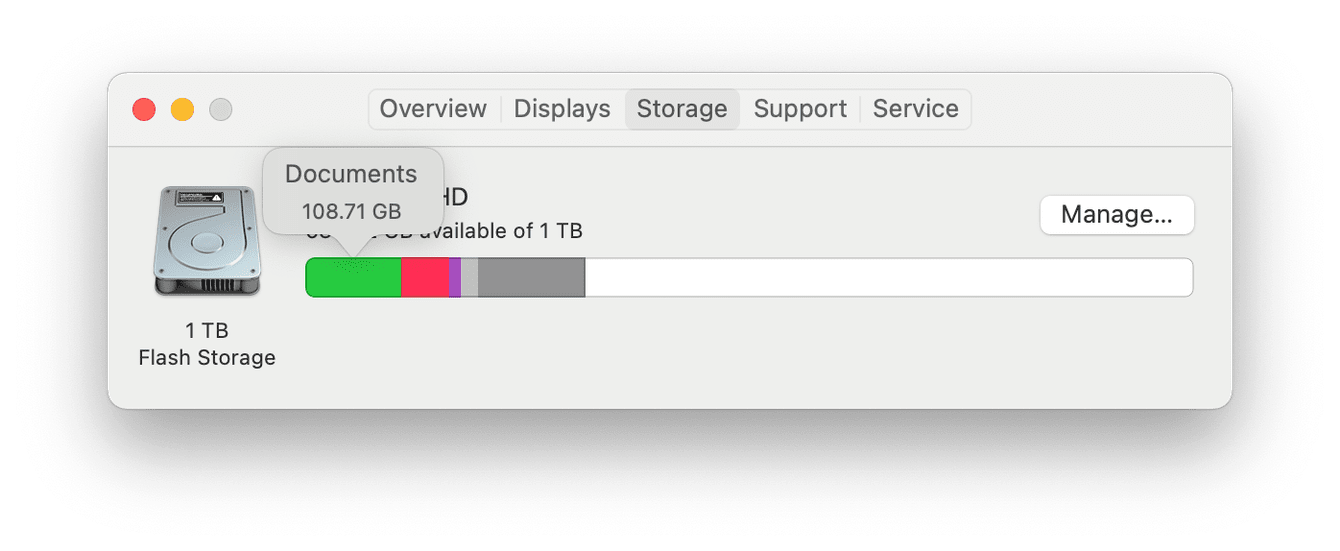 Here you'll get an excellent overview of your Mac's storage; hover over any of the color bars to see what they represent.
Now you know what's occupying your space, take some time to clean up the following items:
Check and delete items from your Downloads folder

Remove old videos

Clean up images or remove to external hard drive
If you're a bit of a file hoarder like me, checking through your Mac for forgotten files can be quite a mission.
That's why I always use CleanMyMac X. They have a module called Large & Old Files, which can quickly locate and remove all your forgotten files in minutes, saving you space and time. Bonus points as this app is also notarized by Apple. So, here's how to quickly free up space for games: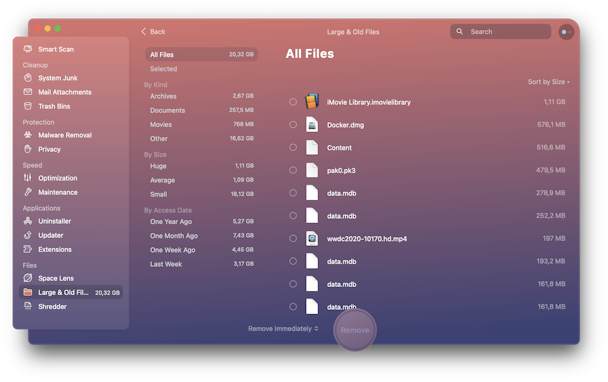 Open CleanMyMac X—download the free version here.

Then, from the left sidebar, select Large & Old Files and press Scan.

Once the scan is complete, select from the list items to delete and then press Remove.
I love the way you can quickly see what's hiding on your Mac. "Huge" and "One Year Ago" are my favorite places to delete files and claim backspace; it's amazing what you find.
2. Utilize Apple built-in optimization tool
Apple's built-in optimization tool provides basic recommendations to increase your Mac performance through storage control. Although this won't be the answer to all your storage prayers, this will help clear some space for games.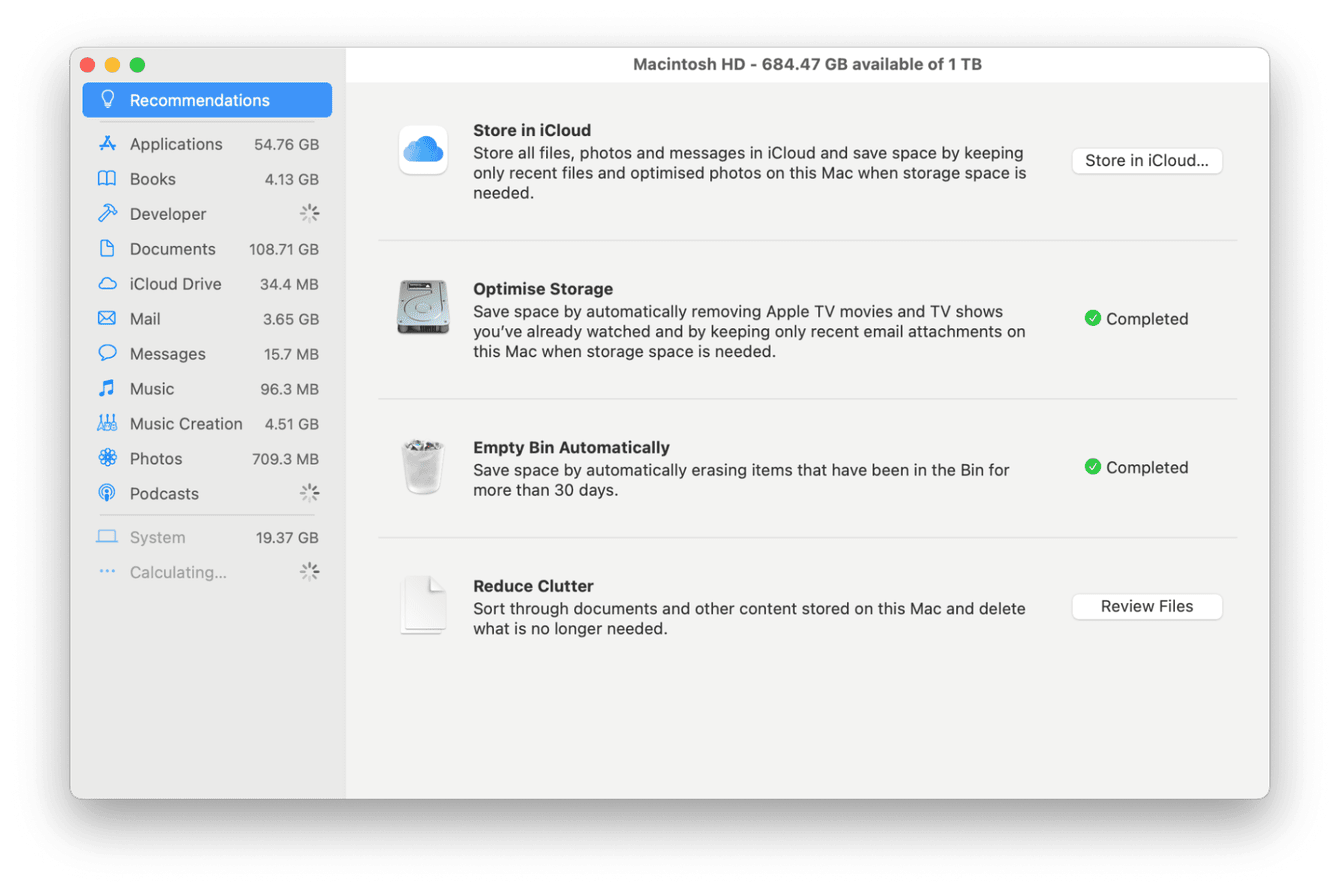 Select the Apple Menu > About This Mac > Storage.

Press the Manage Button.

In the sidebar, select Recommendations.
Here you'll see 4 options to manage disk space. They're relatively self-explanatory and simple, so follow the on-screen instructions.
3. Remove unused apps
Another way to optimize Mac for gaming is to remove any unused or forgotten apps; these take valuable resources, and if you're not using them, that's space that could be optimized for gaming.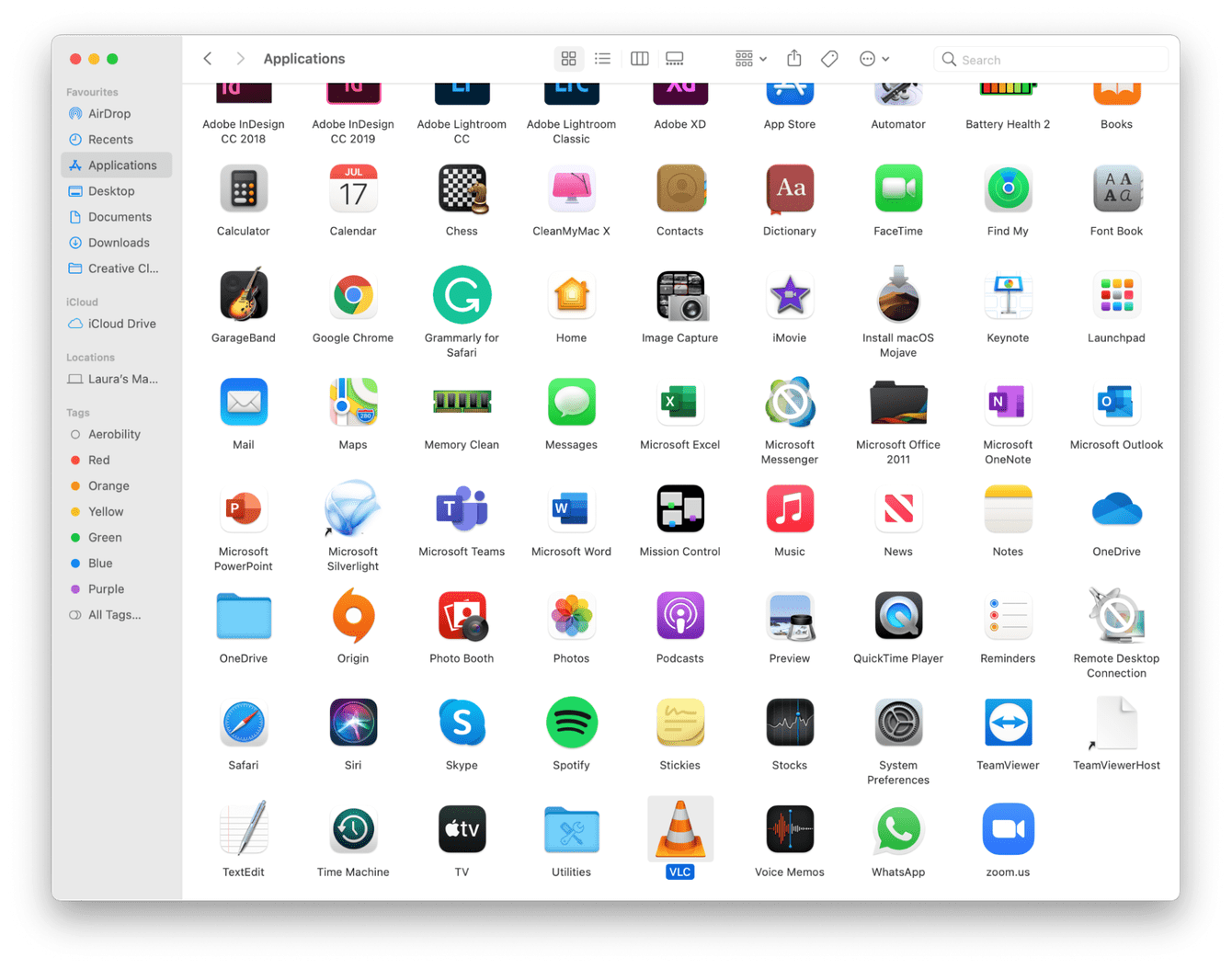 Select a new Finder window.

Select Applications from the left sidebar.

Now go through and locate any apps you want to remove.

Right-click and select Move to Trash.
Don't forget to empty your Trash Bin afterward.
4. Check for resource-heavy apps
It's also worth checking if there are any apps you are using that are resource-hungry; closing them down will also help to keep your Mac optimized for gaming, here's how: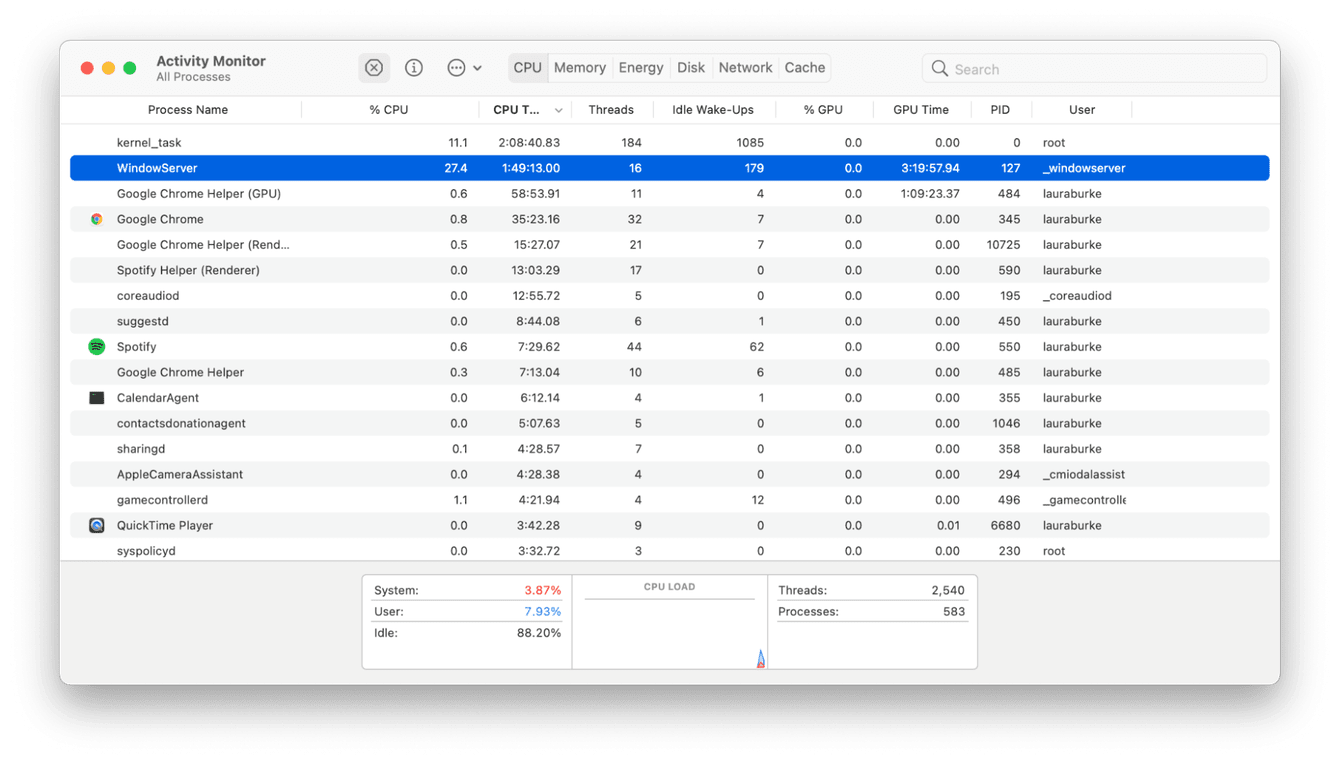 Open a Finder > Applications > Utilities > Activity Monitor.

Select the CPU tab then, sort by %CPU.

Resource draining apps will be at the top of the list; select an item and press the "X" to terminate it.
5. Delete desktop clutter
These days thanks to the stacks feature, my Desktop looks very tidy. This feature appeared on macOS Mojave (if you run an older macOS, then, unfortunately, it's not an option for you).
Stacks keep files neatly organized in groups, reducing clutter and helping keep your Mac clean.
When you activate Stacks, whenever you save anything to your Desktop, it will automatically be added to the relevant stack.
Here's how to use Stacks: Click anywhere on your Desktop > Use Stacks.
Surprise! That's it!
6. Disable login items
Another excellent way to optimize Mac for gaming is to ease its workload on startup.
If you have loads of applications automatically loading up every time you start your Mac, that's a recipe for a slow Mac.
Manage your startup items:
Select the Apple Menu > System Preferences > Users & Accounts.

Now, select the Login Items tab and choose your account.

At the bottom, press the lock icon to make changes.

Search through the programs in the list and remove any applications by pressing "-."
You could also use the app I mentioned earlier, CleanMyMac X, to manage your login items and launch agents through their Optimization module. Here's how:
Launch the app and, from the sidebar, select Optimization.

Press the View All Items Button.

Search through Login Items and choose items to remove.

Then, go to Launch Agents and, similarly, disable those you don't need.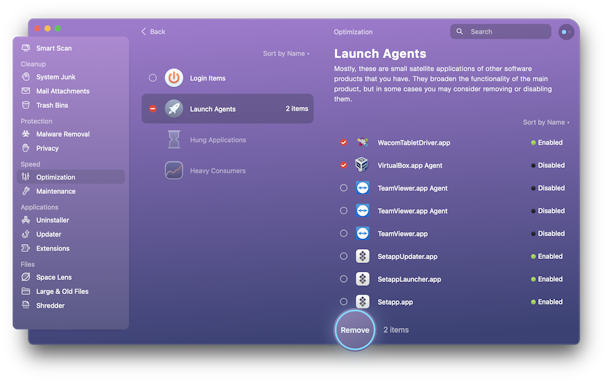 Now we've looked at keeping your Mac optimized for gaming, let's take a look at what are considered the best Macs for gaming.
Best Macs for gaming
When selecting a Mac for gaming, you will need a fast processor, but equally a powerful graphics processor and a relatively high-capacity SSD for extra gaming space.
There's quite some debate online around the best Macs for gaming, but ultimately it's going to come down to what you can realistically afford when buying a new Mac for gaming; here are some things to consider.
CPU - Always opt for the highest amount you can afford. This is an investment; most modern games require a powerful processor, so push the boat out.
GPU - The majority of games today need an advanced graphics card, so in other words, a fast processor means nothing unless you have ample GPU to match; these 2 just can't be skimped on.
RAM - The absolute bare minimum is 8GB of RAM for any gaming computer.
So, which Mac should you choose?
Good question. To help you decide which is the best Mac for gaming, you could use the online Apple Compare Model feature based on your specific needs.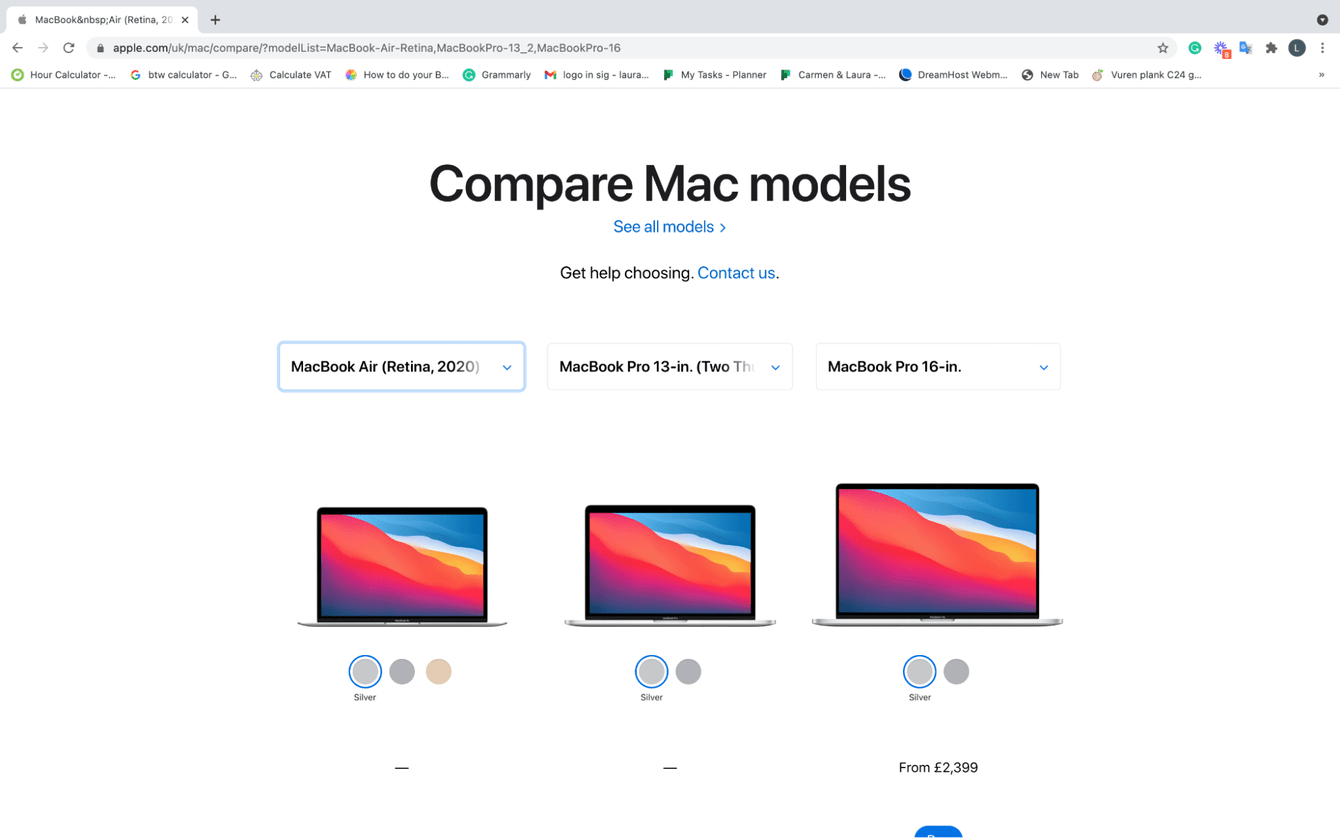 My personal recommendation would be the 16-inch MacBook Pro (2019) i7 processor.
Well, it's notably the least expensive of the 2, 16-inch models, but that's not the only reason why. It also provides a good mix of features compared to premium models.
This is by no means a budget option; it's still expensive, and Apple is due to update this model later this year with the first Apple Silicon-based 16-inch MacBook Pro. So if you can hold off a few months, I would.
Other good alternatives to consider:
13-inch MacBook Pro (2020)

15-inch MacBook Pro

MacBook Air (M1, 2020)

27-inch iMac (5K or regular)
Well, we've come to the end of this read on how to optimize Mac for gaming. Hopefully, I've answered the question, "Are MacBooks good for gaming?" And you feel more informed on what are the best Macs for gaming.
Happy optimizing and happy gaming, folks!