What is "Other" in Mac storage
6 min read
When it comes to real life, storage on your Mac is everything. And Apple just released its second MacBook Air of the year, with an available maximum storage boost up to 2TB — yes, you read that correctly. But considering all our apps, software, and blurry photos, is that even enough these days?
Storage can be a pressing issue in 2021, especially if your Mac has a storage capacity of 128GB or 256GB. Have you ever come across this type of message?


Now you are probably trying to figure out what's taking up that much space. And most of that occupied space hides under "Other." So, what is Other in Mac's storage?
What is "Other" in Mac storage
As you can see, this mysterious category is taking up 116.18GB on my Mac; if it's not documents, images, apps, or movies, then what is the Other in Mac storage?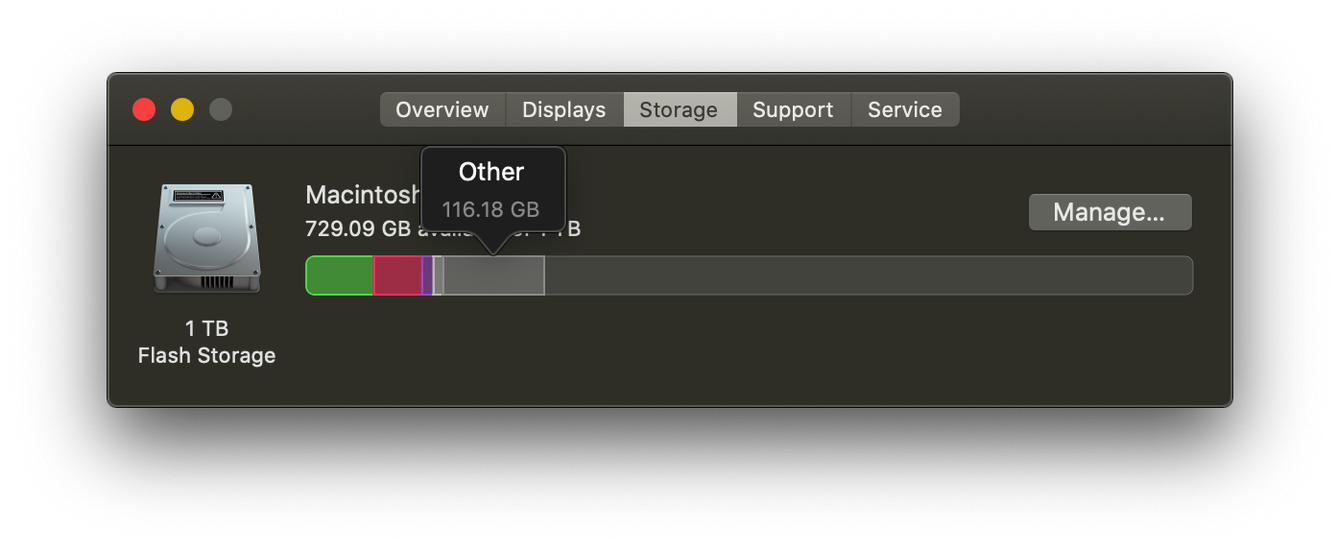 Tucked away inside the "Other" category are cache files, old backup data, installer packages, app extensions, and pesky temporary files.
How to check your storage availability and usage:
Select the Apple Icon, top left.

Select About The Mac.

Press the Storage tab at the top.

Wait for the data to load.
Now: what's there in your "Other" storage
If you were surprised to find Mac Other storage taking up quite some space, you might want to know what exactly is hiding there. You'll need to check your Library folder to find out.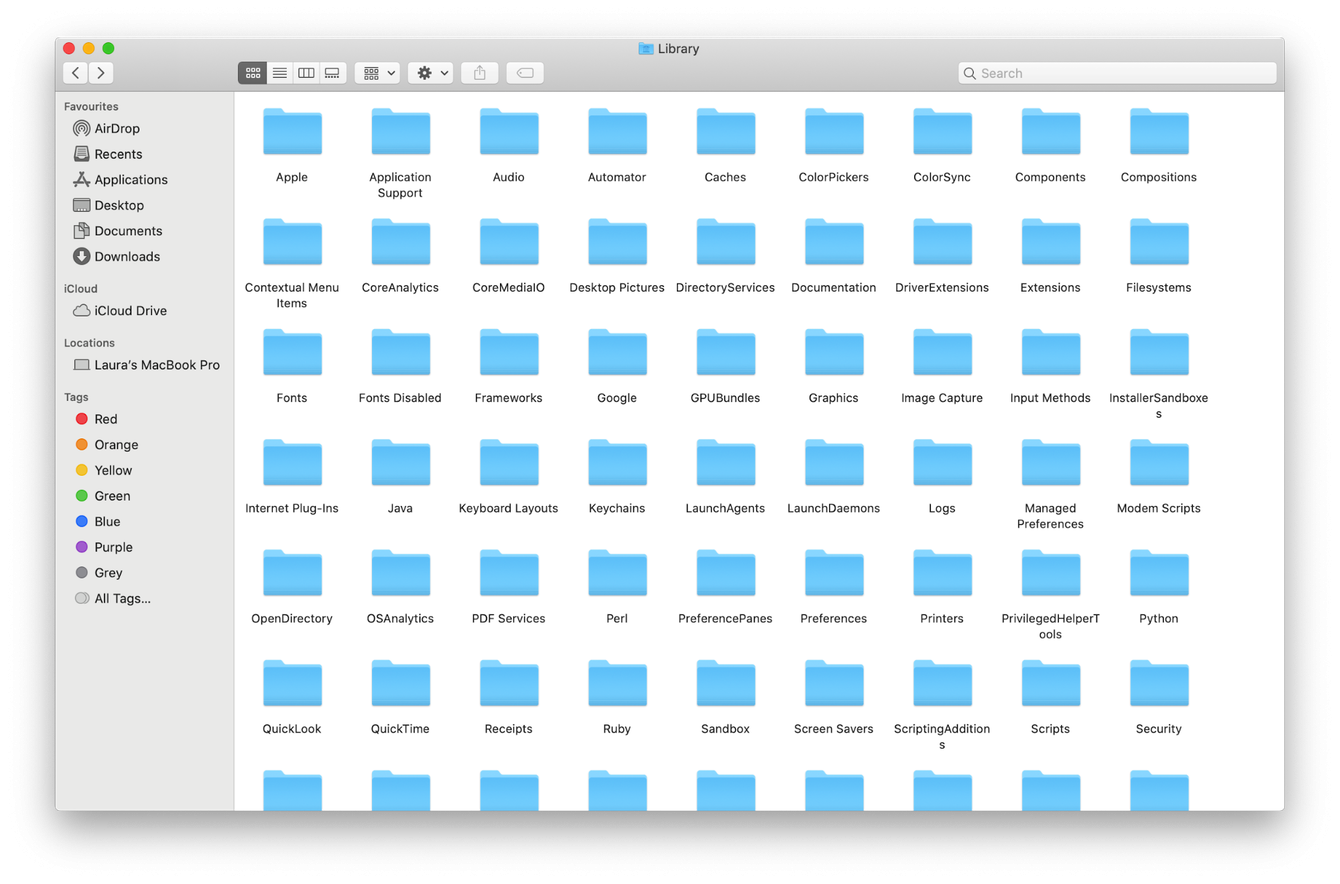 How to access the Library and find out what's in your Other storage on Mac:
Open Finder.

Select Go in the menu bar.

Click Go to Folder.

Type in ~/Library and press Enter.
Here you'll find tons of folders; most of these contain all the items your system labels at "Other." Obviously, there's no way of telling which files you can delete.
Tip: Before you start digging around and deleting random files on your Mac, think of a backup. You don't want to delete something that could affect your Mac's performance.
How to delete "Other" storage on Mac
As you can see, these folders mostly contain:
App parts and plugins

Logs and meta data

Fonts and various support files
Some you can clean manually yourself, the others require a Mac cleanup tool. If you follow the tips below, you can free up at least a few gigabytes within your Mac's "Other" storage.
Remove large documents from your "Other" space
It's amazing how large documents can pile up over time and start to take up astronomical space. And we forget about these files every time; It's worth taking a look to see what you can remove.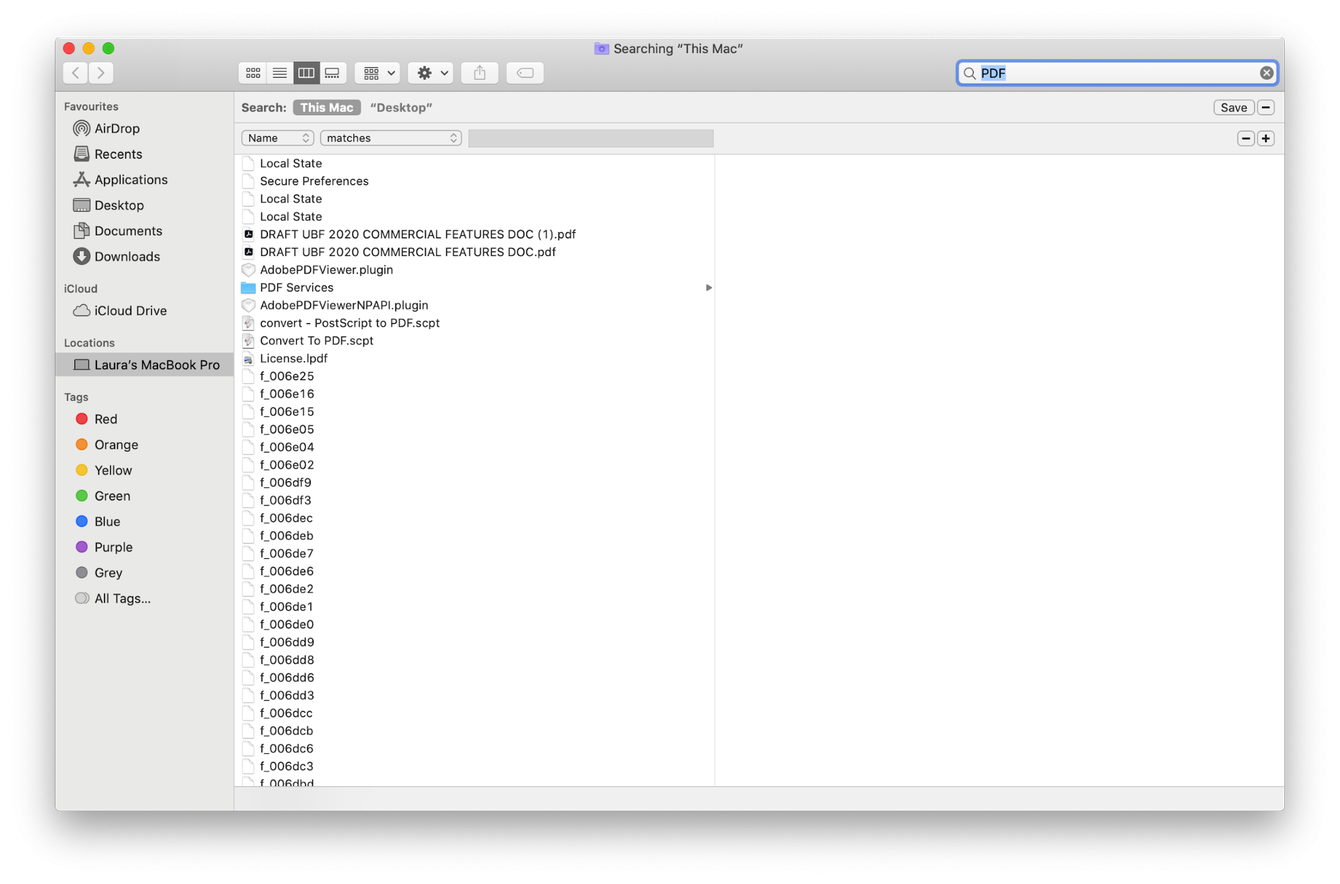 How to delete large files from "Other" space:
On your Desktop, press Command + F and press This Mac at the top.

In the first dropdown field, select Other.

Search Attributes window will open, choose File Size and File Extension from the list, and press OK.

Now you can search for different file types likes .pdf.

Check through all the items and delete what you don't need.
Suppose you don't fancy poking around in your Libary folders, no problem. In that case, there's a much easier way to remove large files by using the Large and Old File tool from our favorite Mac cleaning app, CleanMyMac X. Download its free version here.
CleanMyMac X categorizes your files by type and makes it super easy for you to select outdated items for deletion. This is a fast way to locate "Other" files. This really well-designed Mac cleaner is actually notarized by Apple and it's safe so as to be included in the Mac App Store.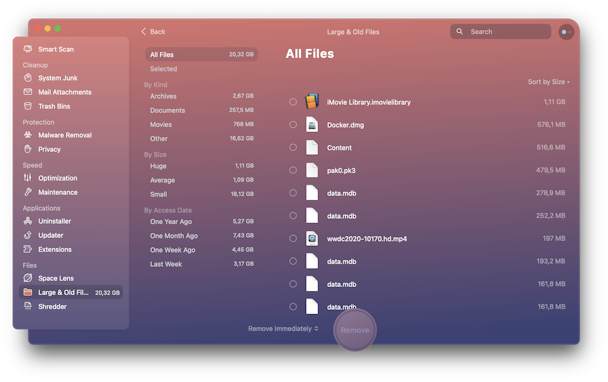 How to locate and remove large files with CleanMyMac:
Launch CleanMyMac X select Large and Old Files from the left sidebar.

Press Scan.

Once the scan is finished, take a look through all the categories and select items for deletion

Press Remove.
It turns out, my iMovie Library had 12.47 GB of files I no longer need. Without this app, I would still be guessing.
Clear Cache from "Other" storage
Cache files are shortcuts that apps create for faster access. On your phone, as well as on your Mac, these files are notoriously greedy when it comes to space. They build up quickly and take gigabytes of valuable space.
There are three main types of cache:
System caches

Cache based on user activity

Browser cache
Here's how to manually clear cache files: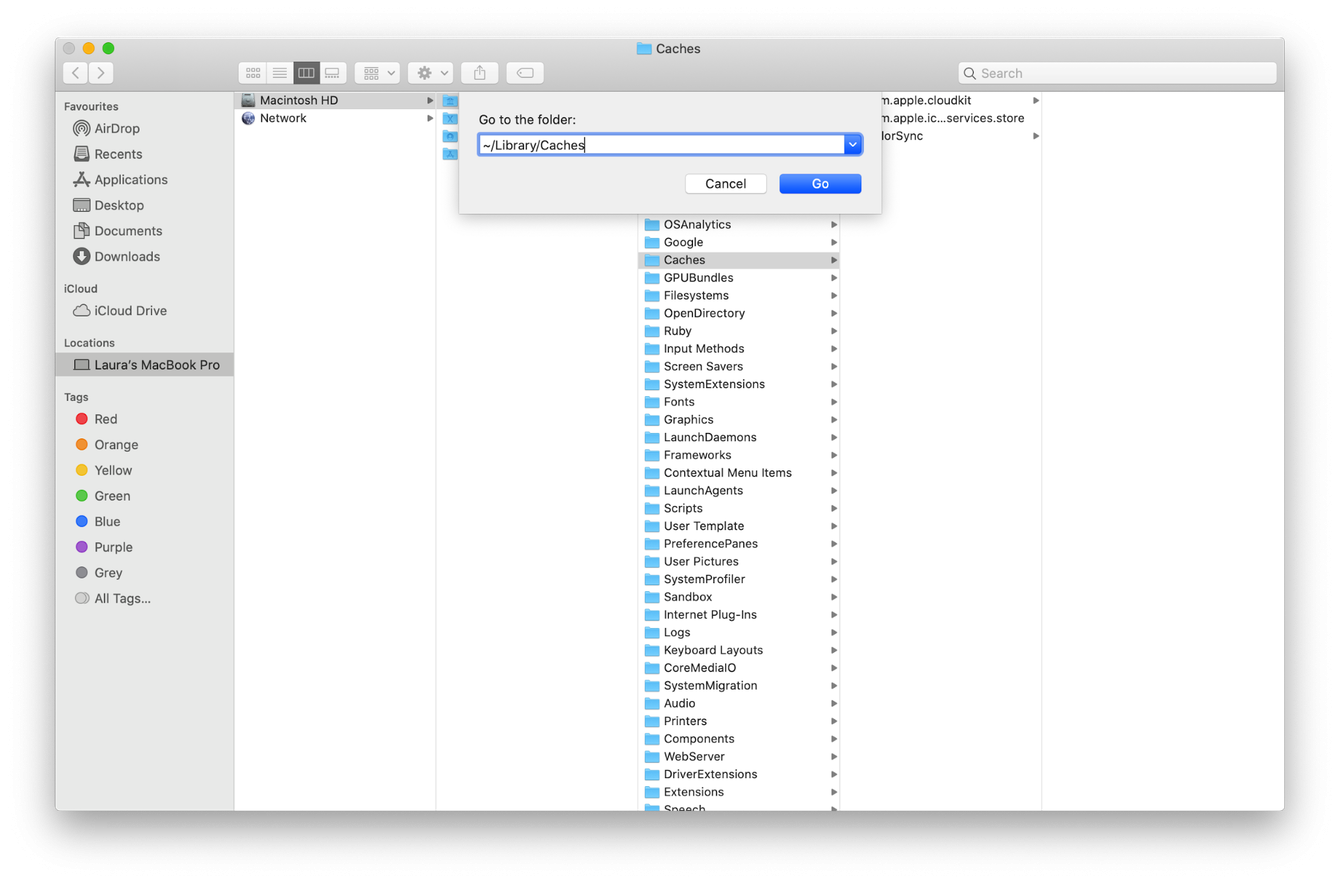 In the Finder, press Go from the top menu bar and select Go To Folder...

Paste in: ~/Library/Caches, then press Go.

Make a Time Machine backup of your Mac, just in case.

Now, select the unneeded files in those folders and drag them to your Trash.
Note: This is not an authorized way to deal with caches. You might delete something important by mistake. So first, make sure you've backed up your Mac using Time Machine. And really, better use CleanMyMac X to do the whole thing automatically.
If you do like to proceed, follow the above steps for these folders too:
/Library/Caches (without the "~")

~/Library/Logs
This task is a bit tedious, but at least it makes you feel like you're a hacker. For a more detailed understanding of how to clear cache, check out this excellent instruction on clearing cache.
Remove downloaded files from "Other"
When did you last check your Downloads folder? This is another quick way to clear items that pile up in the Mac "Other" storage category. Old documents, installer packages .zip and .dmg files, like to hang out here and take up precious space.
Here's how to clear your downloads folder:
Open Finder and select Go from the top.

Select Downloads.

Take a look around; you can categorize by file type for ease.

Remove what is no longer needed by selecting items to Move To Trash.
Tip: In the search bar, you can start typing in file extensions that are known to be large, like .zip
Don't forget to empty your Trash after you've finished.
Delete the system junk
The system junk is another category of files that overlaps with "Other." It contains all kinds of temporary and broken items, like logs and, again, caches. Removing these is an excellent place to reduce clutter within "Other" storage on your Mac.
The app I previously mentioned, CleanMyMac X, has a System Junk tool that will swiftly and safely remove "Other" files for you, making sure not to delete anything important on your Mac. It even finds your unfinished downloads from years ago!
How to use this helpful tool: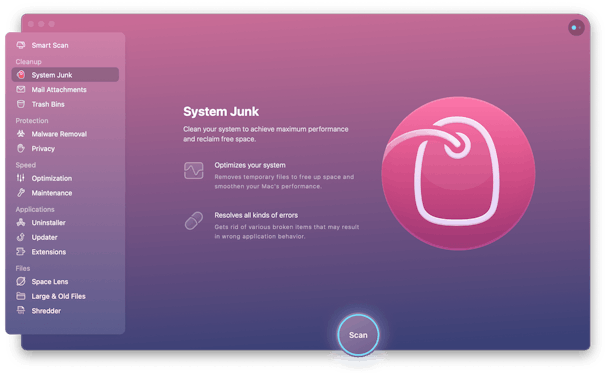 Download the free edition of CleanMyMac X.

Launch the app and select System Junk from the left sidebar.

Press Scan.

Wait for the scan to finish, then press Clean.
It's really as simple as that. I try to keep on top of my system junk regularly, but it still managed to find 4GB of system logs, cache, and other temporary files I didn't know were hanging around.
There you have it, everything you need to know about "Other" files within your Mac storage. Happy hunting for those mysterious files, and here's to reclaiming valuable storage space. Come back soon for more Mac housekeeping tips.