The best free Mac cleaners of 2023
8 min read
If you ever wondered what a Mac cleaner is and how to choose the best one, this article will come in handy — I've already done in-depth and time-consuming research on this topic to save you some time. Introducing my top seven Mac cleaners on the market in 2023. So, sit back and get ready to be bombarded with lots of helpful information!
What is a MacBook cleaner?
Mac storage cleaners are third-party tools that help safely clear the clutter on your device — forgotten folders, temporary or broken files, cache, or system junk. Over time, these items build up, causing Mac overload and speed issues.
Listen, Mac cleaner tools can seriously free up that valuable storage you're constantly lacking and improve your Mac's overall performance. The main benefit of using a dedicated tool is removing the hard-to-reach digital clutter, like app leftovers, broken files, and logs that manual maintenance just can't do.
If your Mac needs to be decluttered, these are the signs to look for:
Frequent stalling or freezing.

Mac is too slow.

RAM is too low.
If these symptoms sound familiar, keep reading.
What to look for in a Mac cleaner?
When it comes to choosing the right Mac cleaning tool, it can feel overwhelming with so many options out there. So here are some critical questions to ask yourself:
Is it a trusted and reputable tool?

Is it safe to download?

What cleaning features are included?

Does it offer a free trial?

One-off payment or subscription?

Are there additional bonus features?
To make your life easier, I've taken the time to review seven trusted Mac disk cleaners for you. Let's get started, shall we?
Top 7 free Mac cleaners
1. CleanMyMac X
When it comes to the best free Mac cleaner, at the top of my list is undoubtedly CleanMyMac X.
This tool is intuitive and straightforward to use, with a beautiful interface. CleanMyMac X offers an array of powerful features to optimize and boost your Mac performance. Its System Junk and Large & Old Files modules are all you need to clean up your macOS once and for all. Let's take a closer look at the functionality of these modules.
System Junk module:
In-depth system scan that resolves multiple errors while safely clearing up unneeded system log files, system cache, user logs, and language files.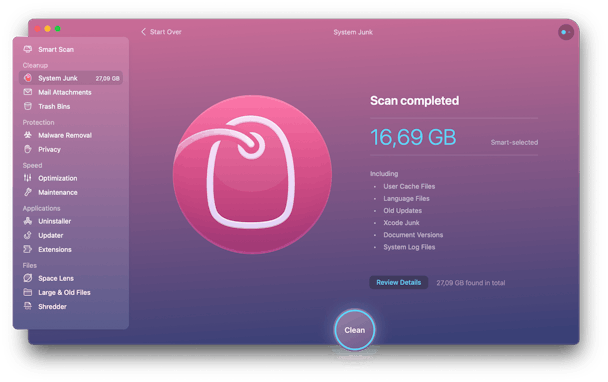 Large & Old Files module:
This module also scans your Mac allowing quickly sort through items by file type, size, or last opened, safely removing them in moments.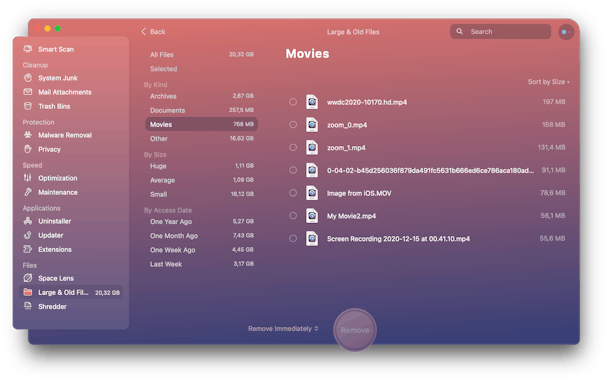 What I really like about this app is that you can upgrade it for a reasonable price getting an impressive ray of other optimization features such as:
Real-time malware protection

Application uninstaller

Shredder for file removal

Privacy module for your online and offline data
Pricing plans start from $39.95 a year, but you can try the free version first to understand if this option will work for you. The company also offers great discounts for multiple-device coverage.


2. MacCleaner Pro
MacCleaner Pro is a tool from the Nektony creators. This one also offers a free Mac cleaning software trial that allows you to speed up, clean up and manage your disk space using three straightforward tools. You can later upgrade to the powered-up paid version, which offers additional features like disk space analyzer, duplicate file removal, and application uninstaller.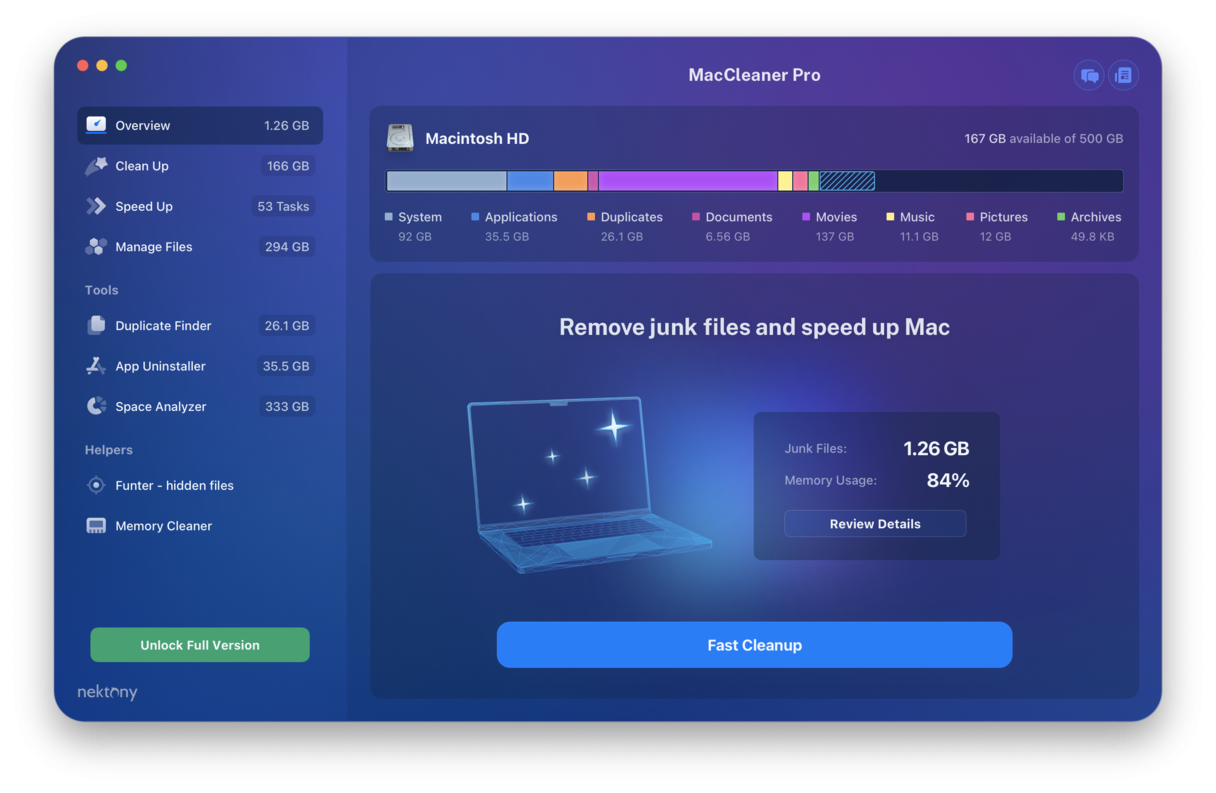 I like the fact that the system overview is straightforward to understand. It's been visually modeled on Apple's built-in storage management tab, so it instantly feels familiar. You get a clear breakdown of system clutter and other performance issues. In addition to clearing junk files, The Speedup tool can help optimize your Mac by rebuilding your Spotlight index, freeing up RAM, and disabling startup applications.
The paid version is a one-off payment of $119.95, and for that, you get the complete bundle of six PRO cleanup tools; this is a great tool, but it doesn't provide any anti-virus or other security features.
3. Parallels Toolbox
Another one on my list of the best Mac cleaning software is Parallels Toolbox for Mac. It comes with a whopping 30 different types of useful tools, including some great cleaning solutions like the Clean Drive, Memory Clean, Find Duplicates, and Uninstall Apps features. I've chosen Parallels because all of these tools are available on the 7-day free trial, but you need to use personal details to register.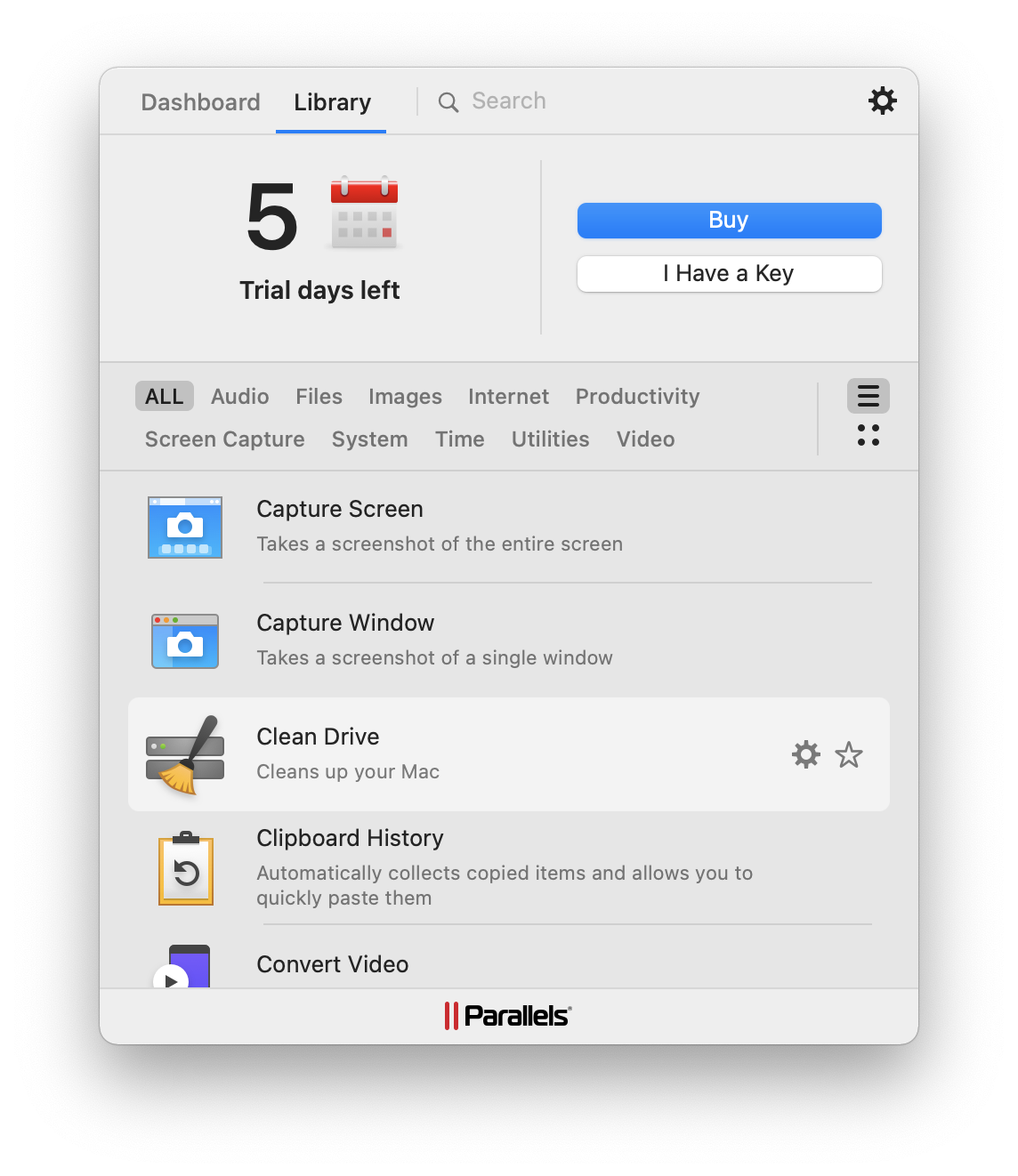 This tool earned its spot on the best Mac cleaners list because it's more than a cleaner. In fact, it's a bit of a one-stop shop with an array of features, including Unarchive, Transform text tool, Presentation mode, and so much more. Parallels' goal is to help users get the most out of their devices for $24.99 per year. This is one of the most affordable options on the market.
4. DaisyDisk
DaisyDisk is solely dedicated to cleaning up Macs. It does feel sparse compared to some of the previously mentioned tools, but don't underestimate its cleaning power. If you're only interested in Mac cleanup and nothing more, then this option is for you.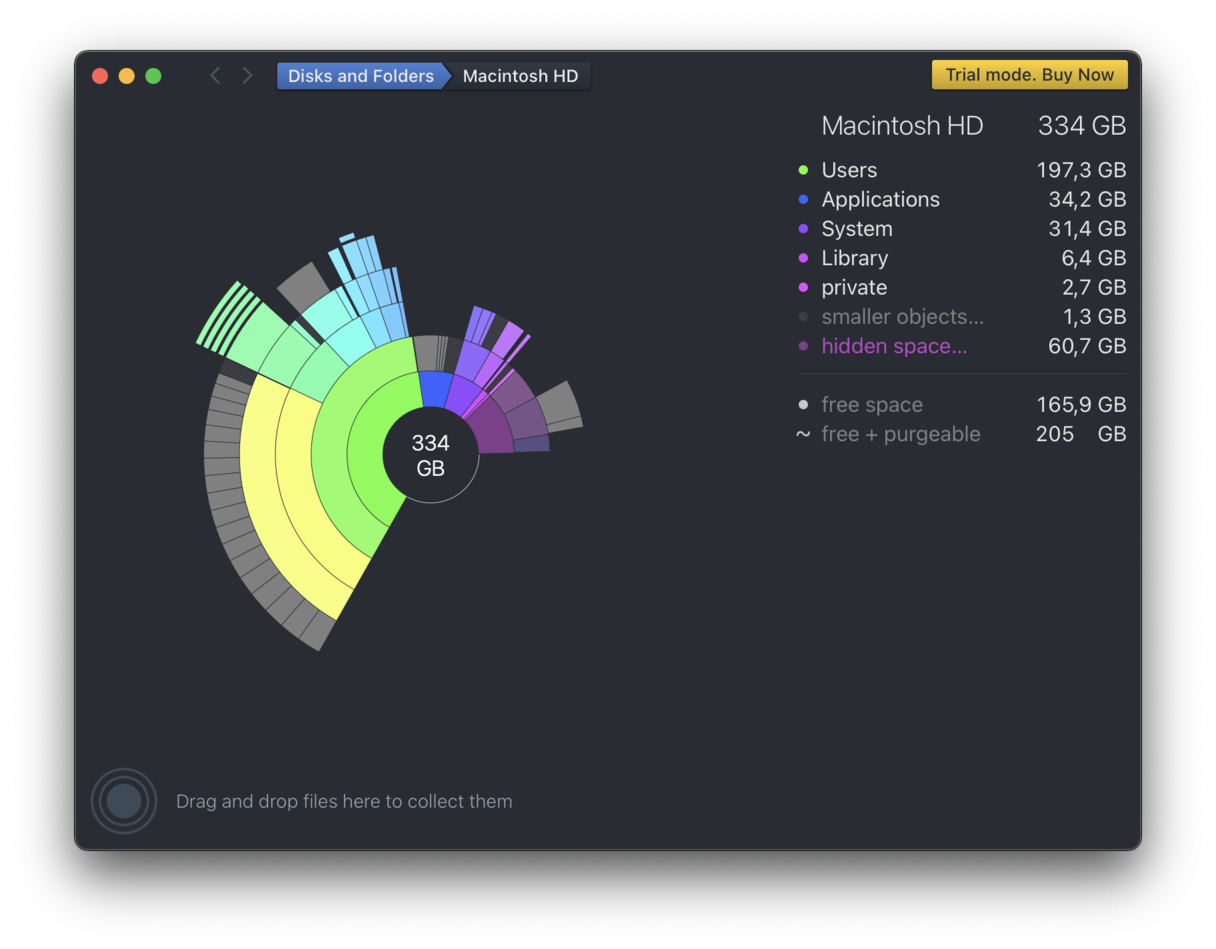 DaisyDisk is available to purchase from the App Store for $9.99 and has excellent reviews. You can download a free trial via the website, but the downside is you need to register your email address to use it.
For me personally, the visual graphics make this tool worth the money. It's a great way to visualize your data and external drives. Simply scan the drive you want to clean up, preview the content, and remove what is no longer required. That's it! No extra features, no fuss, no add-ons.


5. Avast Cleanup Premium
Avast Cleanup Premium is a smart app uninstaller and junk files cleaner. It helps get rid of different categories of unneeded files and data: duplicate files, browser data, and system files that can be safely removed. At the same time, it has a tool for removing apps.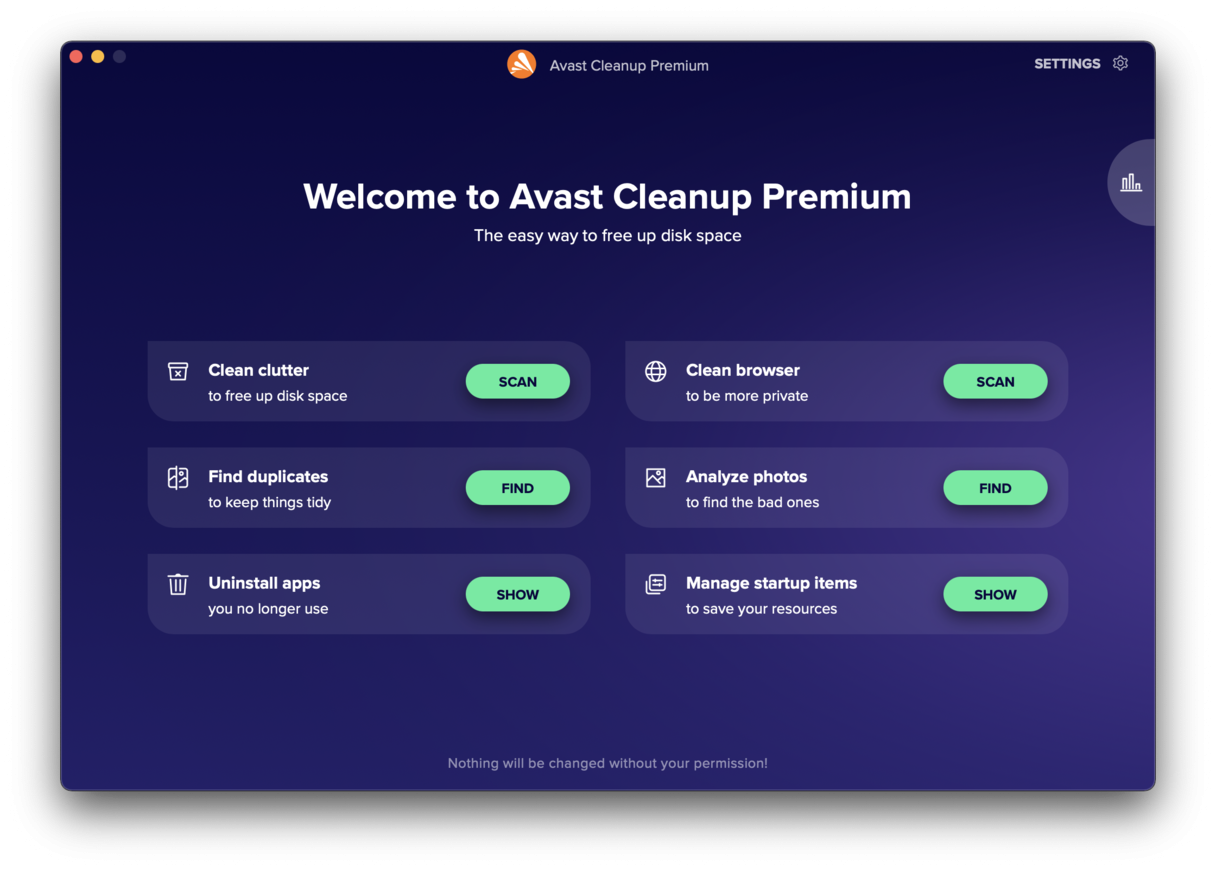 You can download it from the official website. The app comes with a 30-day free trial version. Afterward, you can purchase a subscription, which will cost you $65.99 per year.
6. App Cleaner & Uninstaller
Another tool from Nektony is App Cleaner & Uninstaller. It's a lightweight application that comes with the exact features you need to clear up your Mac.
Unlike its sister application MacCleaner Pro, you get just five simple cleaning tools. This set of tools helps remove apps and their traces, manage startup programs and browser extensions, clear up remaining digital debris, and manage default applications.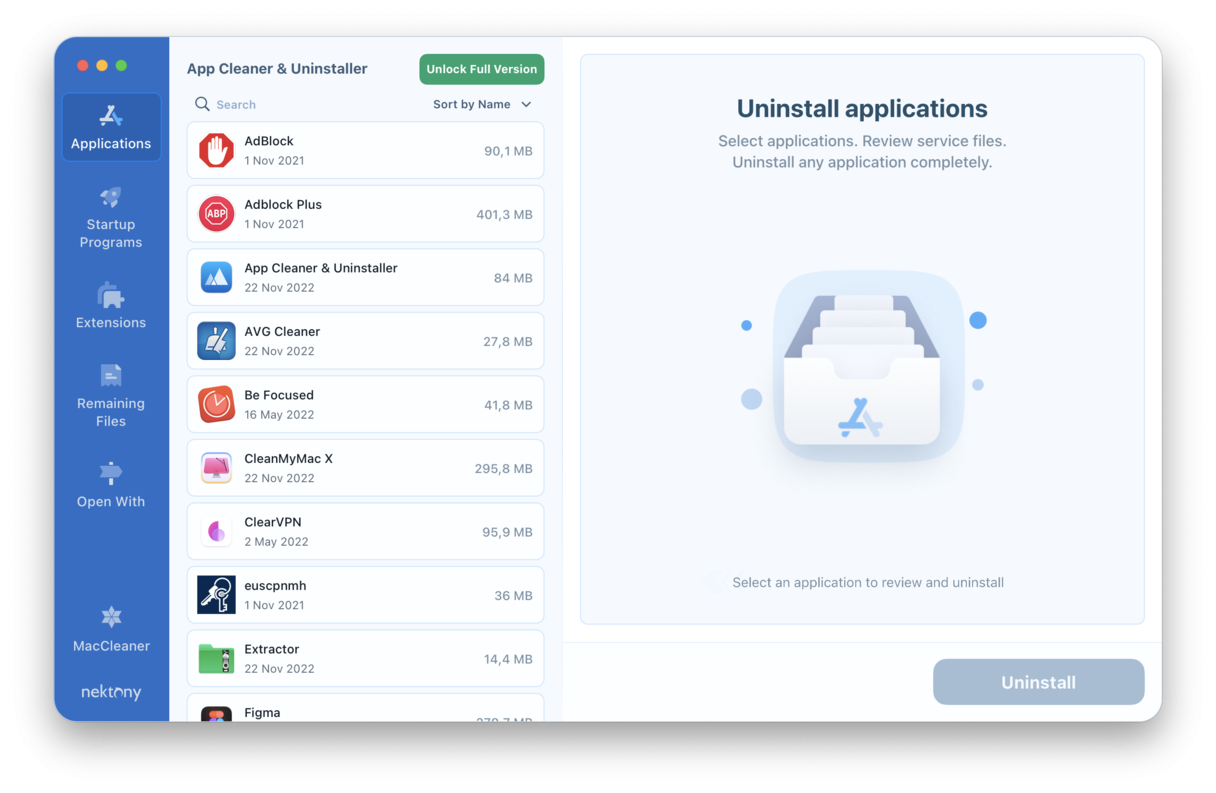 The downside to the free version is you only get 3 days to test it, which is a shame. I hope in the nearest future, they extend this to give users a chance to get to know the tool first.
However, if you decide to buy this option, pricing starts from $29.95 as it's a one-time purchase. It's not a bad option for a simple cleaning tool with no extra features.


7. Piriform Software CCleaner
CCleaner might not be as visually appealing as other tools mentioned in this review article, but don't let that put you off. Its free version comes with three robust, reliable tools that quickly clear clutter and reclaim space. Let's take a closer look.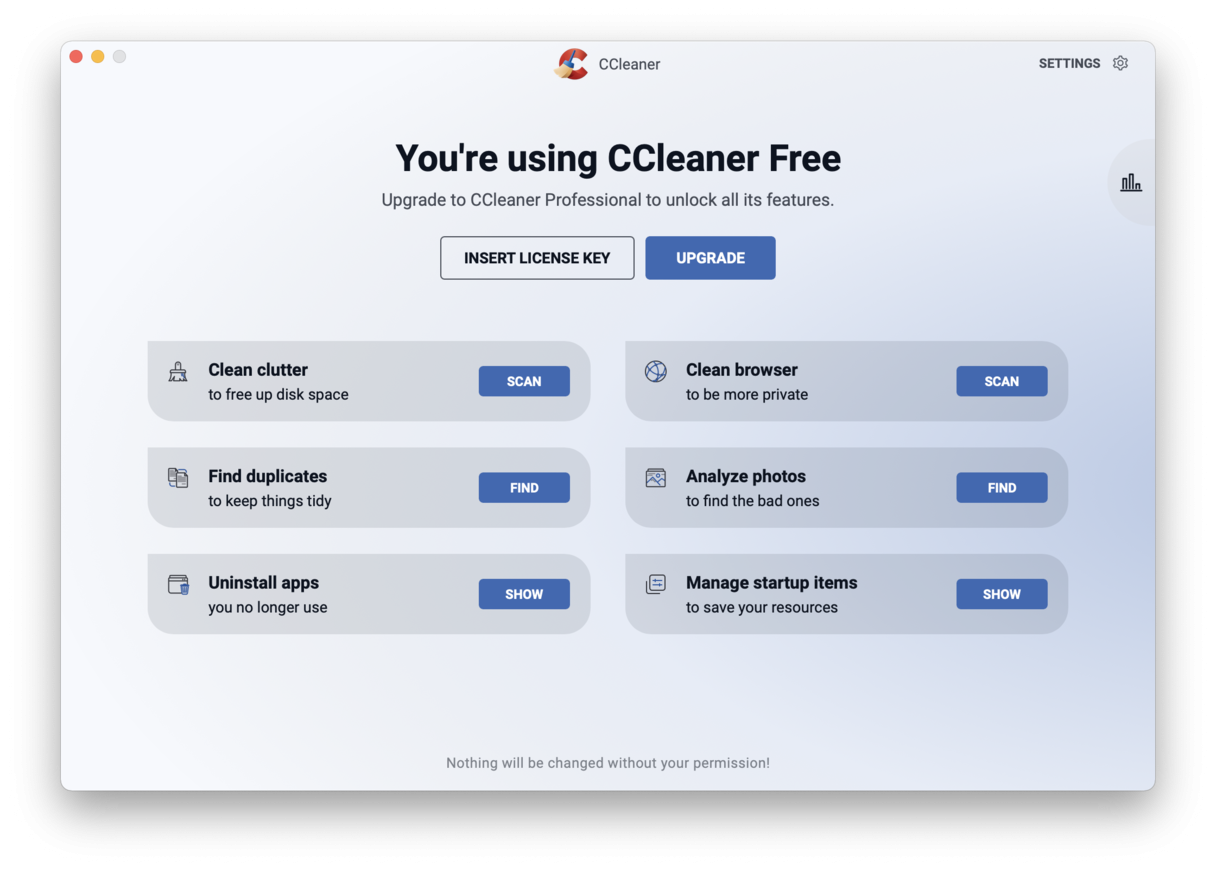 This feature performs an in-depth scan, uncovers system junk, and makes it easy for you to select items for removal.
Detects duplicate files on your hard drive, allowing you to review and select items for deletion.
This feature locates unused applications and uninstalls them safely.
The simplicity of this tool is what I like about it. Despite not being packed with millions of options and additional features, the app does what it claims. Its top menu bar icon allows you to run quick system scans easily.
You do, of course, have the option to upgrade to a paid version to have access to some extra features like a photo analyzer and automatic browsing history removal for just $29.95 a year.
How to clean your Mac manually?
If you're still not entirely sure about having a Mac cleaner, here are a few things you can do to clean your Mac manually.
Clean up your Desktop
If you have Stacks enabled, you might not see all the useless clutter built up. Take a moment to disable Stacks and review what's hanging around on your Desktop. Then move any unwanted items to Trash. To enable back the Stacks, right-click anywhere on your Desktop and press Use Stacks.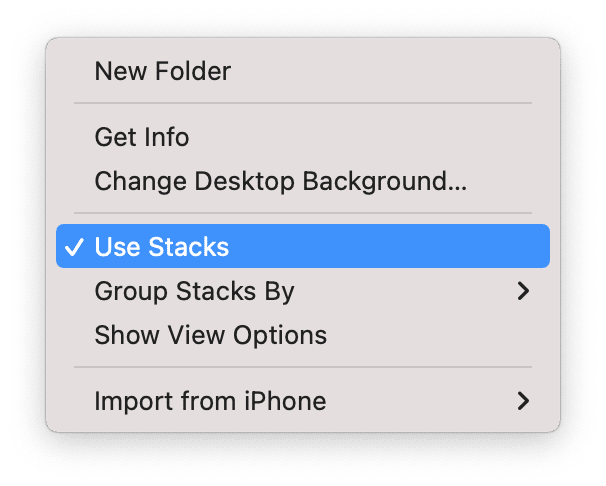 Check your Downloads folder
The Downloads folder is another place forgotten files hide. Take time to run a deep checkup and remove anything you no longer need.
Uninstall unneeded Apps
If you haven't used a specific app for a while, ask yourself, do I really need it? If the answer is no, then don't think twice - remove it to save yourself valuable storage space.
Launch Finder, then select Applications.

Review your apps and drag any unrequired apps to the Trash.

Empty your Trash.
Use Apple's built-in storage optimization tool
Another way to help save space and tidy up clutter is by using Apple's built-in storage optimization tool. Many people forget that this tool exists. But it's a simple way to offload Mac to iCloud and automate your Trash removal. Here's how to use it: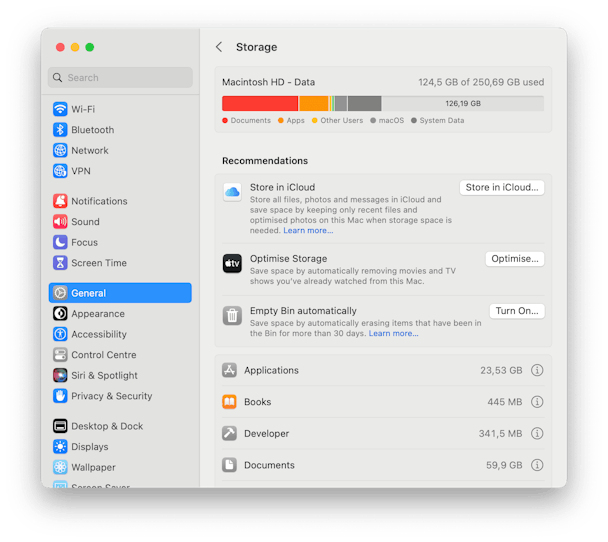 Select the main Apple Menu > About This Mac > More Info > Storage Settings.

Check Recommendations under the Storage bar.

Enable the three options by following the on-screen instructions.
Manual options will help, but as I mentioned previously, it's impossible to get rid of all the debris this way, and that's why cleaners have become so popular.
Hopefully, you found this review helpful. However, if you still decide to continue your own research for Mac cleaners, make sure to download from untrustworthy sources. Too often, malware and other types of viruses can disguise themselves as cleaning tools.
Warning! Don't be tempted to buy Dr. Cleanup. This application has been proven to gather and steal data from Macs.
Happy cleaning!