10 tips guaranteed to make your Mac run faster
8 min read
If your Mac has been running slower than usual, and you've been wondering how to make your Mac faster, here are 10 simple top tips that are guaranteed to give your Mac some extra breathing space to perform.
Sound familiar?
Overheating

Booting up takes a while

Crashing and freezing

Beach-balls have become a regular thing
How to make your MacBook faster
1. Locate resource-draining applications
Use Activity Monitor to locate which applications are draining your Mac resources. Activity Monitor gives you a breakdown of what each process is using; take a close look at the CPU section on the top tabs. You can quickly uncover which applications are demanding a lot from your system.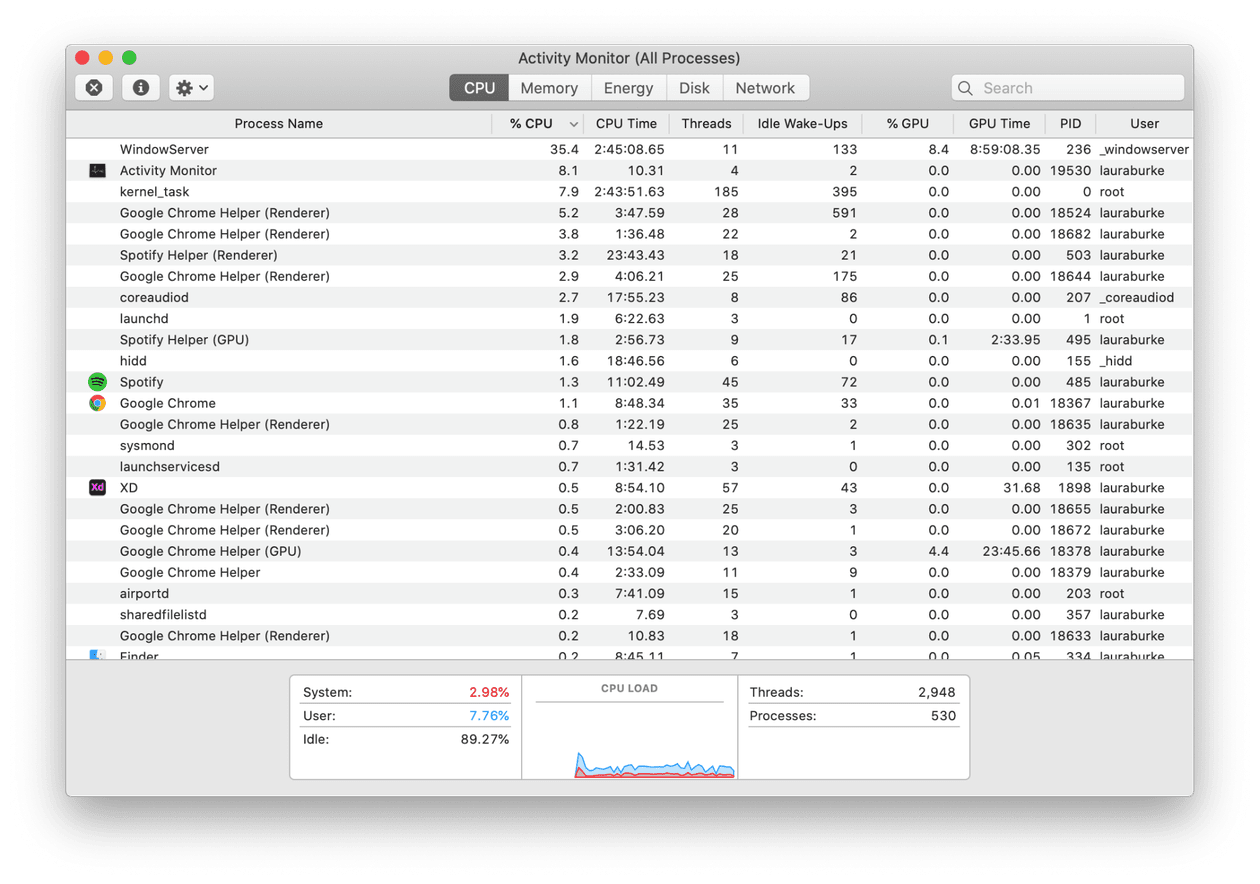 How to make your MacBook faster with Activity Monitor:
Open Finder, select Applications from the left sidebar.

Scroll down to Utilities and select Activity Monitor.

Sort by the % CPU column to see which applications are draining your Mac.

You can close any apps by simply clicking on them and selecting Quit.
If you find something that you're not currently using, close it down until next time. This will help to keep your Mac speedy.
2. Clear out your cache and system junk
Junk files build up over time. When left unattended, user file logs, internet temp files, broken applications, and cache can seriously slow down your Mac and hog it's gigabyte capacity. Let's look at how to make your Mac faster by cleaning out your system junk.
There are two ways you can clean your system junk. Manually, step-by-step, or with a dedicated tool like CleanMyMac X by MacPaw. It's System Junk module will help you reclaim space in minutes by removing all temporary files, unwanted cache, and broken items.
How to clear your system junk automatically:
Launch CleanMyMac X — You can download the app's free version here.

Select System Junk in the left sidebar.

Now, select Scan. Once the scan is complete, select Clean.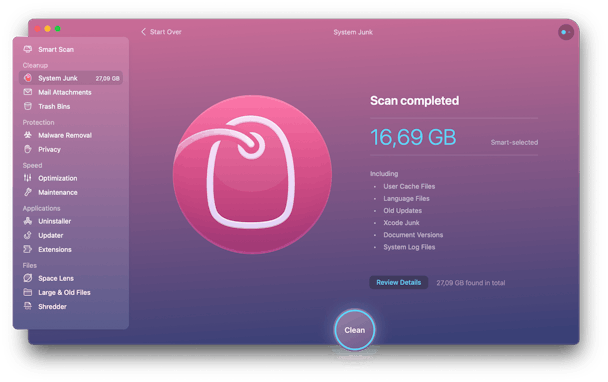 How much junk has it found? Usually it returns with 10-15 GB of digital clutter you can clear out.

That's seriously it, just 3 simple steps to reclaim tons of space and get your Mac back up to speed. Apple also notarizes the CleanMyMac X app, so it's safe to use.
If you're still interested in cleaning your system junk the manual way, take a look at this great guide on How to Clear Cache on a Mac.
3. Clean up your photos
Photos, photos, and more photos, well, that's the story of my Mac. The problem is, they are too many, and you run out of storage capacity, which will slow your Mac down. Not ready to get rid of your holiday pics yet? A quick solution is to move them to your iCloud, freeing up more space for your Mac to perform.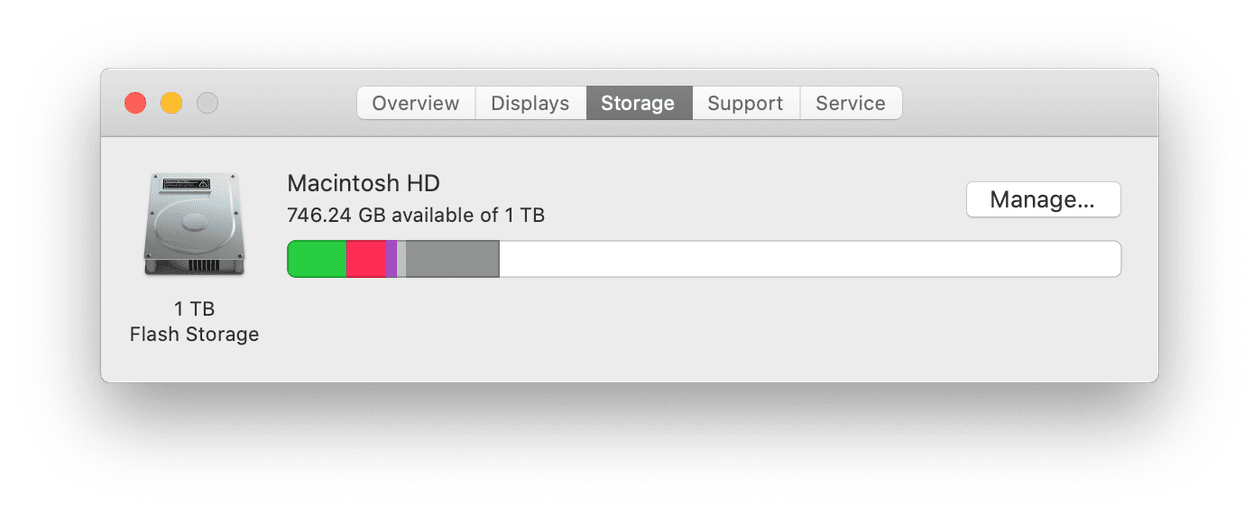 How to move your photos to iCloud:
On your Mac, select the Apple icon, top left, and choose About this Mac.

Select Storage from the tabs at the top, and then click Manage.

Now select Store in iCloud, use the tick boxes, select which items you want to store, and then finish by clicking the Store in iCloud button.
How are Mac's speed and disk space connected
Your MacBooks's speed depends on the physical RAM chip installed, for example, 4 or 4 GB. But if all that amount is used (by many apps working at the same time), your Mac will start using the available disk space to compensate for the lack of memory. And if you've got little of that disk space left...your Mac will be slowing down.
4. Adjust your visuals
Another great tip if you've been wondering how to make your Mac faster is to minimize the visuals. Great visuals are pretty useless if your Mac is running slow, so turning off some effects can give you a quick performance boost.
How to adjust your visuals and speed up your Mac:
Top left corner on your Mac, select the Apple icon, and then System Preferences.
Select Dock and make sure you select "minimize windows using to "Scale Effect" in the dropdown menu.

Then, unselect:
Animate opening applications.

Automatically hide and show the Dock.
5. Check for Malware
If you've recently opened, installed, or downloaded files from an unverified source, it's time to do a health check. Malware can cause your Mac to slow down. We all hate viruses in 2020, but thankfully dealing with virus infection on a Mac is easier.
What viruses are we talking about? There are tiny apps that work in the background that may hog the processor's resources. For example, browser extensions that look harmless but, in fact, steal your data.

The app we've already discussed, CleanMyMac X, has a tool that detects those covert agents on your Mac. You shouldn't necessarily have them, the testing is free and could be informative.
How to check for Malware with CleanMyMac X
Launch CleanMyMac X.

Select the Malware Removal module from the left sidebar.

Select Scan.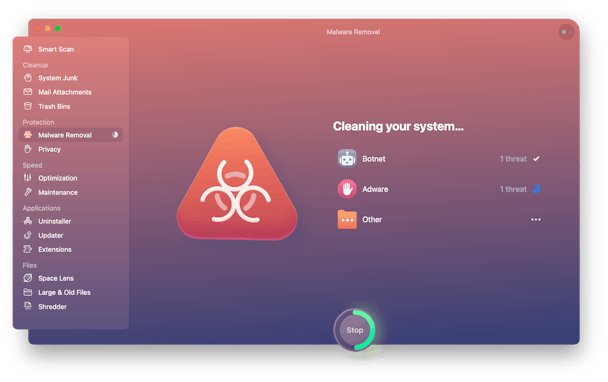 If you find Malware, just follow the steps, and they will guide you through the immediate removal. I regularly run a Malware check with CleanMyMac X; it's just part of my regular Mac maintenance.
6. Reduce your startup items
Another way how to make your Mac run faster is to reduce your startup items. If you've noticed that your Mac is slow to start up, or you seem to be waiting around for apps to launch, you might have too many applications trying to out-compete one another.
Applications are often set to launch by default at startup. Lots of applications can cause an extra strain on your Mac. It's an easy tweak that can give your Mac an extra boost.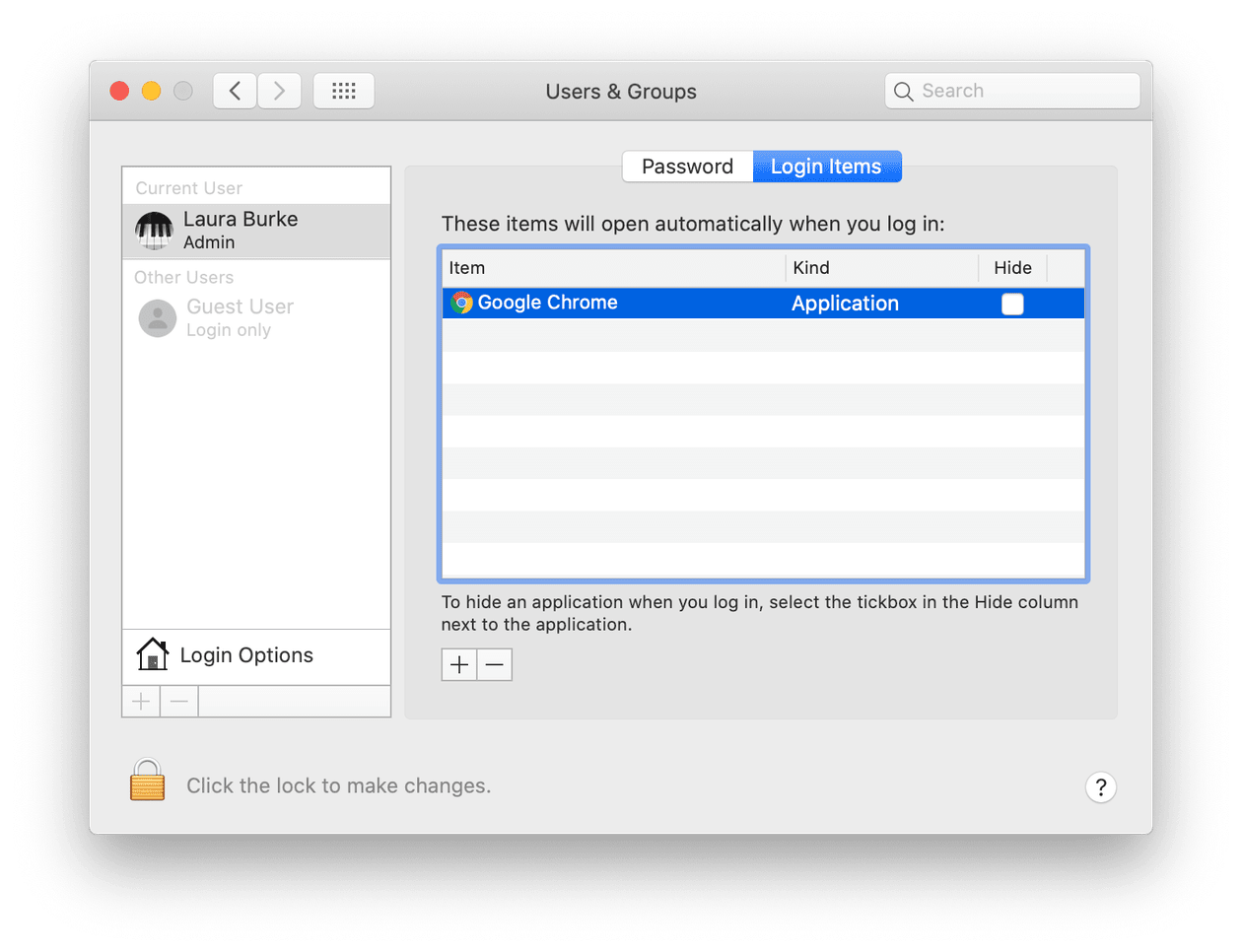 How to reduce your startup items:
Click the Apple icon top left on your Mac, and select System Preferences.

Select User & Groups and click on your username.

Now, select the Login Items tab, and deselect any items you don't need immediately when your Mac starts up. You can click the minus sign to altogether remove all of them.
Well done!
7. Remove unused apps
Another quick way to speed up your Mac is to uninstall all the applications you no longer need or use. Surprisingly, many people don't realize that apps need to be uninstalled correctly, dragging them to the Trash bin leaves behind lots of junk, leaving your Mac clogged up with broken files.
Here's an excellent step-by-step article on How to Uninstall Apps on a Mac. This article describes the manual solution and a few other relevant tips.
8. Clean up your Downloads folder
We all remember to clear out the Trash bin, but what about removing all the unnecessary files from our Downloads folder? It's a place I always overlook, and it often becomes a ZIP file graveyard.
It's another great way, how to make your Mac run faster and very quick to do.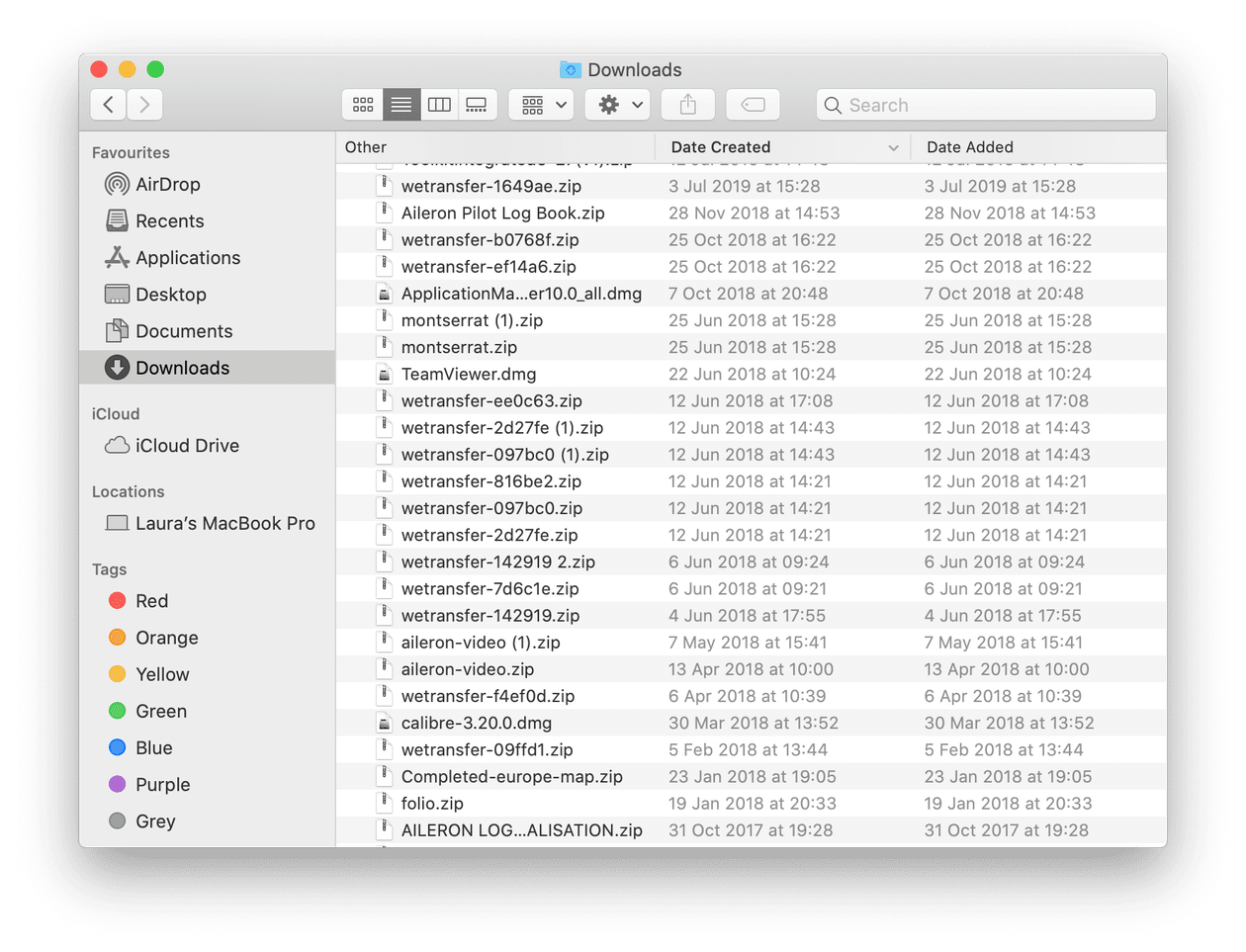 From the Dock, open the Finder.

Select the Downloads folder from the left sidebar.

Take a look at what's hanging around.
Tip: You can type in: .zip or .dmg and altogether delete files of the same format.
Wow, no comments, please, as you can see, I can reclaim some space for my Mac.
9. Clean up your Desktop
Every single desktop icon takes up RAM space. Of course, it's just a small amount but multiply that by 100 (or how many icons you have) and you'll be soon in severe deficit of RAM.
So, the less clutter you have here, the faster your Mac becomes. Once you've cleaned up your Desktop, restart your Mac.
You can also use the Desktop Stacks feature to organize your files in groups neatly.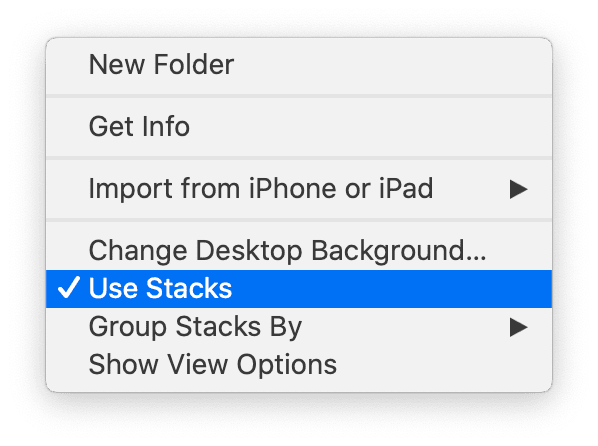 How to use Desktop Stacks:
Click on your Desktop and select Use Stacks.

Your desktop files will now automatically organize themselves.
This quick tip will help you to keep your Desktop tidy. If you want to switch Stacks off, just follow the above instructions and deselect Use stacks.
10. Update your Mac
Make sure your Mac runs the latest software from Apple, it might sound like an obvious step, but it's worth a check, especially when your Mac is running slow. Keeping your Mac up-to-date helps performance and speed. I like to use the Updater module from again, my favorite Mac maintenance app CleanMyMac X. It checks both system and app updates.
How to update your Mac with CleanMyMac X:
Launch the app and select Updater from the left sidebar.

You'll see a list of items that need updating on your Mac.

Select which items you want to update and click Update.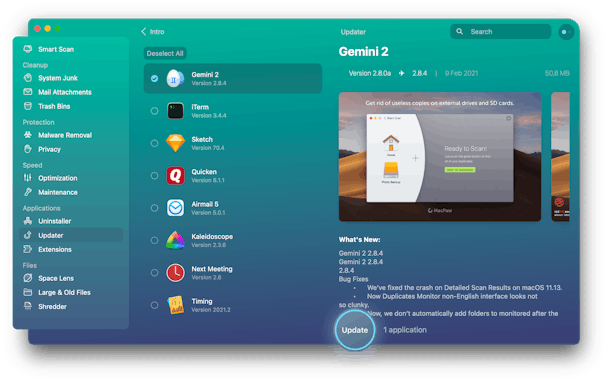 As you can see, I had 2 updates available for my Mac. A perfect example, why it's always worth taking a look.
And since we're talking about CleanMyMac X, it has another tool that's directly aimed at Mac's speed. Surprise-surprise, it's even called Speed.

When you open CleanMyMac X, click the Maintenance tab.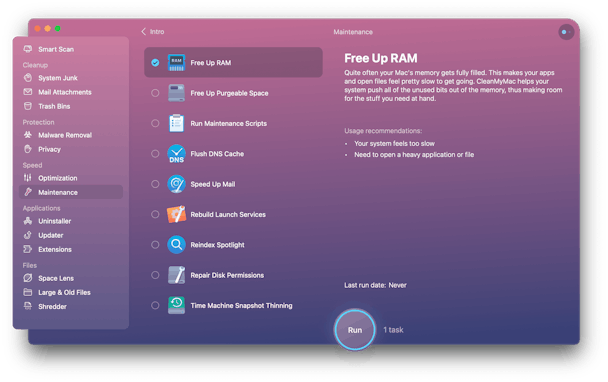 Can you see the tools like on the screenshot?

I recommend that you run at least 2 commands from the list above. "Free up RAM" flushes your Mac's virtual memory and immediately un-freezes some apps. And "Run Maintenance Scripts" helps your Mac run more smoothly.

So there you have it. If you've been wondering, how do you clean out your Mac to make it run faster? Follow these 10 simple top tips, and your Mac should be feeling like new in no time.
Stay tuned for more Mac tips and tricks coming soon.