Why is my new Mac so slow?
6 min read
There is nothing worse than a new MacBook Pro running slow. You can expect an older Mac to get bogged down over time, but nothing is more frustrating when you experience this issue on a new machine.
Don't rush back to the Apple store just yet; let's take a look and see if you can troubleshoot your Mac back to speed.
So, why is my new MacBook pro so slow?
There can be several reasons why your new MacBook is slow, but here are five common reasons why:
Lack of free space on your hard drive

Too many resource-hungry apps running

Lack of RAM

Malware

Out-of-date software
How to fix a slow Mac
The good news is, don't panic. There's actually quite a lot we can do to troubleshoot a slow Mac back-to-top performance.
I've put together my top, and you'll be pleased to hear quick recommendations on how to troubleshoot a slow Mac. Let's go.
Check your hard drive storage
Depending on which storage options you opted for when you purchased your Mac, available space could be the reason why your brand new Mac is running slow.
No matter which model you have, lack of storage is something any Mac owner will become very familiar with over time. If your hard drive is reaching its capacity, it's time to step in and give it some extra breathing space.
So let's start at the beginning and check your available storage; here's how: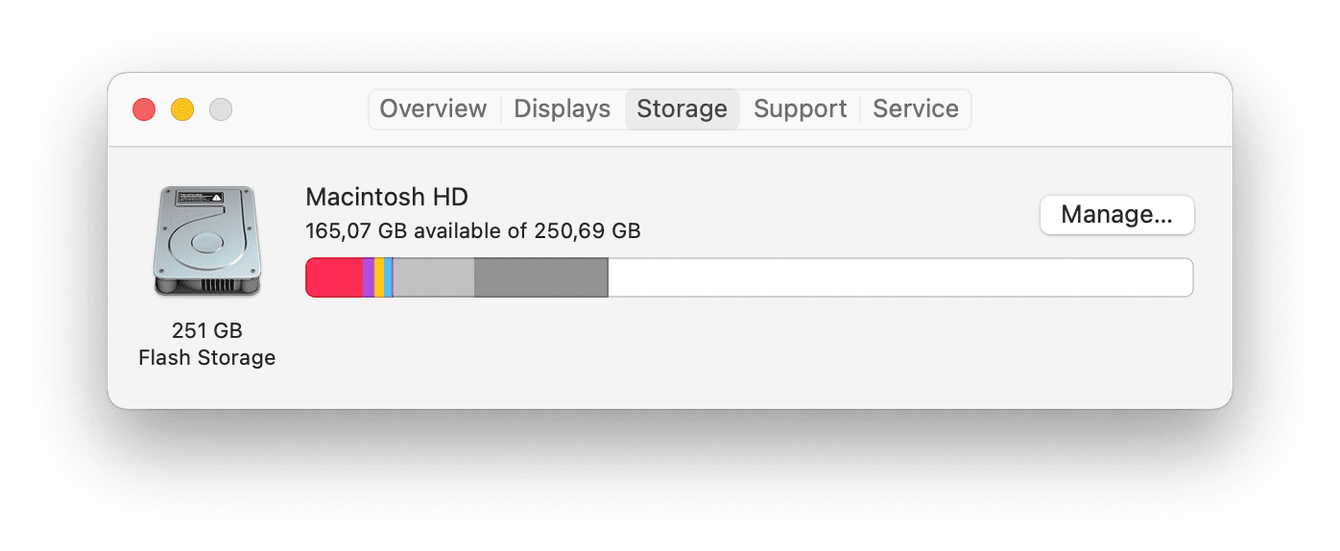 Select the Apple Menu > About This Mac > Storage.
Here you'll find an overview of your Mac's storage and what's eating up space. Hover over the color bars to see what they represent.
If you notice that you are a little low on available space, this could be the reason why your new MacBook is slow; luckily, there are a few things we can do; keep reading.
Tidy up your hard drive
This can be a time-consuming job, but if you're low on space, cleaning up your hard drive is a must.
Here are a few things to consider:
Remove old or large files

Empty your Trash

Tidy your desktop

Clear your Downloads folder
The above items are the easy part; when it comes to cleaning up your system junk and identifying which items can be removed safely, that's a bit tricker. I prefer to use a dedicated app like CleanMyMac X.
You can remove tons of system junk in just a few clicks, including cache, language packs, broken files, temporary files, and user log files. Bonus points, Apple notarized this app.
Here's how to clean up your system junk the easy way: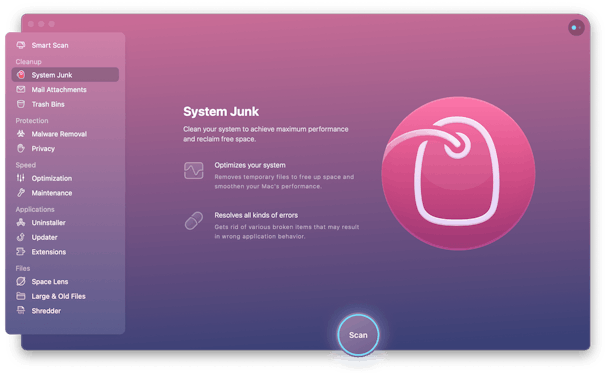 Launch the app and select System Junk from the left sidebar — download it for free here.

Press Scan, and then select Clean.
While we're talking about storage and space, it's worth considering optimizing your storage, too — jump to the next step.
Optimize your Storage
If space was an issue, you want to keep your storage optimized in the future. Use Apple's built-in storage optimization feature to get started; here's how: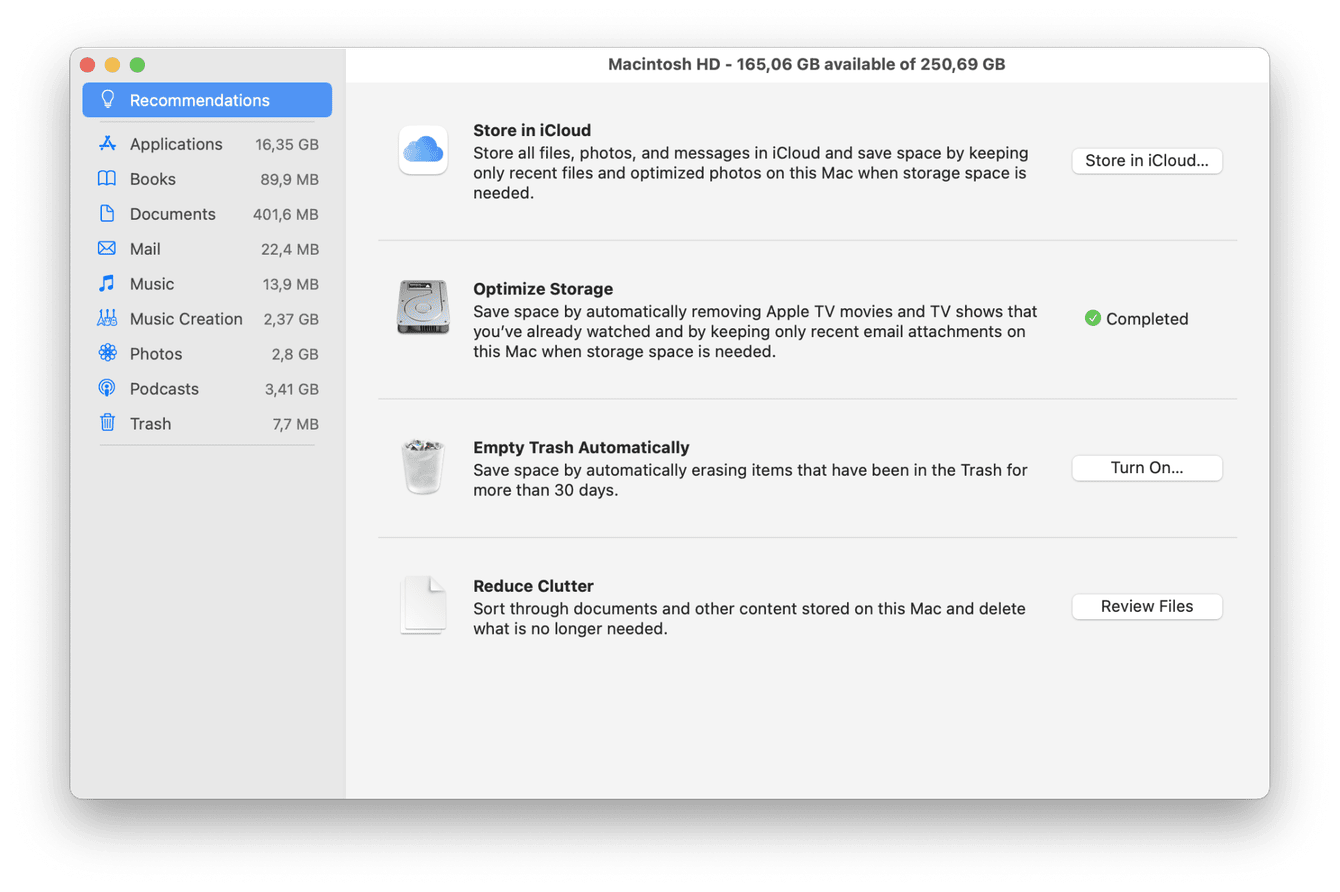 Select the Apple Menu > About This Mac > Storage > Manage Storage.
Click on the Recommendations section in the left sidebar, and take a look through the four suggestions to optimize your Mac storage; these are all easy to follow.
Check for resource-hungry applications
Another reason your new MacBook is slow could be apps draining your resources.
Unbeknown to many of us, apps run in the background, sucking precious life from our Macs, causing them to slow down and sometimes become unresponsive. Luckily we can quickly check what drains your Mac's CPU with Activity Monitor; here's how: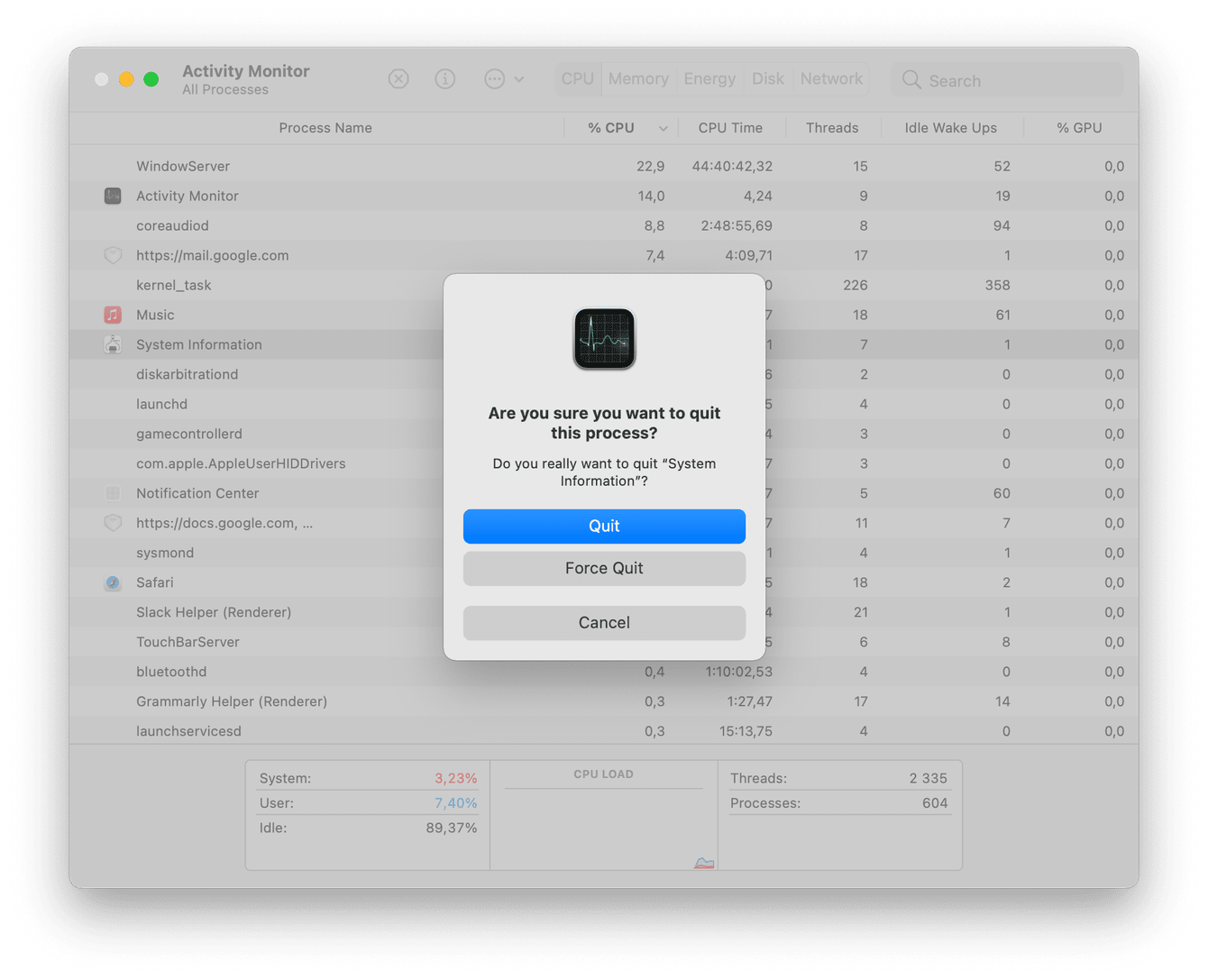 Open a new Finder window.

Select Application > Utilities > Activity Monitor > CPU.
Activity Monitor shows you exactly what processes are using up your system resources in real-time.
Take a look through the list to see what's potentially running in the background. To quit an application, select it, then press the "X" in the top left corner.
This will make an instant difference. If you notice apps in the list that you really don't need, consider uninstalling them entirely — move to the next tip to see how.
While you're here, it's also worth taking a look in the Memory tab. You can do this exact same process for applications that are using excessive memory.
Remove unused applications
Space is precious, so don't waste it by keeping around any apps you no longer need. Here's how to remove them:
Open a new Finder window; from the top menu, select Go > Applications.

Browse through all your Applications; you can even order the apps by size.

Right-click any app and choose Move to Trash.
Check for malware
I know it's a topic that no MacBook owner wants to hear, but when your new MacBook Pro is running slow, it's also worth checking for malware.
I like to use the tool I mentioned earlier, CleanMyMac X because it has a dedicated Malware Removal module.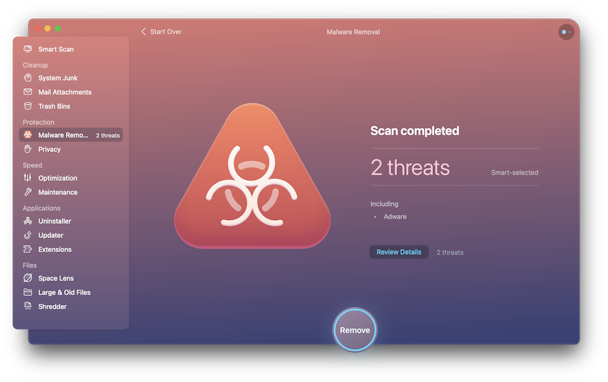 Launch the app, select Malware Removal from the left sidebar.

Press Scan and wait for the search to complete.
If the search does find something, CleanMyMac X will safely remove the malicious files without touching anything system-related.
I also find it quite reassuring to know that CleanMyMac X is considered quite the malware expert. They also have a Malwarepedia where you can learn about all the different types of threats out there.
Update your software
If your new Mac is slow, it's worth checking if there are any system updates available. Sounds a bit obvious, but it's always worth a check, and it only takes a second. Here's how: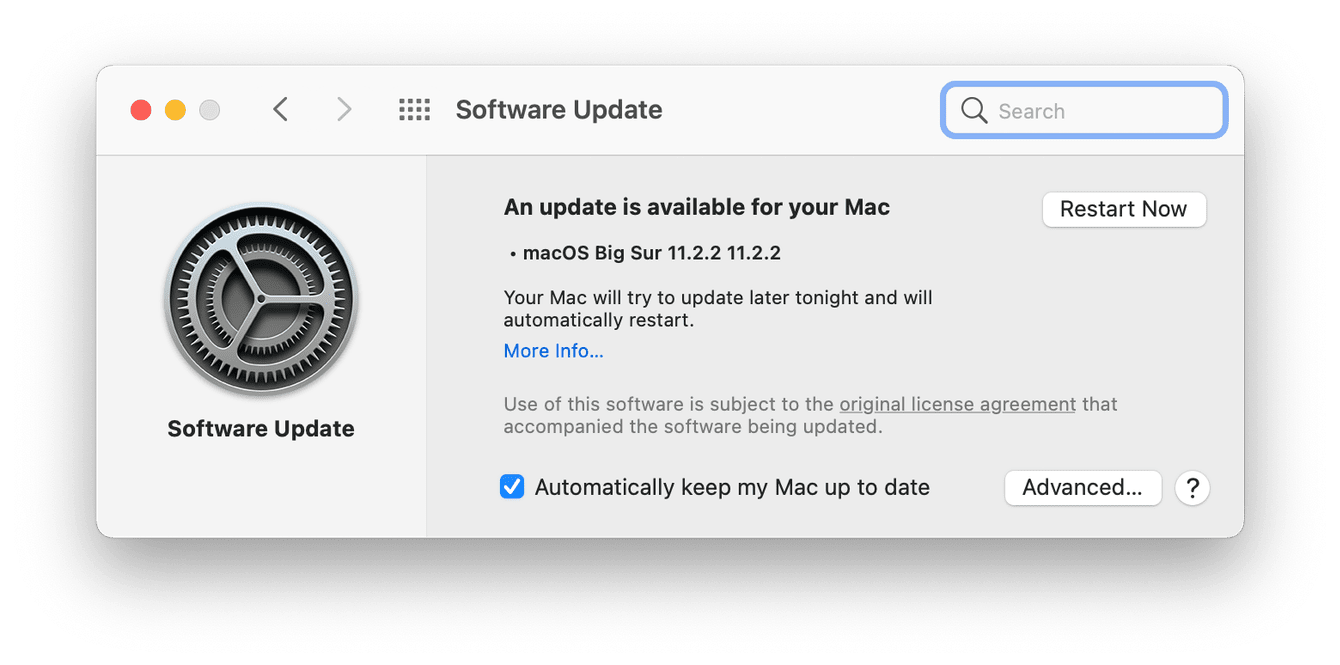 Apple Menu > System Preferences > Software Update.
If, like me, you have an update waiting, follow the instructions on the screen. Running the latest software helps to keep your Mac optimized.
Remove browser extensions
There's no denying that our browser friends can be absolute resource eaters. If your new MacBook Pro is running slow, it's worth taking a look at your browser.
If you have tons of extensions and windows active, it will slow your Mac down. The answer is to remove any unnecessary extensions; here's how:
Remove Chrome extensions
Launch Chrome.

Top right, press the three-dot icon > More Tools > Extensions.
You'll see all of your extensions and add-ons here that are installed on your browser. If you don't recognize them or use them, get rid of them by pressing Remove.
Remove Safari extensions
Launch Safari.

In the top menu, press Safari > Preferences.

Select the Extensions tab and remove any extensions you don't need.
Regular Mac Maintenance
If your new MacBook Pro is running slow, consider regular maintenance to help optimize your Mac's performance.
Sticking to a regular maintenance program for your Mac can help it run faster for longer, keep application errors at bay and get the best out of your Mac. The app I mentioned earlier, CleanMyMac X, helps do all those things. It has a Maintenance module, which frees up RAM, runs maintenance scripts, flushes DNS cache, repairs disk permissions, and much more, all in just a few clicks.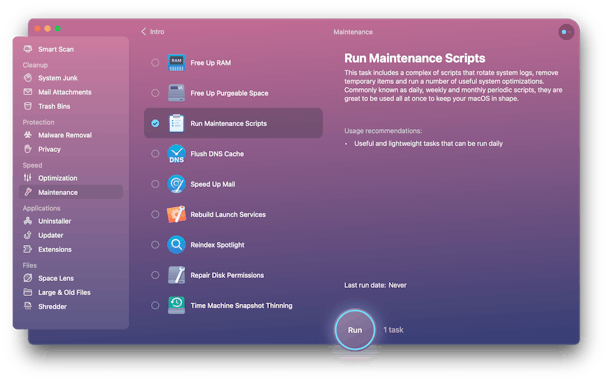 Launch CleanMyMac X.

Select Maintenance and Press View All Tasks.

Choose tasks and press Run.
Why is my new MacBook still running slow?
If your new Mac is still running slow, make sure that your expectations are realistic. It's worth considering what spec you purchased here—your processor, graphics, and memory capability. Sometimes we can be expecting a little too much if you opted for a lower spec Mac. That's why knowing how to keep your Mac optimized is essential.
We've taken a look at some possible reasons why new Macs get slow and some great troubleshooting tips to get your Mac back up-to-speed. Hopefully, your Mac is running faster now.