How to repair your Mac disk with First Aid
4 min read
If you're experiencing these issues on your Mac, it might be time to run the Disk Utility's First Aid function and repair your disk:
Regular system and app crashes

Vanishing and corrupt files

Trouble starting up your Mac

Cryptic error messages

External devices not working properly
First things first, if you're encountering any of the above items, it's time to backup your data before it's too late. These kinds of issues indicate there could be a problem with your Mac disk that definitely needs investigating. Here, we'll explain how to run First Aid to fix possible problems on your Mac.
What is the Disk Utility's First Aid function?
Some folks really don't like the thought of poking around in Disk Utility, but it's simple to use and not a place to fear.
The First Aid function within Disk Utility can quickly check the status of your Mac disk, volumes, and external devices. It has multiple built-in capabilities that can detect and repair errors. After analyzing the disk directory, First Aid will determine if it can repair any detected damage.
If you're facing a problem with your startup disk, you'll need to run First Aid from Recovery Mode— we'll cover this in just a moment.
Repair your disk using Disk Utility
It's straightforward to run a check on your Mac with Disk Utility. You'll quickly be able to identify if any of your disks have issues.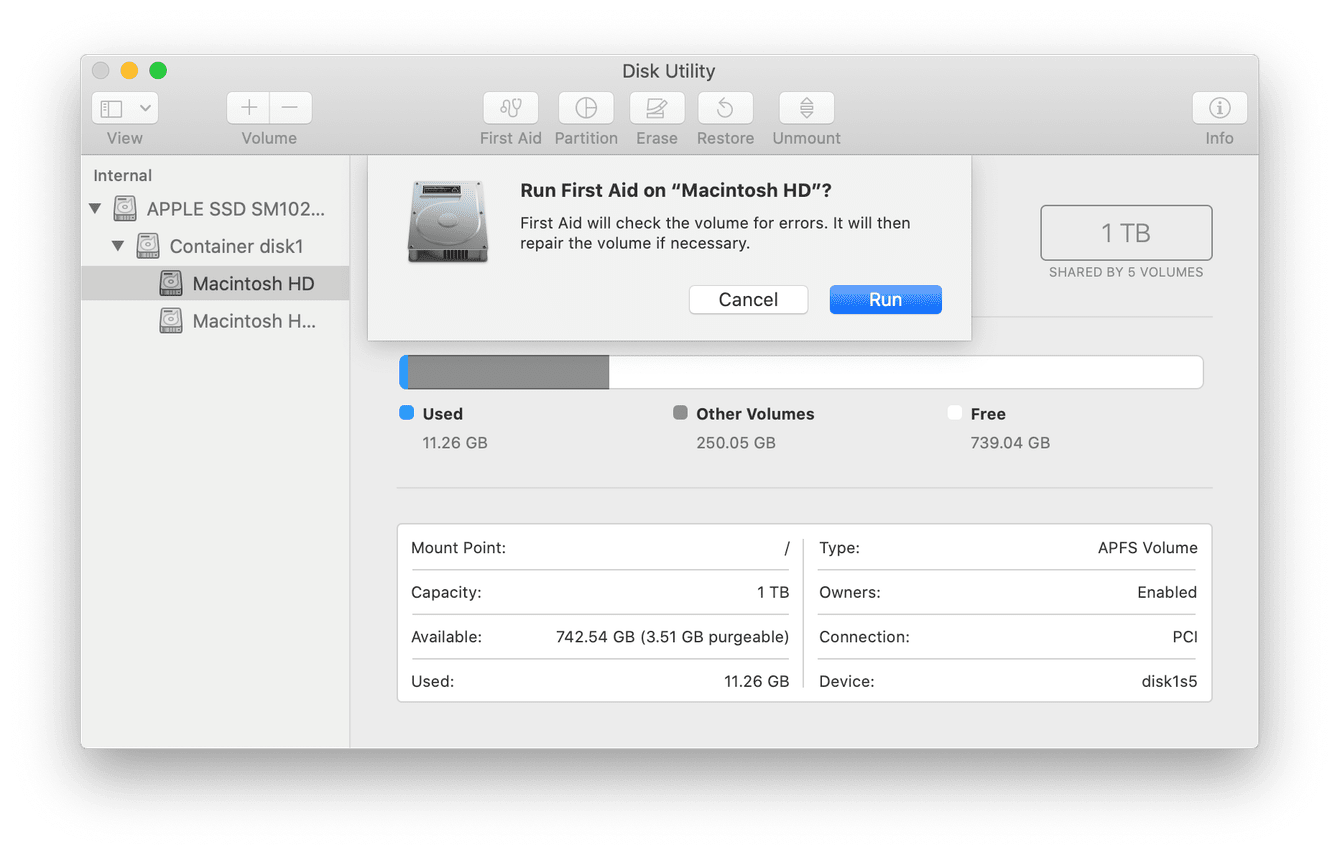 Open Disk Utility (Finder > Applications > Utilities).

In the sidebar, select the disk you're having problems with.

Click on First Aid at the top, and select Run.

Once complete, you'll see a drop-down showing the status; click this to explore. Disk Utility will try to repair what it can and warn you about errors it found that it can't fix.
Although this method checks all disks, we can't repair a broken startup disk from here; for that, we need to run First Aid from Recovery Mode.
Quick Tip: If you suspect your Mac disk is failing, CleanMyMac X has many easy-to-use maintenance tools that can help keep your drive running smoothly. I'll talk you through some of the features later in the article. Or you download the free version now —it's notarized by Apple and completely safe for your Mac.
How to run First Aid from Recovery Mode
Although Disk Utility checks your startup volume as well, it can't fix any errors if those are found. Running First Aid from Recovery Mode is necessary for repairing your startup disk. So, let's jump straight in:
Restart your Mac, immediately pressing and holding Command (⌘)+R on its startup. When you see an Apple logo or spinning globe, release the keys.

Now, choose Disk Utility from the macOS Utilities window.

Select your startup disk from the sidebar, then click the arrow to view all the containers and volumes. Apple recommends repairing volumes first, then containers, and then the startup disks last.

So, from the sidebar, select the last volume listed, then click First Aid at the top, and then Run, working your way up the list for each volume, container, and finally, the disk itself.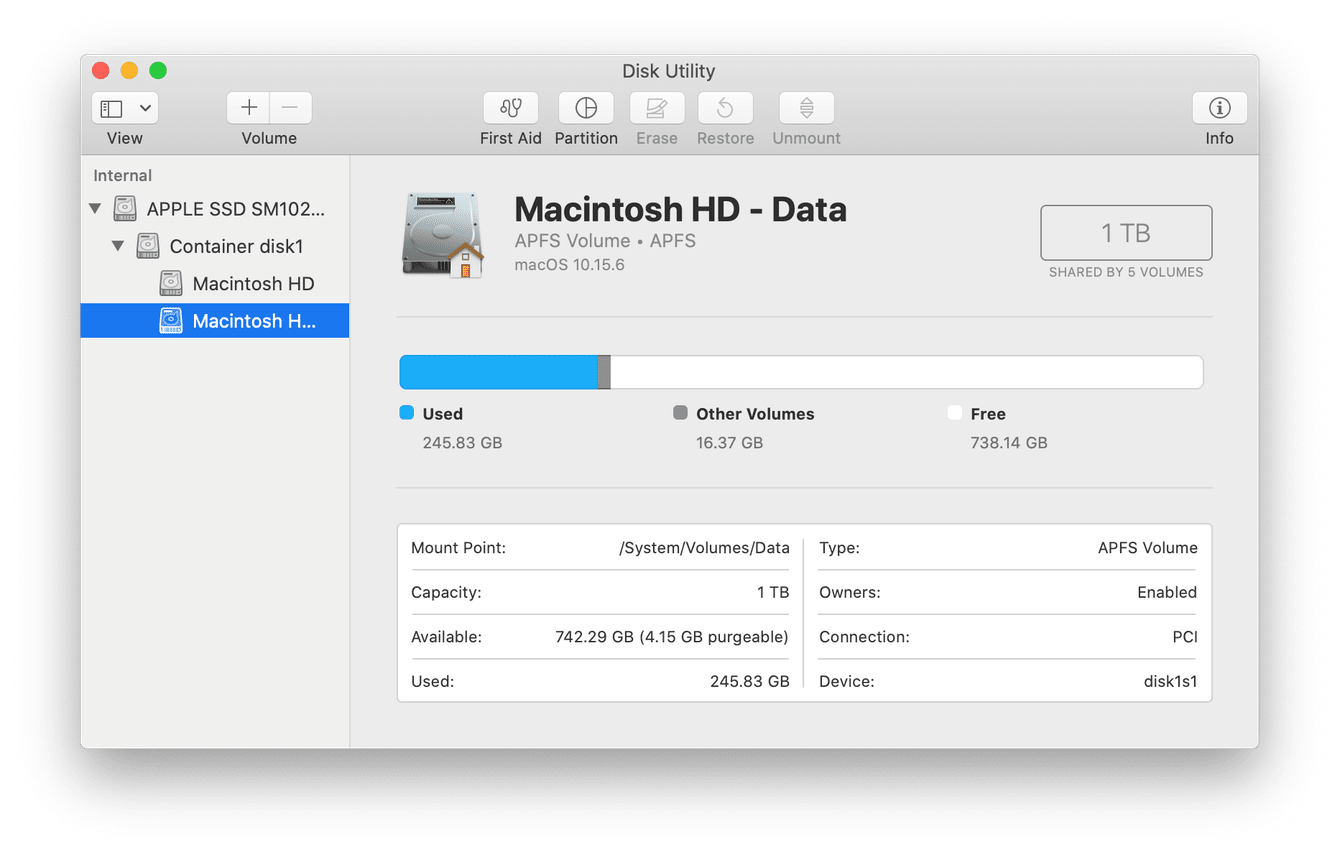 As you can see, I've got two volumes, one container, and then the startup disk.
This could take a while, so don't be alarmed if it's not over in a couple of minutes; Disk Utility will run its checks and try and repair errors for you.
If Disk Utility finds errors that it can't repair, it's now time to erase (format) your disk.
Erase (format) your disk

Formatting a disk deletes all files it stores. Make sure you backup all your data to prevent losing anything important.
To start up from macOS Recovery again, simply follow steps 1 and 2 above.

Select your disk from the sidebar, then click Erase from the top and complete these items:

Name: The name your disk will have after the erase
Format: Disk Utility shows a compatible format by default.
Scheme: Choose the GUID Partition Map.
Now, select Erase to start erasing your disk and every container and volume within it.
When complete, quit Disk Utility.
You'll now need to reinstall macOS if it's your startup disk.
Repair disk permissions and run maintenance scripts
Earlier in the article, I mentioned using CleanMyMac X. For issues with your hard drive, this app has some great tools to improve your drive performance and keep your Mac feeling fresh.
I like to regularly run the Maintenance Module, which can specifically help with both repairing disk permissions and running complex maintenance scripts.
Repairing disk permissions can help with:
Apps not working correctly

Files that won't delete
Benefits of running maintenance scripts:
Removes temporary items

Optimizes system

Rotates system logs
Here's how to get started with CleanMyMac X Maintenance Module: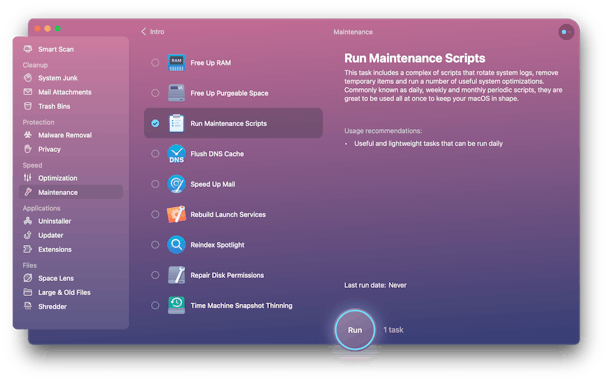 Open the CleanMyMac X app — download the free version here.

From the left sidebar, select the Maintenance Module.

Select Run Maintenance Scripts and Repair Disk Permissions, then press Run.
There are another seven useful items on the list, which you can, of course, run too.
It's a pretty obvious one, but running regular maintenance on your Mac will help to keep it in good health and fully optimized. CleanMyMac X is more than just another Mac maintenance tool. It's a powerful cleaner, malware remover, and performance enhancer that will keep your Mac running like new.
Issues with your drive always require a little bit of troubleshooting. Hopefully, this article helped you to investigate and repair the hard drive on your Mac.
Good luck, and come back soon for all the latest Mac tips.