What is a Mac battery cycle count?
4 min read
Do you know your MacBook Pro battery cycle count? If you have no idea what I'm asking, then keep reading to find out how this insight can extend battery life on your Mac. In this article, we'll take a look at everything from battery health to ideal battery cycle counts. So let's get started with some basics first.
What is the battery cycle count?
Mac battery cycle count helps to determine the number of times your battery has been fully charged. It's important because all Macs have a set amount of battery charge cycles (this varies per model); once we exceed these, we can expect a decrease in battery health and performance.
To make it simple, one battery charge cycle equals full battery charged to 100% and fully used to 0%. If you only use half of Mac's battery power, then recharge it and repeat it the following day — it will also count as one charge cycle instead of two.
What is a good battery cycle count?
The next logical question is this: what is the ideal cycle count for a MacBook?
Although it depends on which model you own, the average battery cycle is around 1000. But to get more accurate data, it's worth checking Apple's battery cycle count chart here. Once you've found out what your estimated battery cycle count is, it's time to check where your battery is at.
How to check Mac battery cycle count
Knowing how to check battery cycles on a MacBook is pretty simple. It lets you properly maintain your Mac, increases battery life, and keeps you in a loop when you need a battery replacement. Plus, it is easily done, and here's how:
Select and hold down the Option key, then click the main Apple menu.

Select System Information, then locate Power from the sidebar.
Take a closer look at the Health Information section. Here you'll find the cycle count info, as well as the status (next to Condition). Below is a summary of the status meanings.
Normal – fully functioning battery.

Service Battery – battery needs a repair or diagnosis.

Replace Soon – battery has probably exceeded its cycle count. It can no longer hold a charge, and although it still works, it's time to consider a replacement.

Replace Now – battery likely needs to be plugged in all the time. Replace your battery ASAP.
If your cycle count is on the high side, but status is normal, there's plenty you can do to extend and increase your battery life. Jump to the next section to check out my top five tips.
How to extend Mac battery life
Identify battery-draining apps
We often have multiple applications running simultaneously, often without you realizing it.
Some apps can drain your battery, especially if they freeze or hang in the background. So, when you're experiencing a sudden notice in battery drainage, it's worth investigating.
Here's how:
In a new Finder Window, select Applications from the sidebar.

Go to Utilities > Activity Monitor.

Take a look under CPU, specifically under the CPU and GPU columns.

Close any battery-draining apps by selecting them and clicking X.
If you're not 100% sure what to look at in Activity Monitor, there is an easier way to identify battery drainers by using a specialized tool — CleanMyMac X. It has an Optimization module to help you control your applications and their impact on Mac.
What I personally like about this tool is that it's Apple notarized application that has all the needed functionality to keep your Mac optimized and productive. Other things that you can check here are login and launch items, hung applications, or heavy consumers.
Here's how:
Open the application — download the free version here.

Select Optimization from the sidebar.

Click View All Items.

First, look through launch agents, removing any unnecessary startup applications.

Then, follow on-screen instructions if you have any hung apps and heavy consumers.

Keep software up-to-date
It's always wise to update macOS regularly. As obvious as it may sound, the software update should be on top of the Mac troubleshooting checklist. Why? It equips Mac with new features, improves performance, fixes bugs, and protects from potential threats. What's more, it optimizes your battery.
In case you're not sure how to check for updates, try following these instructions:
Go to the main Apple menu > System Settings > General > Software Update.

If there's an update available, follow the on-screen instructions.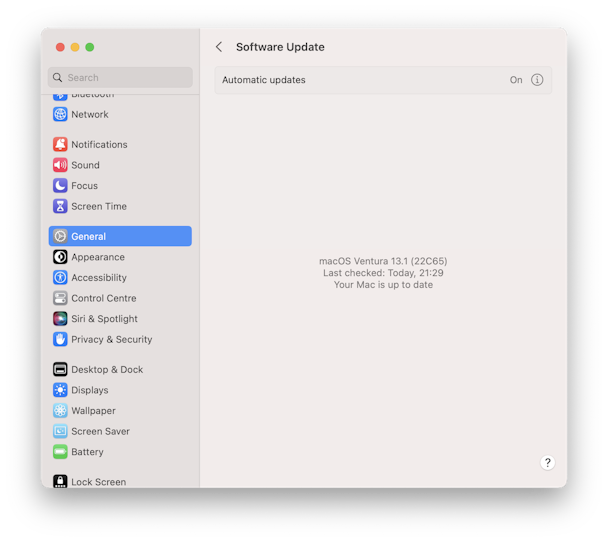 Use Apple's battery optimization settings
Apple provides some pretty good optimization tools to help you maintain battery health. Here's how to find the right settings:
Go to the main Apple Menu > System Settings > Battery.

Under Battery Options, check all the boxes and toggle your display shut downtime.

Next, under Power Adapter, select Wake for network access and Low Power Mode, then toggle the display shutdown timer to meet your needs.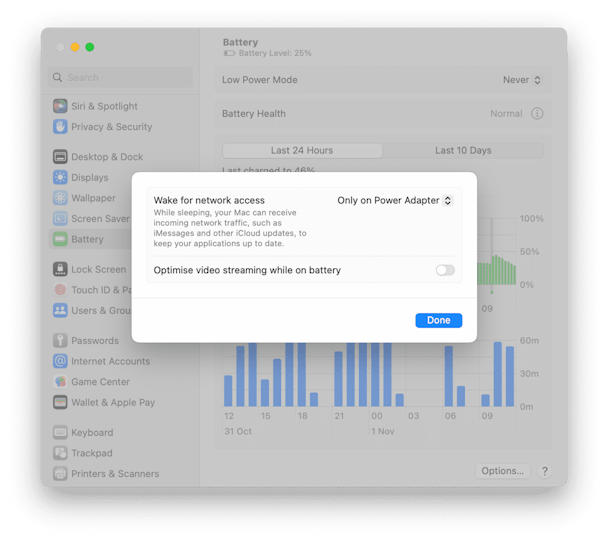 Reduce screen and keyboard brightness
Reducing your screen brightness and keyboard backlights can save energy and prevent battery drainage. Here's how to adjust screen brightness:
Select the Apple menu > System Settings > Displays.

Turn down the brightness to a workable level.

Turn on Automatically adjust brightness.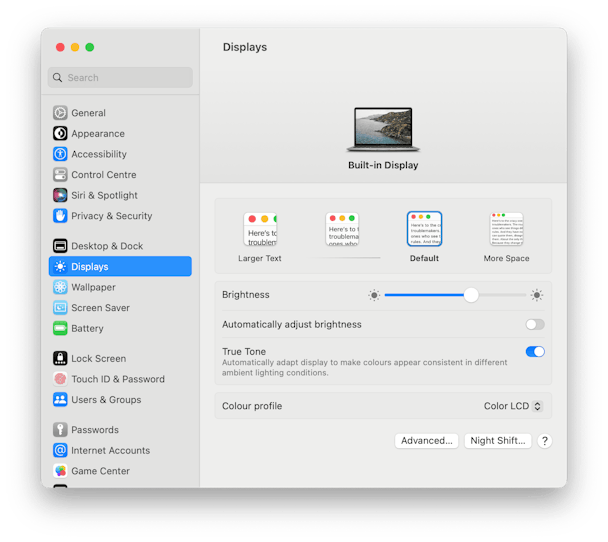 You can also use F1 or F2 to toggle your display brightness up and down.
Here's how to adjust your keyboard backlight:
Go to the Apple menu > System Settings > Keyboard.

Turn on Adjust keyboard brightness in low light and turn keyboard backlight off after inactivity.

From the drop-down, select your preferred time.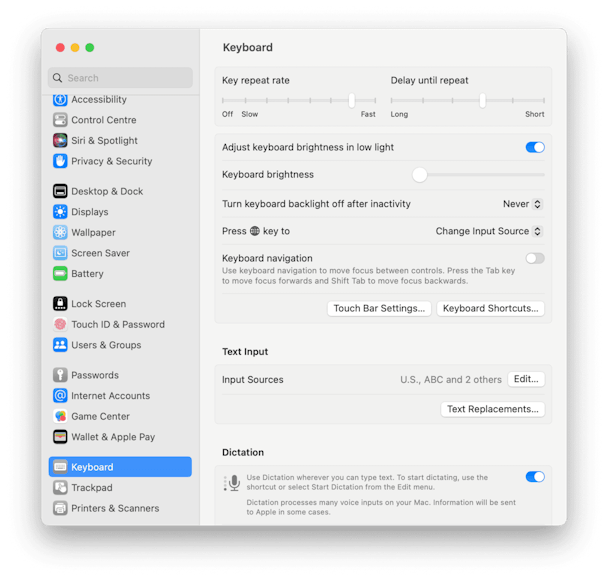 Don't leave Mac plugged in
Technically, you can't overcharge your MacBook. But if you leave it plugged in, over time, it will, for a fact, reduce its charging capacity or cause a swollen battery. Better safe than sorry!
Hopefully, now you have an understanding of what MacBook Pro battery cycle count is and how to monitor and extend your battery life. Stick around for more useful Mac Mac tips.