MacBook Pro battery replacement cost
4 min read
Curious about how much a Mac battery replacement costs? If you're constantly searching for a power source or can't leave home without your charger, we've got the answers you've been searching for here in this article.
How much is a MacBook Pro battery replacement?
The cost to replace your MacBook Pro battery will depend on a few factors: which model you own, if you have Apple Warranty, or whether or not you decide to use an official Apple service center or a third-party Mac repair shop.
First, how much does Apple charge to replace a battery? If you opt for an official Apple replacement, then on average, you can expect to pay between $200 and $300. But if you have Apple Warranty and AppleCare+, it's completely free. If your warranty has expired, then the replacement cost can vary but might be lower than the above price range.
If you decide to opt for a third-party repair center, then the cost to replace MacBook Pro battery can be significantly lower; I've seen quotes for as little as $80. But you will need to do your research to ensure the repair center is reputable. Of course, the parts used will not be genuine Apple parts, and there are pros and cons to this.
Why you may need an Apple battery replacement on Mac
It's important to understand when it's time to consider an Apple battery replacement for your MacBook Air or Pro.
Apple batteries are designed for around 1000 cycles. As you edge closer to this magic number, which should, in most cases, take around five years, you'll start to notice deterioration signs, including:
Your battery starts to drain very quickly.

Your battery doesn't hold its charge.

Your battery doesn't charge correctly.

Your Mac needs to be plugged in at all times.
These are common signs your battery might need replacing, but there are other signals too; you might even begin to receive a Replace Soon notification when you visit your Mac's battery settings. A swollen battery or constant overheating is another indicator, too.
So, now you know what to look out for, let me walk you through how to check your battery health in the section below.
How to check Mac battery health
It's easy to keep tabs on your battery health; being proactive and paying close attention to your need for an Apple battery replacement on your Mac means you can prepare correctly.
When you start to recognize the signs, you should use Time Machine to carry out regular backups if you don't already, so you don't lose any precious data.
When it comes to checking your battery health, here are a few methods for you.
1. Automatically check your battery health
One of the easiest ways to regularly check on your battery health is by using the easy-access top menu feature from CleanMyMac X, which enables users to monitor their battery health and usage with just one click.
If you haven't already, download and install the free version here of the app, then we'll walk through the monitoring steps below.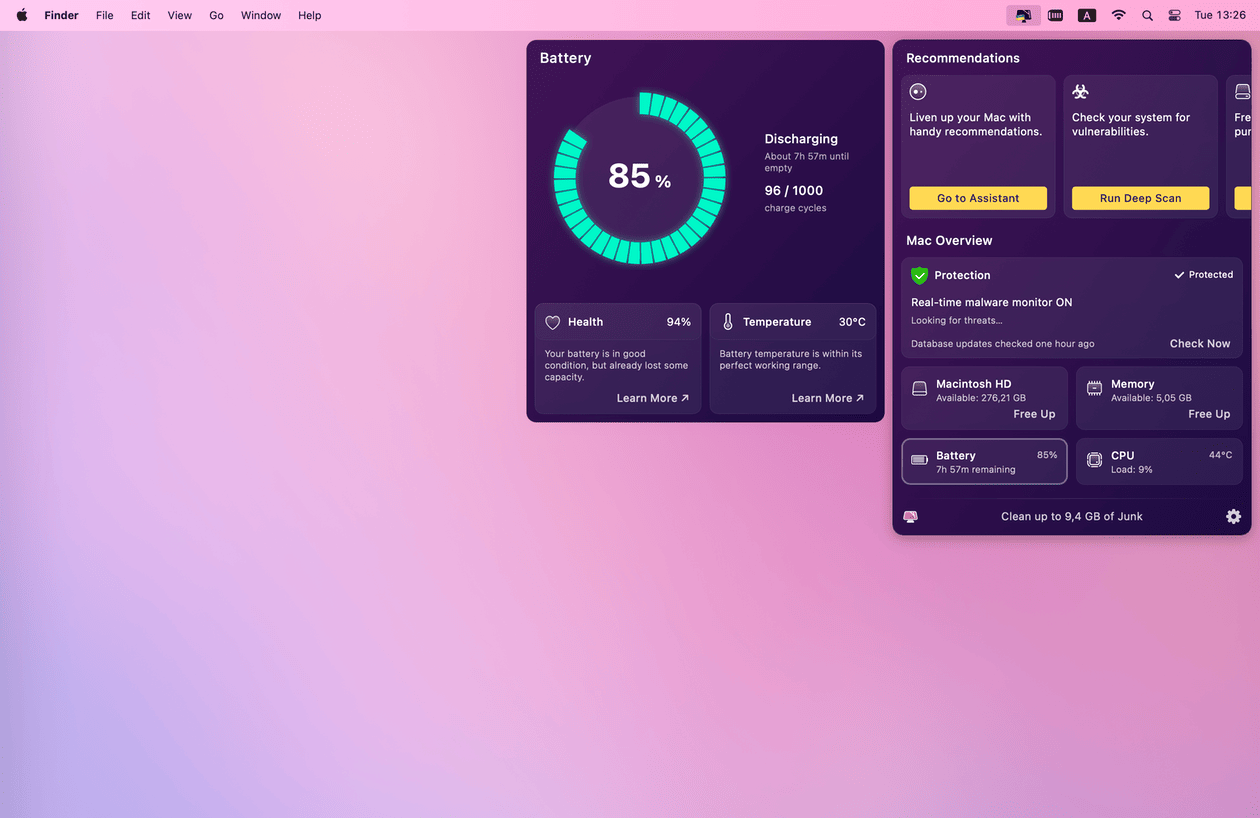 Once you have CleanMyMac X installed on your Mac, select the application's icon from your top menu bar.
Look for the Battery tab to see an overview of your battery percentage and any resources that are draining your battery life.
Select the tab for more in-depth details on health, battery temperature, and your Mac's charging cycles.
This method makes reviewing your battery stats easy and simple. But if you'd rather not use a third-party tool, no problem, here's another method.
2. Battery Settings
Another way to check your Mac's health is by reviewing your Macs System Report; here's how: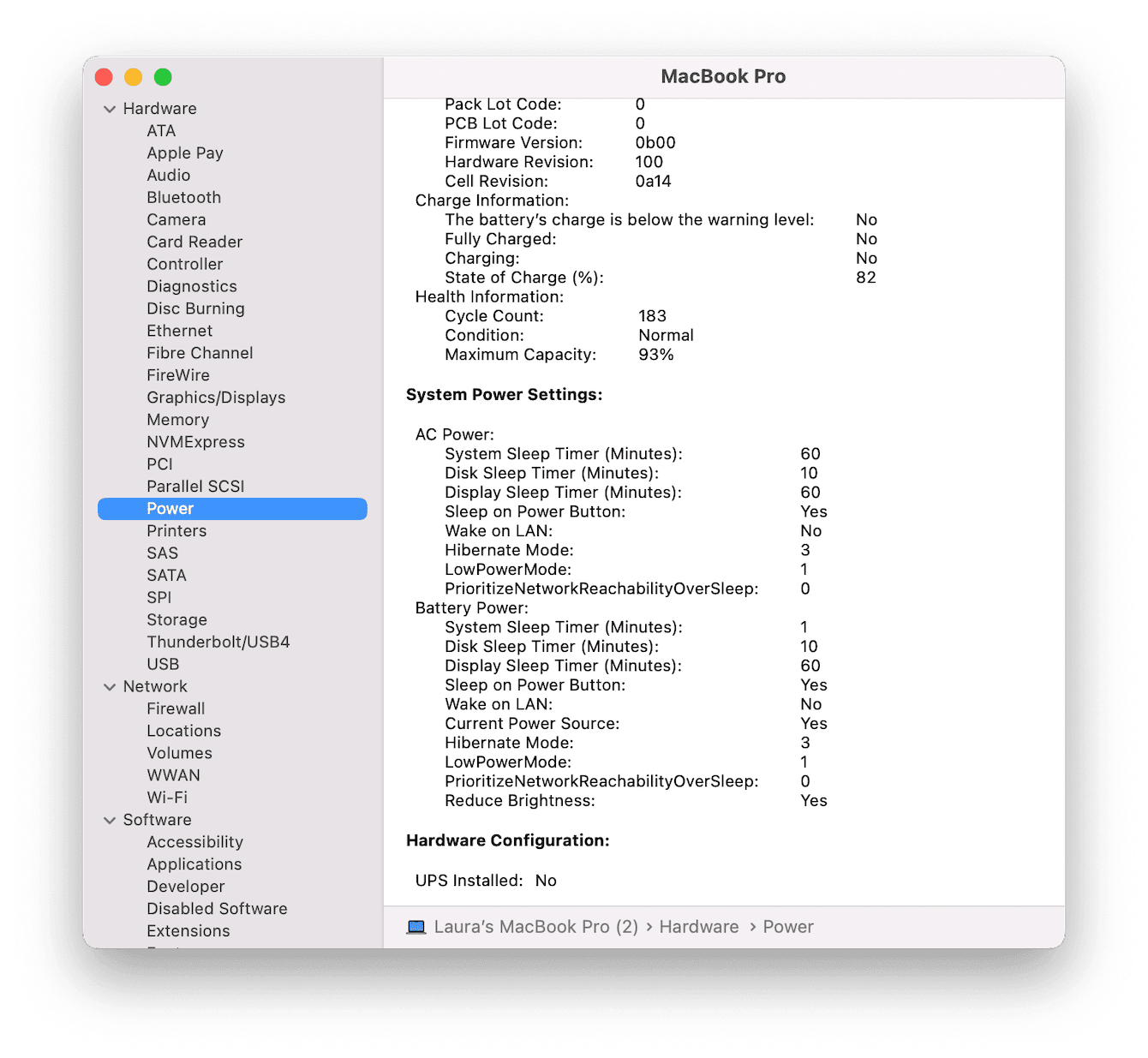 Select the main Apple menu > About This Mac > More Info.
Scroll down to the bottom and click System Report.
Under Hardware, select Power.
Under Charge Information and Health Information, you can find useful stats on your charge cycle count and your overall battery health status.
Now that you know how to check your battery health status and which signs to look for that your battery might need replacing, let's now look at some logical next steps.
What's next: MacBook Air battery replacement cost
If your Mac battery cycle count is low and nowhere near that 1000 cycle mark, but you're still suffering from issues, here are a few simple checks:
1. Check your adapter
If your adapter is broken or not working correctly, then your Mac might not be charging correctly; test this by borrowing one from a friend or purchasing a new one.
2. Check for resource-consuming apps
Lots of open applications and background processes can drain your battery quicker than normal. Use Activity Monitor to check what's running and close unnecessary items quickly; here's how: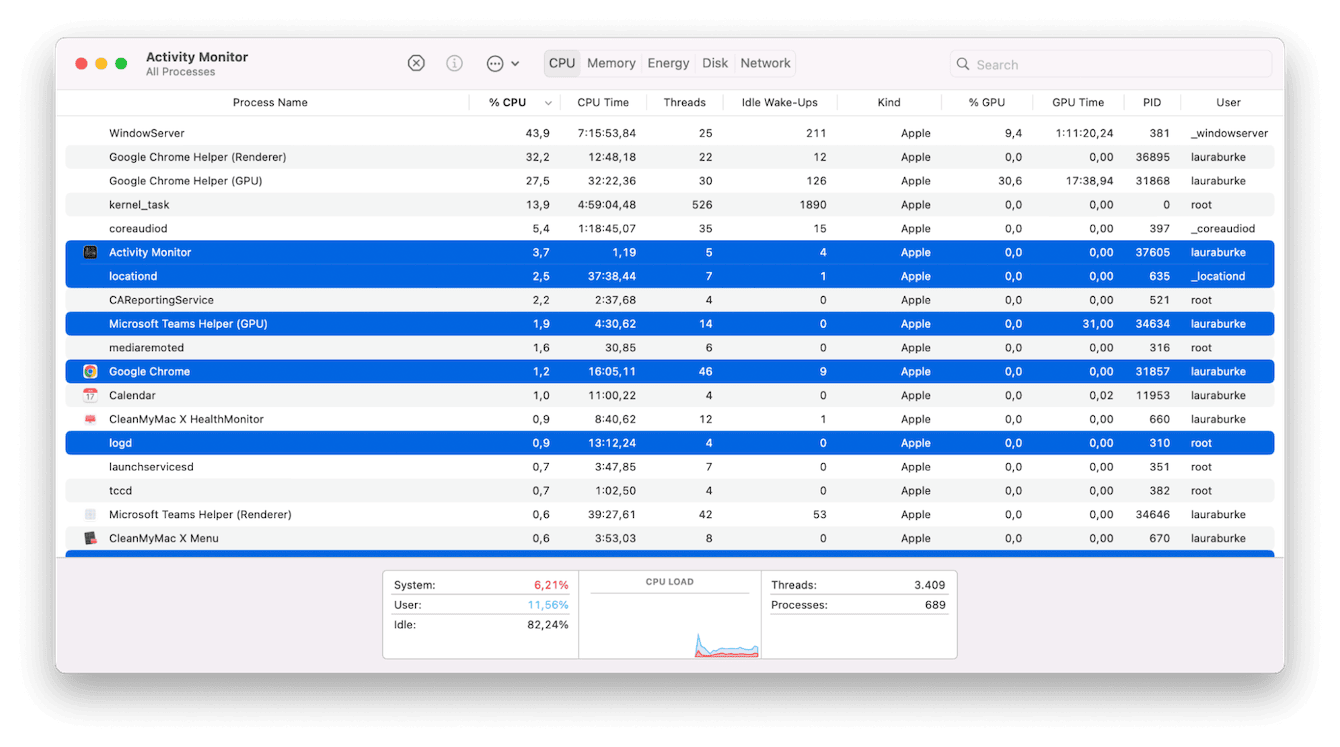 From Finder > Applications > Utilities, open Activity Monitor.
Under the CPU tab at the top, take a look through the list displayed and all the currently open and active processes running on your Mac right now.
To close anything down that you don't need, select it from the list and click the X button to immediately quit it.
3. Check for malware
Malware could be another reason why your battery is draining or why you're suffering from performance issues; you should run an extra scan with your antivirus software to rule this out. If you don't have one, the app I mentioned above — CleanMyMac X — comes with an effective Malware Removal tool you can use for the scan.
So, if you've run these basic checks but your Mac's battery is still not optimal, or you are close to that 1000-cycle mark, it's time to take some next steps:
Back up your important data.

Check if your Mac is still covered by warranty or AppleCare+.

Find your local Apple service provider and book an appointment or research thoroughly third-party repair centers before booking in.
So, now you know how much it is to replace MacBook Pro battery, how to check your battery health, and prepare for replacement. Thanks for reading.