How to open and run .exe files on Mac
4 min read
Can you run .exe files on Mac? The quick answer is yes! Even though .exe files are deemed incompatible with macOS, there's always a workaround, and that's what we're here for.
Reasons you might want to run.exe files on Mac:
Get a better gaming experience

Run a specific Windows-only app

Save money by not buying another computer
Whatever your reason — maybe you want to run business software or simply play Windows PC games — we've got the answers you need, so sit back and let's take a look at how to open .exe files on Mac.
What are .exe files?
"exe" is short for executable and the standard and most recognizable file extension used by Windows programs.
But what is an executable file? Essentially it's any file capable of being executed as a program. You can think of .exe files as the Windows version of macOS APP files.
Can Macs run .exe files?
Yes, you can run .exe on Mac; you just need to know how.
In this article, we'll take a look at a few different methods, including Apple's native Boot Camp, emulators that let you run Windows applications without installing Windows, and the most raved-about virtual machines.
Before we go on, here's a quick word of caution: although .exe files are generally legitimate Windows applications, they can occasionally be used to distribute and execute malicious software.
Jump to the next step to learn how to keep your Mac safe from such attacks.
Double-check if your .exe file is safe
As a general rule, avoid opening .exe files unless you trust the file source. Disregard anything you receive via unsolicited email, and be cautious of pop-up download links.
As all Mac users know, the best way to keep your Mac protected is by running a real-time protection tool and carrying out regular scans.
It's still alarming just how many Mac owners don't run any protection software, leaving themselves and their data completely wide open to sophisticated malware attacks.
I personally use CleanMyMac X. It has a trusted Malware Removal module that not only offers real-time protection but also performs in-depth scans and can remove any suspicious malware in an instant.
Here's how you can stay malware-free with CleanMyMac X: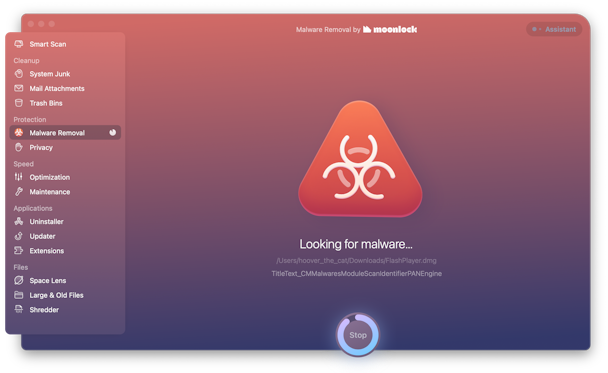 Launch the application — download the free version here.

Select Malware Removal from the sidebar and press Scan.

If anything is found, follow the onscreen instructions.
When it's as simple as that, you'd be crazy not to keep your Mac safe.
Now that we've looked at how to keep your Mac protected, let's get to the fun part and learn how to open .exe files on Mac.
How to run .exe files on Mac
Here's an overview and rundown of some of the best ways you can run .exe on Mac.
1. Boot Camp
Gone are the days when Windows and Mac were fierce rival enemies (well, to a certain extent). Boot Camp Assistant is native macOS software developed by Apple, in cooperation with Microsoft, that lets you easily switch between Windows and macOS, meaning you can run all your Windows programs and run .exe on your Mac with ease. Just note, however, that it is not supported by Macs with Apple silicon, so it will work only if you have an Intel-based Mac.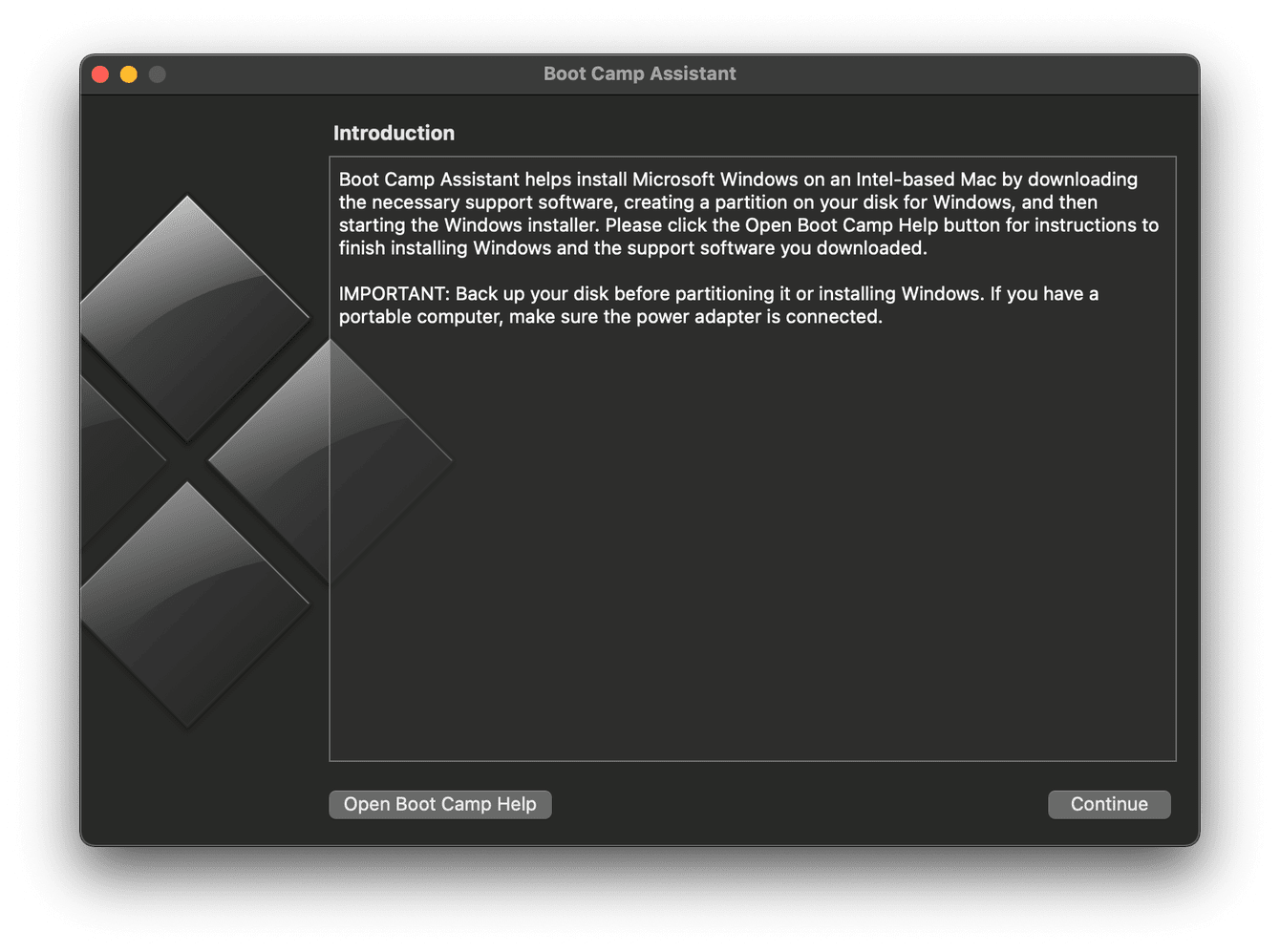 Boot Camp Assistant creates a separate partition on your hard drive for Windows. So every time you turn on your Mac, once you have Windows installed in Boot Camp, you can choose the operating system you want to run.
Boot Camp Pros:
Totally free

Native macOS software

Once installed, it's easy to use

Isn't a vast resource hogger
It's a five-step process to install Boot Camp. Although it's time-consuming, it's definitely not hard.
If Boot Camp is the choice for you, read our article and learn how to install Windows with Boot Camp.
2. Parallels
Parallels Desktop is classed as a virtual machine, widely considered one of the best ways to run .exe on Mac.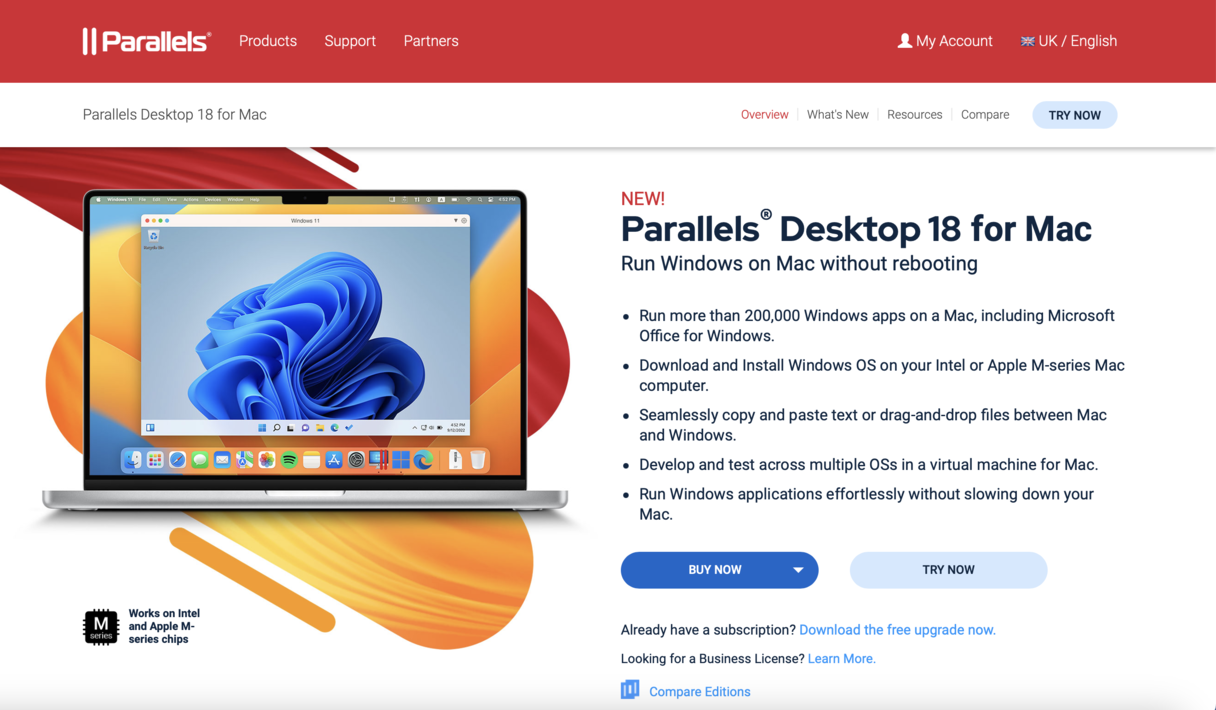 It's a fast, straightforward yet powerful app for running Windows without rebooting, with the added benefit of easily sharing your files and hardware resources like a printer between Windows and Mac.
It's reliable, regularly updated, and comes with great support. Although it's not free to use, there is a free trial period.
3. VMware Fusion
Like Parallels Desktop, VMware Fusion is also a virtual machine that lets you run your favorite Windows programs on your Mac. It actually comes with many of the same features, including the ability to be able to run it full-screen so your Mac looks like a Windows PC.
Again, it's not free to use, and no free trial. But it's a secure, flexible, and well-supported tool.
4. VirtualBox
VirtualBox is an emulator and another popular choice. It's an open-source tool, completely free but less professional or streamlined to use than Parallels, and you'll need to have the patience to download and install, which can be tricky.
5. Wine
Wine is a compatibility layer that enables you to run Windows apps on your Mac. But it doesn't run Windows itself: it allows you to flawlessly integrate Windows programs into your desktop. It's open-source and free to use. It won't open all .exe files, and you might need to scour their support page for help if you run into issues.
So there we are, we've reached the end. Now you know how to run .exe files on Mac, what the best options are, and how to protect your Mac along the way when running .exe on Mac.
Whichever option you go for, stay safe: only download software from official websites and trusted sources.