How to erase Mac hard drive safely
5 min read
Looking for easy guidance on how to wipe Mac hard drive? If you're getting ready to sell or pass on your MacBook, preparing your Mac correctly is a vital step.
The hard drives on our MacBooks contain extremely important personal and sensitive data — everything from your contacts and emails to private documents, photos, browser autofill password information, chat histories, and much more.
Knowing the basics of a secure erase of a hard drive is essential against data theft and extraction, so let's get to it.
Reasons to erase hard drive on Mac
There are two main reasons to erase hard drive Mac users commonly report: either it's malfunctioning, and you need to wipe and reset to factory settings, or you're selling your Mac.
If you're considering a factory reset because your Mac is experiencing poor performance or you suspect disk failure, check out this insightful article called how to test a Mac hard drive.
If your MacBook's hard drive is almost full to the brim, you'll also encounter many issues; read this article on how to check your hard drive space to free up some space.
So, rather than wiping your entire hard drive, why not remove all your unnecessary files instead to see if you can boost performance?
The System Junk module from CleanMyMac X is a powerful Mac cleaner that can remove tons of useless clutter like system logs, language files, cache, and broken files; if you're looking for a quick way to clean up your Mac, free up space, and optimize performance, this is your solution. Here's how to use it: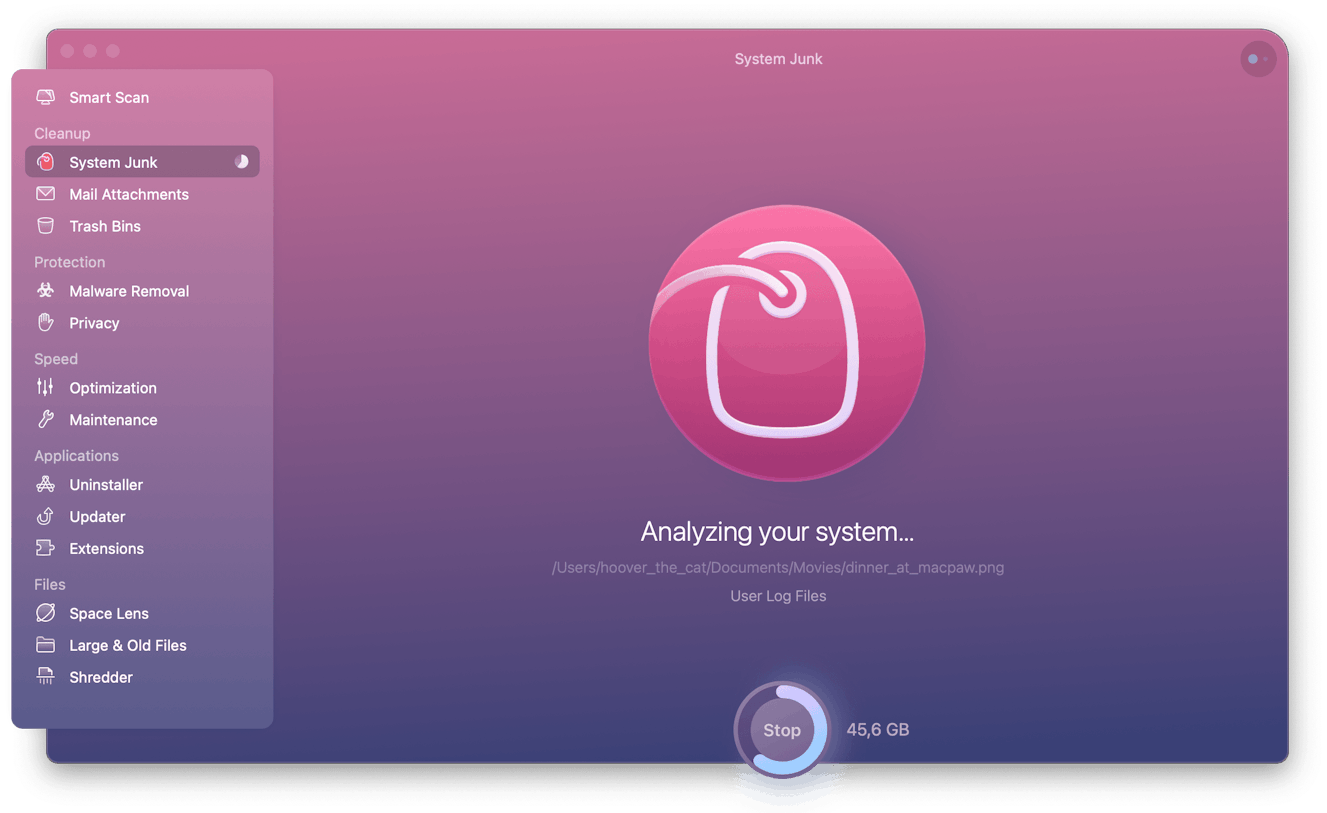 Open the application or try the free download here.

Click System Junk from the sidebar and click Scan.

Wait for the scan to finish and click Clean.
This smart app comes with a Large & Old Files module too, which basically locates and categorizes every single file and folder on your Mac all in one simple overview. You can sort through your digital baggage by last accessed date, type, or size, select what you no longer need, and instantly remove it; here's how:
Open the app again and select Large & Old Files.

Click Scan, select what you no longer want, and click Remove.
If you're selling your Mac, then completely erasing your disk is a must; I'll show you how in the section below.
How to erase Mac hard drive
If you're operating macOS Monterey or later on a MacBook with Apple silicon or the Apple T2 Security Chip, you can use the simple Erase All Content and Settings feature; I'll show you how below:
For macOS Ventura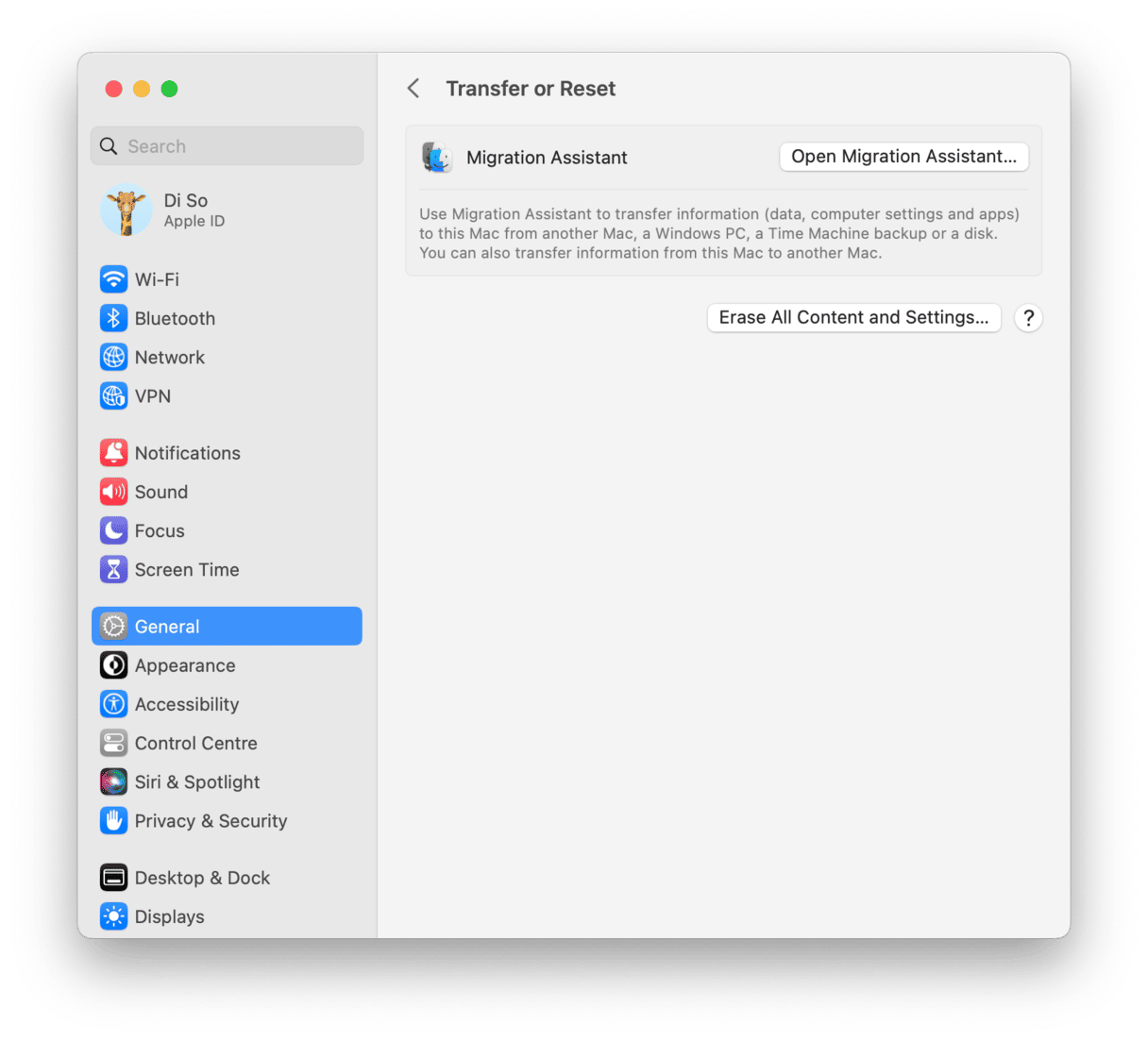 Select the main Apple menu > System Settings > General > Transfer or Reset.

Click the Erase All Content and Settings button.

Enter your admin credentials.
For macOS Monterey
Select the main Apple menu > System Preferences.

From the top menu bar, select System Preferences > Erase All Content and Settings.

Enter your admin credentials.
Once you've accessed the Erase All Content Settings feature, there are a few more steps to follow.
Step one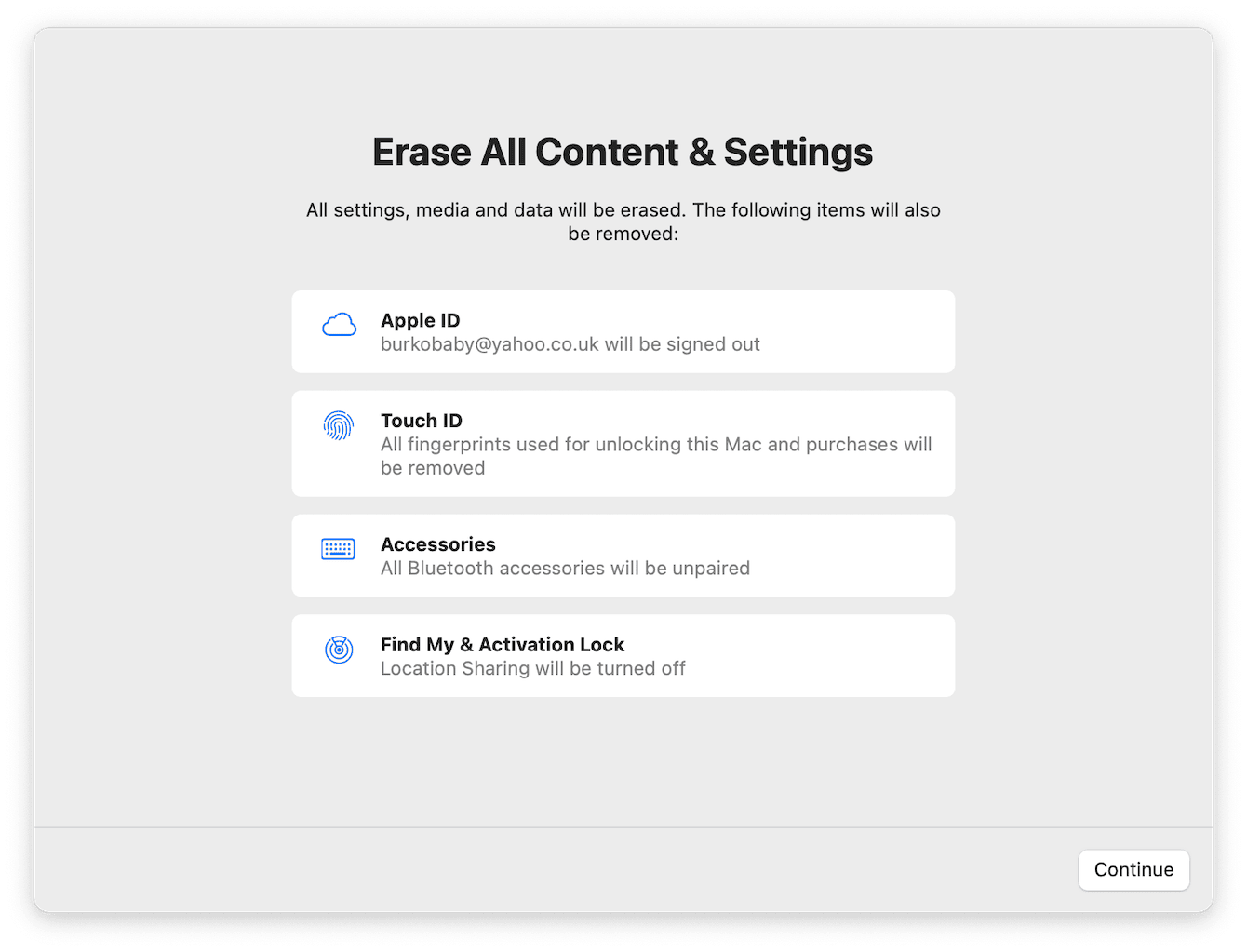 You'll be asked to back up your device, which, in my opinion, is always a good idea. It might feel counterintuitive when you're trying to erase data, but if it's your first time erasing a hard disk, this could be worthwhile in case something goes wrong.
You can select Open Time Machine to carry this out or proceed without it by clicking Continue.
You'll be asked to sign out of your Apple ID if you're still synced. Once you've done this, click Erase All Content & Settings to verify and confirm you want to proceed.
Your MacBook will now restart and display a black screen or progress bar. At this point, you might be requested to connect to a Wi-Fi network; if so, select the Wi-Fi icon within the top menu bar and connect to an available network.
Step two
Your Mac will finally activate; now, click Restart.
After your device restarts, the setup assistant will appear and help you through the setup process, just like when you start a brand-new Mac. Follow the steps on the screen.

If you're selling your Mac, don't use the setup assistant; simply turn your Mac off by pressing down the power button. The new owner can complete the Mac setup for themselves.
This method is really easy, thanks to the new Erase All Content and Settings feature. But if you're running an older Intel-based Mac, the process is very different; Mac Disk Utility erase will be the way forward. I'll show you how to use it below.
Mac Disk utility Erase
For Intel-based Macs
Step one
Consider backing up your data with Time Machine before you erase your hard disk — for more information on how to do it, read this handy support article from Apple.
Step two
Now you're ready to use Disk Utility to erase your MacBook:
You'll first need to boot up your device in recovery mode by pressing Command - R together until the Apple logo appears.

Enter your password if requested, and in the Utilities window, click Disk Utility > Continue.

From the sidebar, select Macintosh HD and click Erase from the top toolbar; enter the following details:

Name: Macintosh HD
Format: APFS or Mac OS Extended (Journaled)

Click Erase Volume Group or Erase.

Enter your Apple ID if requested and exit to the Utilities window.
Properly erasing the hard drive that is also your startup drive means you'll need to boot your device from an external media first. This article from Apple will walk you through how to create a bootable installer.
Other types of secure erase for hard drives
If you're looking for info on how to reformat or erase an external hard drive, check out this support article from Apple.
If you're curious about cloning your Mac hard drive, then this guide has all the answers.
So we've reached the end of this Mac erase hard drive article. Be sure you back up your data if this is your first time erasing a hard disk, just in case you lose something important.