Here's how to backup your Mac to an external hard drive
5 min read
There are few tasks more important when using your Mac than backing it up regularly. Making a backup is the only way to keep your data safe if you accidentally delete it, have a catastrophic drive failure, or be the victim of the malware attack. It's not enough to back up once, of course, you need to do it regularly, and preferably to at least two different destinations. In this article, we'll show you how to do just that.
How do I backup my entire Mac to an external hard drive?
First, it's essential to differentiate between a backup and an archive. If you copy files from your Mac to another drive once then delete them from your Mac, you're creating an archive, not a backup. It's not just a case of 'How do I transfer everything on my Mac to an external drive?' A backup should fulfill the following criteria.
Carried out regularly (preferably at least once a day)

Scheduled so that it happens automatically

Easily accessible to retrieve data

Incremental, so that only files that have changed since the last backup are copied, thus saving time and CPU cycles
Apple's own built-in backup tool, Time Machine, fulfills all of these criteria and as it's already on your Mac is the most convenient to use.
When Time Machine was first launched, it was billed as a way to back up your Mac to a remote disk, such as Apple's Time Capsule or a supporter network-attached storage (NAS) drive.
However, Apple no longer makes the Time Capsule and now recommends Time Machine only be used with directly attached disks. That makes it less convenient for MacBook owners, though several NAS boxes still support Time Machine.
Get rid of junk files before you back up your data
Your Mac accumulates lots of junk files as you use it, and if you follow the instructions below to start backing up your Mac, you'll back up those files too. It's good to clear these junk files before you start, to save space on your backup drive. CleanMyMac X makes it very easy to do that with just a couple of clicks.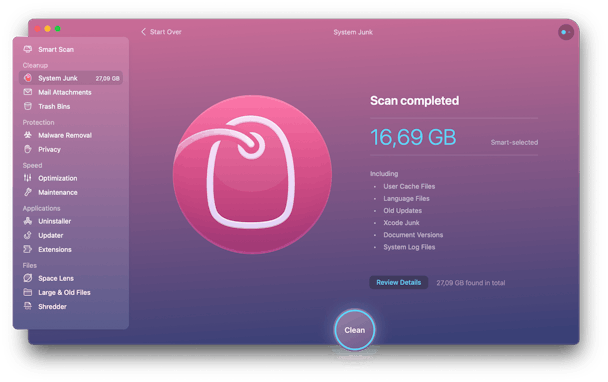 Download CleanMyMac X here, install and launch it.

Choose System Junk from the sidebar on the left.

Press Scan.

When it's finished, press Clean to remove everything found in the scan.
And it's done!
Once CleanMyMac X is finished, you can back up your Mac and be sure no useless junk can sneak into your backup.
How to backup your Mac to an external hard drive using Time Machine
The first thing you need to do is choose a disk to back up to. It can be any hard disk or SSD that you can connect to your Mac and that is formatted as Mac OS Extended. As of macOS Catalina, Time Machine doesn't support backing up to an APFS-formatted disk. However, that may change in Big Sur.
You don't need to erase or reformat your disk if it's already formatted as Mac OS Extended and has free space that's at least equivalent to the size of the drive you're backing up. If you do need to format it, follow the instructions, otherwise skip it.
Plug the external drive into a USB or Thunderbolt port on your Mac.

Wait for it to appear under Locations in the sidebar of a Finder window.

Go to Applications > Utilities and launch Disk Utility.

Choose your external drive in the sidebar and click Erase.

Choose Mac OS Extended (Journaled) as the format and call the drive anything you like.

Press Erase.
Now that you have erased and formatted your drive, you can back up your data.
Go to System Preferences and select Time Machine.

In the Time Machine window, check the box "Show Time Machine in menu bar" and press Select Disk.

Under Available Disks, click on the external drive you just connected.

If you want to encrypt backups (meaning you'll need a password to retrieve data), choose that option.

Click Use Disk.

Quit System Preferences.
Tip: If you want to exclude folders from the backup, for example, your Downloads folder, go to System Preferences > Time Machine and click Options. Press the "+" and navigate to the folder you want to exclude. Click on the folder so that it's selected and press Exclude.
How to restore files from a Time Machine backup
There are a couple of different ways to restore files from a Time Machine backup, depending on whether you need to recover specific files or folders or recover your whole disk.
Recover individual files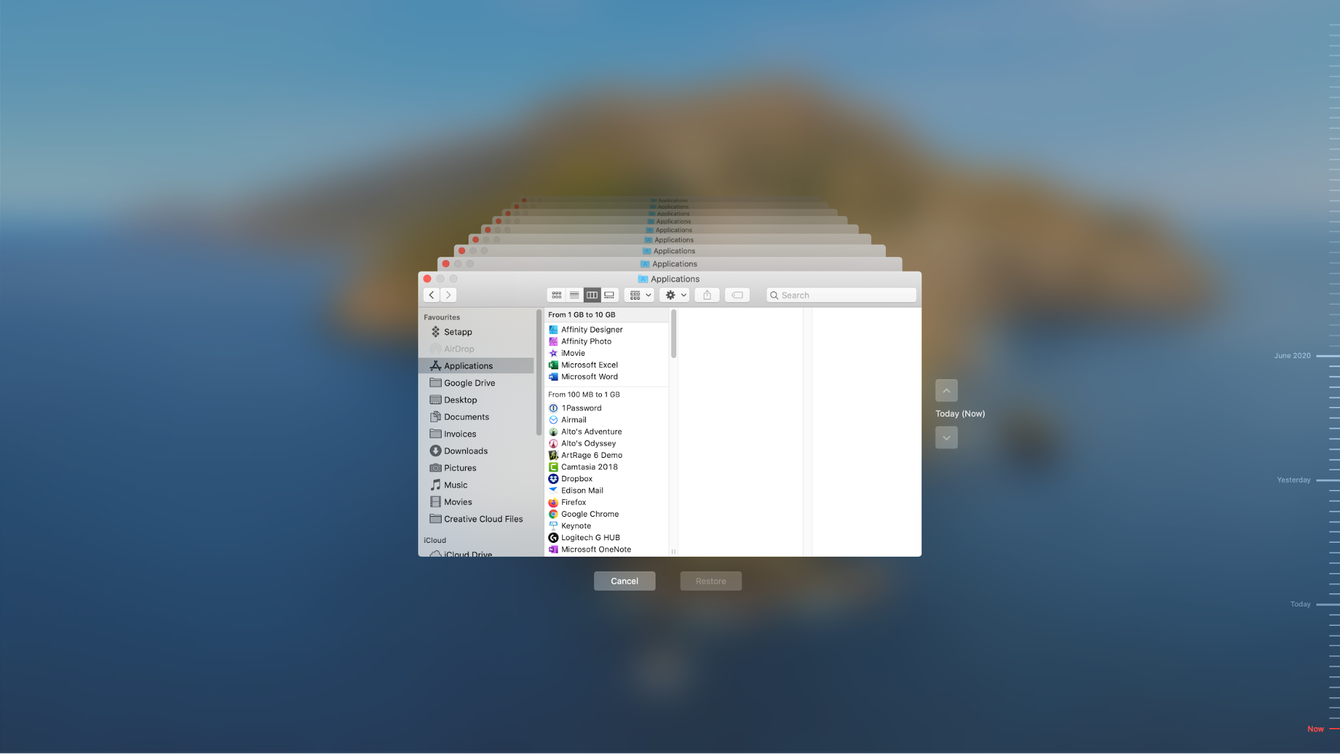 Make sure your Time Machine backup disk is connected to your Mac.

Click on Time Machine in the Finder menu bar.

Choose Enter Time Machine.

Use the arrows at the side of the Finder window, or the timeline on the right of the screen to navigate to the point in time where the file you want to recover was backed up.

Navigate to the file in the Finder window.

Press Recover.
Restore your Mac from a Time Machine backup
First, make sure your Time Machine backup is connected to your Mac. You'll also need to save any open documents – applications will quit during the process.
Go to Applications > Utilities and double-click on Migration Assistant.

Make sure the option "From a Mac, Time Machine backup, or startup disk" is selected and Press Continue.

Select your Time Machine backup disk and press Continue.

If you see a list of backups to choose from, click on the one you want and then Continue.

Check the boxes next to the information you want to transfer and then Continue.

Wait for the files to be transferred to your Mac – it could take several hours.
Backing up your Mac is essential. You should set a regular schedule and use Time Machine or a third-party backup tool to carry it out in the background.
You could also consider a second regular backup to a cloud-based service (not cloud storage like iCloud or Dropbox) so that you always have an offsite backup and an onsite one. And if you use CleanMyMac X before you start, you can reduce the total amount of data you need to back up.