Why does Chrome keep crashing on Mac?
4 min read
Google's Chrome is a terrific browser. It's fast, stable, and is supported by pretty much every website. It's even better if you use Gmail or Google Docs on your Mac. However, it's not perfect, and it does sometimes crash. And for some people, it just keeps crashing. If that happens to you, here's what to do about it.
Quit Chrome and then restart it
This should be your first step, the first time you see Chrome crashing on your Mac. The quickest way to quit Chrome, as with any Mac app, is to press Command-Q. However, Chrome has a setting called Warn Before Quitting, which means you have to hold Command-Q for a few seconds to make sure it quits. You can switch that setting off in the Chrome menu, or you can just go to the File menu and choose Quit.
If Chrome has crashed so badly that it won't quit, you'll need to Force Quit. There are two ways to do that:
Click on the Apple menu, choose Force Quit, and then choose Chrome in the window that opens, then Force Quit.

Press Command-Option-Escape, then Chrome, then press Force Quit
Once it has quit, you can restart Chrome.
Tip: Most of the steps below involve removing data of one kind or another, whether it's extensions, cookies, or other data stored by Chrome as you use it. This can be quite a laborious process. However, there is a quick way to accomplish it and do much more to improve your Mac's performance, free up space, and keep it safe. CleanMyMac X can do all of that. We'll explain how to use it to help stop Chrome crashing later in the article.

Check your extensions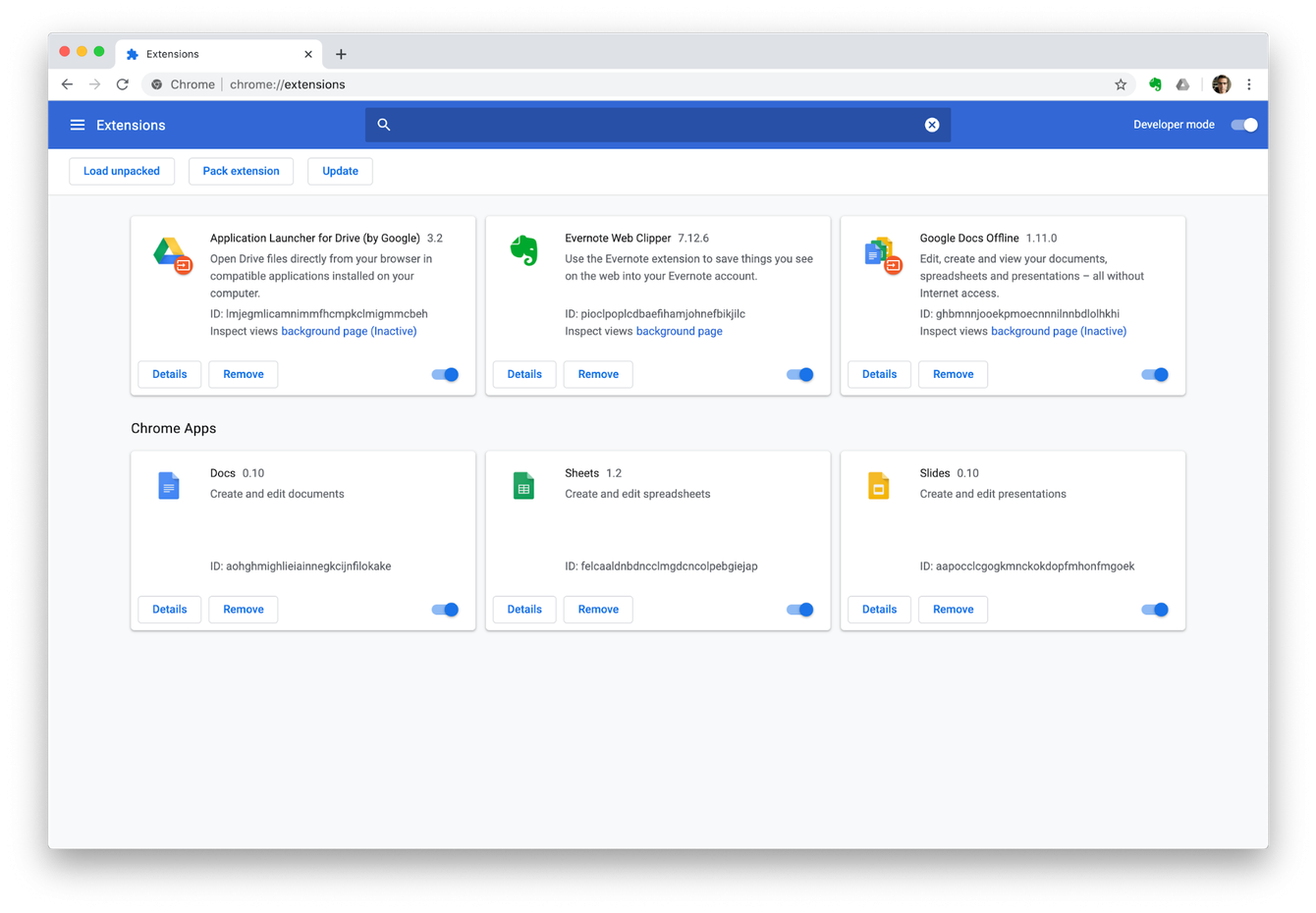 Rogue extensions, or legitimate extensions that haven't been updated, are a common cause of web browsers crashing, so you should review those you have installed.
In Chrome's address bar, type:

chrome://extensions

Look through the extensions displayed in the window. Are there any you don't recognize or no longer need? If so, press Remove in the relevant box.

Press Update to update the remaining extensions.
Clear browsing data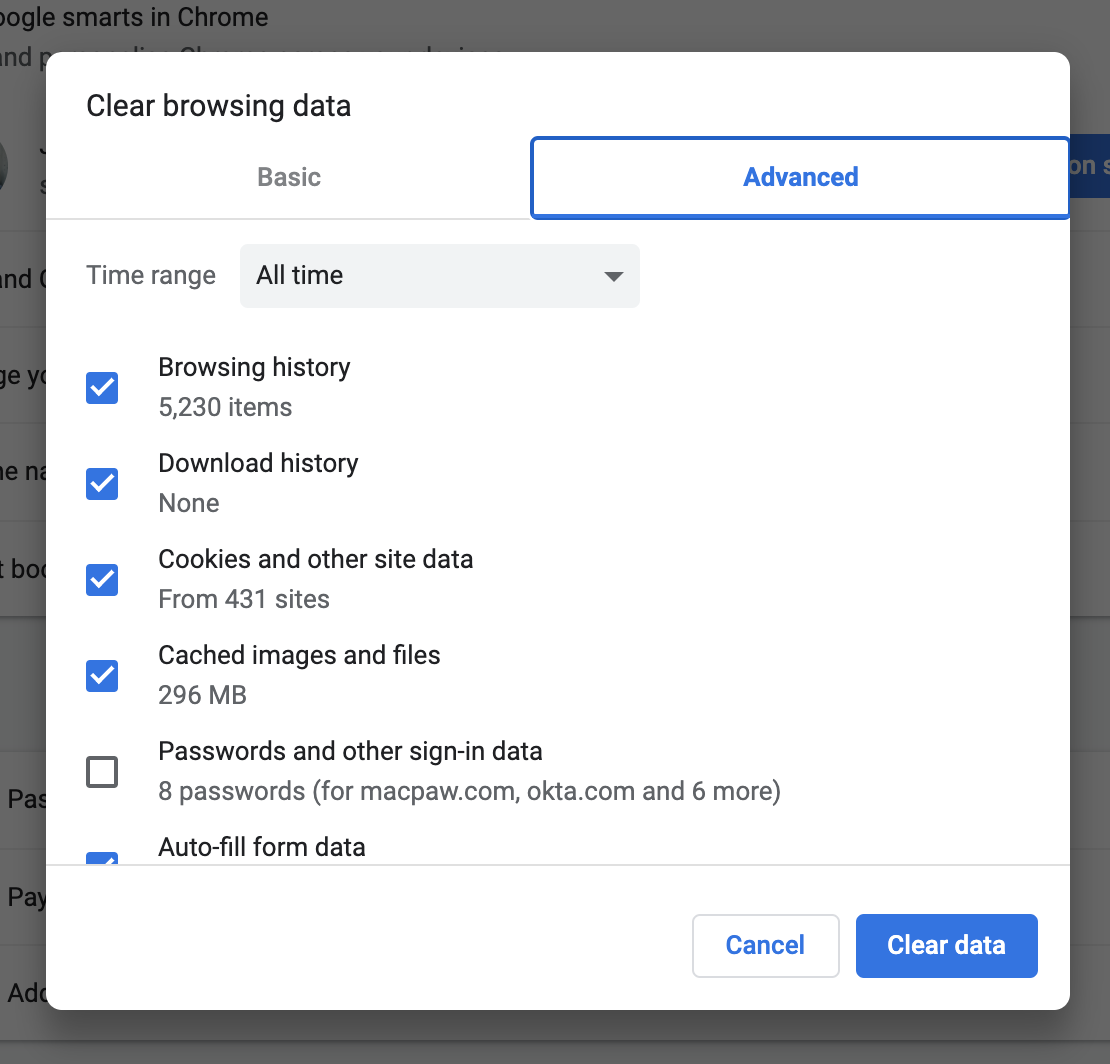 Like all web browsers, Chrome stores data on your Mac as you use it. It could be sites you visit, what you do on those sites, tabs you have open or information for forms. Over time, much of the data that should be deleted automatically remains on your Mac and accumulates, potentially causing Chrome to crash. You can remove some of it like this.
Type the following into Chrome's address bar:

chrome://settings/clearBrowserData

Alternatively, click the three dots to the right of the address bar, hover over More Tools and choose Clear Browsing Data.

Go to the Advanced tab.

Set Time Range to All Time.

Check the box next to the items you want to remove. You can leave "Passwords and other sign-in data" and "Auto-fill form data" unchecked. They are not the reason Chrome is crashing. If you clear them when you're signed into a Google account, they will be immediately copied back when Chrome syncs with your account.

Press Clear Data.
Restart your Mac
If none of the steps above have stopped Chrome from crashing, try restarting your Mac. Restarting clears temporary files and frees up memory and may fix the problem, at least temporarily.


Uninstall Chrome
This is the last resort, but it's worth uninstalling Chrome and reinstalling it if nothing else works. You will see lots of advice for uninstalling Chrome that involves just dragging its icon in the Applications folder to the Trash and emptying it. However, this doesn't uninstall it completely and is unlikely to fix any problems. That's because Chrome, like every other application, leaves lots of different files stored in various folders on your Mac.
The easiest way to uninstall it is to use a dedicated uninstaller, like CleanMyMac X. CleanMyMac X can also remove browsing data, get rid of extensions, and reset apps. Here's how to reset or uninstall Chrome using CleanMyMac X.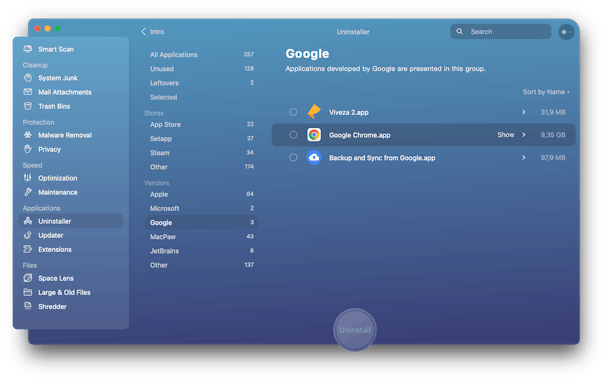 Download CleanMyMac X here if you don't already have it installed.

Follow the instructions to install it, then launch it.

Choose the Uninstaller module in the left hand window.

Click on Google in the middle window and check the box next to Chrome.

To reset Chrome, click on the dropdown menu next to it and choose Reset.

Press Reset.

To uninstall it, leave the dropdown menu set at Uninstall and press the Uninstall button.
Clear data the easy way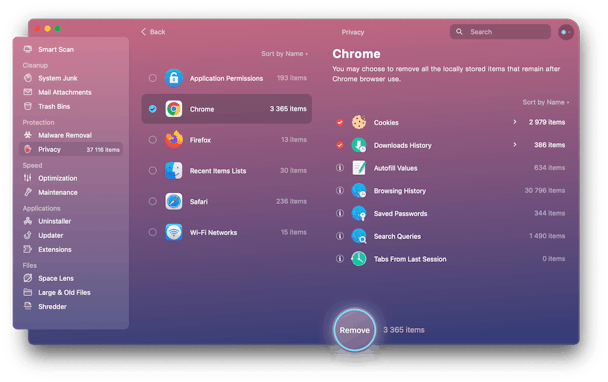 CleanMyMac X can also clear browsing data quickly and easily. Here's how to do it.
Launch CleanMyMac X from your Applications folder.

Choose the Privacy module from the sidebar.

Press Scan.

Select Chrome in the middle section.

Check the box next to the items you want to remove, or click the dropdown arrow to see more details. Note that the same rules apply regarding data that is synced via your Google account when you're logged in - it will immediately be synced back. So, CleanMyMac X doesn't allow you to delete some data while you're logged in.

Press Remove.
Tip: One reason Chrome might be crashing is malware. If it has been infected by a browser hijacker, for example, that could cause it to crash. You can use CleanMyMac X's malware module to check for that.
There are several reasons why Chrome might keep crashing on your Mac. However, by following the steps above you should be able to eliminate them one by one and make sure Chrome runs smoothly on your Mac from now on.