What can you do if your MacBook Pro shuts down randomly
7 min read
Does your MacBook randomly shut down? Its timing always seems to be so "perfect," just as you're about to jump on that important Zoom call, send an email, or finish the last paragraph of your thesis. For many Mac users, this annoying experience happens regularly, like every few days. Ignoring this issue may lead to dealing with lost data or deleted files, and no one wants it. In this article, we'll explain why your Mac keeps shutting down and tell you how to fix it.
Why does your Mac shut down all of a sudden?
It is challenging to locate and identify the exact issue that might cause your Mac to randomly shut down.
Here are some known reasons:
Software errors. Mac shuts may point that your computer suspects that there is something wrong with the apps you have installed. For example, if Mac shuts down randomly after you install a new app, it may be a sign that it came with a software bug.

The old version of macOS. In older macOS versions, issues with Mac settings or the update process may emerge. It may lead to repeated Mac restarts.

Malware. Random Mac shutdown may be a sign of malware. In most cases, you do not know that it sneaked into your system, so shutting down randomly hints at the need to check it for being infected.

Peripheral devices cause malfunctions. It is a common reason for Mac shuts, especially if you leave any peripheral device plugged in all the time. Mainly, it happens because any of the devices connected is not working properly.
If your MacBook Pro or any other Mac keeps shutting down randomly, the best advice is to go through all the possible fixes, one by one, to try and find the cause and solution. Let's get to it.
Did you know? Recently, Apple officially recognized the random Mac shutdown issue and updated a support article, which helped troubleshoot the issue on MacBook Pro (13-inch, 2019, Two Thunderbolt 3 ports). Since then, the article has been updated several more times, and now it covers all Mac computers. It seems like the problem has become common for other Mac models, including MacBook Air, Mac mini, newer MacBook Pro models, Mac desktop computers, and Mac Pro. We'll talk more about this later in the article.
How to stop your MacBook from shutting down automatically
1. Complete a proper shutdown
This has to be number 1 on the list when you try to fix Mac shuts, no matter how obvious and a bit ridiculous it sounds. An unexpected shutdown is not quite the same as a proper one. Correctly shutting down your Mac from the Apple menu allows all the background processes and programs to close safely, reducing other risks of issues.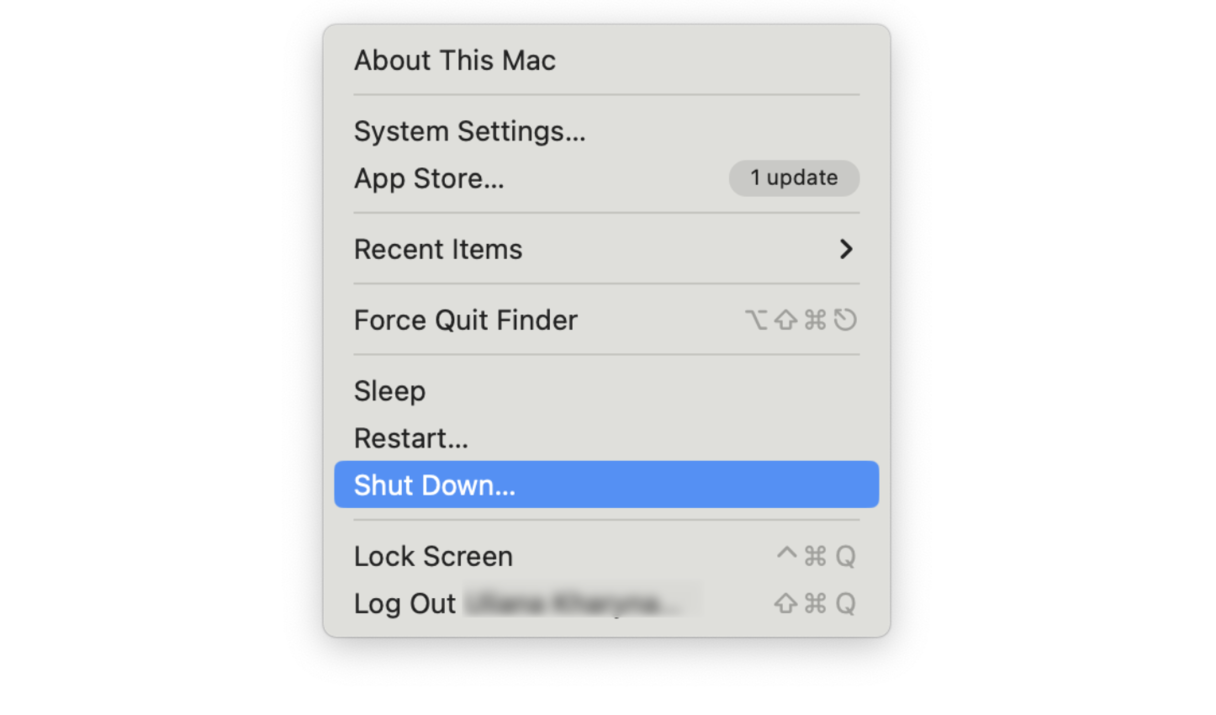 After an unexpected, random shutdown:
Power up your Mac once again.
Press Command-Option-Esc to Force Quit any applications that are not responding.
Then, go to the Apple menu, enable sleep mode, and restart Mac.
This is unlikely to entirely fix the problem, but it's basic troubleshooting and a good starting point.
2. Check your Mac for malware
Malware is capable of wreaking havoc on your Mac and could be responsible for your Mac shutting down on its own. I use the CleanMyMac X Malware Removal module to run regular checks on my Mac.
I like CleanMyMac X because it protects my Mac from all kinds of vulnerabilities in real time and warns me whenever I'm downloading something suspicious.
You can download a free version here. The app is notarized by Apple, so you know it's safe to use.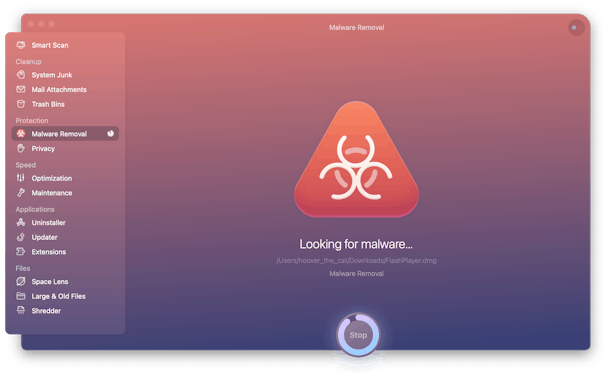 Open the CleanMyMac X app.

In the left sidebar, select Malware Removal.

Press Scan and wait for it to complete.
If anything is found, CleanMyMac X will remove it for you.
3. Reset your SMC settings
The SMC (System Management Controller) is a chip that controls components like battery, fans, power, and other features. Resetting SMC may help you fix random shutdowns.
The steps can be slightly different depending on if your Mac has a removable battery or not.
MacBooks that have a non-removable battery:
Any MacBook Pro from 2009 and later

Every MacBook Air, MacBook (Late 2009)

12-inch MacBook from 2015 and later
If your Mac has a non-removable battery, here's how to reset the SMC:
Shut down your Mac.
On your built-in keyboard (not a removable one), press Shift-Control-Option on the left-hand side of your keyboard while you press the power button at the same time.
Hold all four keys for 10 seconds and then release.
Press the power button again to start your Mac.
If your battery is removable, here's how to reset the SMC:

Shut down your Mac and disconnect the power adapter. You may simply unplug the power cord.
Remove your battery and press the power button for five seconds.
Now, reconnect the battery and power adapter or power cord.
Press the power button and turn your Mac back on.
For any Macbook with the T2 chip (almost all Macs introduced in 2018 or later), here's how to reset the SMC:
Shut down your Mac.
Once shut down, press and hold the Shift key on the right, the Option key on the left, and the Control key on the left for 7 seconds; while keeping those buttons pressed, now hold down the power button for 7 seconds more.
Now, release all keys and wait a few moments.
Turn your Mac on as usual.
Not sure if you've got a T2 Chip? Here's how to do a quick check.
Holding down the Option key, select the Apple icon, top left.

Click System Information and click Controller.

If you have T2 Chip, it will be listed here.
For a Mac with Apple silicon
To reset SMC, all you need to do is restart Mac or shut it down from the Apple menu. Then, press the power button to switch it on. Make sure that your power cord is not unplugged and MagSafe power adapter is connected.

4. Monitor your battery health
Batteries don't last forever; each battery is supposed to last for a limited number of charge cycles, and this varies by model. A depleted battery could be the cause of your Mac randomly shutting down. It's pretty simple to check your battery status, and if you've reached your maximum cycle count, well, it's time for a new one.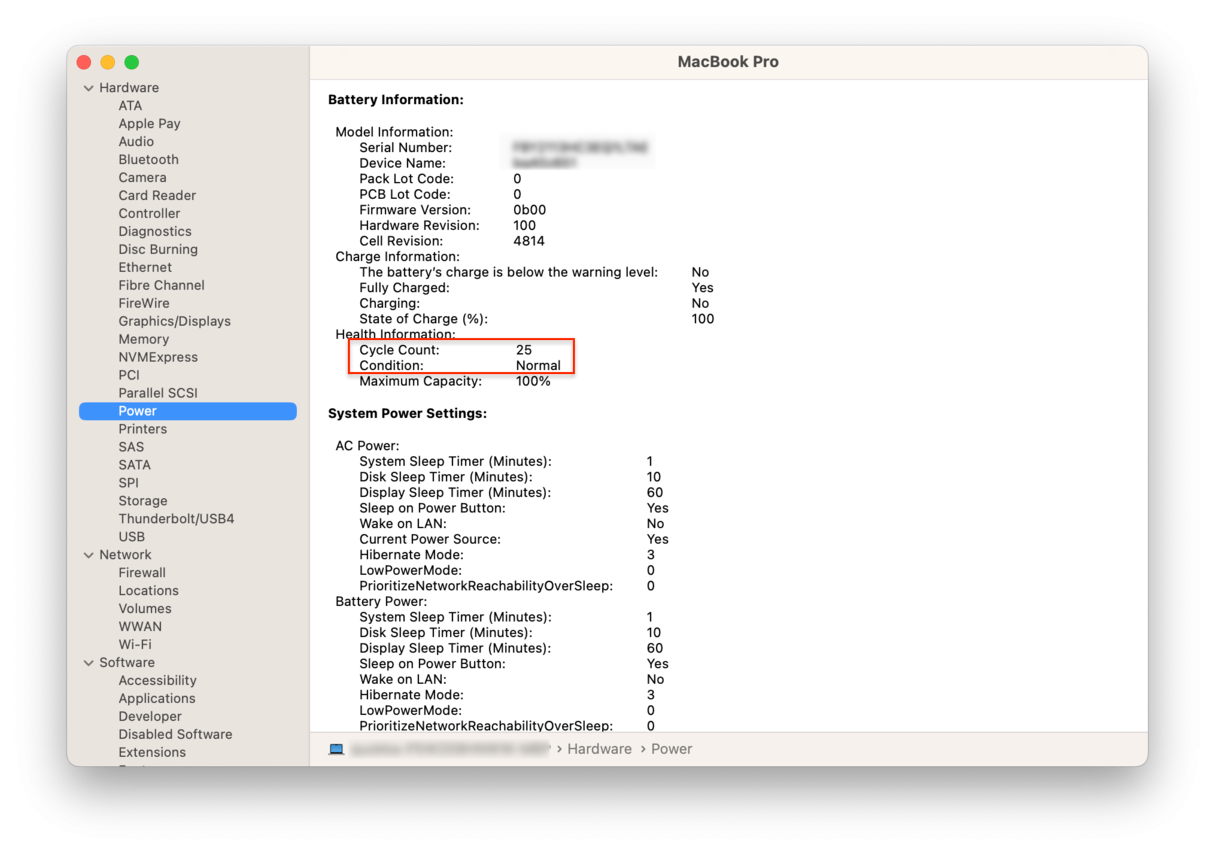 Check your battery:
Click the Apple icon, top left, and select About This Mac. For macOS Ventura, the steps are as follows: Apple menu > About This Mac > More Info.
Click System Report; under the Hardware section, select Power.
Under Battery Information, you'll find your current cycle count.
If your Mac's battery is reaching 1000 cycles, it's time to replace it. Under Cycle Count, you'll see Condition, and when it's Normal, your battery is fine.
There is yet another way to check your Mac's battery health — CleanMyMac X. It comes with a handy Menu app that has the Battery tool providing you with information about health, cycles, and temperature. It also has other valuable tools, such as CPU load, memory load, and real-time malware monitor. To start using it, once you've downloaded and launched CleanMyMac X, go to Preferences from the menu bar > Menu > Enable Menu.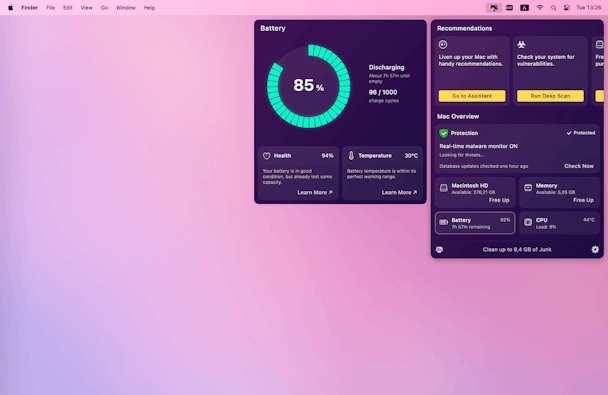 5. Update your macOS
When your Mac is up-to-date, there is, of course, less chance of shutdowns, so it's another obvious one, but check for updates. This gives your Mac another fighting chance.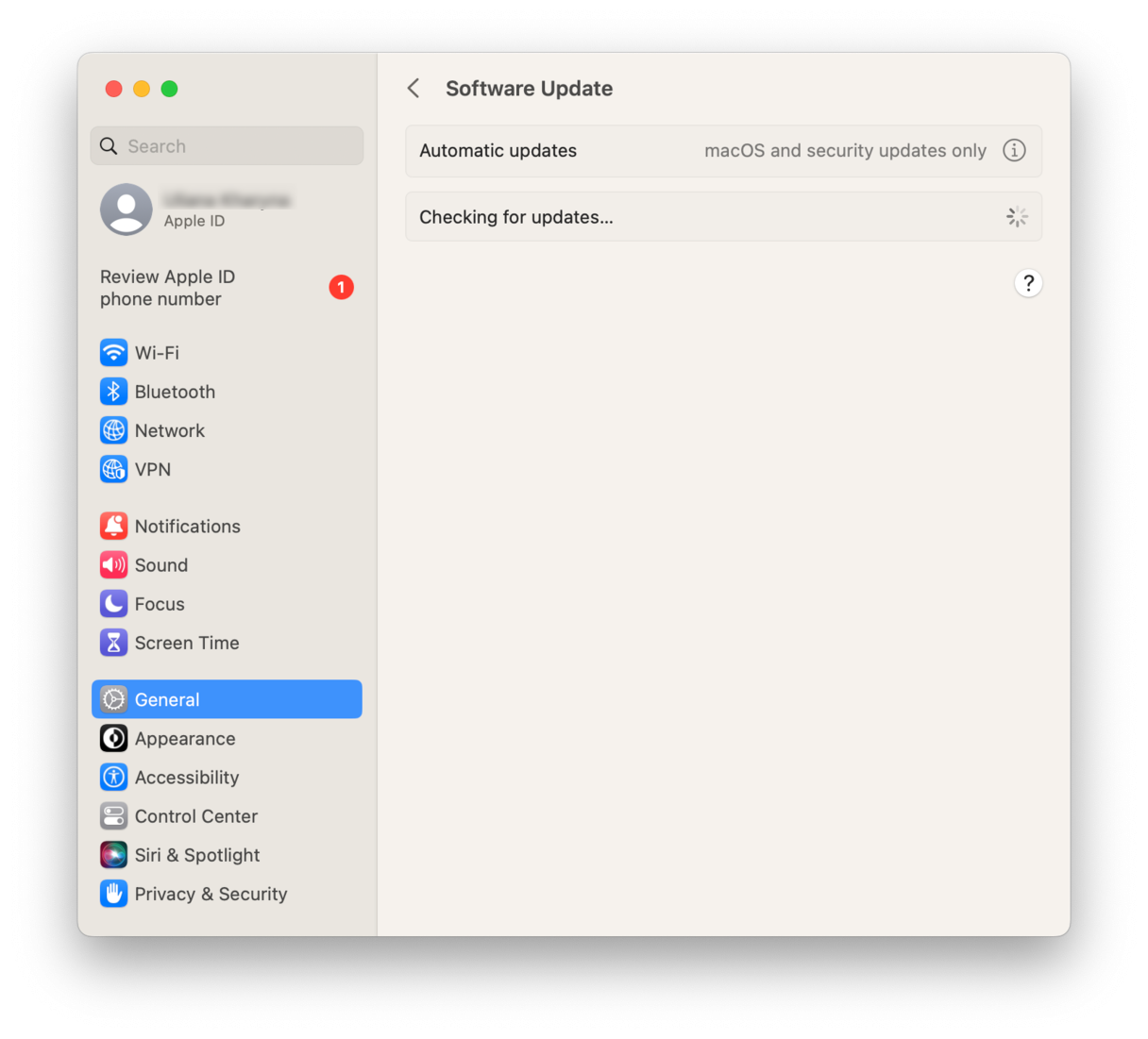 Open the Apple menu > About This Mac > Software Update, or go to System Preferences > Software Update. For macOS Ventura, follow these steps: Apple menu > System Settings > General > Software Update.
If you've got one pending, like me, you'll see it listed there.
Sometimes, you may need to reinstall macOS; however, updating it is commonly enough to fix it if your MacBook Pro or any other Mac computer keeps shutting down randomly.
If the issue persists
Earlier on, I mentioned that Apple acknowledged the random crashing issue several years ago. They have a quick support article, which tells you what to do when your MacBook shuts down. They recognized that the problem occurred on different Mac models — MacBook Air, Mac mini, newer MacBook Pro models, Mac desktop computers, and Mac Pro.
There were lots of discussions online where other Mac device users have had success with this and did not have to recover deleted files or seek how to recover lost data – I think it's worth a try.
If nothing helped fix Mac shutdowns, don't run to Apple retail store yet. Instead, you may need to contact Apple support or book an appointment with the nearest Apple service center.
So, there we have it; we've looked at some great ways to help when your MacBook Pro keeps shutting down without having to deal with lost files or lost data. Happy troubleshooting, and come back for more articles and guides.