How to speed up Chrome on your Mac
5 min read
When Chrome starts running slow on your Mac, do you wonder why Chrome still wears the browser crown?
With one of the largest libraries of extensions, cleanest interfaces, and seamless private browsing, it's no surprise Chrome is loved by many. But when an old faithful Mac starts running slower than stop, frustration kicks in.
If you're experiencing crashing, freezing, and just a straight-up refusal to load, you've come to the right place. Thankfully we've got some answers and tricks to get Chrome running smoothly again.
4 reasons why Chrome is running slow
Ironically, when your Chrome is freezing, your Mac is only getting hotter. Here are some probable reasons why:
Your Mac operating system is not up-to-date.

Chrome is outdated.

Junk files and extensive cache stored by Chrome are clogging up your Mac.

Corrupt extensions.
Quick Tip: Check out CleanMyMac, an awesome all-in-one tool to free up gigabytes of space on your Mac. It's a performance monitor and malware remover too. By the way, Apple notarized this app on macOS Catalina.

How to speed up Chrome on your Mac
If you are now about to give up and reinstall your Chrome completely, don't panic. There are still a couple of ideas left that will get your Chrome back to speed.
Clear your Chrome cache.

Make sure Chrome is up-to-date.

Check for corrupt extensions.

Free up some space on your Mac

Run a reset if needed.
1. Clear Chrome cache
Chrome is continuously storing your browsing data. After a while, this can become a pretty heavy load to carry, especially if your Mac is running low on memory or storage. Clearing your сache can quickly improve speed time.
How to delete Chrome Cache manually on your Mac:
Open Chrome on your Mac. On the top menu bar, select Chrome.

Next, choose Clear Browsing Data.

Now, simply select all the items for deletion.

Select Clear data.
If you want a quick and hassle-free way of managing your cache, autofill data, cookies, and browser history, use CleanMyMac X.
Use CleanMyMac X to delete and manage your Chrome cache:
Download here the free edition of CleanMyMac X.

Open the app and select Privacy.

Select Scan, this will bring up a list of items.

Here, select Chrome and any other items you wish to tidy up.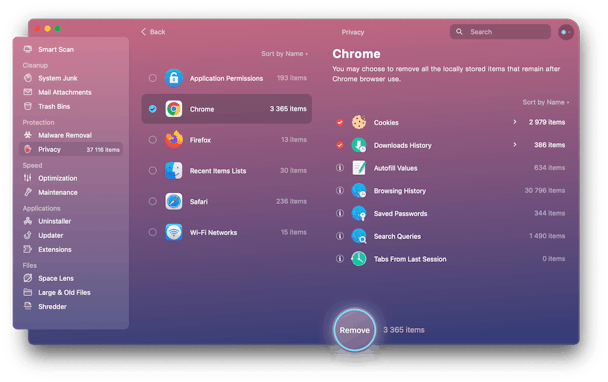 2. Check for Chrome updates
It's a good idea to make sure you're using the most up-to-date version of Chrome. This quick update can help with freeze-ups and other annoying issues.
Usually, Chrome updates happen in the background when you close and reopen the browser. But if you've had your browser open for a long time, or automatic sync turned off, this could have been missed.
Let's manually check and update your Chrome browser:
On your Mac open Chrome, in the top right look for More.

If an update is pending, the icon will be colored, green, orange, or red, depending on how long ago the update was released.
Update Google Chrome:
On your Mac open Chrome, in the top right look for More.

Click Update Google Chrome. Important: If you can't find this button, you're on the latest version.


Click Relaunch.
3. Remove corrupt extensions
Chrome might be famous for its enviable library of extensions and plugins, but over time they can become outdated and corrupted, causing Chrome to crash. Updating your browser and running a Chrome safety check will help to keep these annoying issues at bay.
Run a Chrome safety check: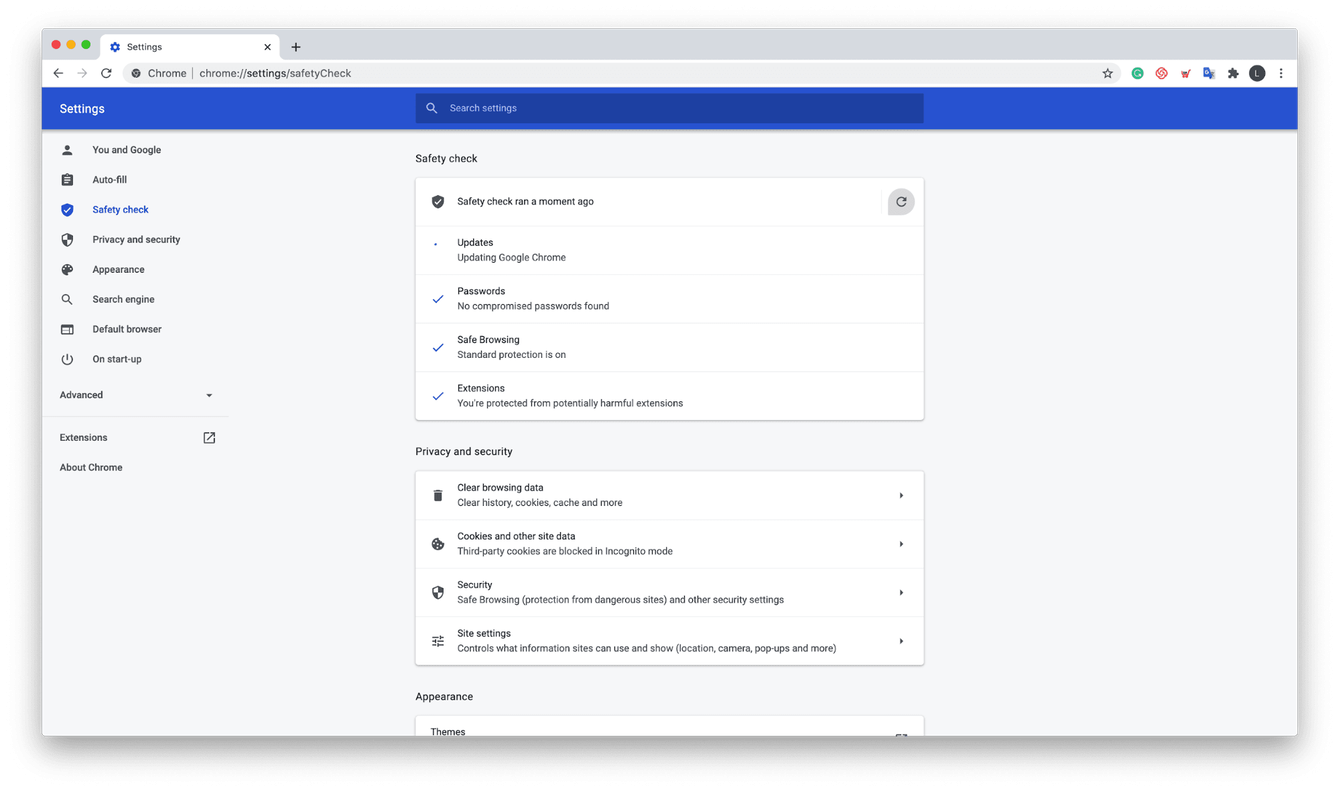 Open Chrome on your Mac, go to settings, and select Safety check.

Select Check now, and the browser will run a series of quick scans and actions, finally relaunch the browser.
After the safety check, if Chrome is still crashing, you can also manually turn off extensions.
Here's how you can manage and remove your Chrome extensions manually:
Open Chrome on your Mac, select Window, and navigate down to Extensions.

Here, select which items you want to disable.

Relaunch Chrome.
Take time to browse without any extensions or plugins and slowly turn them back on one-by-one. This will help you to identify the corrupt culprit and remove it for good quickly.
Head back to Window and select Extensions.

Select remove next to the corrupt extension.
4. Update your Mac
It's always useful to clarify if the problem is with Chrome, or in fact, your Mac.
An outdated operating system, lack of space, and a mountain of junk files could be causing your Mac to gasp for air, so let's take a few moments to clean up your Mac before we start delving into more in-depth solutions.
We like to use the CleanMyMac X app, which will identify, locate, and clean all of your conflicting files and folders, and notify you of any updates required. The great thing is, it only takes two minutes.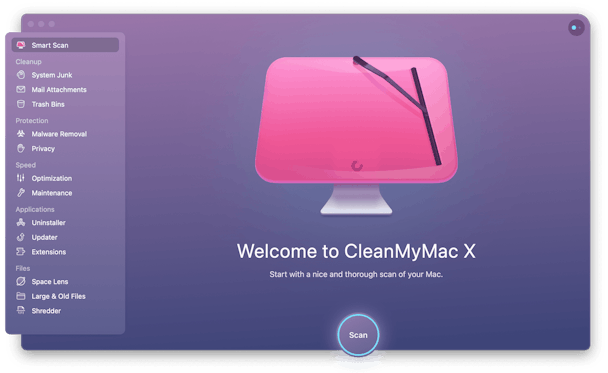 Here's how you can update your Mac quickly:
CleanMyMac X is available for a free download here.

Once downloaded, open the app and select Smart Scan.

Smart scan will help you manage space, updates, speed, and security.
A quick tidy up can go a long way, improving speed and capability quickly.
5. Reset Chrome
If you've tried all the above, and Chrome is still running slow, you can reset all of Chrome's settings, restoring Chrome to its original state while saving all of your bookmarks and saved passwords.
How to do a reset:
Open Chrome and select Preferences in the menu bar

Scroll down to the Advanced menu and choose reset.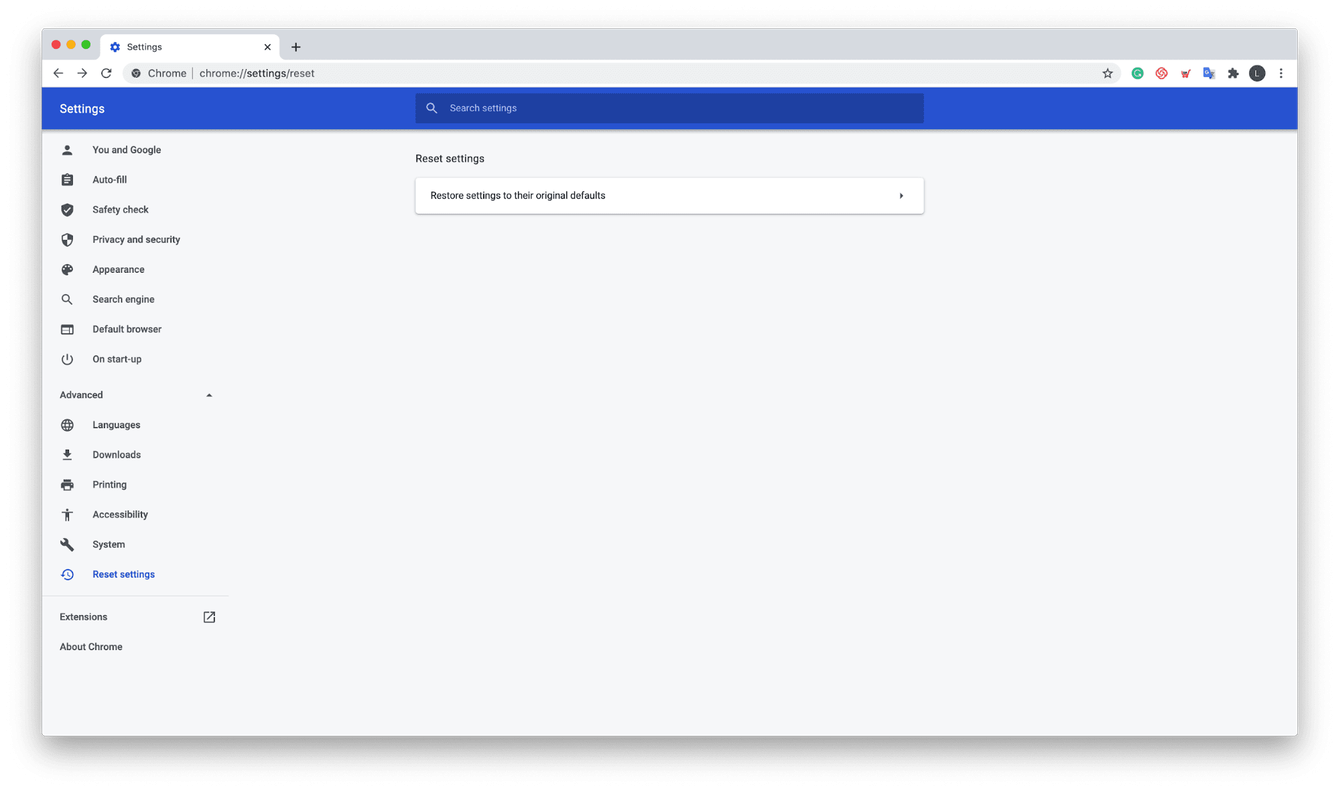 Resetting Chrome will delete all of your themes, cookies, pinned tabs, and extensions. The reset puts the browser back to its natural state, allowing you to re-add extensions and modify settings. A reset isn't as drastic as a complete uninstall.
Now you've cleaned up your Mac, ran some necessary checks, and implemented any new updates Chrome should be surfing smoother and faster than before.
It's surprising what improvements just a few simple tricks can make on the speed of Google Chrome. Make sure you run checks and updates regularly, to help with future slowdowns.
Thanks for reading, and stay tuned for more.