Why does Chrome use so much memory?
5 min read
Google states that "Chrome is designed for speed and efficiency." If that's true, why is it, I feel like Chrome is using so much memory and draining my Mac battery?
It's no hidden secret that battery life has been a long-standing issue for the browser legend. Although Chrome is continually evolving and making various improvements, the Mac battery drain remains largely unsolved.
Earlier this year, in May 2020, Google set out plans to improve the battery toll for Mac Chrome users by blocking and limiting resource-heavy ads. We've been promised a new optimized, stable release later this year. So, while they work on a permanent fix, let me show you some easy tricks to help Chrome run faster, that in return, will make Chrome use less battery.
Why is Chrome draining your battery
Chrome uses a massive amount of RAM to allow you to browse in seamless continuity. From watching Youtube videos, browsing over multiple open tabs, not to mention running all the extensions and apps installed, a lot is going on for this power-hungry browser. All of this extensive CPU and RAM usage means one thing: bye, bye battery life.

So what exactly is happening when Chrome gets slow?

The ongoing data exchange in the background

Active tabs

Extensions you may not be aware of

Other background apps feeding off your RAM

Chrome has been running for too long without quitting
The good news is, there are lots of ways we can improve this pesky problem and improve Chrome taking up memory.
Quick Tip: CleanMyMac X, a popular Mac tune-up app, includes a tool that frees up RAM automatically. It should help when your browser lacks fresh memory. This app is free to download and you can disable lots of things that secretly run in the background of your macOS.

Few ideas to speed up your Chrome
Smart restart

Restart your Chrome if it has been running continuously for a long time. Paste in the following command to the address line:

Paste in: chrome://restart

Applying this command refreshes Chrome while keeping your tabs intact.

Tip: Add this as a browser bookmark when you need to speed up your Chrome in one click.

Disable hardware acceleration

Although it sounds counterintuitive, disabling the acceleration will noticeably make your Chrome load faster. To open the said setting, go to:

Click the 3-dot icon (Settings).
Click Settings > Advanced > System
Slide the toggle left.

Clean up system junk on your Mac
Your browsing data builds up and causes Chrome to slow down over time. Unknowingly your system can get clogged up with unwanted junk like temporary files, broken items, and cache.
Giving these items a regular clean is a guaranteed way to improve system performance. You can easily manage your system junk with a tool called CleanMyMac X. It has a nice instrument that specifically searches for outdated system files and massive cache folders. You should expect a bit better browsing experience.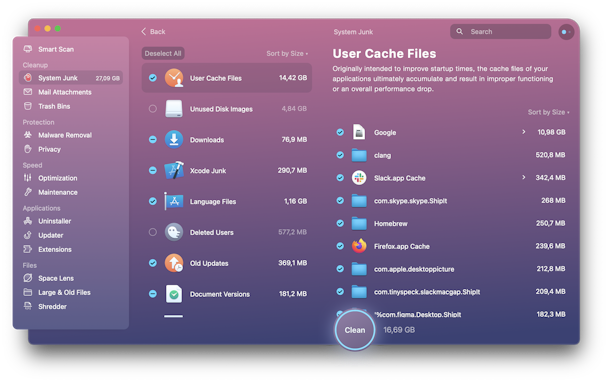 This app has a free version you can download. It's also notarized by Apple.

After you've installed the program, click the System Junk tab in the sidebar. It's right at the top.


How to make Chrome use less battery
Here are 4 reasons why Chrome could be draining your Mac battery:
Chrome is out of date.

Multiple open tabs are slowing down browser speed.

Unwanted processes are running.

System junk weighing down performance.
All of these seemingly non-battery related items make Chrome work overtime. Let's get started and improve your Mac battery life right away.
1. Update Chrome
Okay, I know this one sounds obvious, but you'd be surprised how many of us are running older versions of Chrome. Having the latest version is always recommended. Here's how to check and do a quick manual update.
Check and update Chrome manually:
Open Chrome on your Mac. Select More in the top right (3 dots)
If there is an update pending, an icon will show a green, orange, or red alert. Important: If you can't see this then, you're on the latest version.
Select Update Google Chrome.
Click Relaunch.
Did you know?
Some mad statistician calculated that users of Chrome and Firefox stay on their jobs 15% longer, compared to those who browse on Safari.
2. Manage your open tabs
Stop for a moment, how many browser tabs do you have open? If you're anything like me, there are multiple open tabs just sitting there idly. These seemingly innocent tabs are making Chrome take up vital memory.

For Chrome, it's simple, the more open tabs you have, the harder it needs to work. Each open tab requires resources, and these can be draining. Closing down all unwanted open tabs gives you a quick speed boost.
Click the X on any unwanted tab to close it down.
3. Stop unwanted processes
Use Chrome Task Manager to quickly identify troublesome extensions and tabs that could be slowing you down. Task Manager gives you an excellent overview of processes and resources running. Here you can sort by memory footprint and quickly end unwanted tasks.
How to manage processes with Task Manager:
Open Chrome, and in the top right, select More (3 dots).

Select More tools and navigate to Task Manager.

You can click Memory footprint to sort by memory usage

Select any task that you want to close by clicking End Process.



Tip: look out for items labeled "Subframe" and "Background page" - these can be removed.
4. Open pages faster
Turning on network action predictions, also known as "page prefetch," will let Chrome open pages faster. When the setting is activated, Chrome preloads links it thinks you might open and preloads all associated pages before you even click on them.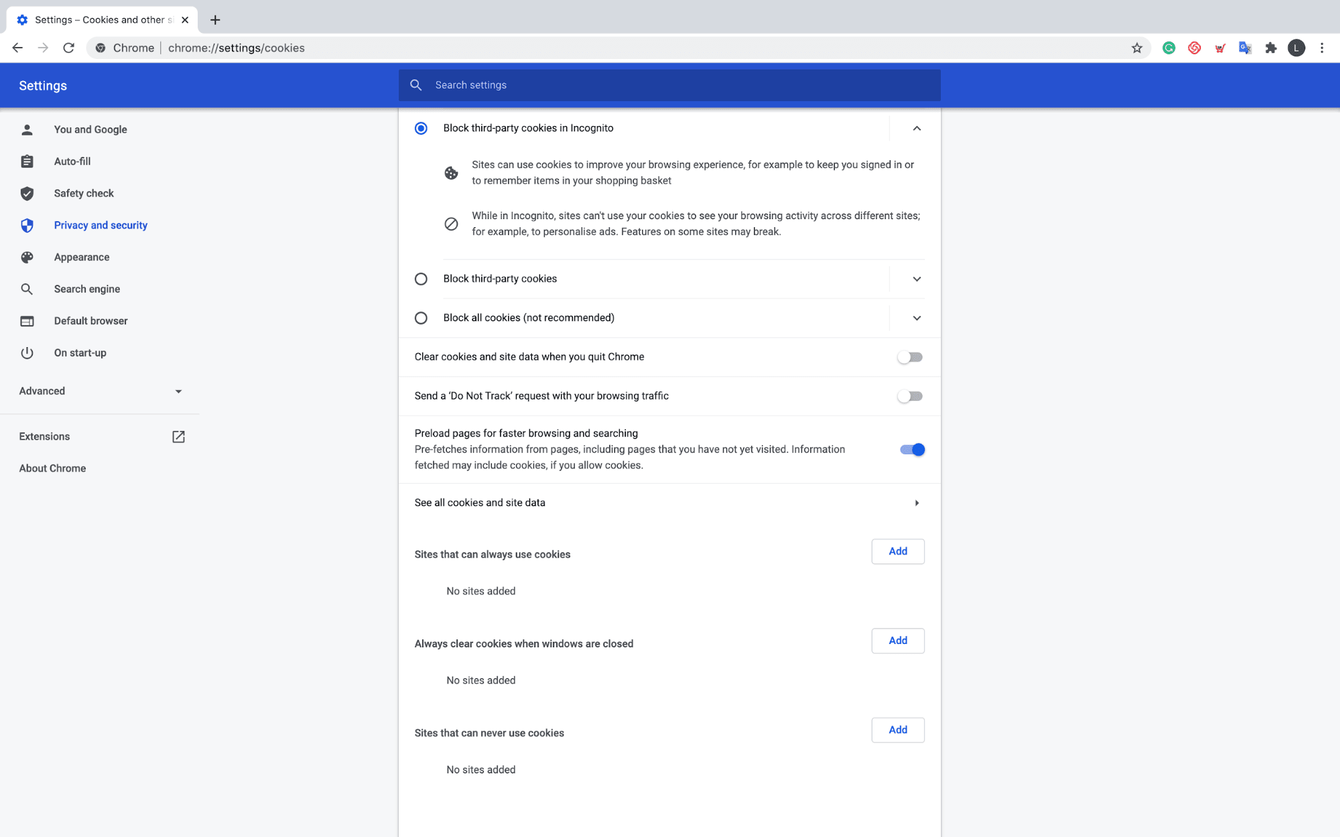 How to turn on page prefetch:
Open Chrome, top right click More (3 dots).

Select Settings and head to the Privacy and security section.

Now, select Cookies and other site data.

Turn on Preload pages for faster browsing and searching.
These quick tricks can enhance Chrome performance and stop this greedy browser from sucking away your battery life. Say goodbye to the cheeky Chrome battery drain.
5. Find heavy memory consumers on your Mac
The app I've mentioned earlier, CleanMyMac X, has another setting that disables hidden background apps. Because not all apps can be switched off manually.
Run CleanMyMac X (you can grab a free version here)
Click Optimization in the sidebar.
Inspect Heavy-memory consumers and Launch Agents.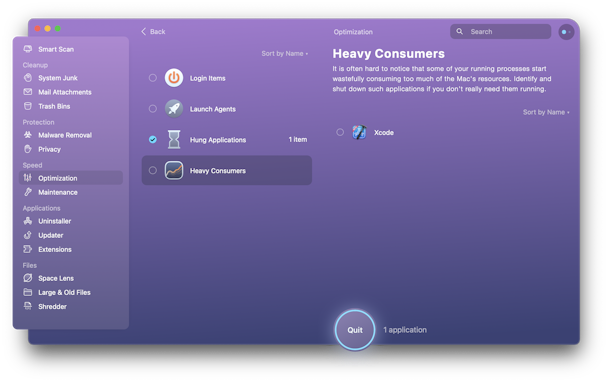 When I made this screenshot, I was surprised to see Zoom in the list of my memory-heavy apps. In your case, it could be something different.

Regular updates and maintenance are a great way to stay on top of Chrome's performance and usage, helping you get the most from your Mac.
Thanks for reading, and stay tuned for more helpful tips coming soon.