How to clear Photoshop scratch disks on Mac
7 min read
Has Photoshop error "scratch disk are full" popped up on your screen?
Don't feel puzzled. It's a widespread problem among Mac users who work with the creative Adobe Suite. In this article, you'll find out what's a scratch disk and how to eliminate the "scratch disks are full" error to keep your laptop in tip-top shape. Keep reading!
What is a scratch disk?
Scratch disk in Photoshop is your hard drive space used by the app as virtual memory when there is insufficient RAM to complete a task. It uses this space to store parts of your working documents, layers, and editing history. Even though these files are temporary, they still need a place to live. And that happens to be your scratch disk.
Did you know? When working on a large or complex project in Photoshop, it's quietly producing a massive amount of temporary files that eat up your drive space.
What is a scratch disk full error on Mac?
When you see a scratch disk error message, it is likely an excessive build-up of temporary files. Those files accumulate without leaving traces, making it tricky to diagnose as they often aren't visible as occupied memory.
That's why when you force quit Photoshop, you might end up having tons of temporary system files lurking around, which Photoshop has saved for you (just in case.)
Other reasons why you see the "scratch disk full error" on Mac:
You're running out of space

Photoshop's disk partition is full

Not enough RAM is available for Photoshop to use
Whatever the reason, I bet you want to solve it quickly and get back to work. So here are some tips to help you resolve and clear your scratch disk.
How to clear scratch disk without opening Photoshop
1. Clear photoshop cache
Cache and other system junk, if left unattended, can cause the build-up or other annoying issues on your Mac (like Photoshop's "scratch disk full error.") So if you can't open Photoshop, my #1 tip: clear your cache and run regular maintenance on your Mac. A tool like CleanMyMac X can help ensure that your Mac always has enough free space and RAM to run all your apps smoothly. CleanMyMac X's System Junk module can clear outdated caches that slow down your Mac and optimize your system in minutes. Here's how: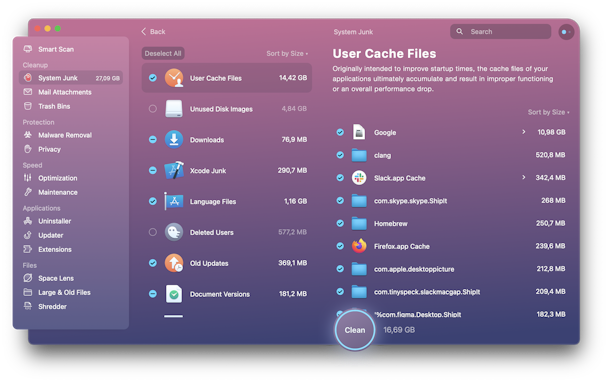 Open the app — download the free version here.

Now, select System Junk from the left sidebar and click Scan.

Wait for the scan to complete and click Clean.
2. Remove temporary files
Photoshop's temporary files eat away your scratch disk space; it's a good idea to run a search for them and remove them, buying you back some valuable space. Here's how:
Open a new Finder window.

Search for any files with the extension ".tmp." Photoshop always begins its filename with "pst," and anything matching those parameters can be deleted.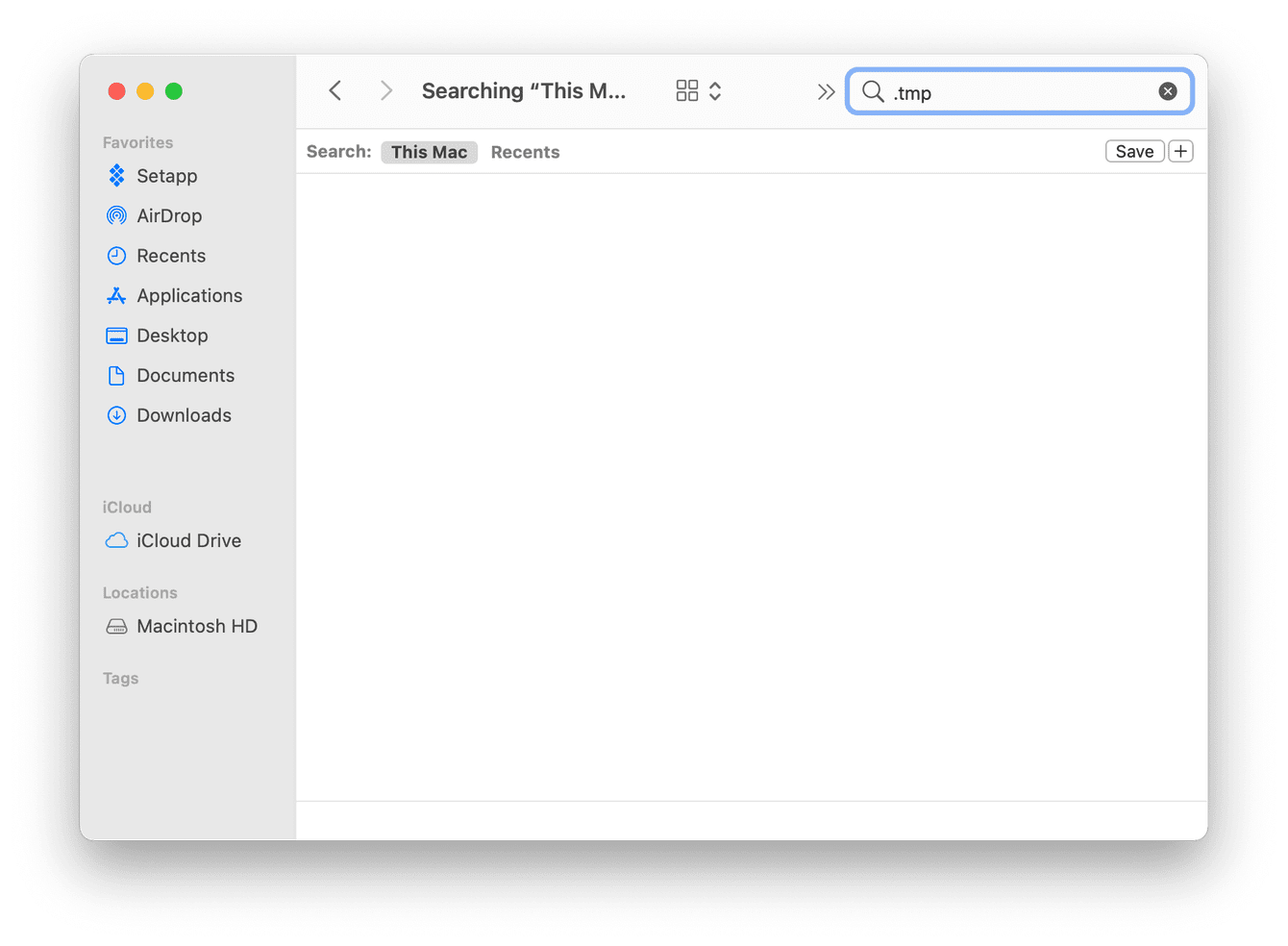 3. Clear your disk space
The other root cause of the "scratch disk error" is storage space. So, it's time to take some action. The first step is to check your storage. Simply follow the instructions below.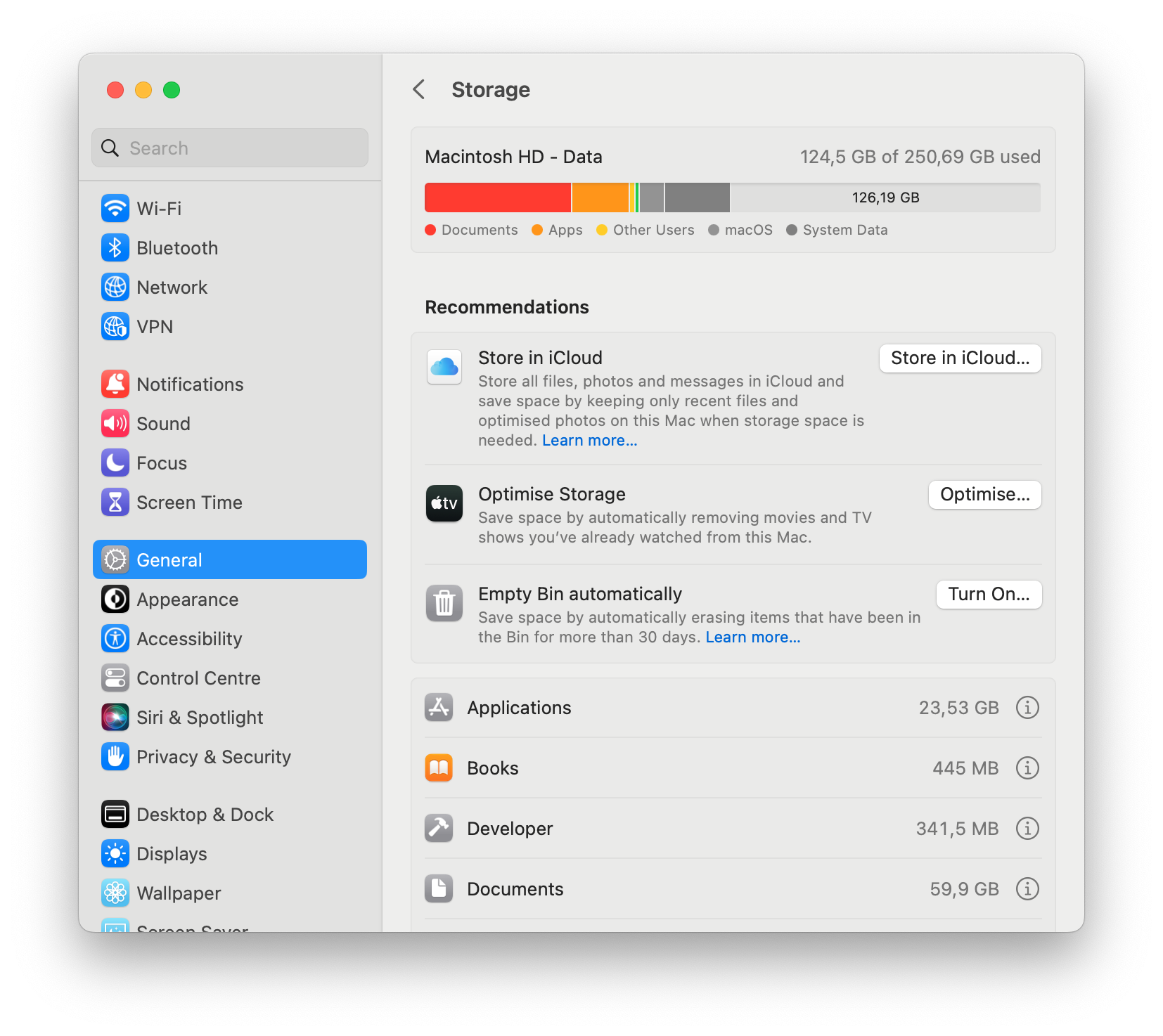 Go to System Settings.

Click General and then Storage.
Take a good look at your overview; you can hover over the bars to see what each color represents. What can you remove to free up storage on your Mac?
If you have an external drive or cloud storage account, now is a good time to consider transferring some items. Otherwise, here are a few other things to consider:
Remove old or large files

Empty Trash

Tidy desktop

Clear Downloads folder
I'm not going to lie, clearing your disk space manually is time-consuming and exhausting. So, if you want to get the same results but speed up the process, try the CleanMyMac X System Junk module I mentioned above. Again, it removes stacks of unneeded files that eat up gigabytes of the storage, like old cache files and logs, unused languages, Xcode junk, etc. These files are generated automatically and can be removed safely (follow the steps above.)
If storage is always a struggle for you, it's worth taking some time to deal with it once and for all. Read the article on 11 ways to clear space on your Mac.
4. Use Activity Monitor to free up RAM
A shortage of RAM is a sure way to stop Photoshop in its tracks; luckily, there's a way to see what's using most of your Mac's resources.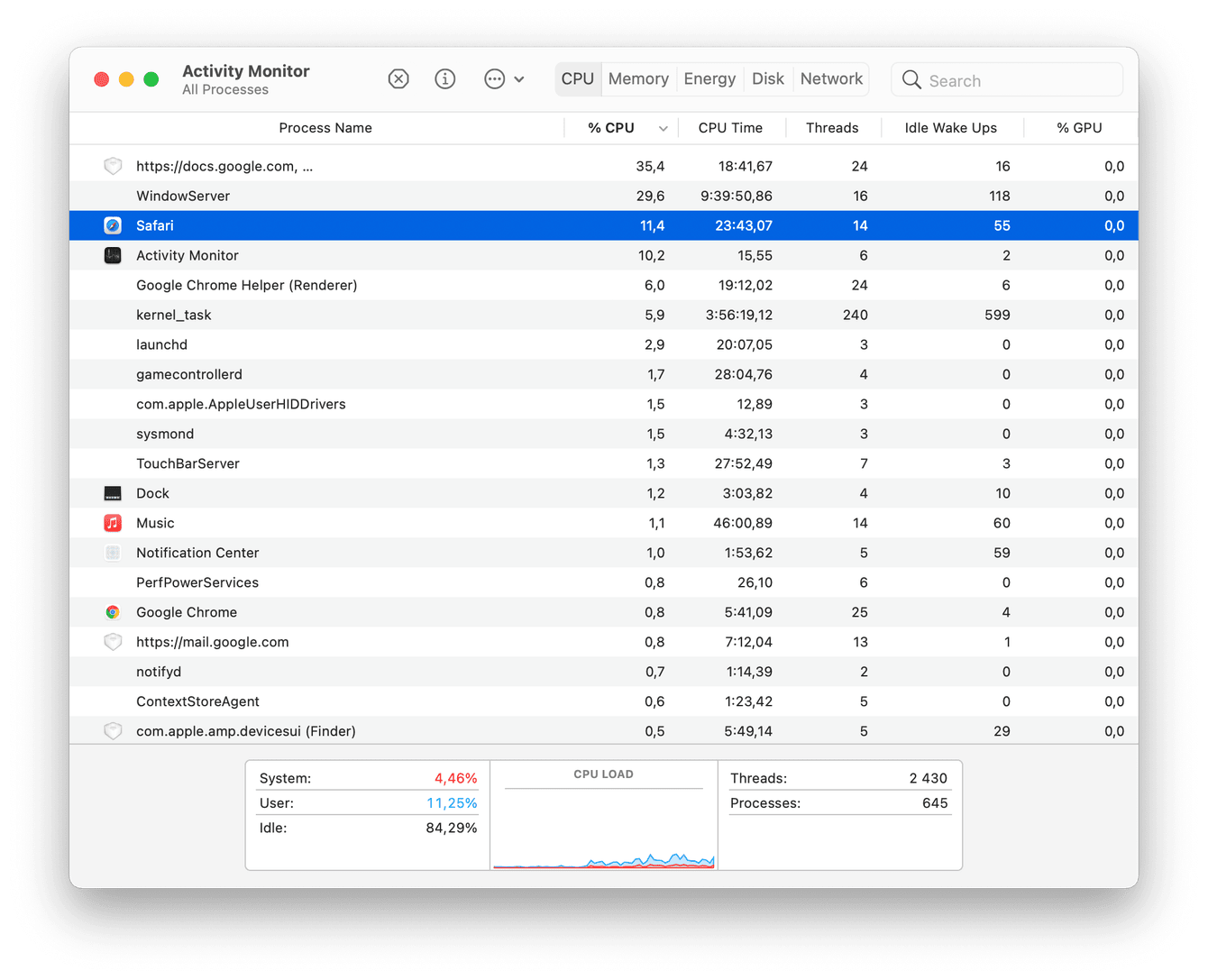 Open Activity Monitor (Finder > Applications > Utilities).

The most intensive processes are listed first.

If there is a process or an app you don't need running, select it.

Click the "x" button to quit it.
Photoshop still misbehaving? First, turn it on!
If your Photoshop is still glitching after trying the above tips, turn it on and try the following troubleshooting tips.
Disable auto-recovery saving
In case of an unexpected quit, Photoshop, by default, is set to auto-recover your files. That's why it automatically saves recovery data every 30 seconds, creating countless temporary files. You can disable this feature or change saving settings to reduce those files. Follow these steps: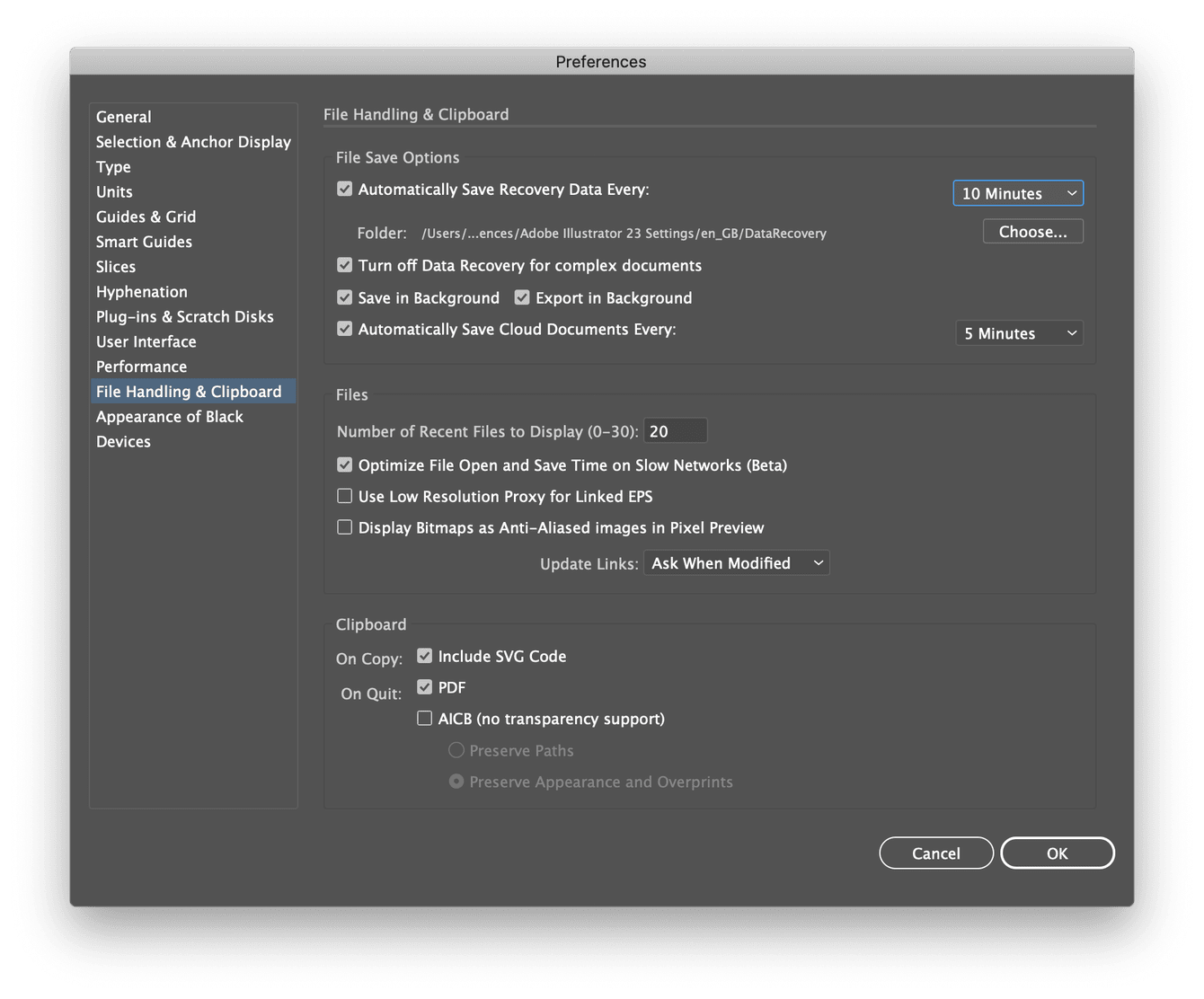 Open Photoshop from the top menu, and select Photoshop > Preferences > File Handling & Clipboard.

Uncheck Automatically Save Recovery Data to disable this feature or change the data recovery time by selecting the dropdown.

Click OK to save your changes.
Change your scratch disk
When you set up Photoshop, you will have the option to assign the scratch disk to the drive of your choice. I recommend only using your system drive if you have no other alternatives.
In case you want to change your scratch disk to another drive, follow these steps using Photoshop preferences:
Launch Photoshop.

Go to Photoshop > Preferences from the menu bar.

Select Scratch Disks and tick the checkbox to select or remove a drive as the scratch disk.

Click OK.

Reopen Photoshop.
Reset Photoshop preferences
Resetting Photoshop's preferences is another way to fix the "Scratch disks are full" error. Follow these instructions:
Launch Photoshop.

Go to Photoshop preferences: from the menu bar, choose Preferences > General.

In the window that appears, click "Reset Preferences On Quit."

Click "OK" to confirm.

Quit Photoshop to complete the reset. Then, Launch Photoshop to see if the "scratch disk error" is resolved.
5. Reset Photoshop
Sometimes, a good old complete reset is all you need to get things working again.
Photoshop system files can become corrupt when the program crashes, quits unexpectedly, and stalls, so even after clearing the memory and disk space, you might experience issues.
Luckily, a quick reset will have you up and running in no time. I like to use CleanMyMac X to manage my app resets and reinstalls; they have a dedicated Uninstaller module that quickly resets applications to their original state. Here's how: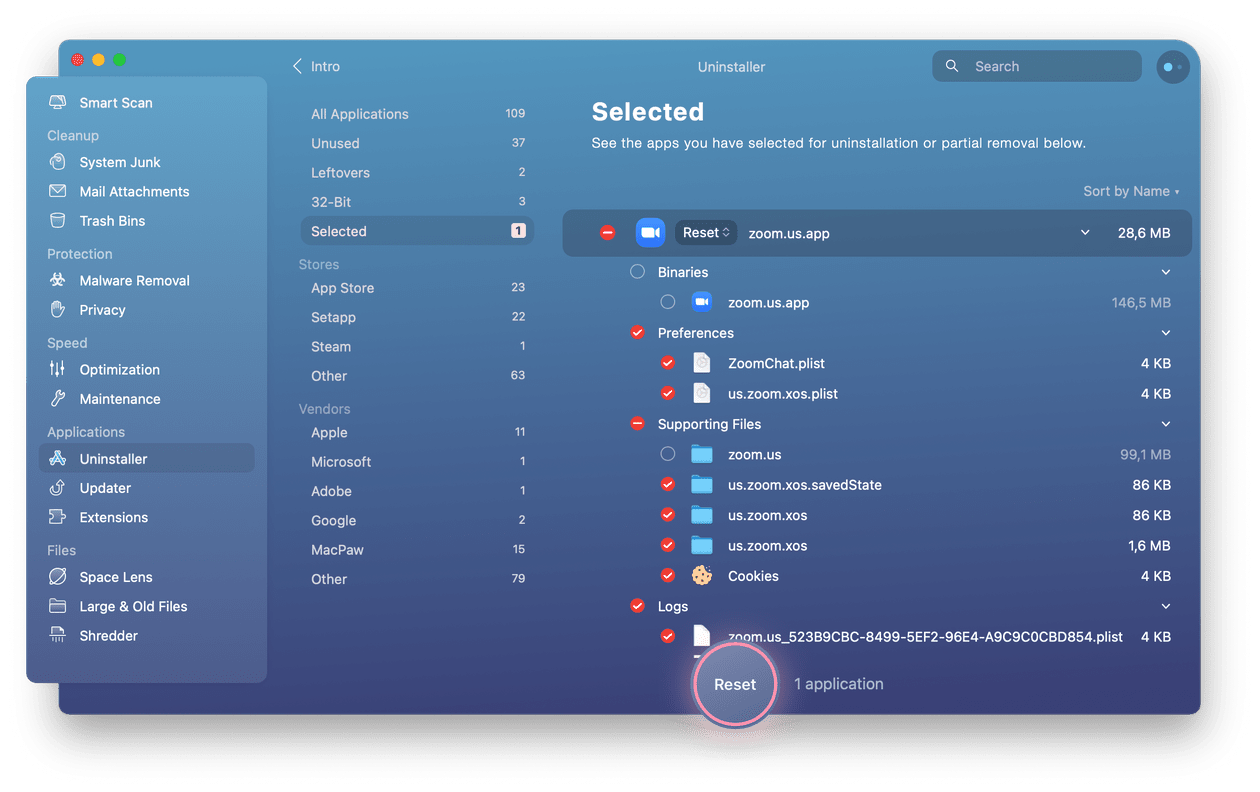 Open CleanMyMac X and select Uninstaller from the left sidebar.

Select the View Applications button.

Select Photoshop from the list and select Reset from the little dropdown window.

Then, click Reset.
Simple as that! Next time you launch Photoshop, you should be trouble-free.
Photoshop's "scratch disk full" error is frustrating, but plenty of simple ways exist to resolve it. It all boils down to storage, so remember to keep your Mac in shape. How? By running regular maintenance and clearing temporary files, cache, and other system junk. Stay tuned for more Mac tips & hacks!
Frequently asked questions
Is it possible to clear scratch disks without opening Photoshop?
The short answer is yes. To do it, you will have to free up RAM and some space. Look for temporary files or use Activity Monitor to try and hunt down heavy consumers and quit them.
What's the most efficient way to clear scratch disks?
The most effective way to clear scratch disks is to free up purgeable space. If you can open Photoshop, click Edit > Purge > All to do it. If you cannot open Photoshop, use CleanMyMac X and its Maintenance module. It has a tool named Free Purgeable Space that can help you out.
Can I remove important files by clearing scratch disks?
Since clearing scratch disks removes all temporary files, any unsaved progress will be lost. Otherwise, important files should not be affected.