Can hackers hack your camera on a Mac?
5 min read
If you're wondering, can hackers hack the camera on your MacBook, the short answer is yes. Our devices are a treasure trove of personal, sensitive, and private data, which is unsurprisingly very attractive to cybercriminals.
Camera hacking isn't new; it's actually been around for years; it's a terrifying possibility that someone might be able to access your camera and steal your data and your physical privacy.
Luckily, once you know the tell-tale signals, it's pretty easy to spot. So join us as we cover everything on the subject, including what to do if you suspect your camera has been hacked.
Can your camera be hacked on a Mac?
Years ago, a rumor circulated that MacBooks were impenetrable to threats, attacks, and viruses. It's sadly not the case.
Camera hacking was also once believed not possible on a Mac, but thanks to the Apple bug bounty program, this was disproved when Ryan Pickren, a cyber security student. He received a $100,500 reward from Apple after proving Mac webcams were hackable. Apple, of course, patched the breach and has since fixed that particular issue.
How to tell if your laptop camera is hacked
Here are a few ways to check if your Mac camera is hacked.
1. Light indicator
When using apps like FaceTime or Zoom, a small green light signifies that your MacBook's built-in webcam is in use.
If you notice that light when you're not using any apps or when you're simply browsing the internet, that could be a sign that something or someone is accessing your camera. For more on this subject, check out this article — Mac camera light is always on? Here's how to fix it.
2. Strange videos on your Mac
If you find weird videos or pictures on your Mac, that's another sign hackers are at play. Or if you suspect your camera has been hacked, you could check for pictures and videos on your device; here's how: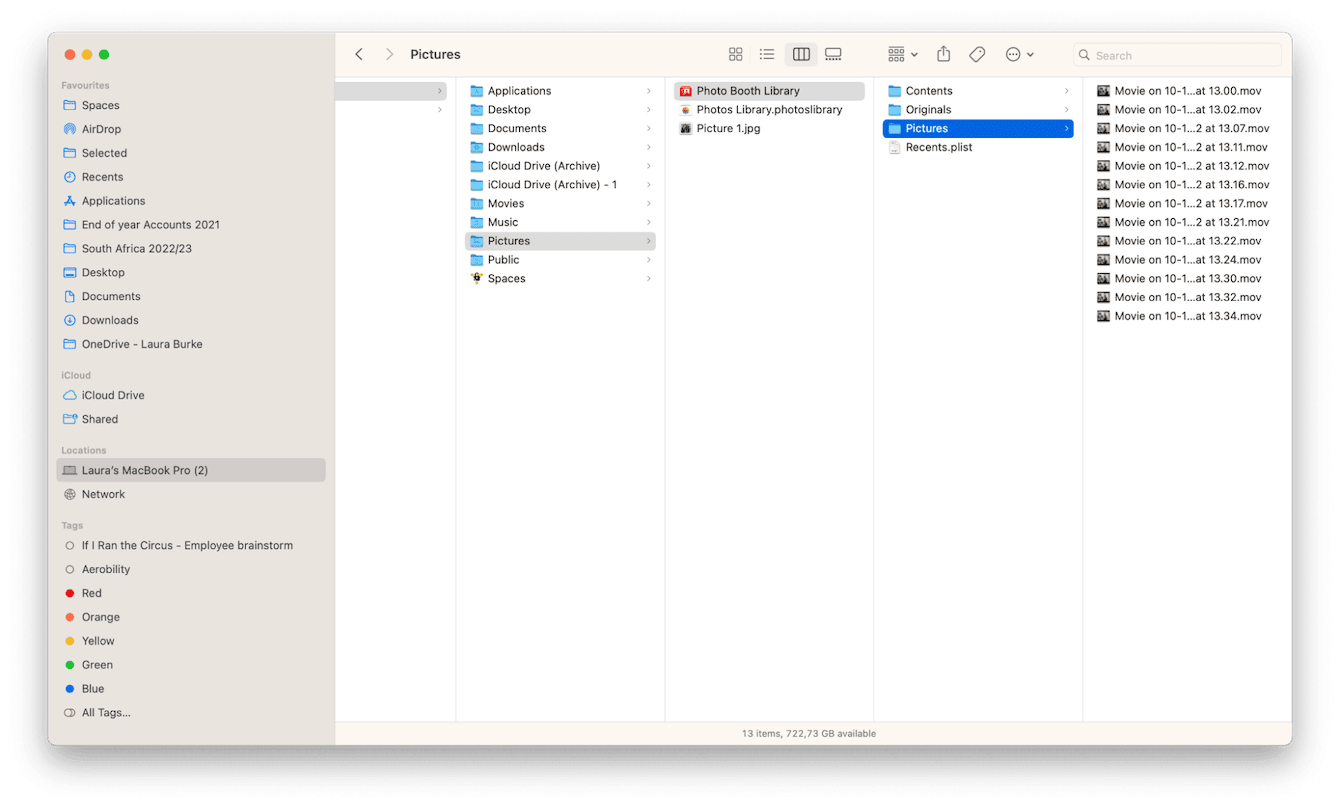 Open Finder, click Go from the top menu and select Go to Folder.
Type in the below path

~/Pictures/ Photo Booth/Pictures


Look for any strange or suspicious photos or videos that you don't remember taking.
3. Camera suddenly stops working
Another sign is if your camera suddenly stops working or becomes unavailable; check out the article on why your Mac camera is not working for more on this subject.
4. Use Terminal to check webcam history
For those comfortable using Terminal, here's how to check webcam history on your MacBook: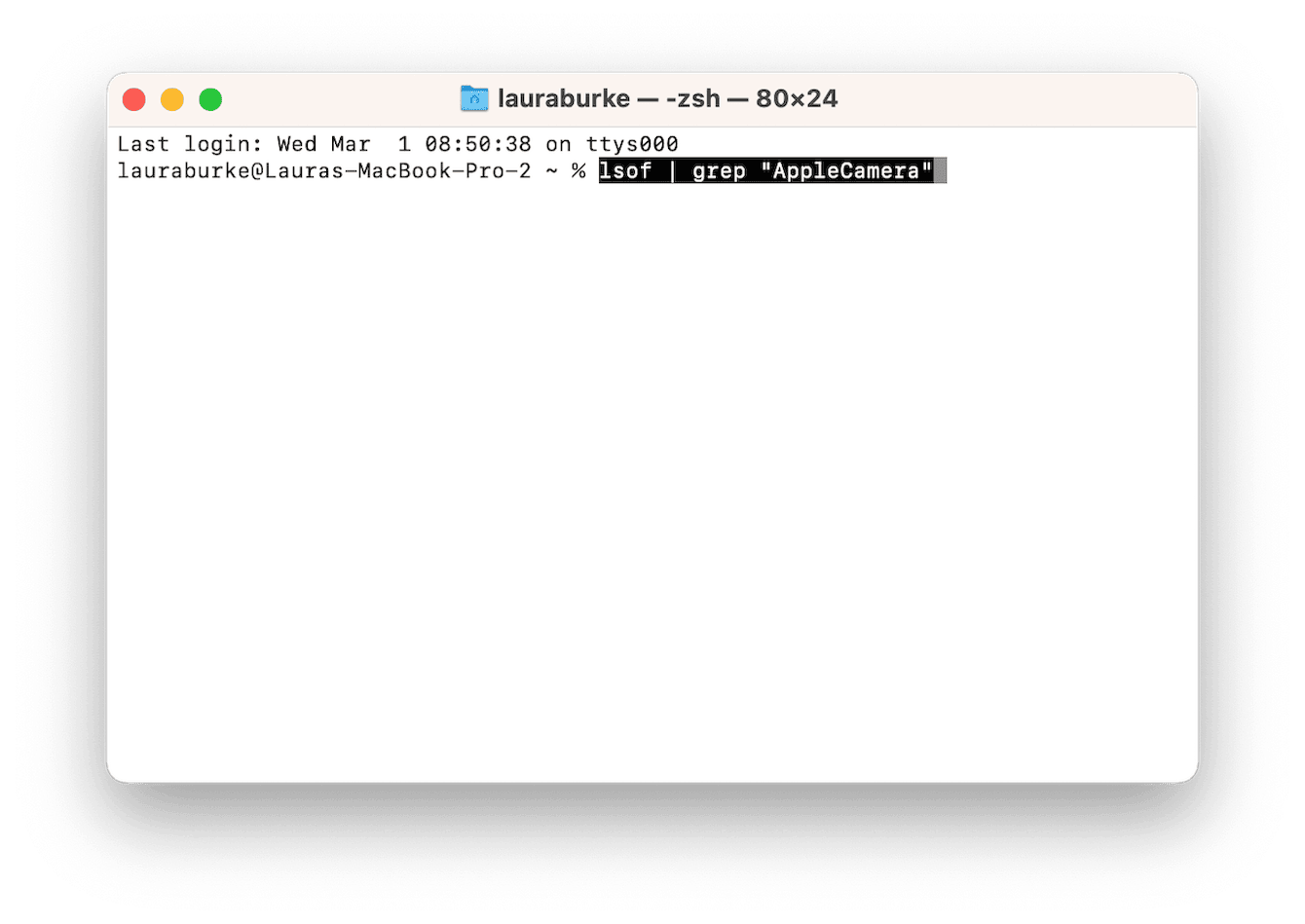 Open a Spotlight search by pressing the Command - Space keys.

Type in Terminal to open the app

Enter the below commands:
lsof | grep "AppleCamera"

lsof | grep "VDC"

lsof | grep "iSight"
OK, so now that you know what signs to look for, it's time for us to tackle the subject of what to do if you suspect your Mac camera is hacked.
What to do if your Mac camera is hacked

1. Check for malware
Antivirus software is one of the best investments you can make when it comes to protecting your data and privacy. If you suspect your camera has been hacked, you need to run a virus check immediately. Apple comes with its own antivirus protection tool, XProtect, but don't get lured into a false sense of security — more is needed to keep your Mac safe from threats. That's why it's recommended to leave your device security to third-party experts.
I like to use CleanMyMac X. This powerful tool meets all my MacBook protection needs. It offers real-time protection against ever-present threats, and its Malware Removal module quickly performs deep system scans, locating and removing viruses.
Here's how to protect your Mac the smart way: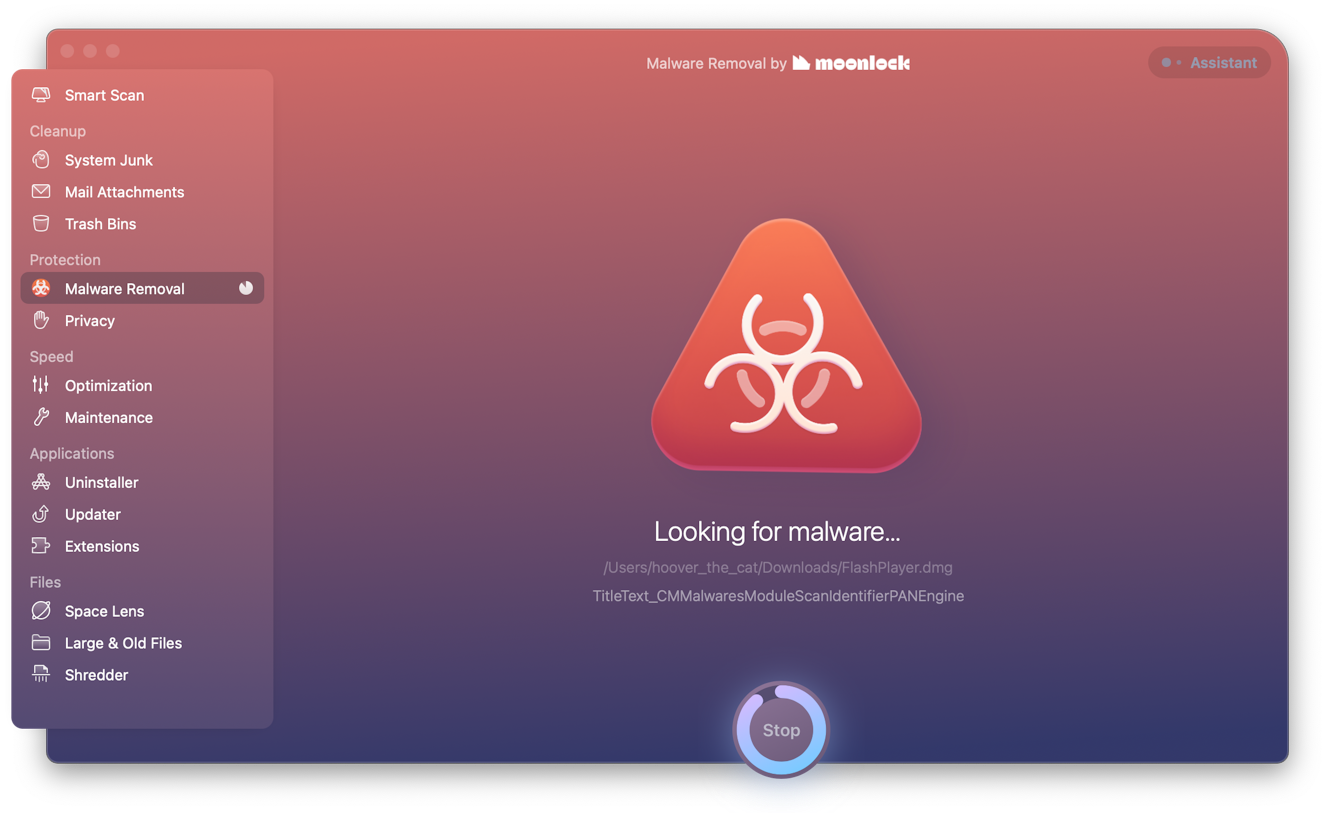 Open the application or download it for free here and install the app.
Open Malware Removal from the sidebar and click Scan.
Wait for the system scan to complete and follow any instructions if malware is found.
2. Cover your webcam
Webcam covers are a simple and effective way to block people from spying on your activity. Many people use black electrical tape, but you can also buy one from places like Amazon.
Just be careful to always remove the webcam cover when you close the lid of your device — they have been known to cause screen cracks.
3. Quit suspicious activity
You can use Activity Monitor to view all the active processes and applications running in real time on your Mac, even the sneaky, covert background activity; here's how: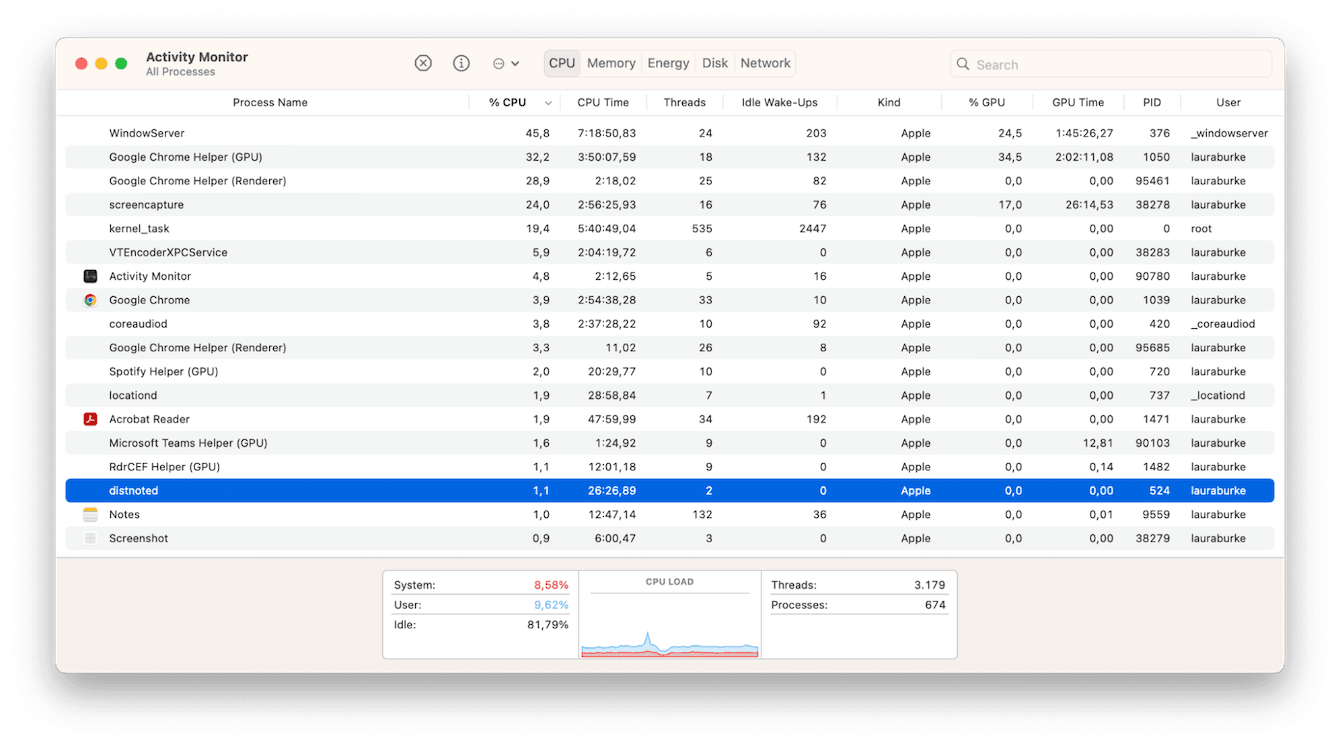 Open Finder > Applications > Utilities > Activity Monitor.
Select the CPU tab and look for any processes or applications open and running that you don't recognize.
If you locate something, select it and click the X button to close it immediately.
4. Remove browser extensions
If you notice the webcam green light activates when you're browsing the net, it's time to manage your browser extensions; here's how on Chrome: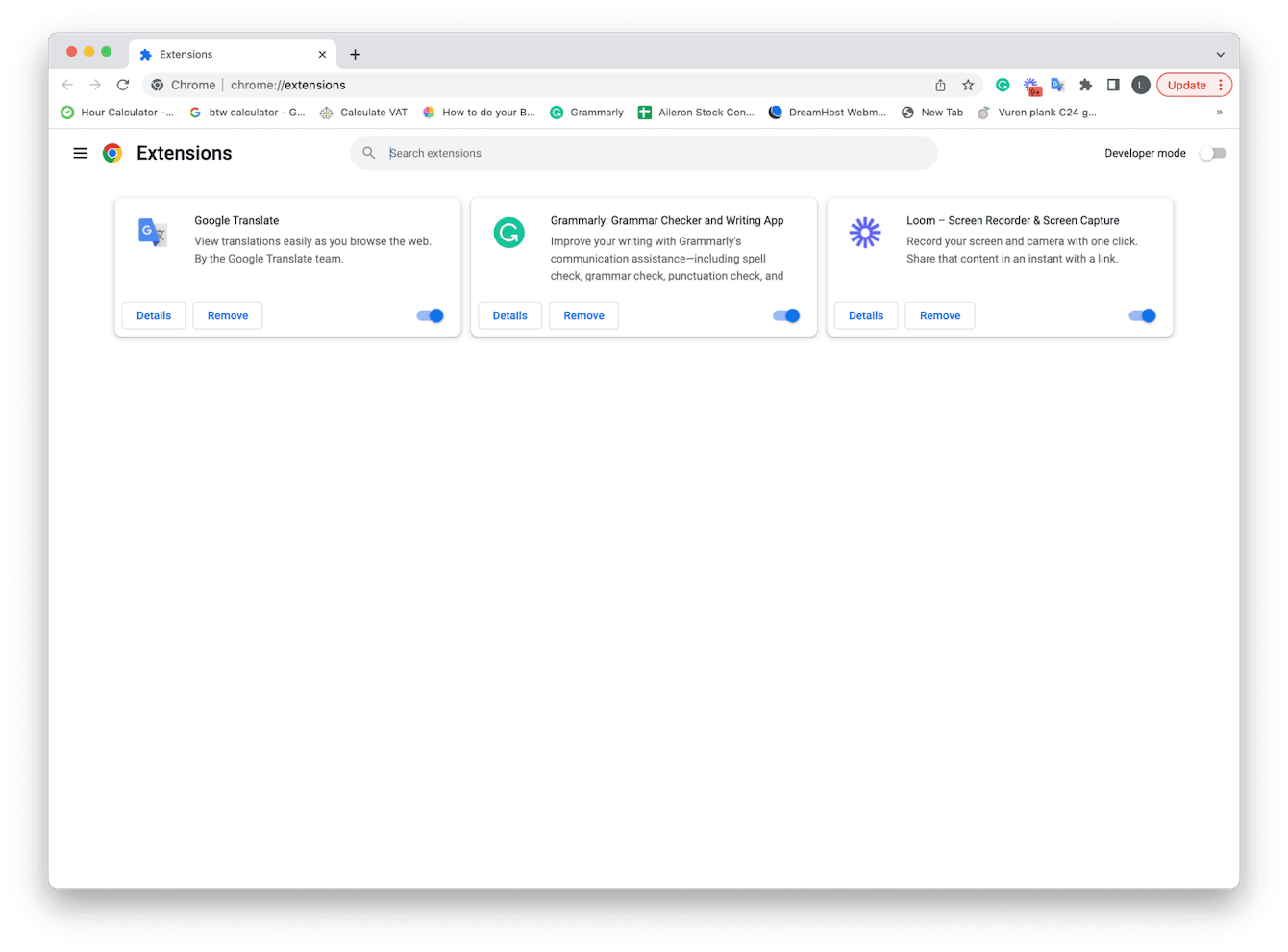 With Chrome open, select the main Chrome menu > Settings.
Select Extensions from the left sidebar.
Click Remove on any you no longer need or recognize.
For other browsers, the steps are similar, although the locations differ. In Safari, they are found in Settings (from the menu bar) > Extensions. For Firefox, it is menu > Add-ons and themes > Extensions.
5. Limit camera access
Another way to stop camera hackers is to limit which applications have access to your camera; here's how: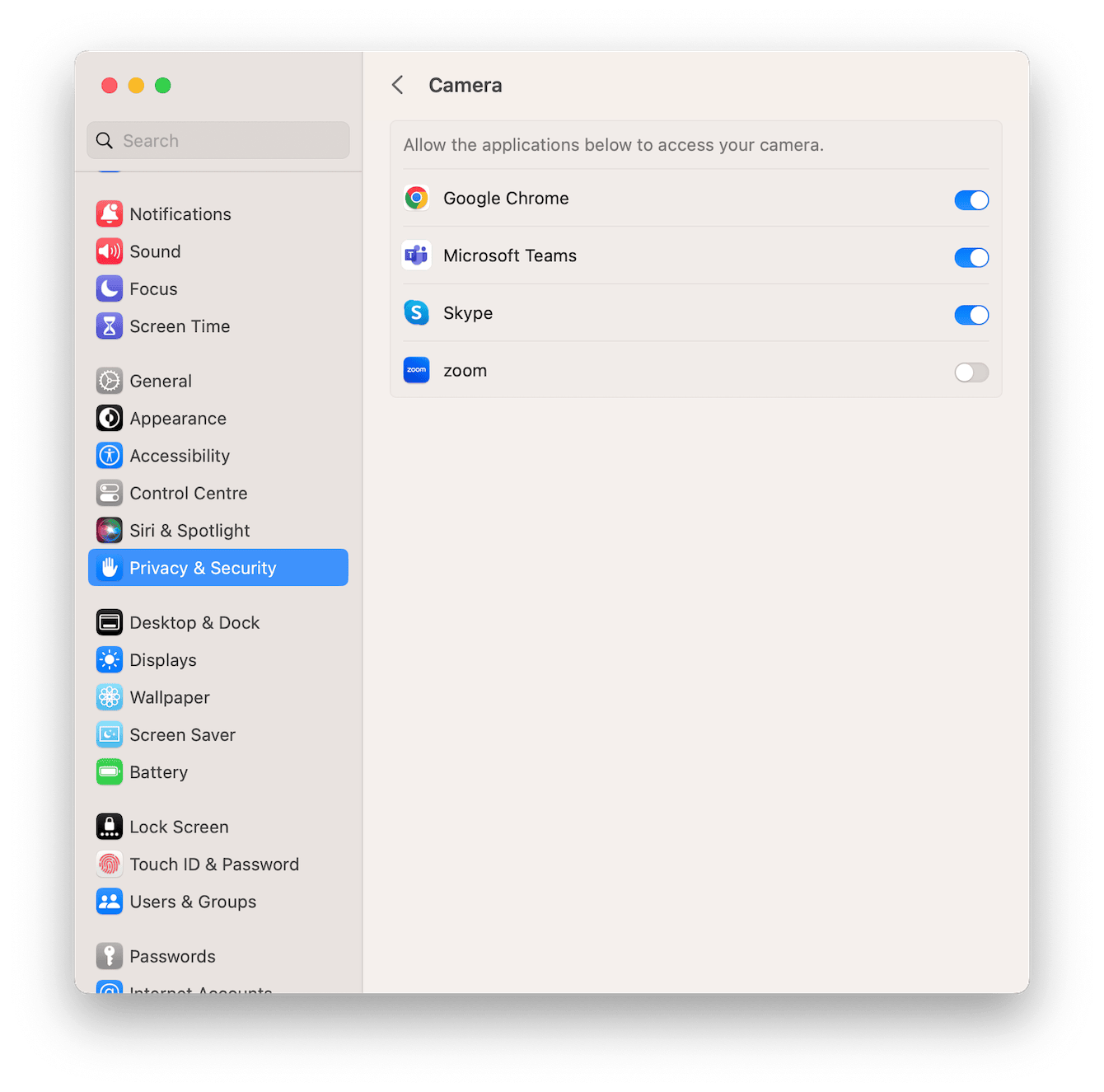 Select the main Apple menu > System Settings > Privacy & Security.

Locate Camera from the list and toggle off which applications you do not want to have access to your camera.

Go back a step and select Microphone; repeat this process.
An even smarter way to manage application permissions is by using the Privacy module from CleanMyMac X. This feature gives you an instant overview of app permissions in one place, making it easy to select items and remove permissions quickly; here's how to do it: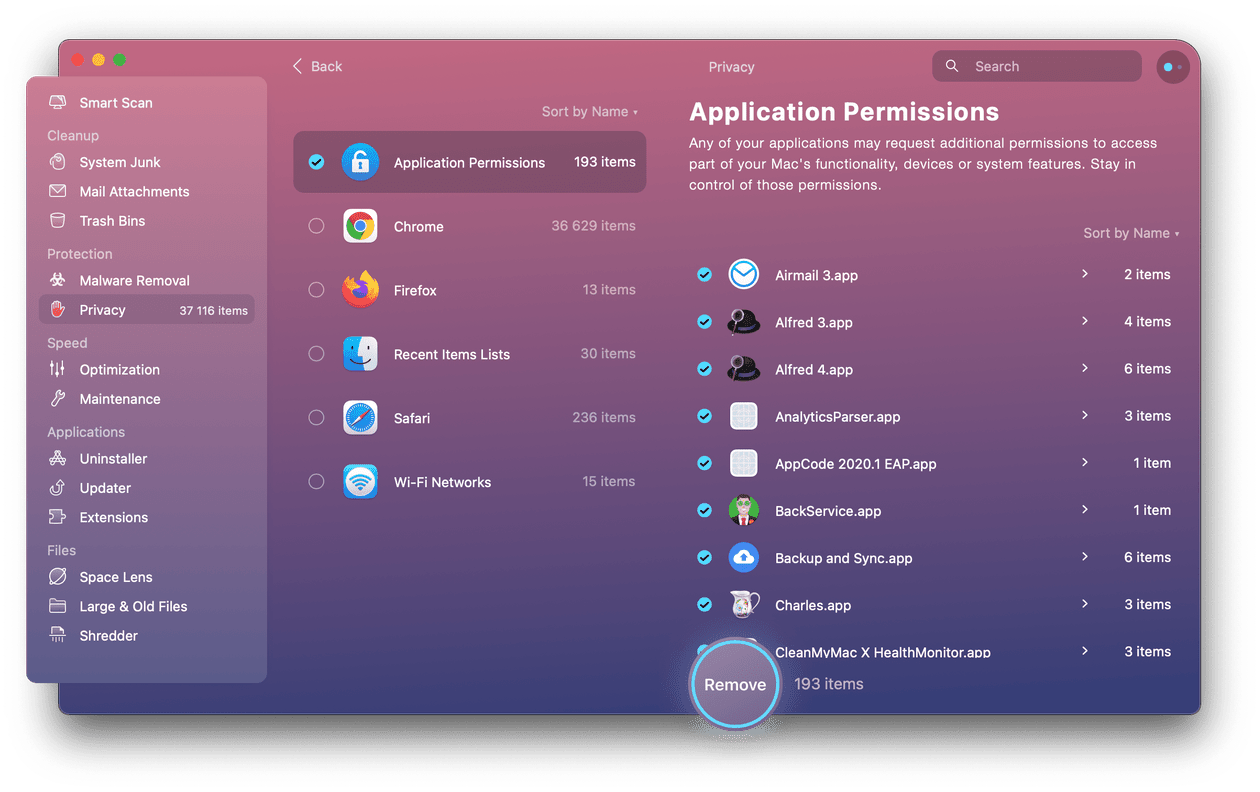 Open the app and select Privacy from the sidebar.

Click Scan, and under Application Permissions, take a look at Camera and Microphone, and click Show next to their names to reveal which apps have access.

Select items for removal and click Remove.
We've reached the end, but now you've got the answers to why is my camera on Mac may be hacked.