Mac camera light is always on? Here's how to fix it
4 min read
I'm not using any apps, so why is my camera light on? Sounds familiar? Then, you've landed in the right place.
A little green light indicates that your Mac's built-in camera is active when using certain apps like FaceTime or Bluetooth. It can be worrying if that light stays on continuously or appears when you're not using any apps. Don't panic; I've put together the tips you need to solve this mystery. Let's go.
Why is my Mac camera light on?
Usually, once you've finished using an app or feature that has access to your camera, the green light indicator and the camera should turn off.
If you've discovered that your Mac camera light is on continuously or stays on after you've closed an app, it's time to jump into action.
This issue is most likely caused by malware that has hacked your camera or an app that's using it in the background — I'll show you how to check for both.
Because malware is the more serious of the two issues, let's start there.
How to check your Mac for malware
It's the m-word no Mac user wants to hear. Contrary to a popular belief that MacBooks are immune to threats, malware is still a considerable risk to Mac users.
Malware is constantly evolving, and some of the latest threats can turn on Mac cameras and record both video and sound, a pretty scary thought.
If you simply rely on your Mac's built-in XProtect software to keep your Mac safe, you might be alarmed to discover that it's just not powerful enough to keep you shielded against the ever-increasing threats out there. Plus, Apple isn't a dedicated antivirus or security company, so using a third-party expert is highly recommended.
I use CleanMyMac X to protect my Mac — its Malware Removal module provides real-time protection and can perform powerful, in-depth system scans and removal.
Here's how you can quickly check for and deal with malware:
Try the free version of CleanMyMac X here.

From the sidebar, choose Malware Removal and click Scan.

If malware is found, click Remove to get rid of it.
It's peace of mind and protection in just a few clicks.
If malware wasn't your issue, then it's likely that an app is using your camera in the background. Jump to the next section for ways to check.
Control which apps have camera access
Apple is constantly improving security. For example, apps require your permission and approval to use your camera and microphone. When you first install an app, you will need to give permission the first time you open it.
Here's how to check which apps have camera access on your Mac:
Select the main Apple menu > System Settings > Privacy & Security.

Under Privacy, locate Camera in the list.

Turn off any application that you don't want to have access to the camera from the list by switching the toggle next to it.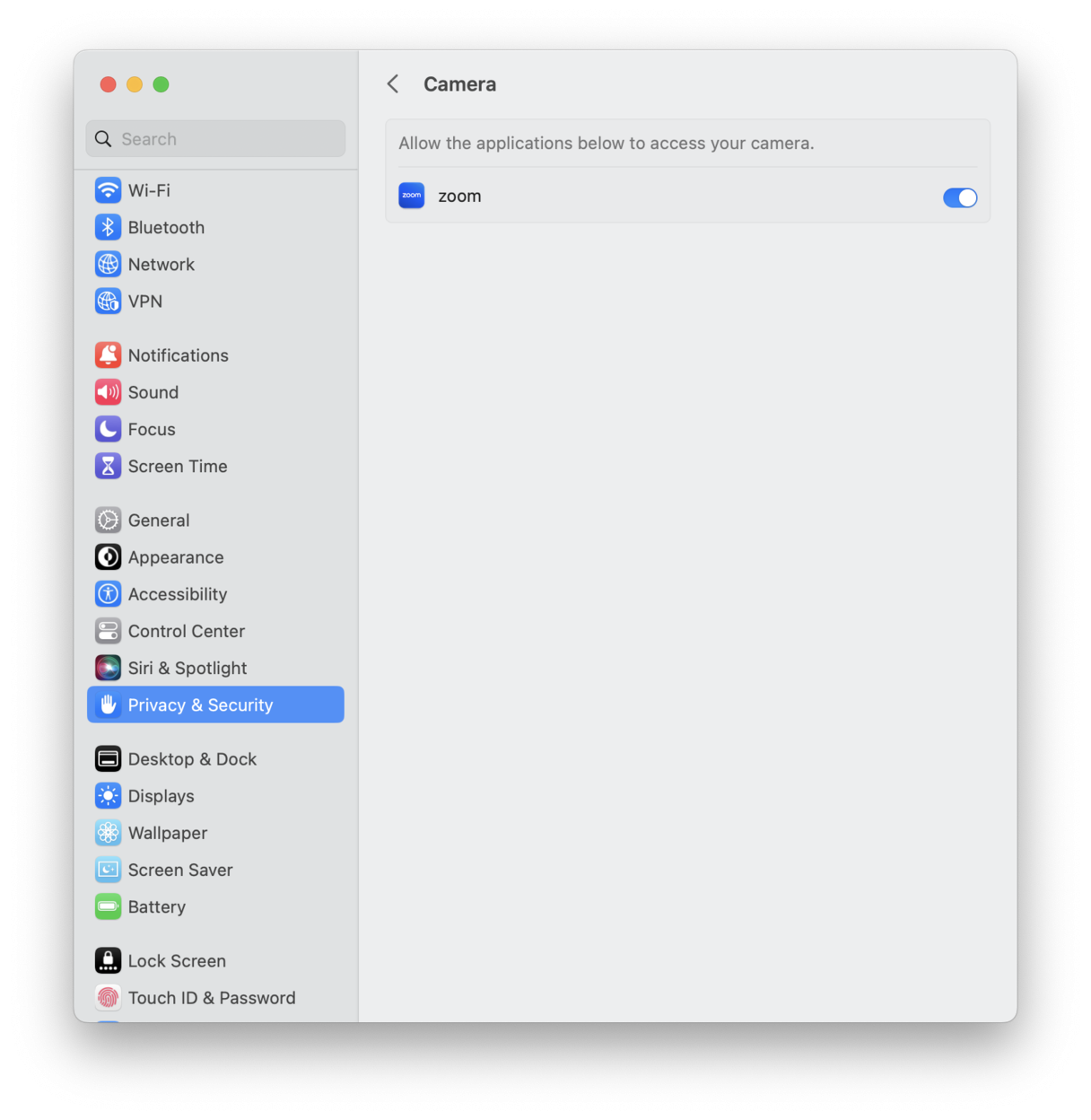 Another simple way to manage permissions and access rights is with the app I mentioned earlier in the article — CleanMyMac X.
It also comes with an intelligent feature called Application Permissions, which enables you to control all of your permissions, including the camera, in a few simple clicks. Here's how to use it:
Open the application, select Privacy from the sidebar, and click Scan.

Select Application Permissions, locate Camera in the list, check what apps have access, and select and click Remove to revoke access.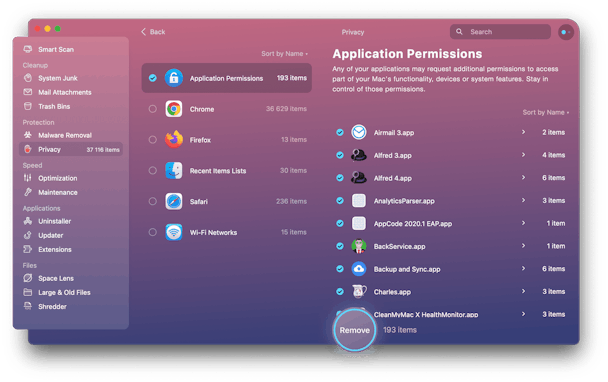 I really like this method because, unlike the System Settings way, you get an accurate overview of all your file, system, and folder permissions in one place.
How to turn off your Mac's camera
It's not unusual for people to ask how to turn on a Mac camera, but there isn't actually an on or off button. Instead, you would need to use the methods above to disable application access to the camera.
Many people think, easy, I'll just cover the camera with a sticker, but this can actually cause damage to the screen and display when the lid is closed, so although it's tempting, it's not worth the risk.
How to restart the camera on a Mac
If you're still having camera issues, as the last option, you could restart your Mac camera-related processes with Terminal; here's how:
Open Finder > Applications > Utilities > Terminal.

Insert this command followed by Return: sudo killall VDCAssistant; sudo killall AppleCameraAssistant

Input your admin password, then press Return to run the command.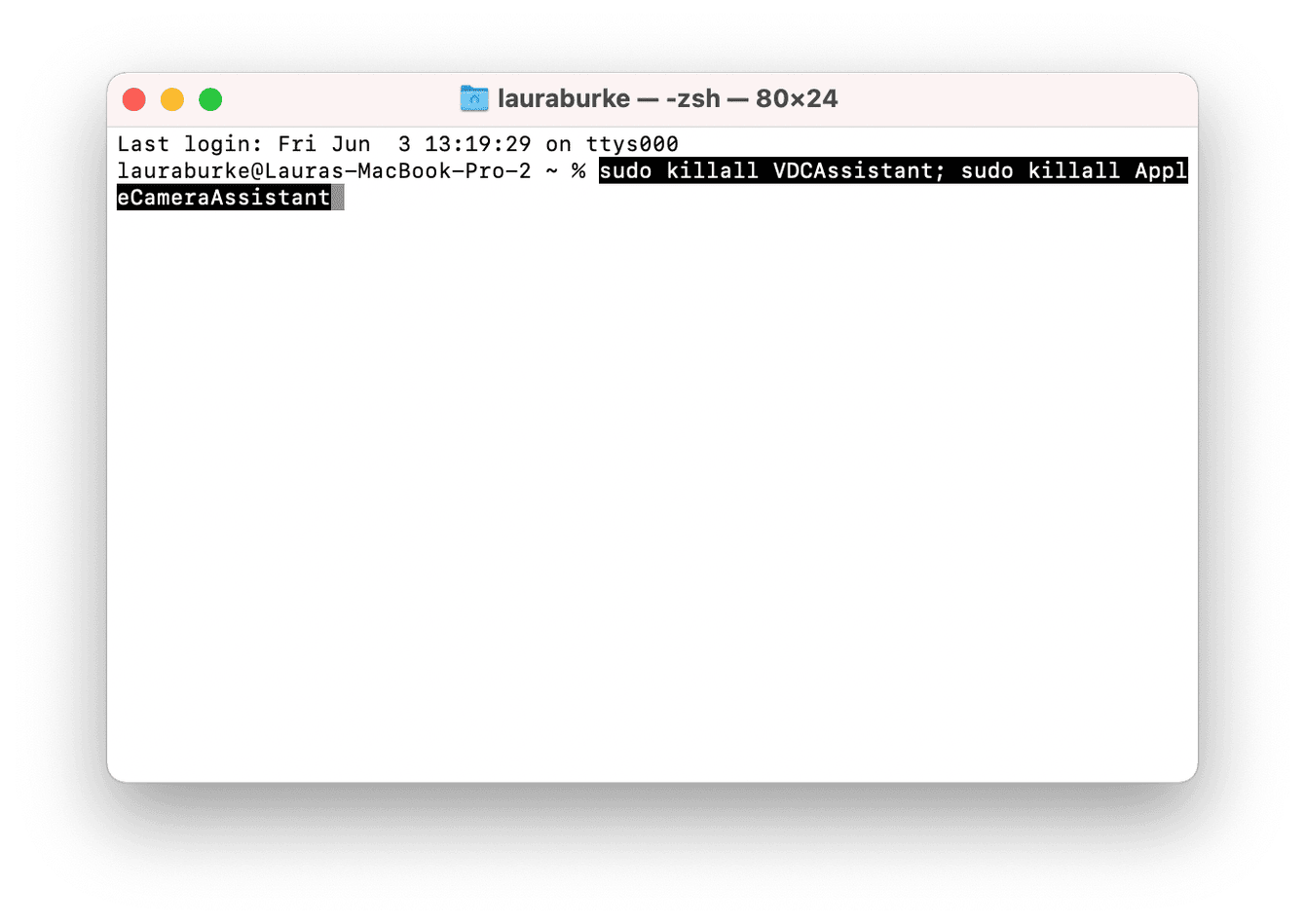 After this, all issues with your Mac camera will likely be solved.
So, we've come to the end of the article, but now you know what to do if your Mac camera light is on. Don't forget to avoid issues with malware; be sure to only download from trusted sources.