Your Mac won't update? Try these tips
6 min read
Installing the latest macOS update is usually a hassle-free and straightforward task, but if you've found yourself here, you must be one of the many people wondering "why won't my Mac update?"
Since the macOS Big Sur arrival in November 2020, many users have reported problems downloading and installing it, so rest assured you're not alone, and the great news is, we have lots of troubleshooting tips to help.
Why you can't update your Mac?
Have you been plagued by the following warning messages?
An error occurred while installing the selected updates.

The macOS installation couldn't be completed.
Or are you experiencing freezing, stalling or crashing during the download? Don't worry; we've got the reasons why and the tricks to help.
Here's are a few common reasons why a Mac won't update:
Your Mac is not compatible

You don't have enough disk space

Bad Wi-Fi connection

Issues with Apple servers
Thankfully we've got all the troubleshooting tips you need if you're experiencing freezing, crashing or stalling during the download process.
So, let's get started: what's the first step?
Tip: Before installing any significant updates, be sure to back up your Mac, just in case.
Is your Mac compatible?
If you're trying to install macOS Big Sur as a starting point, it's worth checking that your Mac is actually compatible.
Here's a handy list from Apple that shows you which devices are compatible.
Check if you have enough space
The single most common reason your Mac won't update is lack of space. For instance, if you're upgrading from macOS Sierra or later to macOS Big Sur, this update requires 35.5 GB, but if you're upgrading from a much earlier release, you'll need 44.5 GB of available storage.
Here's how to check your available disk space: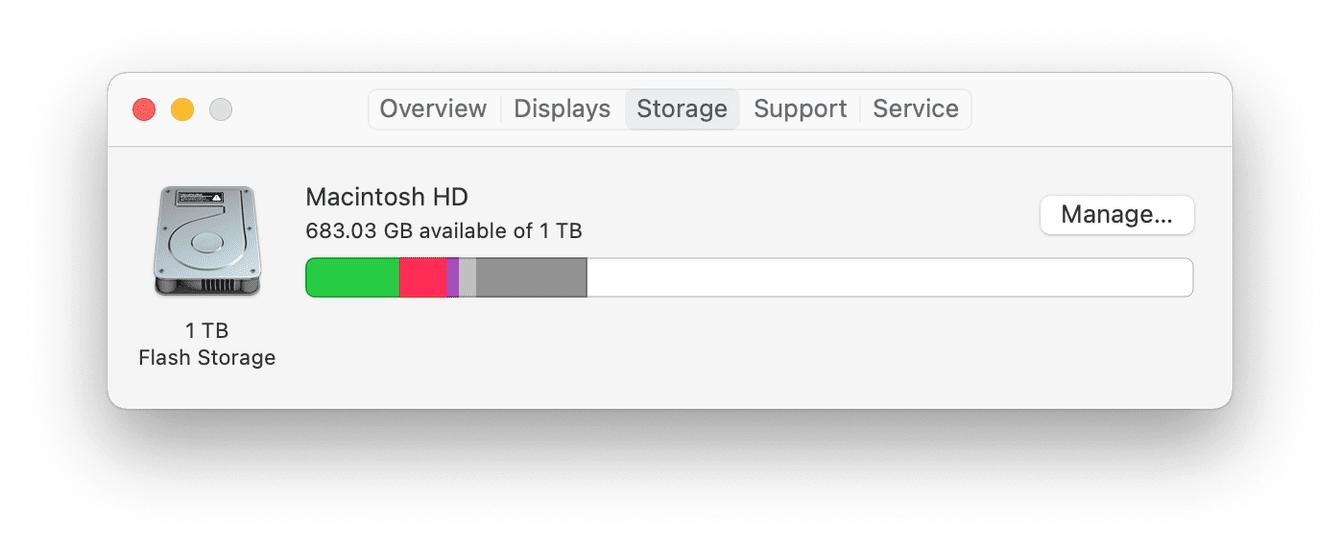 Select the Apple menu > About This Mac > Storage.

Once the bar loads, you'll get a quick overview of your available storage.
The problem is, even if you think you have the required amount of storage, your Mac will sometimes tell you that you don't, so what can you do? The easiest thing to do is clear up more space.
You could spend hours scouring through your Mac, digging up old folders and removing apps, or you could use a handy tool like CleanMyMac X.
They have a dedicated Large and Old Files module, which can quickly locate old files you haven't opened in months and let you quickly select what you want to remove. Bonus points, CleanMyMac X, is notarized by Apple.
Here's how to clear space the easy way: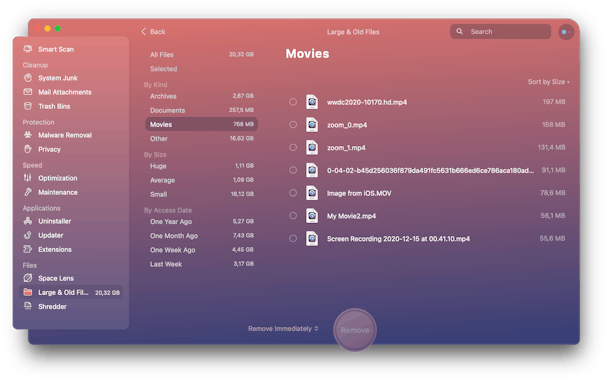 Launch CleanMyMac X—download the free version here.

From the left sidebar, press Large & Old Files and press Scan.

Scroll through the lists and select which items you want to delete the press Remove.
Congrats! You've just saved yourself some serious time, not to mention space.
What to do if the download is taking too long
If you're trying to download a new update on release day, you could face long wait times as Apple's servers get overloaded. It's a smart idea to check Apple's System Status page for any known issues.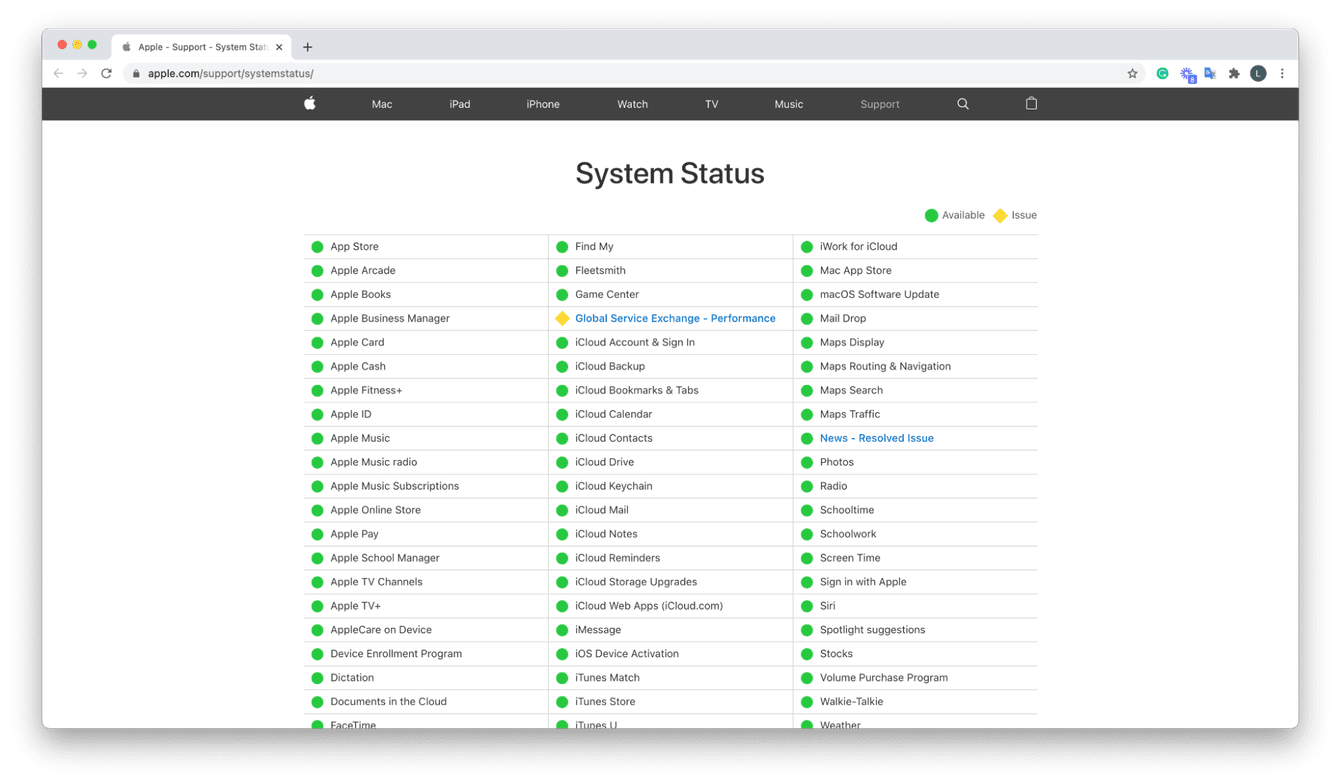 If there are no known issues, check that your internet connection is stable, consider using an ethernet cable.
If your internet is working fine, try adjusting your content caching to reduce bandwidth usage and speed up installations; here's how: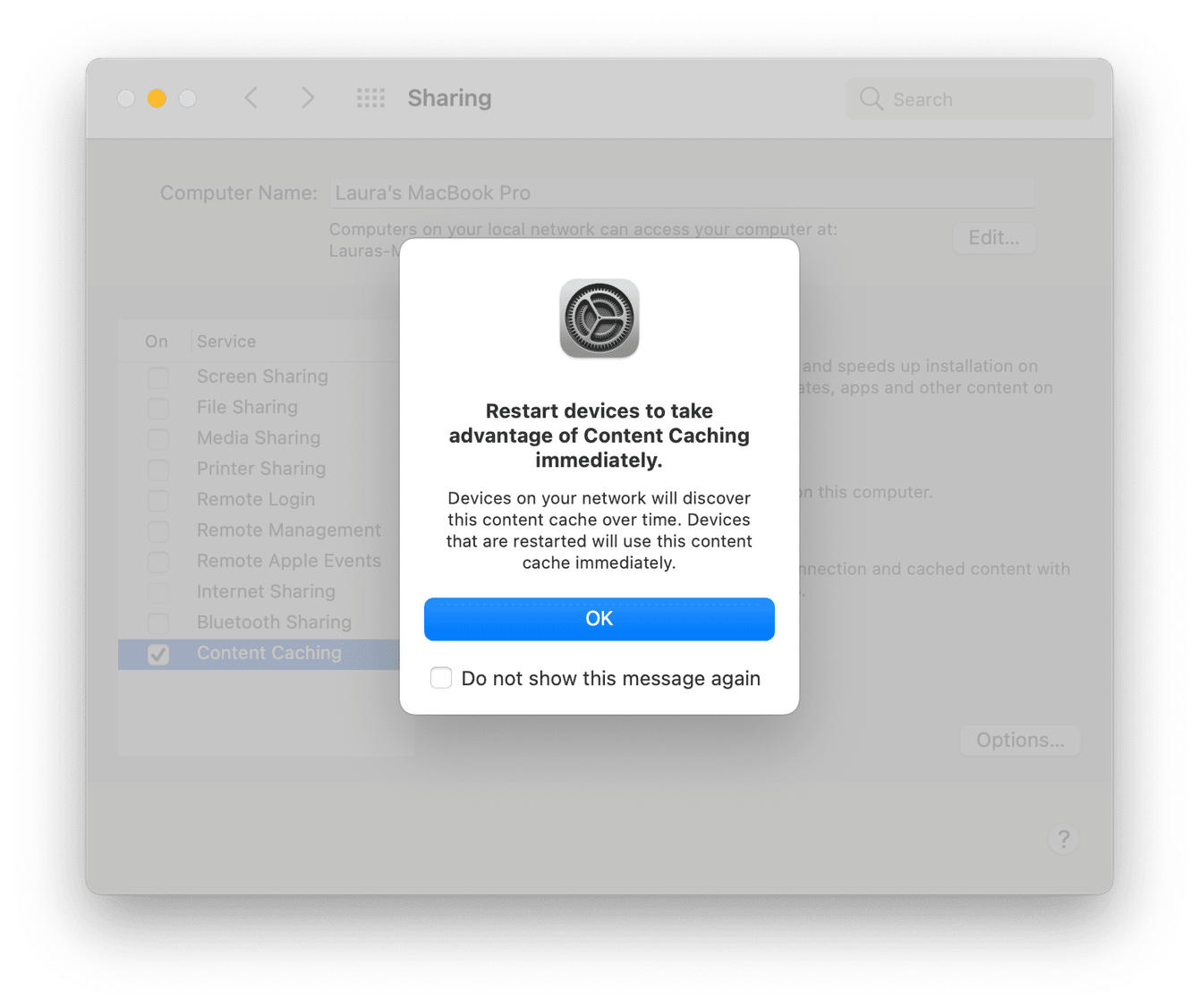 Select the Apple menu > System Preferences > Sharing.

Select Content Caching, and from the drop-down, select All Content.

Restart your Mac and try again.
Still no luck, keep on reading.
Try installing your update in Safe Mode
Occasionally login items, launch agents, or corrupt extensions that load when your Mac starts up can cause issues when it comes to installing macOS updates. Luckily you can start up in Safe Mode and try your update from there; here's how:
Shut down your Mac and wait 10 seconds before turning it on again.

As soon as your Mac starts up, press the Shift button.

Release Shift when the Apple logo appears.
Try your update again; if this doesn't help and you still can't update your macOS, keep reading.
Try to reset your NVRAM
If Safe Mode didn't help, wiping your NVRAM could be the answer. NVRAM stands for non-volatile random-access memory and stores specific preferences and settings while your Mac is switched off.
Occasionally a logging error can cause issues. Luckily, wiping your NVRAM is super easy; here's how:
Restart your Mac and hold down Cmd + Option + P + R keys.

Once your Mac reloads, try the update again.
If your issue is not with the download taking too long, but your Mac update getting stuck, jump to the next step.
What to do when your update keeps getting stuck
If your download starts but after a while, freezes or gets stuck, there could be a few reasons why. Let's work through these tips to try and kick start the download.
Disconnect from your Wi-FI
Turn your Wi-Fi on and off; once it's connected, check for the macOS update again, and press the upgrade button.
Sometimes a quick refresh of the connection can help; if not, skip to the next step.
Restart your Mac
Restart your Mac and try again — sometimes that's all it takes.
Still, no luck? Move to the next step.
Try a Combo Update
A combo update contains everything needed to get your Mac to the latest version of macOS, and can in some cases, resolve faulty updates.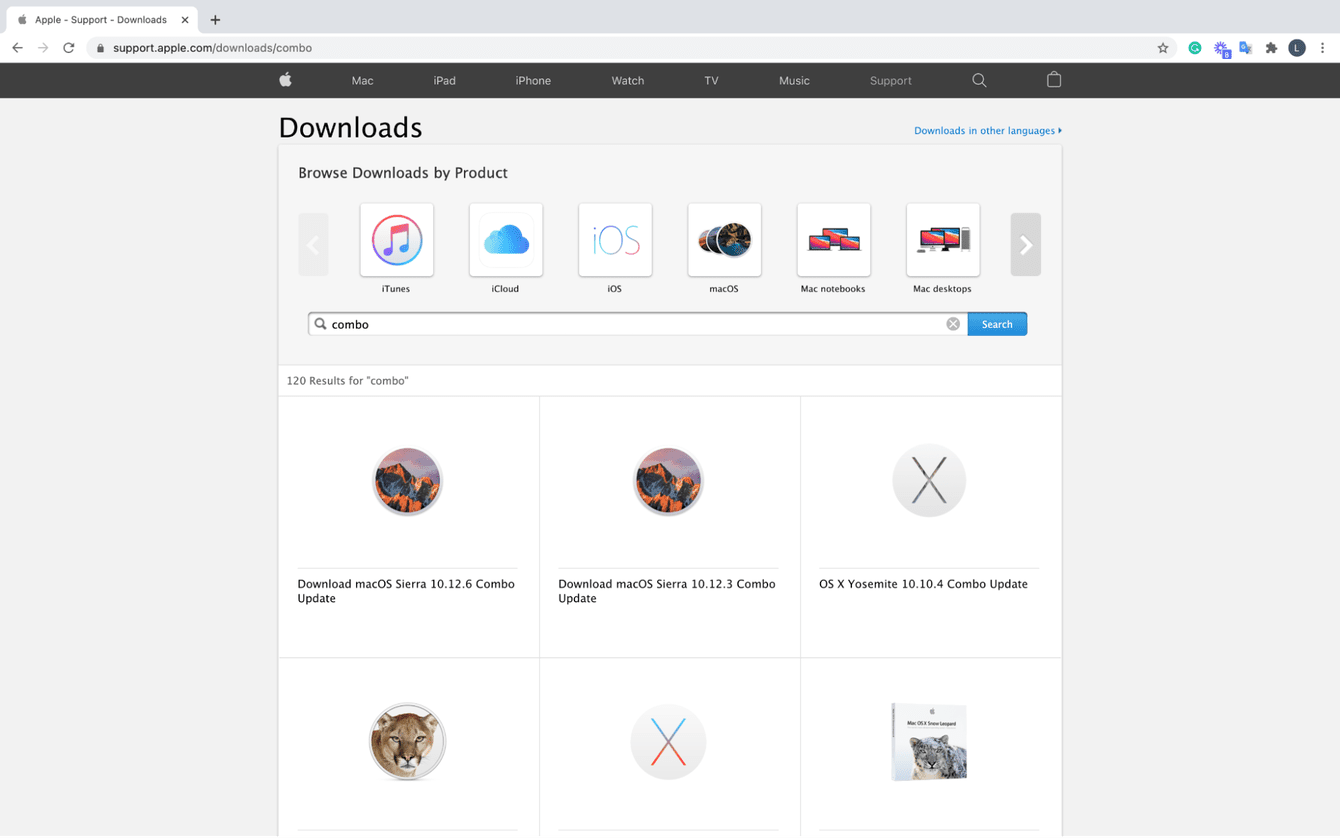 Go to Apple's support website to access the Combo updater, find the update you're looking for and click Download.
If this doesn't work, keep reading.
Restart in Recovery Mode
To restart your Mac in Recovery Mode, hold down the Command + R during startup until the Apple logo appears.

Login, then select Reinstall macOS.

Follow the on-screen instructions.
When the reinstall is complete, your Mac will have replaced all of the system files, overwriting any troublesome ones that may have been causing issues with the software update.
What to do when you keep getting install error messages
If you manage to download your update, but keep receiving an error message during installation, you're not alone.
From the "An error has occurred during installation" message to "Not enough space" these warnings are enough to drive anyone crazy. So what can we do?
Clean up your system junk
As I mentioned earlier in this article, available storage and free space are huge factors when your Mac won't update. Now is the time to clear up your system junk, cache, temporary and broken files, to give your Mac an extra hand.
You could spend hours removing browser cache, reducing login items and removing apps, or you could use the app I mentioned earlier, CleanMyMac X, to do all the hard work for you; here's how: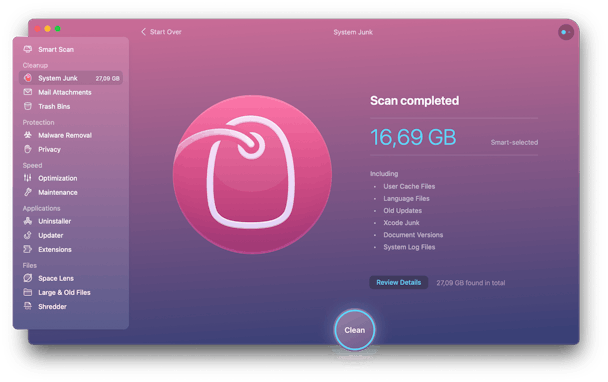 Launch the app.

From the left sidebar and select System Junk, then press Scan.

Wait for the scan to complete and press Clean.

Start the macOS install once again.
If clearing out all your system junk doesn't seem to work, jump to the next step.
Perform a clean install
If no matter the amount of space you recover, you're still plagued with error messages about space, it's time to consider a clean install.
A clean install basically removes the current operating system and user files during the installation process, helping your OS to perform faster and eradicate issues.
If you're trying to update to macOS Big Sur, I recommend this comprehensive how-to guide—The detailed manual to clean install macOS Big Sur.
There's nothing more frustrating when your Mac won't update, so hopefully, one of these tips was the magic ticket you needed to solve it.